COLLEGE BASKETBALL
SEC Tournament 2023: Bracket, schedule, TV info released for March 12 championship game
With 12 games in the books, the SEC Tournament Championship is finally here. There were a few upsets in this year's tournament, but the final matchup at Bridgestone Arena in Nashville is between No. 1-seed Alabama and No. 2-seed Texas A&M.
Defending SEC Tournament champion Tennessee was eliminated by Mizzou in the quarterfinal round. In Saturday's semifinals, Alabama ended Mizzou's conference tourney run, taking down the Tigers 72-61. Texas A&M made it back-to-back SEC Tournament Championship appearances with an 87-75 semifinal win over Vanderbilt in the later game. The Commodores, meanwhile, are on the NCAA Tournament bubble this Selection Sunday.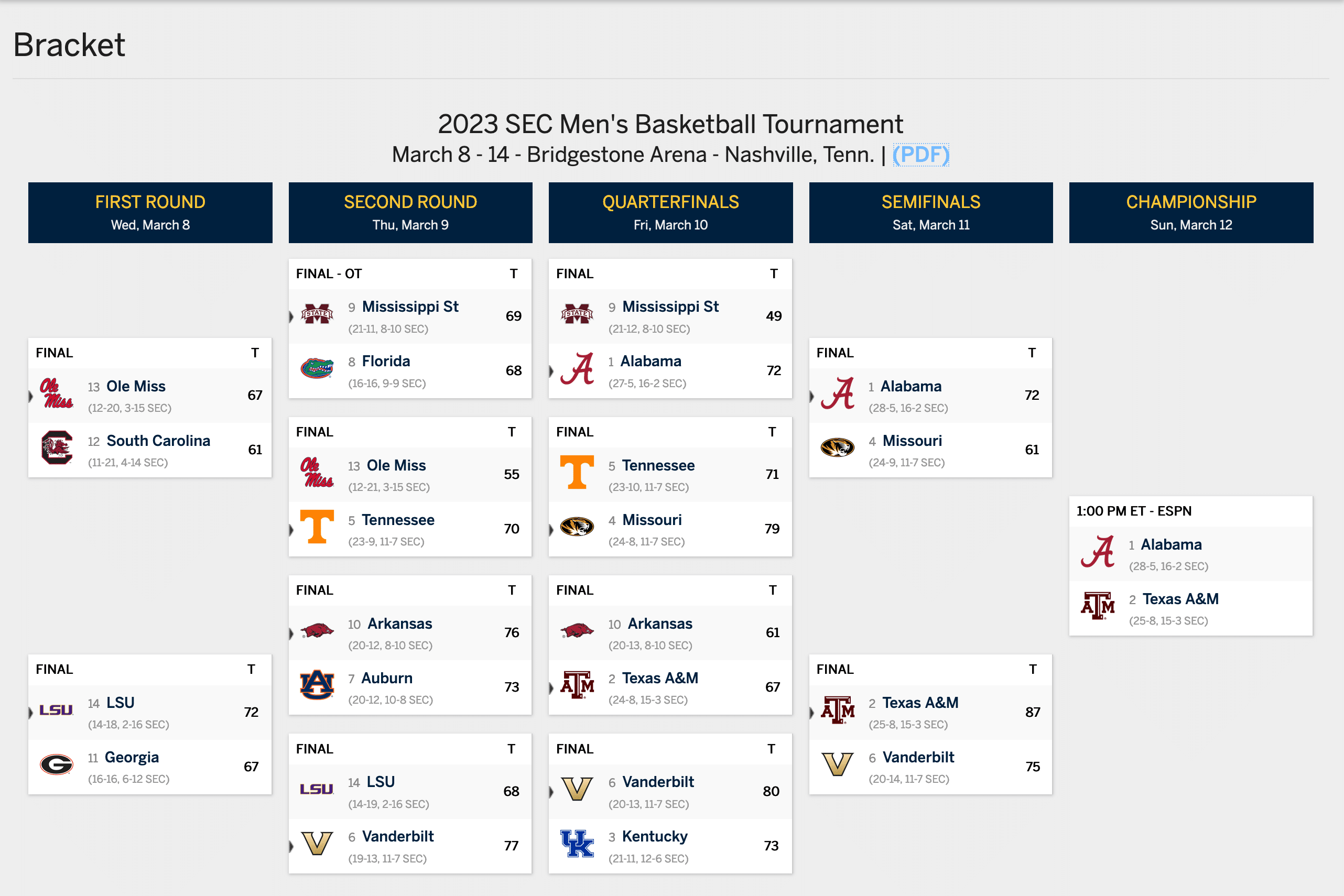 Here's a recap of the SEC Tournament thus far, as well as times and TV info for Sunday's championship game.
First round (Wednesday)
LSU 72, Georgia 67
Ole Miss 67, South Carolina 61
Second round (Thursday)
Mississippi State 69, Florida 68 (OT)
Tennessee 70, Ole Miss 55
Arkansas 76, Auburn 73
Vanderbilt 77, LSU 68
Quarterfinals (Friday)
Alabama 72, Mississippi State 49
Missouri 79, Tennessee 71
Texas A&M 67, Arkansas 61
Vanderbilt 80, Kentucky 73
Semifinals (Saturday)
Alabama 72, Missouri 61
Texas A&M 87, Vanderbilt 75
Championship (Sunday)
Alabama vs. Texas A&M – 1 p.m. ET, ESPN