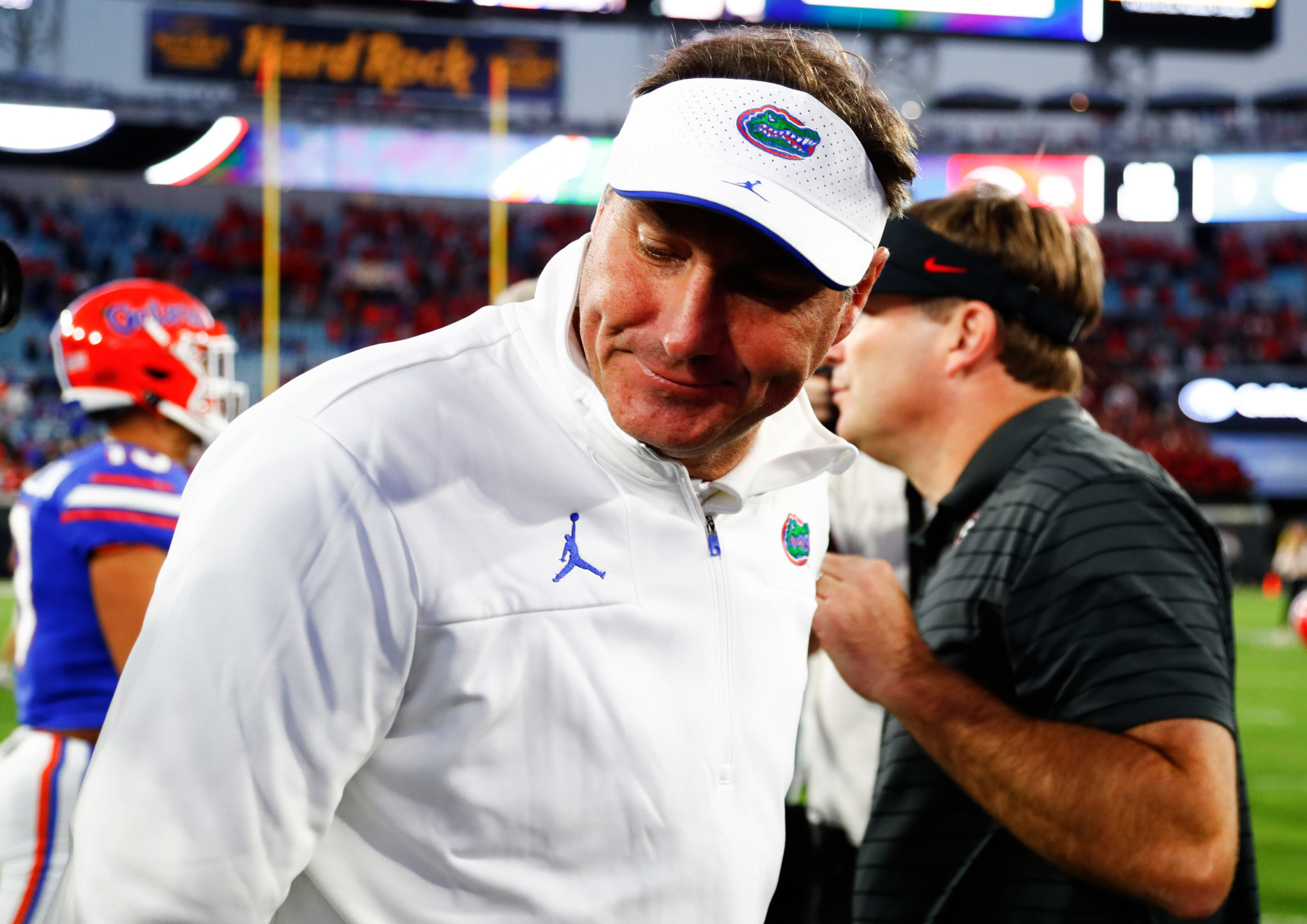 FLORIDA
5 things for Florida to play for as Gators close disappointing 2021 campaign
Saturday's 34-7 thrashing to archrival Georgia sent Florida tumbling to 4-4 on the 2021 season and 2-4 in the SEC. The Gators are just 2-7 in their past 9 contests against Power 5 opponents and will need to grind out 2 more wins just to salvage a bowl game. That's a fast reversal of fortune for a program, and head coach, Dan Mullen, from a season ago, when the Gators were coming off a huge Cocktail Party win and wrapping up the SEC East and a trip to Atlanta for the SEC Championship Game.
At 4-4, a middle-tier bowl game is likely and a Gator, Outback or Citrus Bowl feels like a best-case scenario. For a program and players who have played in 3 consecutive New Year's 6 bowls, that has to be tough to swallow.
Recent trends in college football also suggest the Gators' higher-end, veteran talent may elect to sit out the season's final games, meaning the Gators could be without the likes of Kaiir Elam, Brenton Cox and others down the stretch. (All-SEC defensive lineman Zachary Carter has already made the decision to keep playing).
Given the record and the risk of opt-outs, it made sense that much of the Georgia loss postmortem centered on what the Gators had left to play for in 2021.
Dan Mullen understood that when he addressed the media after the game.
"Football's a great team sport, the ultimate team sport, and you know, as the head coach, the mindset of the team falls on me and where we're at, the attitude, the approach, and everything we take falls on me," Mullen said during his opening statement.
"I know, two-thirds of the way through the season right now, I'm certainly not pleased with where we are. I know our players are certainly not pleased with where we are. I know the Gator Nation, I know it's not pleased with where we are, with the standards and the expectations within this program. But in this final third of the season, that's on me to get this fixed and the approach that I take and the mindset that we play with, that's on me to get it fixed. And you know, I certainly plan on doing that, of changing this, where we're at right now with us, and creating some positive energy for us and some confidence for us, and the expectations to feed off each other. And I'm gonna work and I'm gonna make sure I get that right."
Mullen's focus and accountability are refreshing, given his tendency most of the season to deflect concerns about the state of his program in Year 4 and the trajectory of Florida's season.
But will his focus and attention to detail and energy translate to the locker room?
It certainly should, but Gators fans won't begin to get answers until Saturday night.
Here are five things for Florida to play for as they close the 2021 season.
The Logo, of course
Zachary Carter put it best Saturday night on Twitter:
I love the University of Florida no matter what. As a true competitor I want to win every game we play, but sometimes we fall short. This ? logo means everything to me‼️❤️ Love yall Gator Nation?? https://t.co/QclG0wjzEc

— Zach Carter (@_Zachattacks) October 31, 2021
Carter is having a terrific season, with his 6.5 sacks among the SEC and national leaders. As a senior likely to be selected in the first 2 rounds of the NFL Draft, his attitude is refreshing. If he's locked in for the final 4 games because he loves playing for Florida, his younger teammates may follow suit.
Find a solution for 2022 at quarterback
Anthony Richardson started his first game in college Saturday and it didn't go well. While Mullen has received some criticism for the decision to have Richardson start his first game against a generationally good defense like Georgia, those critiques strike me as short-sighted at best and armchair, hindsight head coaching at worst.
Florida has a tremendous talent in Richardson. Why not baptize him by fire against perhaps the best defense we've seen in college football since Alabama in 2011? Through 9 games, Georgia is allowing the fewest points per game since 1995 Nebraska, the 3rd-fewest yards per play since 2004, and the lowest expected offensive points allowed per play this millennium. Richardson played, well, about like other young quarterbacks did against Georgia — poorly.
Meanwhile, Emory Jones played well — and was once again ready when his name was called.
The Georgia game likely showed us — including this writer — that the debate as to who is Florida's best quarterback is complicated. Richardson is more talented than Jones. He also isn't ready and Jones also isn't a guy without any ability.
Florida needs to use the remainder of the 2021 season to find an answer. If they are waiting until the spring to know, that's too late.
Build experience and momentum for 2022
A season ago, the Gators fielded one of the most experienced teams in college football. This season, the Gators were one of the youngest and least experienced teams in the SEC.
Florida's roster of 100 strong consists of just 19 seniors (a handful of whom aren't on scholarship). The Gators do start 10 seniors (including graduate transfers), but Florida has also had 5 freshmen start at least 1 game this season and that number creeps into double digits when you add sophomores.
This is a young football team and there is value in the game repetitions coming over the next few weeks.
Late-season breakouts are common in college football. Perhaps Florida has one coming down the pipe: whether it's Richardson, Xzavier Henderson, Gervon Dexter or someone else that has played a bunch but not quite solidified their hold on stardom just yet.
Beat Florida State
Mike Norvell has FSU playing much better after a miserable 0-4 start and the Noles are actually 1 win better than the Gators in their past 9 against the Power 5 (3-6). FSU played a young, immensely talented Clemson team close in Death Valley on Saturday — so they won't be too bothered by the environment in The Swamp.
It's also worth noting that the Gators trail their in-state rival by almost 25 spots in the 247 composite recruiting rankings for next season, as Norvell and his staff are outworking and out-recruiting Mullen's staff on the trail.
For a decade (since 2012), the team that has won this game has signed the better recruiting class. That streak will end this year if Florida wins, barring a giant close by the Gators. But a 3rd consecutive win for the Gators over FSU would give Mullen something to hang his hat on when recruiting against Norvell — and would mean a great deal to Florida's players, who were just walloped by archrival Georgia.
Beat a good team in the bowl game
This is a motivator for two reasons.
First, the Gators undoubtedly want to get the sting and taste of last year's 55-20 embarrassment against Oklahoma in the Cotton Bowl out of their mouths.
Second, Florida is 0-3 against good football teams this season. Florida's best win came against an improving, but hardly world-beating, Tennessee. They also lost to an LSU team that was about to publicly announce it had fired its head coach in the midst of a second consecutive mediocre season.
It's been a while — over a year, actually — since Mullen's program beat anyone good.
An Outback, Gator, or Citrus Bowl would provide an opportunity to do that. If Florida finishes the regular season with four wins, they'll earn that opportunity and will want to capitalize.