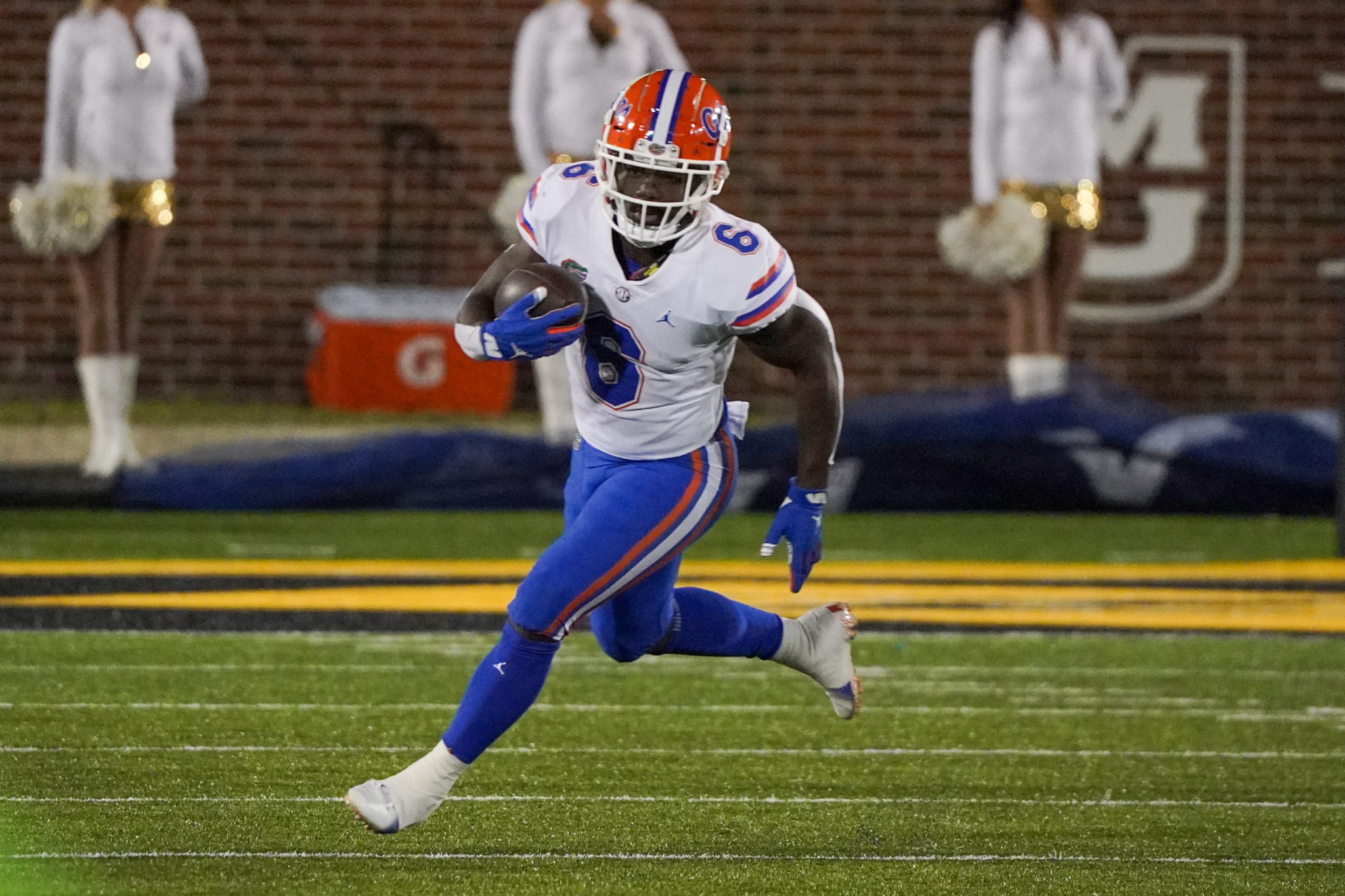 FLORIDA
7 way-too-early predictions for Florida's offense in 2022
Florida has wrapped up its first spring under Billy Napier and set its sights on the fall, where the program will attempt to bounce back from its 3rd losing season in the past 9 years.
Expectations are always high in Gainesville, but the reality is this is a program in transition, and if Year 1 of the Napier era is simply better than the 2021 team's 6-7 mark that saw Dan Mullen dismissed last November, Napier will feel that things are moving in the right direction.
Napier's commitment to building a winning culture, coupled with a massive expansion of Florida's support staff and an unprecedented financial commitment from the Florida athletic department, all point to a positive future for football in Gainesville. Whether that pays dividends next autumn, when Florida will play the nation's toughest schedule, beginning opening weekend with a home tilt against a Utah team likely to rank in the top 10 and perhaps the top 5, is a different question.
The Gators' best chance at a winning 2022? A vastly improved defense thanks in large part to the addition by subtraction change in defensive coaching and scheme, and a ball-control, run-dominant offense led by a playmaking quarterback in Anthony Richardson. Florida lacks elite playmakers on the perimeter, a failure directly attributable to recruiting misses and a lack of a coherent recruiting strategy under Mullen. But there is a stable of talented running backs and at the center of it all, Richardson, a coruscating talent with a scintillating ceiling.
How will that translate on the field? Here are 7 way-too-early predictions for the 2022 Gators offense.
Nay'Quan Wright is the starting running back
Florida's running back room was good in 2021 but badly misused by Mullen.
Dameon Pierce was Pro Football Focus's most effective running back, but he didn't get to double-digits in carries in a game until after Mullen was fired. That was coaching malpractice, given Pierce's ability to punish linebackers physically and cause headaches with his surprising agility in the second level made him an ideal "get better as the game goes on" bellcow type back. Pierce wowed scouts at the NFL Combine, shot up NFL Draft boards and, with only Marlon Mack and Rex Burkhead to compete against this summer, probably wins a starting gig in Houston this season. He was that good.
Even with Pierce gone, Florida has tremendous talent at the position. Lorenzo Lingard and Demarkcus Bowman were 5 stars. Nay'Quan Wright, a 4-star from Miami powerhouse Carol City, is a "do-everything" back who can catch a pass and, despite a lack of elite speed, still manage to outrun you in the open field or use his outstanding find a crease in the run game. Montrell Johnson knows Billy Napier's offesnse, having transfered from Louisiana, and his 838 yards and 12 touchdowns last season as an All Sun-Belt freshman team selection show he has plenty of ability. Florida adds 4-star talent Trevor Etienne, who has a big brother who was a "decent" college running back, this autumn. The room is diverse and loaded.
But Wright, who is the group's best pass catcher and blocker, and who impressed Napier with his leadership and quick understanding of the offense this spring, will be the starter in the fall. He's an All-SEC caliber running back and the most well-rounded of Florida's strong group.
But 3 RBs, including Lorenzo Lingard, will rush for over 500 yards
Lingard was the story of the spring for Florida.
Buried on the depth chart due to lingering injuries after transferring from Miami, Lingard showed up for spring practice healthy and thrilled for a new start under a new staff. He took full advantage of it, leaving spring practice as the starter in the spring game (Wright did not play) and showcasing his playmaking ability in the open field. Lingard is a burner, with legitimate 4.5 speed, and he has the best first step and burst of any of the Florida backs. He's also a splendid complement to Wright, who is more of a between the tackles, find a crease and make a defender miss second-level back than Lingard, who is more likely to beat you to the edge. Expect Lingard, who has only 16 carries in 2 years at Florida, to match that number by Week 2 at Florida and finish the season with over 500 yards.
Wright will eclipse 500 as well, which leaves one spot for either Johnson, who showed he'll be an important piece of Florida's short-yardage packages this spring, or Bowman, another huge talent without much experience that is more of a breakaway speed type back. One of those two will join Lingard and Wright over 500, giving the Gators a devastating trio in the backfield.
The improved run game will be a product of Florida's best offensive line in a long time
The returning offensive linemen were adjusting to a new scheme this spring, and there were growing pains, but the staff left the spring thrilled with the group's progress. Florida's personnel is very well-suited to executing Napier's offense, and this will be the deepest o-line in at least 4 seasons, with the Gators likely to rotate 8. The guards, Ethan White and O'Cyrus Torrence, who transferred in from Louisiana, are massive, and center Kingsley Eguakun gives the Gators additional bulk in the middle. Richard Gouraige is an All-SEC caliber tackle on Anthony Richardson's blind side. Right tackle is the lone area where there's no proven answer, but Michael Tarquin had a good spring and was a blue chip prospect out of high school. Is it his turn?
O'Cyrus Torrence will earn All-American honors at guard
Torrence was a first-team All-Sun Belt selection last year and he has not allowed a sack in 3 seasons. That may not become 4 this year, because life in the SEC is different, but make no mistake, Torrence is a future pro who is ready for the challenge. Torrence had a monster spring, and allowed only 1 hurry in the spring game, a 4th-quarter battle with Gervon Dexter, Florida's massive 5-star talent at defensive tackle. Torrence has good athleticism and quickness which allows him to play right tackle if asked; it also makes him an ideal fit for Napier's zone-blocking packages. Torrence is projected to be a day 2 NFL Draft pick entering the season and his stock will only improve after he puts up outstanding SEC film this season.
Only 3 Florida pass catchers eclipse 25 receptions
Last season, the Gators had only 4 pass catchers eclipse the 25 reception mark. This season, that number will drop to just 3. While Florida doesn't lack for high-end talent at the position, they do lack diversity and playmaking. Most of Florida's 4- or 5-star wide receivers are tall, physical players with good but not great speed who can win a 50/50 ball but aren't likely to break a game open in the open field. There's no Freddie Swain or Kadarius Toney in this group, and believe me, the staff has looked. Napier lamented the fact that Florida really didn't have anyone, outside of Justin Shorter and Trent Whittemore, consistently open in the spring, and neither Shorter or Whittemore is going to chalk up a high number of explosives.
Our guess? Shorter and Whittemore both surpass 25 receptions easily and in fact, both get close to 50. But after that, it's Keon Zipperer who is the lone Gator over 25 receptions, with Xzavier Henderson, who was a high 4-star talent but has struggled to showcase the playmaking ability and speed that made him so coveted out of Dade County, remaining an enigma in 2022.
Unless Florida hits the portal this spring or summer, this position group will be limited.
Anthony Richardson will be more Joe Burrow 2018 good than a Joe Burrow 2019 "God"
Make no mistake: Anthony Richardson is QB 1 at Florida and he's the guy who gives Florida the best chance to win. Of course, he's been that since he walked on campus. He has everything you want: a big arm, a high IQ (Richardson is an honors student off the field with a 3.6 GPA), the ability to run and force defenses to contain sideline to sideline, and an "it" factor about him that makes his teammates gravitate toward him.
Richardson, should he stay 2 more years at Florida and spend 2 full seasons as the starting quarterback for the college team in his hometown, will become the face of the Florida football renaissance.
It just won't happen in 2022. He'll be good, but it will be "Joe Burrow 2018 good." Richardson will post numbers eerily similar to Burrow's 2018 numbers next year: 57.8% completion percentage, 2,500 plus yards passing, 16 touchdowns, 5 interceptions. Those will be good numbers, and they'll help Florida win 8 games, just as Burrow helped LSU win 10 with those numbers (against a slightly less difficult schedule) in 2018.
The Richardson jump will come in Year 2 as Napier's starter, just as it did for Burrow. It will be a sight to see.
We just aren't there yet.
Florida is worse in yards per play, but better in scoring average
Sound strange?
It might. But the Gators finished the year ranked 21st nationally and 5th in the SEC in yards per play last year at 6.2 per snap.
The Gators could move the sticks just fine but couldn't finish drives. Florida ranked 54th in red-zone offense in 2021, and because they settled for field goals too often, they ranked just 49th in scoring average at 30.3 points per game.
This year, Florida won't quite get to the 6.2 yards per play mark. Napier's offense is designed to stay on schedule and move the sticks, and it will do that, but without consistent perimeter playmakers, Florida won't be explosive.
What they will be is efficient. This Florida team is built to be Napier's most successful team ever in the red zone. Richardson will keep defenses honest and spread out. Montrell Johnson is a bowling ball and a terrific short-yardage back. There's girth in the middle. There are multiple guys who can catch a 50/50 on a fade or win a battle on a corner route.
Florida will finish drives, and as a result, this could be a top-30 scoring offense as opposed to one just inside the top 50. It just won't be a top-25 yards-per-play group in 2022.