FLORIDA
Florida football: 3 matchups that will define the Cocktail Party
It's finally Cocktail Party week.
Sure, this will be one of the most surreal editions of an already strange rivalry game. But it's still one of those special games that you start thinking about on Sunday morning, where the anticipation makes the week crawl by slower than a snapping turtle strolling down a country road.
As was the case last season, the stakes couldn't be much higher for both Georgia and Florida. The road to Atlanta and potentially the College Football Playoff runs by the banks of the St. John's River, with the winner functionally seizing a two-game lead in the SEC East. While the game may scare Georgia fans a bit given the team's inconsistent offense and banged-up defense,  the vantage point from anywhere but Athens says all the pressure is on Dan Mullen and Florida.
The Cocktail Party has been a rivalry characterized by long stretches of one-sided dominance. Georgia owned the rivalry before integration, running up a massive series lead. Since the SEC fully integrated football in the late 1960s, the rivalry has been a streaky one.  Georgia and Vince Dooley owned Florida in the '70s and '80s, at one point winning six in a row and capturing nine out of 10 games from 1974-83. Over a two-decade span from 1970-89, Georgia lost to Florida only five times.
That all changed when Steve Spurrier returned to his alma mater in 1990, ushering in two decades of Gator dominance over the Bulldogs. Florida beat Georgia in each of Spurrier's first seven seasons in Gainesville, and the man the Atlanta Journal-Constitution's Mark Bradley dubbed "the Evil Genius" finished his tenure in Gainesville 11-1 against the Dawgs. Florida's dominance continued under both Ron Zook and Urban Meyer, who collectively went 6-2 against Georgia.
But Georgia bounced back to win six of the 10 games last decade, and when the Dawgs hired Kirby Smart before the 2016 season, it felt as if Georgia had finally found a coach who understood and valued the Georgia-Florida game the way Spurrier did at Florida. Smart is 3-1 in the Cocktail Party, including two wins over Mullen in games between top-10 teams with SEC championship aspirations.
On the one hand, that history won't play the game Saturday.
But to me, the pressure is all on Florida.
Senior All-SEC quarterback Kyle Trask and an explosive offense will face a Georgia team that is starting a former walk-on at quarterback and will arrive in Jacksonville down as many as four to five starters on defense, including All-American captain Richard LeCounte III.
The Gators have struggled on defense, save one game, but if not now for Mullen, when? Yes, Georgia is deeper and slightly more talented. Yes, Smart has had Mullen's number in their three meetings since Smart became a head coach, and Smart isn't intimidated by anyone or any moment.
But it kind of feels as if Mullen needs to win this game now, or risk having Smart live rent-free in his psyche for the remainder of his tenure at Florida, the Lloyd Carr to his John Cooper.
With that foundation, here are three matchups I think define the football game.
Trask vs. the Georgia front 7
A season ago, facing Trask in what was only his sixth collegiate start, Smart confused the Gators quarterback with delayed blitzes and disguised coverages that had the junior thinking and holding the ball too long instead of reading the defense and distributing the ball with confidence.
Trask didn't play terribly by any stretch of the imagination. But Georgia did force him into a few miserable mistakes, like this sack where he failed to recognize a delayed blitz and also held the ball entirely too long.
Mullen coaches his quarterbacks to stay in the pocket and make plays, but he also coaches them to recognize when the next play is the best play. Trask fails to do that there, and it was a drive-killer for Florida at a key moment in the game.
It was something Trask went to work on immediately after the Georgia loss. Here, only a few weeks later, Trask reads a blitz and calmly sidesteps the pressure in the pocket while keeping his eyes fixed downfield. The result is a huge play for the Gators and an accurate throw despite pressure.
These are the type of plays that get me excited about Kyle Trask. In Year 2 with improved arm talent & pocket awareness, we should be seeing a lot more of this 🐊 pic.twitter.com/Fhpkrpv4jb

— Inside The Swamp (@ITS_Gators) September 14, 2020
Here, against Ole Miss, he keeps his eyes downfield and uses just enough deft footwork to take a hit and throw a strike to Kadarius Toney in one-on-one coverage.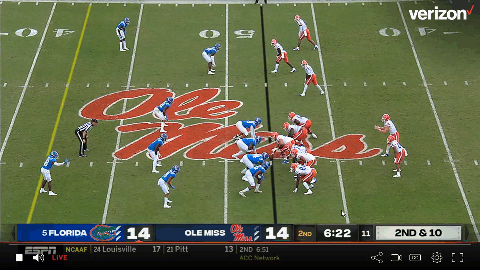 As good as the Georgia secondary is — and it's really good y'all, to the tune of 24th in the country in yards allowed per pass attempt (6.4) and 14th in success rate against on pass plays — the Dawgs will need to bring pressure. You simply can't give Trask time to throw. He's too good. He ranks first in the country in success rate on short (1- to 10-yard) throws, but he can beat you downfield, too:
Kyle Trask is special 🔥

(via @SECNetwork)pic.twitter.com/9DXEukCS38

— Bleacher Report CFB (@BR_CFB) October 10, 2020
So this game becomes, in a way, about how Smart decides to dial up pressure to keep Trask from getting comfortable and into a rhythm. With Georgia shorthanded up front without Julian Rochester and Jordan Davis, that will be a bit easier said than done. The Dawgs rank first in the SEC in sacks per game (3.4), but Florida ranks second in the SEC and eighth nationally in preventing sacks (2.74 sack percentage).
It's strength on strength, and Florida has the senior quarterback, playing against a Georgia defense without its best secondary piece in LeCounte.
The Georgia run game and play-action vs. 3rd-and-Grantham
In Florida's past two losses, Todd Grantham's defense has allowed opposing offenses to convert 24 of 33 first downs. That's not a typo. Those teams were quarterbacked by Jake Fromm and Kellen Mond, and not Stetson Bennett IV, but let's not act like Mond is the second coming of Patrick Mahomes. Those numbers are really bad.
Worse, in Florida's two losses to Georgia under Mullen, the Dawgs have converted an almost as ridiculous 20 of 32 third-down chances. Put plainly, a big reason Georgia has won — and controlled — both games is that Georgia has won third down.
That has to change Saturday if the Gators hope to win.
Florida's offense isn't as explosive as Alabama's, but the Gators rank third nationally in success rate, and the best way to slow them is to not give Trask the football. This was the way South Carolina (kind of) hung around and the way Texas A&M beat Florida — with long, time-consuming drives that limited the number of possessions in the game. Todd Monken will know this, and though his offense isn't really great at anything, it can control clock, ranking a very respectable 26th nationally in third-down conversions (46.7 percent) on offense and among the top 25 teams in third-down success rate, per Stats Solutions.
Florida, meanwhile, ranks 92nd of 103 teams in third-down defense this season, surrendering first downs on 49 percent of their third downs.
For all the chatter about Georgia's power run game, it ranks only 50th nationally in success rate and 55th in yards per rush attempt (4.2). But the key is that the Dawgs tend to stay on schedule, and if they can do that, they can pick and choose their spots to take shots downfield against a Florida defense that is likely to sell out against the run. Georgia is also coming off their best success rate game on the ground — an astounding 62 percent against a very good Kentucky front. That will challenge a Florida team that has struggled to set the edge this season and will play the first half without its best defensive lineman, senior Zachary Carter, who is suspended for his role in the halftime brawl with Missouri.
One last thing about this matchup.
For two consecutive seasons, Grantham has shied away from playing man against Georgia. Presumably, he liked his defense to eventually get stops and didn't want to risk the big play. I'm not paid Grantham money to coach defense, but that seems like the wrong move against this Georgia team. If Bennett, who just completed only 2 passes of 15 yards or more on 8 attempts against Kentucky, can beat man coverage over the top, tip your hat and move on. But don't play a soft zone and let him get confident throwing little in-routes to his receivers and the wildly underrated James Cook. That would be the bad Grantham Florida fans fear.
Injuries vs. suspensions and injuries
It may be fair to characterize this category as "advantage, Georgia" because the Dawgs are deeper and slightly more talented almost across the board. But it bears a deeper look given all the moving parts and potential absences.
In addition to the damaging absence of Carter from the first half Saturday, Florida could be without multiple starters as the team continues to recover from the COVID-19 outbreak that shut the program down for two weeks. The Gators played the Missouri game down three starters in the secondary, including their best run-stopping safety, Donovan Stiner. Senior Marco Wilson would also be good to have back, given that Trey Dean had to leave the Kentucky game with an injury.
Florida also played Mizzou without their talented kicker Evan McPherson, who is as good as it gets from 50 yards in, having missed only 4 of 43 field goals in his three-year career. McPherson is a legitimate weapon and an important one against a great defense like Georgia's, and it would hurt the Gators if he can't go.
As for the Dawgs, we know that at a minimum, three starters on defense are "out." LeCounte is out a couple of weeks as he recovers from a motorcycle accident. Davis and Rochester are also out, thinning Georgia's depth (but hardly eviscerating it) on the defensive line. Other pieces on defense are ailing. Monty Rice, the team's best tackler, has a foot injury but will play. Linebacker Quay Walker, who made his first start Saturday, is doubtful. Safety Lewis Cine, who will be asked to handle more with LeCounte out, is still battling an ankle issue. In other words, the Dawgs are banged up after a physical battle with Kentucky, and thanks to Florida's COVID-19 outbreak, there's not the customary bye week to get well. Remember, the bye last year made all the difference for Georgia, who got receiver Lawrence Cager back at just the right time. This season, the Dawgs won't be so lucky. Then again, when you recruit as well as Georgia has, "next man up" sounds more like a believable message and not a hopeful mantra.
In the end, the team that can overcome adversity and injuries off the field may be best positioned to win the game on it on Saturday.