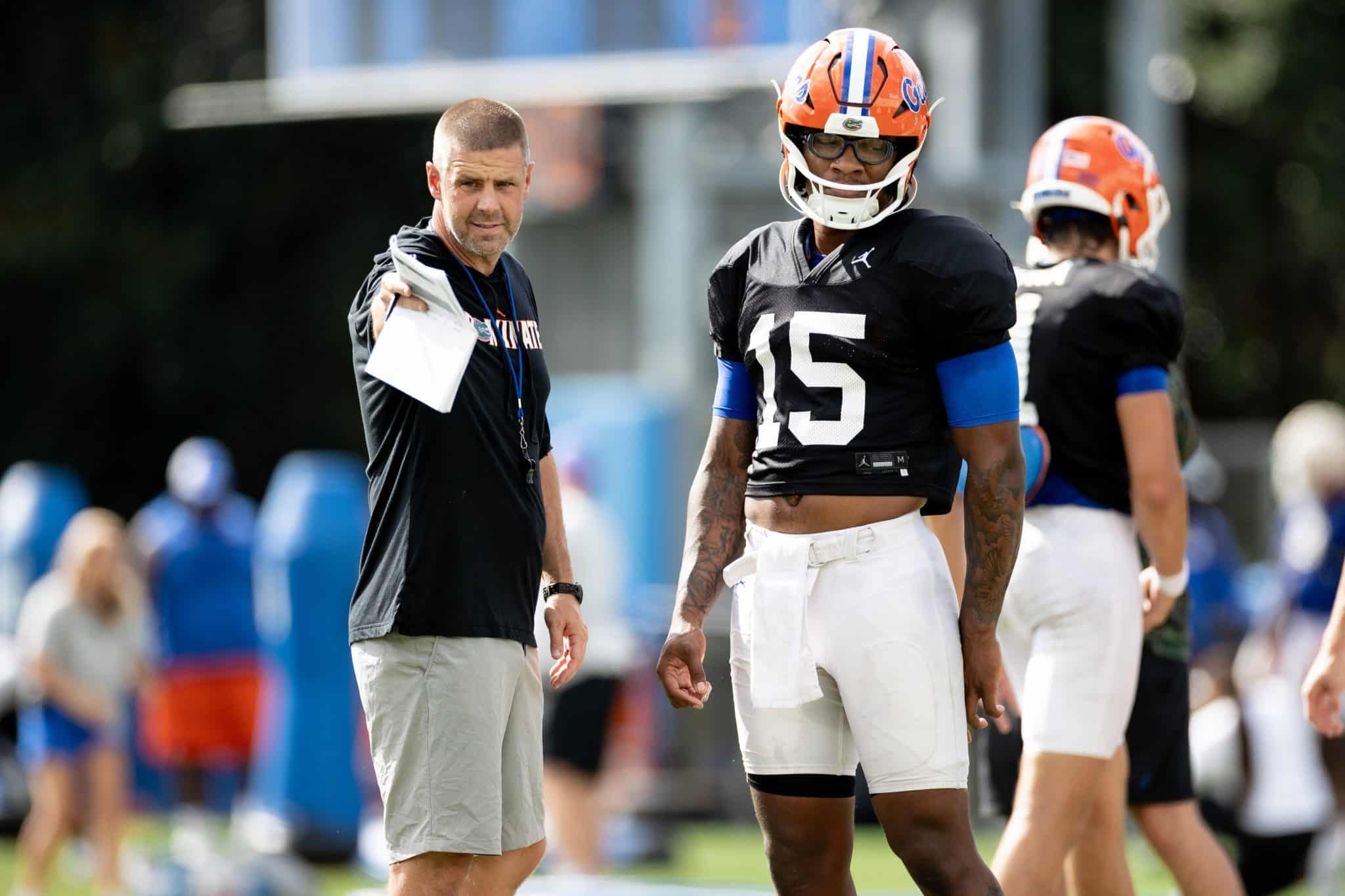 FLORIDA
3 matchups that will define Florida vs. Utah
Talking season is finally behind us, and it's time for college football.
Week 0 was a mediocre appetizer, maybe one a little too Frost-y in temperature for those in places like the state of Nebraska, but the SEC anchored down late Saturday night to begin the year with a bang and the ever-so-common and expected 63-10 Vanderbilt win. Whatever the merits of a weaker-than-usual Week 0 slate, we watched anyway. When the most interminably long offseason in major sports ends, you take your Utah State vs. Connecticut Week 0 medicine and you like it.
Fortunately for college football fans everywhere, the grand overlords of the sport, operating as always in murky shadows and backwater southern swamps, have offered up a delicious bill of fare for Week 1, including Saturday night's showdown in The Swamp between No. 7 Utah and the Florida Gators (7 p.m., ESPN), who are optimistically opening a new era under Billy Napier.
The Gators last opened a season against a top-10 opponent in 1987, when they lost 31-4 in the Orange Bowl to eventual national champion Miami. Florida last entertained a top-10 team in a home opener in 1969, when it routed No. 7 Houston, 59-34, behind a huge performance from sophomore wide receiver Carlos "The Cuban Comet" Alvarez. That history is interesting, but none of it will matter Saturday night.
As is often the case, a handful of matchups and plays will likely decide the outcome of a game Vegas pegs as being decided by a field goal. Monday, Saturday Down South wrote about why Utah, the defending Pac 12 champion and one of the nation's most well-disciplined, well-coached programs, is a legitimate threat to end the Pac 12's run of College Football Playoff appearance futility this season. Lost a bit in the piece's praise of Utah, however, was a prediction that Saturday night's game would be a 4-quarter fight, easily the toughest test for Utah until at least mid-October, when No. 14 Southern California and Lincoln Riley visit Salt Lake City.
The reasons? The environment in The Swamp will be special, Florida will be focused and determined to start the Napier era the right way, and the Gators, for all their warts, have more high-level talent on their roster than Utah. Is that enough for Florida to pull the upset?
Here are 3 matchups that will define whether it's the Gators or the Utes who leaves The Swamp 1-0 late Saturday night.
Anthony Richardson vs. Utah's rebuilt linebacker corps
If the Gators win, we may all look back and circle this matchup. Richardson has started just 1 career game (it went poorly), but his experience playing against live, fast defenses last season, coupled with being at home and not having to deal with crowd noise, are all likely to benefit Richardson on Saturday night in Gainesville.
Morgan Scalley's defense doesn't necessarily revolve around what his linebackers do best, but when the Utes are excellent at linebacker, they tend to be at their best on defense. The challenge for Utah is how to replace the production of its linebacking corps from a season ago, notably the program's top 2 tacklers, All-American Devin Lloyd and All-Pac 12 selection Nephi Sewell. Collectively, Lloyd and Sewell tallied 199 tackles, 21 tackles for loss and 5 interceptions in 2021, pacing a Utes defense that ranked 22nd nationally in SP+ defense and 19th in rushing defense and success rate defense. Utah returns just 1 starter at linebacker, and even outside linebacker Karene Reid, who had 45 tackles last season as a reserve, will be making his 1st career start.
To Utah's credit, it hit the portal hard, bringing in, of all people, Florida linebacker Mohamoud Diabate to step into Lloyd's shoes in the middle. Diabate was occasionally a subject of Florida fans' ire (seriously, just read a comments section on most any article about Florida's 2021 defense) last autumn, but the reality is Diabate led Florida in tackles and, despite many allegations of his poor form and technique, led the team in tackling percentage (tackles made vs. missed tackles) a season ago. He's a quick, albeit undersized, middle linebacker and a productive player. He's just not Devin Lloyd.
Lloyd was, in the words of Kyle Whittingham, "the best defensive player in the history of Utes football." His 91.3 Pro Football Focus grade was the 2nd-highest of any college linebacker in 5 years, behind only Georgia's Nakobe Dean (2021). The Pac 12 Defensive Player of the Year, Lloyd was selected in the 1st round of the NFL Draft by Jacksonville, and he was at the center of everything Utah did defensively, from processing and diagnosing plays:
Haven't watched the film in a while, life has needed me elsewhere but I'm going to start slowly diving back in especially next week!

I thought I'd get exposure to Devin Lloyd (Utah LB #0) and am starting with the PAC-12 CG. Insane play here by Lloyd and elite processing speed. pic.twitter.com/xvWJiXp4hw

— Ben Glassmire (@BenGlassmireNFL) December 8, 2021
To making the backbreaking play:
DEVIN LLOYD GAME BREAKER

Another pick and another score for one of the top LB's in the nation

UTAH 14 | 0 OREGON
1:38 | Q1 #Pac12FCG @ESPNCFB @ESPN700

— Porter Larsen (@Larsen_ESPN) December 4, 2021
"(Lloyd) was the most instinctive player I've ever seen at that level," Herm Edwards told SDS this summer. "Diagnosed plays for them and was the quarterback of their operation on defense. First to close a gap. First to point out an audible. And he was the best player in the Pac-12 at tackling at the point of contact."
Utah develops players better than anyone in the sport, as evidenced by its 22 draft picks since 2017 despite fewer blue-chip players than any other program with at least 10 picks in that span. But you can't develop a new Devin Lloyd in 1 game, and coupled with the loss of Sewell, playing a fast Florida offense paced by an elite group of running backs will be a challenge.
Richardson's biggest challenge in 2021 was his inability to protect the football (his 12-1 pass-interception ratio was almost 2 times worse than Emory Jones, for example, who transferred to Arizona State). As long as Richardson can pick up on what Utah's linebackers are showing defensively, Florida could have a big day passing the ball underneath and staying on schedule for its run game.
Richardson also places more pressure on linebackers than almost any quarterback in the country in the run game, with his NFL prototype size and running back speed making him a handful to tackle in space.
This angle of Anthony Richardson's hurdle ??

(via @nicolereighter)pic.twitter.com/24FyV65tjK

— Bleacher Report CFB (@BR_CFB) September 7, 2021
And that's just if you catch up to him, because if he makes 1 guy miss, he can be off to the races:
Anthony Richardson TD run ??? pic.twitter.com/4f3A9W2m2j

— Our Two Bits (@OurTwoBits) September 5, 2021
Richardson's ability to run will put pressure on Utah's linebackers to stay at home, which could have a cascading effect on the rest of the defense — especially the secondary — if Diabate, Reid, the highly-touted talent Ethan Calvert and Stanford transfer Gabe Reid (the new Utah group's most proven playmaker) can't get the job done.
Will this matchup decide the game? Not by itself. But here's betting it is at the center of at least 1 of the plays that does decide the game.
The Utah power run game against Florida's defensive line
The 2022 Gators will be an interesting case study defensively in answering the following questions: 1. Is it always a good thing to return a high level of experience and snaps if you weren't a productive unit the prior season? 2. How much does a change in scheme cure what ails a defense?
These questions will meet a problem sure to provide fast answers Saturday night.
Florida returns more than 3,000 collegiate snaps of experience in its front 7, and multiple starters on the defensive line, including former 5-star recruits Brenton Cox Jr. (edge) and Gervon Dexter (DT). Of course, the Gators struggled mightily to contain the edge in 2021, finishing the season ranked 85th in rushing defense and 93rd in explosive runs (10 yards or more) allowed. Cox has worked tirelessly to become a more capable 3-down lineman, but the onus of holding the edge will fall to other Florida defenders, who will face a Utah offense that ranked 13th in rushing offense, 8th in success rate and 3rd in explosive run plays produced in 2021.
The Utes return their best running back, NFL-bound Tavion Thomas, who has sliced up better defenses than the Gators in the past, including the top-10 247 Talent Composite USC Trojans group a season ago:
Utah returns their beast of a running back in 2022, Tavion Thomas! Thomas racked up 21 rushing touchdowns last season! Get used to seeing him in the end zone a lot this season @thiagoothomas9 @Utah_Football #GoUtes pic.twitter.com/2trqybeJLe

— CAMPUS | Fandom That Pays (@campusunlocks) June 21, 2022
He'll bring his 1,130 yards and 21 touchdowns of production to The Swamp, and he'll run behind an offensive line that, while losing team captain and 1st-team All-Pac 12 center Nick Ford, returns 4 players who have been full-time starters with more than 70 career starts. The Utes will be stout up front, and on the edge, tackle Braeden Daniels projects as a middle-round NFL player with quick feet who allowed just 4 tackles for loss (1 sack) in 2021, per Stats Solutions.
Utah will undoubtedly be tested without its longtime starting center in The Swamp, where noise levels will be something Utah hasn't ever experienced, even in the 100,000-plus-seat Rose Bowl. But whether the noise and a new center eliminate one of Utah's best advantages entering the game remains to be seen.
On Florida's side, whether the prior staff left Patrick Toney the type of personnel he needs to contain the edge and stop the run better will be one of the compelling stories of Florida's 2022 season. Toney's scheme alone will make Florida better. We'll get an idea of the degree of that improvement Saturday night.
The heat, humidity and Swamp vs. Utah's depth
Utah's coaching staff has done everything in its power to prepare the team for what will greet it in The Swamp. The Utes have practiced indoors with the heat on and limited water breaks. They've pumped in high decibels of crowd noise at scrimmages. They've run best on best reps with hand signals. That's good coaching. It also won't come close to what Utah will face Saturday night.
Winning at The Swamp as a visiting team is one of the greater challenges in sport. Even in recent down years, the Gators tend to be very good at home, including last year, when the sole home defeat was a 2-point loss to then-No. 1 Alabama. Putting it differently, Florida was 21-3 under Dan Mullen at home — and Mullen was fired. The Gators lost just 1 game in the Mullen era at home to a team with a lower ranking in the 247 Talent Composite (Kentucky, 2018). Utah, which ranks 30th in the 247 Talent Composite, has 39 fewer blue chips than the Gators, who rank 10th.
Blue-chip talent doesn't always decide winners and losers, as evidenced by Utah's run of success and its ability to develop 22 draft picks over the past 5 seasons. Florida has produced 28 draft picks in the last 5 seasons, despite having a much greater share of blue-chip talent.
But it does matter in the heat and humidity, and even with the 7 p.m. kickoff, anyone who has spent time in Florida in the summer knows that even as the temperature drops off after dark (from about 90 degrees at kickoff to the low 80s by the 4th quarter), the humidity means the heat doesn't really go anywhere, the air just grows thicker and sticky.
"The Swamp is a living hell," Phil Fulmer said of playing at Steve Spurrier Field. "It is a wall of angry sound. Hot. Sticky. We had kids in great shape throwing up in the 4th quarter."
Utah can do itself a huge favor by starting fast and leading the game. That formula worked for the Utes in their big wins in 2021, and it nearly worked in the Rose Bowl, until All Pac-12 quarterback Cam Rising was injured and special teams miscues compounded his absence. Utah prides itself on mistake-free football, but The Swamp will impact you even when you pay attention to detail. Ask Alabama, which committed its most false-start penalties in a game during the Nick Saban era in The Swamp in 2021.
In a 4-quarter game, crowd noise, false-start penalties that kill a drive, a new-look set of linebackers being exhausted in the 4th quarter — these things can make the difference.
That makes homefield advantage, and how Utah responds to the brutal environment, the final key matchup Saturday night.