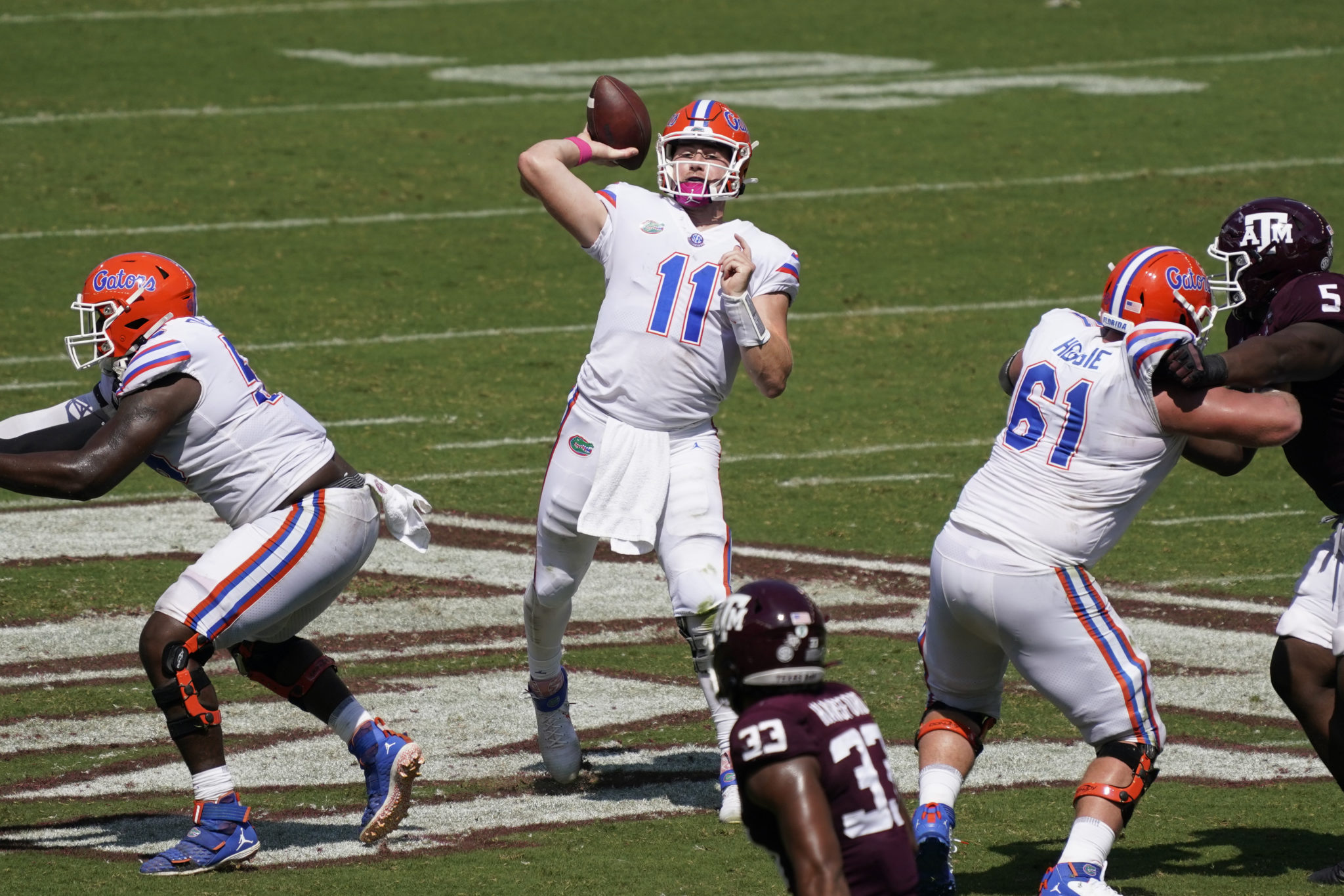 FLORIDA
5 bold predictions for Florida-Missouri
It's Homecoming in The Swamp on Saturday night when No. 10 Florida takes on Missouri (7:30 p.m. ET, SECN). In a fitting nod to a game being played on Halloween, this figures to be a strange football game.
The last time we saw Florida, their defense looked outright ghastly against Kellen Mond and Texas A&M as they fell 41-38 to the Aggies in College Station. Usually, losses generate soul-searching and physical practices, a "return to fundamentals" and a chance at a reset.
Florida may have done plenty of soul-searching following their upset loss, but they didn't do any practicing until Monday. Instead, the Gators are just days removed from restarting their program after a COVID-19 outbreak forced a two-week facilities shutdown.
They'll face a Missouri team that is trending upward. The Tigers lost their first two games under new head coach Eli Drinkwitz, but the Tigers have won their past two, upsetting LSU and Kentucky over the past three weeks to build confidence as they head to Gainesville. Missouri's power run game, coupled with an improving defense that has made its past two opponents one-dimensional, appears to match up well with Florida. Then again, Missouri's secondary has been abysmal at times this season — a bad concern to have before taking on Kyle Trask. Which side can maximize its strength and exploit the other side's weakness?
Here are five bold predictions for Florida and Missouri.
Kyle Trask throws for 350 yards
Maybe banking on 400 from Trask would be more bold, but 35o is still a gargantuan number, and it's one I think Trask can get to Saturday night.
Myles Brennan lit Mizzou up for 406 yards and 4 touchdowns despite LSU's loss. Mac Jones hit 249 in three quarters before Alabama pulled their starters. Missouri ranks 75th out of 100 teams in yards allowed per pass attempt (8.4) and 79th in success rate against in pass defense (54 percent). They can be had in the air.
Trask enters the game ranked fourth in passing efficiency nationally, and Florida's offense ranks sixth in S&P+ efficiency, second in overall success rate, fifth in passing success rate and 20th in explosive plays. Missouri has improved over the past two weeks and limited Kentucky to 145 total yards and 8 first downs. But Florida isn't Kentucky.
The Gators will pitch the ball around the lot Saturday, and you can bank on Trask having a huge game.
Another 30-plus carry, 100-yard evening for Larry Rountree III
Florida has been decent against the run (4.1 yards per attempt, good for 50th of 101 teams), but certainly not the great unit they were defending the run last season (eighth nationally). The Gators have surrendered 100-yard rushing performances to both Kevin Harris and Isaiah Spiller, and Rountree is more physical and experienced than either.
Rountree has had a marvelous career, accumulating more than 3,000 yards rushing and 29 touchdowns. The last time he visited The Swamp two years ago, he ran over and around the Gators defense, blasting Florida for 72 yards on only 14 carries and a touchdown and adding 4 receptions in Missouri's 38-17 victory. The Tigers ran for 221 yards as a team on 42 carries in that win, and they'll ride a similar formula Saturday night.
Rountree carried 37 times in Missouri's win over Kentucky, helping the Tigers keep the ball for nearly 44 minutes. Expect a similar plan against Florida, as Missouri uses Rountree to help keep the ball away from the potent Florida offense. I think that translates to 30-plus carries and more than 100 yards rushing for Rountree.
A Gator other than Kyle Pitts and Kadarius Toney breaks out
Florida's electric pass offense has produced 75 receptions this season for more than 1,000 yards. Trask spreads the wealth — 12 different Gators have a reception — but there's no doubt that the bellcows are Kadarius Toney and Kyle Pitts. The duo have 35 receptions for 511 yards and 11 of Trask's SEC-leading 14 touchdown passes. They are a handful, and an embattled Missouri secondary will have its hands full defending them.
But Florida has plenty of other talented weapons, too, and I'm betting on one of those guys to break out Saturday night. Will it be senior Trevon Grimes, an NFL prototype with freakish athleticism who has caught 8 passes in three games but has yet to have that big-time performance he's capable of? What about Jacob Copeland, the highest-rated recruit of Florida's wide receiving corps, who has caught only 4 passes for 51 yards in his redshirt sophomore campaign? What if it is one of Florida's talented running backs, who have a collectively impressive 51 percent success rate running the ball but lack a single back with more than 130 yards on the young season?
It could be any of the above, but someone other than Pitts or Toney is going to bust out.
DBU makes a 2-interception cameo
The Florida pass defense has been woeful in 2020.
Florida ranks 87th in pass efficiency defense and 80th in yards allowed per pass attempt (8.6) and have produced only 1 interception on the season, which came from a defensive linemen. Before the season, I wrote that Florida's play at safety was a huge question mark, and this has proven prophetic as Florida's safeties have graded out as the worst in the SEC against the pass.
They'll face a Missouri team led by freshman Connor Bazelak, who has earned this starting job by playing beautifully since coming on in relief of Shawn Robinson against Alabama. Bazelak torched one "DBU" — LSU — by throwing for 406 yards and 4 touchdowns with only 5 incompletions on 34 attempts. Bazelak has thrown only 1 interception all year and has shown poise and decision-making beyond his years. In other words, he isn't playing like a freshman in the SEC.
There's no real reason to think Bazelak will have a "freshman moment" against a struggling Florida, so call this bold prediction simply a hunch. The Gators defense is prideful, and it is desperate. Multiple NFL alums have reached out to current team members during the COVID-19 shutdown, offering encouragement and demanding the Gators defense raise its level toward the proud program standard of excellence.
For a few plays Saturday, I expect that to work. Look for interceptions from Kaiir Elam and safety Donovan Stiner, who are capable of more than they have shown in 2020.
Missouri covers
I'm not sure how Vegas handicapped this game. I get that those folks in the desert are smart, but this is a strange one. Florida looks to be without a few scholarship players as they continue to recover from a program-wide COVID-19 outbreak. It's strange to see the Gators favored by 11 (at the time of this writing) when there's no guarantee that Florida won't be missing multiple starters on both sides of the ball.
Even without that uncertainty, Missouri matches up well with Florida, strength on weakness. If you subscribe to the notion that styles make fights, this is a relatively fair fight for Mizzou despite the talent disparity. Further, Missouri's seniors are 2-1 against the Gators, and the Tigers dominated Florida on their last visit to The Swamp. They won't be bothered by the moment or the socially-distanced Homecoming crowd. Finally, the past two times Florida played Mizzou for homecoming, the Tigers beat the Gators by a combined score of 80-30. Talk about lopsided!
This game won't get sideways for anybody, and I think that smart money would be on Missouri and the points.