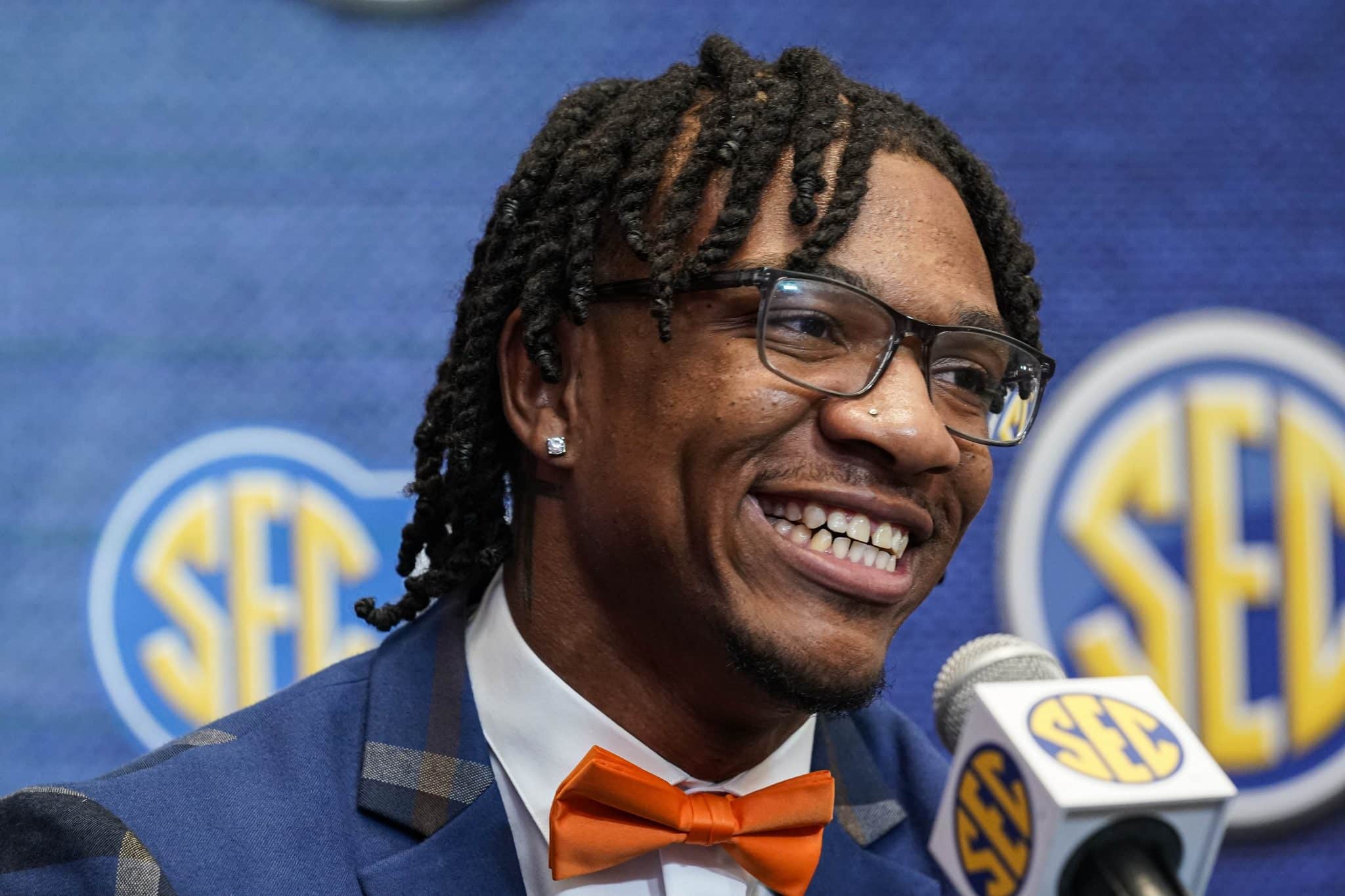 FLORIDA
5 dream or disaster scenarios for Florida in 2022
The Florida Gators are in an unsual spot for their program.
Their archrival, Georgia, is the defending national champion, meaning the new joke is "2008," not "1980."
Florida is unranked in every preseason poll of note, and for the 1st time in 4 decades, the Gators will open the season at home against a top 10 team, hosting defending Pac 12 champion Utah in The Swamp on Sept. 3 (7 p.m., ESPN). What's more, if the Gators don't play well against the Utes, there's a reasonable chance they'll be a home underdog in Weeks 1 and 2, with college football media darling Kentucky slated to visit Gainesville on Sept. 10. Florida hasn't been a home underdog in back-to-back weeks in The Swamp in more than 3 decades, per OddsShark, whose records date to 1990.
There's no need to go down that dark rabbit hole just yet, Gators fans.
Every season begins with a dream. And while we will discuss the nightmares, too, the hope that Billy Napier's 1st season in Gainesville is a special one lingers in the humid north central Florida air as August crawls into September.
With that in mind, here's a look at 5 dream and 5 disaster scenarios for the Gators in 2022, beginning with every "talkin' season'" fan favorite: dreams.
1. Anthony Richardson goes full 2010 Cam Newton
Cam Newton threw 12 pases as Tim Tebow's backup at Florida before being dismissed from school, spending a year at the JUCO level and landing on Auburn's campus under head coach Gene Chizik in 2010. You know the rest of the story: more than 4,000 yards from scrimmage, 51 total touchdowns, the Cam-Back, a Heisman Trophy, a national championship and the 1st overall pick in the NFL Draft.
Richardson, who NFL scouts have compared to Newton based on his size, freakish speed and arm strength, takes over as the starter at Florida with more experience than Newton had in 2010. He also has a better roster, from an NFL talent standpoint, than Newton did at Auburn during that magical run.
If we've learned anything in this sport, it's that 1 exceptional player can take you to unthinkable heights. Richardson has that type of talent. Granted, Alabama, Ohio State, Georgia and Clemson are all more talented teams than anyone Newton faced in 2010. But the ceiling for Richardson's Gators is extremely high if the young quarterback can play his way into the top 10 of the 2023 NFL Draft.
2. Gervon Dexter goes 2010 Nick Fairley
Are you following the theme here? A legend-status-type season from a star quarterback and a dominant defensive tackle who makes the entire defense around him better? That formula won Auburn a national championship. Dexter, who was "stunned" he was left off the 1st- and 2nd-team All-SEC preseason units, is Florida's most talented player. Are there some concerns about pad-level technique, which needs to improve for Dexter to avoid the bouts of inconsistency that crept into his 1st 2 seasons in Gainesville? Yes. But this is also a young man who, now a father, collected 50 tackles, including 2.5 sacks, to go along with 10 pressures in 2021. WIth a star pass rusher on one side of him in Brenton Cox Jr., and an All-SEC linebacker returning from injury behind him in Ventrell Miller, it is hard to think of a better scenario for a breakout campaign for Dexter. Gators fans should also be encouraged by reports that Dexter has looked "unblockable" in fall camp, a man on a proverbial misson.
3. The Gators' defense leads the SEC in takeaways
Last season, Florida finished 11th in the SEC in turnover margin, largely due to a defense that produced just 13 takeaways, including 0 turnovers in losses to Alabama, LSU, Missouri and South Carolina. The number was Florida's lowest turnover output on a season since 2007, and a huge reason it finished with a scoring defense that ranked outside the top 50 nationally for the 2nd consecutive season.
This year, the Gators replace Todd Grantham's overly complicated 3-4 with Patrick Toney's more modern defensive scheme. They also feature several of the ingredients usually seen in defenses that produce a huge number of takeways: a dominant pass rusher (Cox), a great tackle (Dexter), an elite cover corner (Jason Marshall Jr.), and a bona fide NFL prospect at free safety (Rashad Torrence II).
Florida has averaged 24 takeways a season since 2000, the best number in the SEC. A return to that average in 2022 would be an 11-turnover increase, but even a 9-turnover improvement to its 10-year average of 22 would make this defense one of the SEC's best.
4. Florida upsets Utah and storms to a 4-0 September
Florida's opener against Utah is intriguing for many reasons, but 2 stand out.
First, it's a barometer game, a chance to play a Power 5 conference champion in Game 1 of a new regime, and to do it with arguably a more talented roster than the opponent. Many Florida fans are focusing on the Gators' potentially superior talent, which is a mistake, even if an understandable one.
The reality is Utah sits in the top 10 as a legitimate College Football Playoff contender for 2 reasons. First, the Utes have an All-America-caliber quarterback in Cameron Rising. Second, as always, Utah is one of the best-coached, best-prepared teams in college football under Kyle Whittingham. Don't believe that? Ask Alabama, which was steamrolled in a Sugar Bowl by Whittingham and a prepared Utah in 2008, or Ryan Day and preseason national title contender Ohio State, who played one of the most epic Rose Bowl games ever against the bulk of this Utah team last Jan. 1.
But what if Florida manages to win? The momentum from that victory could help the Gators storm past another brilliantly-coached, but less talented (per the 247 team composite) team in Kentucky a week later, and that would leave USF (Sept. 17) and Tennessee (Sept. 24) left for a perfect September. The Gators will be underdogs in Knoxville, but Florida is 5-0 as a road dog in Knoxville this century, and the Gators have won 17 of 18 against the Volunteers, including a 38-14 rout last autumn. If Florida can beat Utah, it can beat anyone it plays in September.
5. 1,500 yards combined from Nay'Quan Wright, Lorenzo Lingard and Montrell Johnson at running back
Wright, a junior from Miami, has looked spectacular in fall camp and will start over Louisiana transfer Johnson. Lingard, a burner who is healthy after nagging injuries slowed his 5-star talent at Miami and under Dan Mullen, will also earn reps. Napier's offense averaged 41 runs and 28 throws per game in 2021, an exercise in balance that still favored the run game slightly over the pass. Given Richardson's leg skill set and the fact the Gators expect to rotate 3 talented backs in 2022, banking on 1,000 for any of the tailbacks seems a lofty goal. But if the Gators could get 1,500 from all 3, coupled with the 500 yards or so expected from Richardson (that low only because his health will likely limit his planned rushes), Florida could really be in business offensively.
But what about disaster scenarios, including the first one …
1. Richardson's history of injuries haunts Florida again
Richardson entered fall camp healthy for the first time since prior to his senior year of high school. A lingering leg injury slowed his first 2 seasons in Gainesville, and while you wouldn't have known it from postgame backflips last year, Richardson's moody hamstring impacted his pathway to the field almost as much as Mullen's insistence on giving Emory Jones his shot did in 2021.
The Gators should be excellent on the offensive line, and the running back room is the deepest spot on the team. But Richardson will be Richardson, and every time he runs and gets hit, Florida fans will hold their breath.
If he is lost for any substantial amount of time, the whole dynamic of Florida will change because Jack Miller III, the Ohio State transfer who is Richardson's backup, simply isn't the same athlete or dynamic type of player. This Gators team isn't good enough around Richardson to lose its potential star in 2022.
2. Florida's lack of depth dooms a talented group of starters
Matt Hayes' piece on the state of Florida's roster last week quoted a source who noted that the Gators' starters, on both sides of the ball, "can win games," but "after that, they have guys who shouldn't even be on the roster." The reality may be less harsh, but the truth is Florida has about 30 players of high-caliber ability and beyond that, myriad question marks. The 2 best units from a depth standpoint are at running back and corrner, with offensive line not too far behind. After that, it's question marks all the way down, from backup quarterback Miller to whether there is a truly productive backup defensive tackle to whether the roster even has 2 middle linebackers or an SEC-ready 2 at free safety. Injuries are a part of the sport. The Gators can't afford to get well past the first 30 names on the 2-deep.
3. The safeties (beyond Torrence) stink again
The spine of the Florida defense, from defensive tackle to free safety, has been an issue for 2 consecutive seasons, with the result being the Gators posting 2 of their 3 worst defensive seasons from a statistical standpoint since 2000. Yes, the architect of those defenses, Grantham, is gone, replaced by one of the game's rising stars in Toney and a salty veteran with NFL chops in co-defensive coordinator Sean Spencer. Yes, the program has 3 terrific starters in the spine in Dexter, Miller and Torrence. But what about what is behind and around Torrence at the back of the Gators' defense?
Florida was in the DBU debate for many years because of elite backends, led by the likes of Reggie Nelson, Keanu Neal, Marcus Maye and other future NFL standouts at safety. Now, only Torrence appears on mock draft boards. Florida's other safeties range from super senior veterans with a history of inconsistent play (strong safety Trey Dean III) to underclassmen with no significant or limited experience (Donovan McMillon, Kamar Wilcoxson, Corey Collier Jr., Kamari Wilson). While every name on the "limited experience" list was a blue-chip recruit, including 5 star Wilson, only Torrence profiles as a pro next year. This group has to come together or Florida will be snake-bitten by big plays again (12th in the SEC last year in explosive plays allowed).
4. A 1-3 start makes bowl eligibility an uphill battle
The great thing about playing Utah in the opener is the opportunity it presents to measure the Napier program immediately against a Playoff contender and one of the most disciplined, well-coached outfits in college football. The bad thing about playing Utah in the opener is it is a game against a Playoff contender that is one of the most disciplined, well-coached outfits in college football. A loss is likely, and if Florida loses, it will almost certainly have played a physical game ahead of another brutal, physical test against Kentucky the following week. It's tough to beat teams as well-coached as Utah and Kentucky, period, let alone on back-to-back Saturdays to begin a new coaching regime's tenure. The Gators also don't get a road game before they travel to Tennessee in late September, where a Top 25-caliber Vols team will be licking their chops for a chance to slow an 18-year run of futility (1-17 in that span) against the Gators. If Napier's Florida team starts 1-3, it will need to win 5 of its final 8 to get bowl eligible, and that stretch will include probable losses to Georgia and at Texas A&M. It's easy to see how that gets ugly fast.
5. A tough season on the field results in recruiting flips off of it
If Florida runs up a 5-7 or 6-6 record on the field, will Napier and his staff be able to hold a top-10 recruiting class off it? Certainly, hard-fought recruiting wins like Kelby Collins (Florida over Alabama), Kamran James (Florida over Georgia) and Sharif Denson (Florida over Arkansas and a hard-charging Alabama) will be worth monitoring. Ditto Cormani McClain, the corner from Florida pipeline program Lakeland who is a top-5 overall recruit most analysts expect to pick from among Florida, Miami and Alabama. Florida desperately needs to hold the core of a group that, at present, has more blue-chip commits than anyone in the SEC. Will a 6-6 or 5-7 season make that impossible?