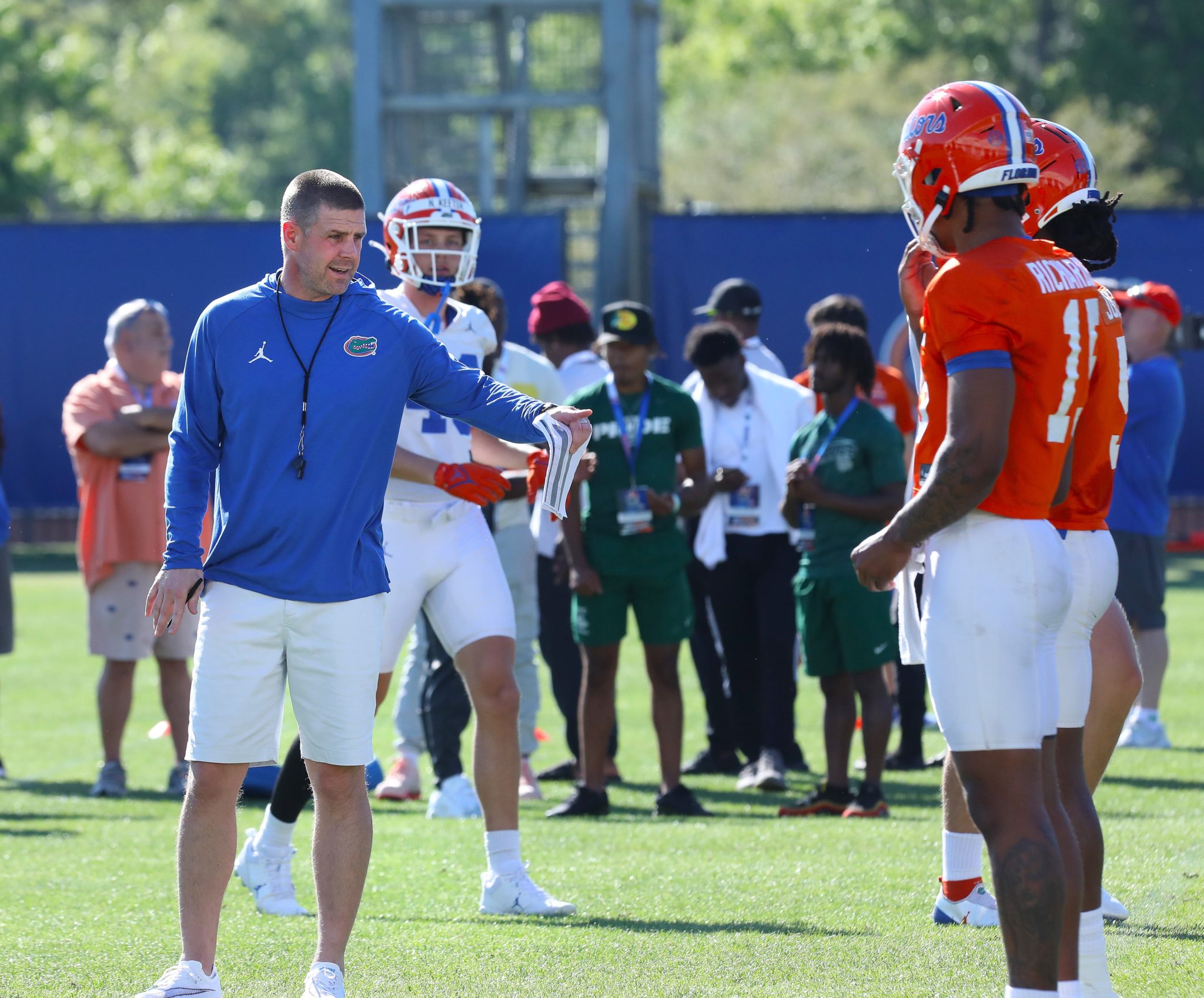 FLORIDA
Hayes: Red flags? Oh, these Gators have a ton of them
There was a moment earlier this spring that should've been a giant red flag for anyone refusing to believe just how bad things are at Florida.
New coach Billy Napier, long after the top players in the transfer portal had signed with new teams, used part of a press conference to clearly state the Gators had scholarships available and would be active moving forward in the portal.
"You can't imagine what (the roster) looked like," a source close to the program said.
I have a pretty good idea.
Florida's best running back is a transfer portal signee from Louisiana.
Florida's best offensive lineman is a transfer portal signee from Louisiana.
Florida's best wide receiver is a transfer portal signee from Arizona State.
Stop me when you think this is a healthy SEC program.
That same source told me the first level of players — the starters on offense and defense — "can win games." After that, "there are guys who shouldn't even be (on the roster)."
If you want to know why Dan Mullen was run off after last season despite 3 New Year's 6 bowls in 4 seasons, it wasn't just because of his weird (and reckless) personality on and off the field. That was reason enough.
It was horrific recruiting.
Florida likes to see itself as a top-10 program. Imagine Georgia or Ohio State or Clemson with Group of 5 school transfers as their best players at critical positions on the field.
Imagine those schools so void of talent at quarterback, the most important position on the field, their season will collapse if anything happens to the one player with talent (Anthony Richardson).
But it's not just the offense. The front seven on defense has no players of impact, no one on the edge who can consistently disrupt a passing game and no one in the middle who can consistently blow up run games.
When the preseason All-SEC teams were announced in July after Media Days, Florida had 1 player on the first-team offense: guard O'Cyrus Torrence, the transfer from Louisiana. The Gators didn't have another offensive player on the second or third teams.
Florida had 2 players overall on the first and second teams, including DE Brenton Cox on the second team. A school that likes to think of itself as a top-10 program, had 2 players among the 44 top players in the SEC — one who just transferred into the program.
"You're always a work in progress, whether it's Year 1 or Year 10," Napier said. "I think they understand maybe why there's a struggle. But I love a challenge, and this is a challenge."
You want a challenge? How about taking a job with elite expectations, and replacing 34 players from the previous season — players who either left for the NFL, graduated or left the team for any other reason. Thirty-four players.
Then there's a new offense and defense to learn, and a roster that's well under the 85-man scholarship limit. And the entire thing rests on the right arm (and legs) of Richardson, a dynamic, dual-threat quarterback who flashed last season but still finished with paltry numbers (6 TDs, 5 INTs).
Want to know why Florida fans are panicking this offseason? It's not so much recruiting — Napier is working on a top-10 class for 2023 — it's the reality quickly coming into focus that this is a heavy lift.
Recruiting failures of the past have left the program extremely thin at critical spots on the roster. No legitimate No. 1 and no deep speed at receiver, no size and disruption along the defensive front, and a potentially disastrous quarterback situation that depends on a uber-talented player with a history of injuries to stay healthy.
How's that for a red flag?
"I know I'm being challenged. I accept the challenge," Richardson said. "This is what playing for the Gators, playing in the SEC, is all about. At some point, every player is put in this position. Now we're all in it. So how do you respond?"
They begin fall camp Thursday in Gainesville, and later this month will open an $85 million, 140,000 square feet football performance center that will rival anything at the college or professional level.
They've spent millions on the infrastructure around the program, with Napier making more than 40 hires in his first 7 months on the job. A majority of those hires, one way or another, are directly related to recruiting players and delivering a unique experience on and off the field.
Napier knows what wins games. So did the three coaches before him who were fired because they either couldn't develop an offense (Will Muschamp), or couldn't recruit and didn't get along with others (Jim McElwain, Mullen).
Muschamp, like Napier, molded the Florida program after Nick Saban's famed Process. So did McElwain. Mullen acted like Urban Meyer, but forgot the critical Meyer credo: recruiting is like shaving.
Napier is shaving every day — the first step in a long road back to building a healthy, sustainable SEC program.