FLORIDA
Florida football: 5 key matchups for the Gators against the Hurricanes
The 2019 college football season will kick off Saturday when storied rivals Florida and Miami Hurricanes meet in the Camping World Kickoff Classic in Orlando.
It's a strange rivalry, as Pat Dooley of the Gainesville Sun wrote this week because there's plenty of hatred to go around even though of late, the schools hardly ever play. That will change soon, with the Gators and Canes scheduled to play home-and-home beginning in 2024, but until then, Saturday night's game will be only the 2nd meeting between this decade, with the last a 21-16 Miami win in 2013. That Hurricanes win extended a lengthy run of Miami dominance in the series; "The U" is 5-1 against UF this century.
Florida will look to reverse that trend beginning Saturday night. The No. 8 Gators are a 1-touchdown favorites and looking to use the national spotlight the Week 0, prime-time matchup provides to show that last year's 10-win, New Year's 6 debut season under coach Dan Mullen was just the beginning of Florida's return to national prominence. A comfortable win would also help put what has at times been a turbulent offseason for the Gators in the rearview mirror.
For Miami, the game is a chance to silence the doubts swirling around the program after last season's disappointing 7-6 campaign that saw Mark Richt retire following a blowout loss to Wisconsin in the Pinstripe Bowl. Manny Diaz, who served as Richt's defensive coordinator and invented the "Turnover Chain" that took the college football universe by storm in 2017, returned from a brief stint as head coach at Temple to take the reins of his hometown college football program. A win would usher in the Diaz era in style and give a needed shot-in-the-arm to a Canes program still striving to regain its footing nationally.
Here are 5 critical matchups that will help decide the ballgame.
Florida's new offensive line vs. Miami's outstanding front in the run game
Florida will replace 4 starters on the offensive line in 2019, and that rebuilt unit's first challenge will be among their toughest all season.
Miami's defense excelled in nearly all metrics last season, finishing 3rd in the FBS in yards allowed per play, 12th in defensive success rate (limiting number of plays run by opponent that result in "successful" yards gained given the down and distance, 25th in Rushing S & P defense and 1st nationally in tackles for loss (136) and pass efficiency defense.
A primary reason was a tenacious front 7, led by one of the country's best linebacking corps. This season, the Canes lost All-American DT (and former Gator) Gerald Willis III, as well as their best pass-rusher, DE Joe Jackson. Those losses aren't insignificant, but the Canes feel good about their depth, and program insiders believe Jonathan Garvin (5.5 sacks a year ago) is poised to pick up where Jackson left off. Jonathan Ford has been a disruptive force at tackle filling in for Willis this fall as well.
At linebacker, a quartet of very good seniors (Michael Pinckney, Romeo Finley, Zach McCloud and All-American Shaq Quarterman) gives Diaz and defensive coordinator Blake Baker the types of smart, seasoned pieces you need to mix-up defenses, use exotic run blitzes and make life difficult on an inexperienced Gators unit just getting its Swamp legs.
The Gators' biggest concern likely comes in the run game. The power run game is the table-setter in Mullen's scheme and Florida's ability to establish the run at a 220 yards-per-game clip was a huge reason for their growth offensively a season ago. If there's a strength to the offensive line, it's inside where Nick Buchanan is an All-SEC candidate at center and Brett Heggie is a veteran space-eater. The Gators will look to use their strength on the only soft spot in Miami's front 7 — the middle — where Ford and nose tackle Pat Bethel are mostly it for the Canes, especially with the immensely talented Nesta Silvera set to miss the game with an injury.
While operating from a different scheme, Wisconsin used a power attack to attack the Miami middle and rush for over 300 yards against a Willis-less Canes front in the Pinstripe Bowl. Undoubtedly Florida has gone to school on that film, but the Canes have too — and they'll likely be inspired to show improvement against the run against the rival Gators.
Feleipe Franks vs. Shaq Quarterman presnap
Quarterman is Diaz's brain on the field, the general of the Canes' defense and one of the most highly-respected linebackers in the country. He returned for his senior year to play in games like this and, along with his scheme versatility, his ability to change defenses and diagnose formations on the fly is a big reason he's shot up NFL Draft boards this summer, positioning himself as a fringe 1st-round or 2nd-round pick.
Mullen, who doesn't praise quarterbacks publicly often, recently praised Franks' growth this offseason, especially his football intellect. The Canes offer a big test in that department immediately.
Franks will need to recognize where Quarterman is at all times before the snap, for multiple reasons. First, Quarterman is often critical to what Diaz's defenses like to do with linebackers from a coverage standpoint, with the Canes using Quarterman in coverage on 40 percent of zone blitzes last season. Second, Franks will need to help his young offensive line by identifying Quarterman's location in the zone read and traditional run game. The decisions Franks makes presnap can directly offset what Quarterman does to help his defense, and this is a key area of the game for the Gators offensively.
Florida's elite WR corps against Miami's youth in the secondary
While the Gators have inexperience on the line, the Hurricanes have youth and inexperience in the secondary.
Despite his lack of elite size, Trajan Bandy is an All-ACC corner who was tremendous in coverage last season (top 10 coverage grade in America in 2018, per Pro Football Focus). Rather than using Bandy on Van Jefferson or Trevon Grimes, where he'd be giving up 5 or 8 inches, respectively, expect Diaz and Baker to line Baker up on a smaller playmaker, perhaps Freddie Swain or Kadarius Toney.
The problem there, of course, is that behind Bandy, most of Miami's secondary will be playing the first meaningful snaps as Canes. They have some highly-touted guys (Al Blades, Bubba Bolden, Gurvan Hall) — but Florida, with a laundry list of perimeter playmakers and a 3rd-year QB is a tough team to open against when you are breaking in a new secondary.
Just as Miami's defensive talent and experience in the front 7 will pose an immense challenge to the Gators up front, Florida's deep, big, lengthy and talented wide receiver corps will pose a big challenge to the Hurricanes.
What's more, because Miami knows its largest schematic advantage is its front 7 vs. Florida's offensive line, Diaz and Baker will have a choice. Do they blitz, betting that Florida's line can't hold up and in turn, limiting the amount of time their young corners and safeties have to cover? Or do they trust their defensive line to get pressure with 4, using fast, athletic linebackers to help in coverage?
If the Canes blitz a great deal, they'll leave their young corners and safeties on exploitable islands. Assuming Franks can make quick, decisive reads, that could spell big trouble for The U.
Can Miami establish the run and take pressure off Jarren Williams?
This seems fairly obvious, right?
The Canes are breaking in a new starting QB and want to simplify the game for him with low-stress throws and on-schedule situations.
For Miami to have a chance to win, it will need to do what has long been a program staple: run the football.
DeeJay Dallas is an explosive tailback, who is powerful enough to run through arm tackles but plenty fast enough to separate from the second level.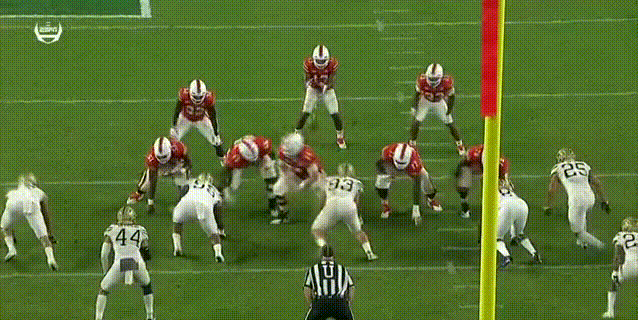 Dallas averaged an eye-opening 8.3 a carry in 2018 and, coupled with talented sophomore Cam'Ron Harris, gives the Canes 2 blue-chip horses in a backfield that averaged 191.5 yards per game in Richt's offense in 2018.
New offensive coordinator Dan Enos is unlikely to reinvent the wheel in the run game. Instead, he'll use similar pistol, inside zone and zone-read concepts to get his playmaking tailbacks moving downhill. Enos also likes to use tight ends in the run game in split zone concepts, a play that gave Florida fits last year (see, Vanderbilt game), especially when its "Buck" ends overpursued.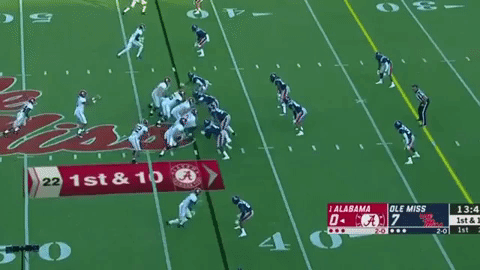 Florida was 11th in the SEC last season in yards allowed per rush (4.3) and the Gators don't have a real space-eater or push guy at defensive tackle, with Adam Shuler by far the best of an otherwise pedestrian bunch. The Gators will likely gang up on the run early and try to force Williams to throw, but if the Canes can bust a run or two against Florida's stacked fronts, that could open up shots downfield for Williams and the Canes.
While most analysts have focused on the mismatch that is Miami's new starting left tackle vs. All-SEC defensive end Jabari Zuniga, or Jarren Williams vs. Florida's outstanding cover corners, the Canes' ability to establish the run game would be a game-changer.
Jeff Thomas vs. CJ Henderson and Marco Wilson
Thomas is Miami's most electric player on offense, a burner who has averaged nearly 20 yards a reception in 2 seasons in Coral Gables.
Thomas has next-level speed and a great burst off the line that in many cases commands help over the top. He also has sneaky good athleticism packed into his 5-10, 170-pound frame, as he's a good leaper who can adjust to the ball and has strong hands.
Thomas nearly left the program this offseason but opted to return, and he's emerged this fall camp as a key piece in Enos' offense. Expect Enos to move Thomas around from the boundary to the slot or even in motion to try to isolate him in mismatches. And expect, for the most part, Florida to counter by playing man on Thomas with a corner.
Florida has two great options to counter Thomas.
Preseason All-American CJ Henderson was 1 the country's top 5 highest-graded coverage corners a season ago, per Pro Football Focus. Henderson did not allow a single TD in 1-on-1 coverage and uses his unique blend of top-level speed and freakish strength to disrupt routes at the line and recover when need be.
Hard to find a more natural looking CB in man coverage than CJ Henderson. Has a real chance to be a top 15 prospect in the 2020 NFL Draft. pic.twitter.com/URkRfp7yhE

— Rob Paul (@RobPaulNFL) June 15, 2019
Henderson also is one of Florida's most reliable tacklers and boundary blitzers, however, which means Grantham might be tempted to match up Marco Wilson, a former All-SEC Freshman team selection, against Thomas. That should work too — Wilson is a quality blend of speed and technique who will have a physicality advantage against Thomas.
Nevertheless, Thomas is a master at creating just enough space to make a big play and with a new starting QB, the Canes will want to hit a few explosives to avoid need sustained drives consistently. How Florida handles that challenge and vice versa could go a long way in deciding the game.