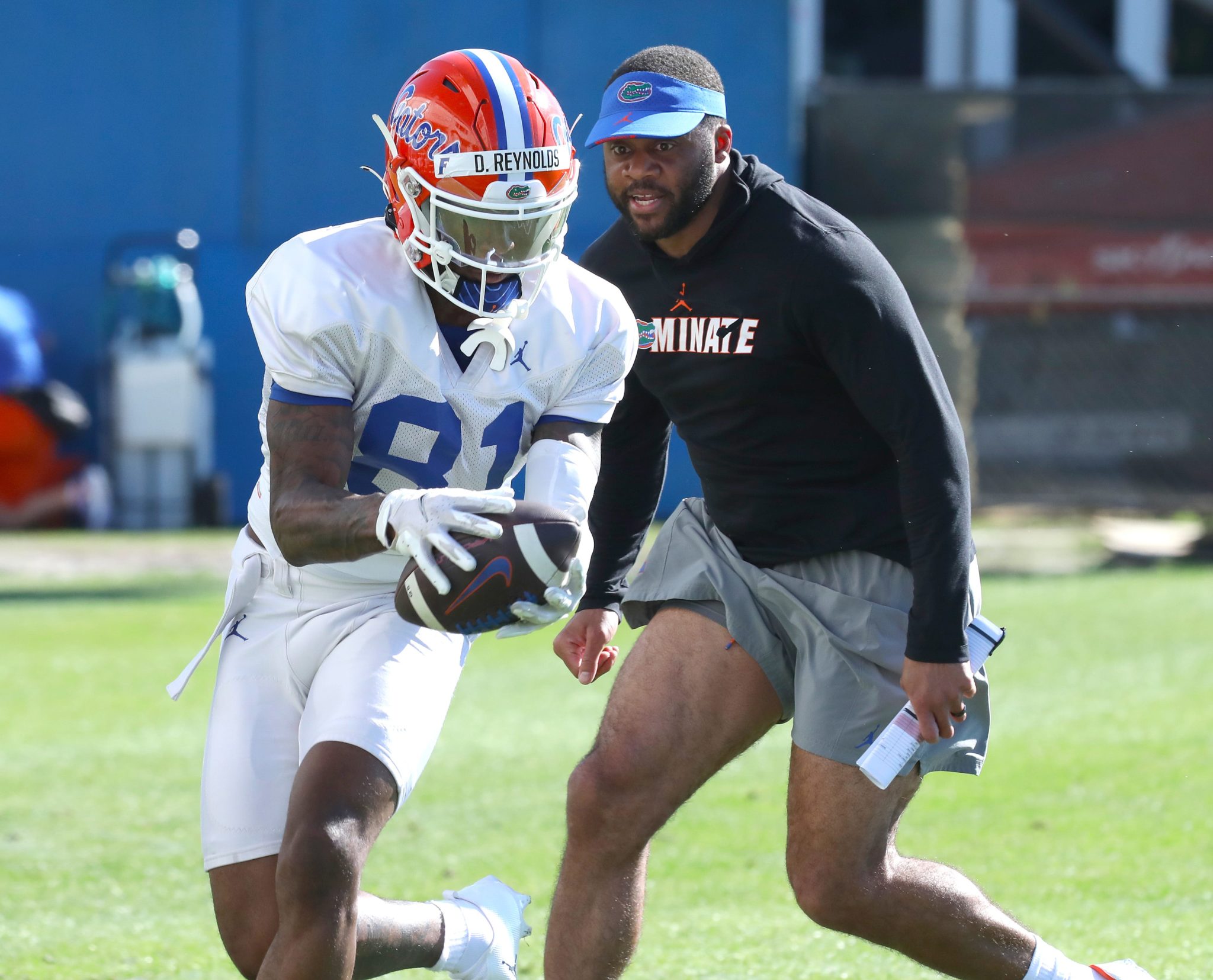 FLORIDA
Florida football: 5 biggest storylines for the Orange and Blue Game
Florida makes its Orange and Blue game debut under Billy Napier tonight in The Swamp (7:30 pm, SEC Network). Florida has had a productive first spring under their new head coach and found some answers on both sides of the ball, especially at the line of scrimmage. Napier has lamented Florida's lack of depth, however, especially at the playmaker positions. Thursday night will be a big night for some of the team's expected playmakers to step up, and current Gators can't afford to waste any opportunities to impress given Napier's promise to be "active" in the transfer portal throughout the late spring and summer. Most coaches would write off Year 1 as a rebuilding year where you establish a cultural foundation for the future, and perhaps that's the fairest way to look at Napier's debut season in Gainesville. At the same time, this is the SEC, where demanding, sometimes fickle fan bases don't tend to offer much grace or time for foundation building.
For the time being, stories of just how long the Napier honeymoon will last in Gainesville can wait. Thursday night, he'll be greeted to roars and riotious approval in what's expected to be a packed Swamp ahead of one of the most anticipated spring games in recent Florida memory.
Here are 5 storylines to watch in tonight's Orange and Blue game.
An old format will be a breath of fresh air
Dan Mullen and Jim McElwain changed the Orange and Blue format, offering tweaks intended to keep the scrimmage "fun" and "fan friendly." Too often, however, the changes seemed forced. Gimmicks like having Chris Doering bolt off a sideline to catch a touchdown pass or Lito Sheppard sneak onto the field to take a pick to the house made the whole affair seem more like an Alumni weekend made for TV special than a chance to showcase the players that have worked hard all spring.
Now, playing the first spring game of any kind at Florida in 3 years, Napier has gone back to the tried and true formula of having the captains pick teams and just lining up and playing ball. The teams will run out of separate tunnels, play on separate sidelines, and the winner will be celebrated within the program. That's how it should be, and fans will likely see the format as a breath of fresh air.
Anthony Richardson, of course
Florida's sophomore quarterback is so talented that SDS's own Matt Hinton, who has covered some brilliant college quarterbacks in his lengthy time as one of the sport's best writers, wrote it was a matter of when, not if, Anthony Richardson would lead Florida to a championship. Certainly, when he makes plays like some of the ones below against LSU, it's difficult to argue with Hinton.
Of course, Richardson threw 2 costly interceptions in that game as well, and he all but single-handedly turned a close game with No. 1 Georgia into a rout by halftime at the Cocktail Party last October.
Richardson has, by most accounts, had a solid spring, but he's been limited by Florida's lack of production (more below) at the wide receiver and tight end positions.
How will he look tonight, throwing to wide receivers who won't have much separation against what should be one of the SEC's better secondaries? That's a fascinating storyline, and it's just the beginning of a year where Richardson promises to be "the story" in Gainesville.
Will the WR and TE rooms please stand up?
Napier wasn't shy in calling out Florida's perimeter playmakers after a recent scrimmage.
Asked about his quarterback play, he deflected criticism of Richardson and his backup, Jack Miller III, saying that the quarterbacks can only do so much when they aren't getting enough from the playmakers around them. Ouch? Maybe. Also tough and fair.
Don't expect much from the tight ends Thursday night. Keon Zipperer is the only scholarship tight end available. Noah Keeter, who is a good player with a walk-on label simply because he opted to walk-on at Florida rather than taking a scholarship offer at UCLA, will play as well. Beyond that, Florida is using makeshift blockers at the position until they can hit the portal and get healthy.
The wide receiver room, however, should be better. Florida has recruited well at the position, and even without Jacob Copeland, who transferred to Maryland, the Gators should be getting more from the likes of Justin Shorter, a former 5-star, Xzavier Henderson, a high 4-star who picked Florida over Alabama and Georgia, and Daejon Reynolds and Ja'Quavion Fraziars, also 4-stars.
Napier said last week Florida will be "very aggressive" at wide receiver in the transfer portal. The only way to interpret that is if you play wide receiver at Florida, you better come to play Thursday night.
The CBs who aren't Jason Marshall Jr.
Marshall Jr., an All-SEC freshman team selection last year, figures to challenge for All-SEC honors as a sophomore. He'll lock down one side of the field similar to the way Kaiir Elam did his final 2 years in The Swamp. What Florida gets from the players opposite him is up in the air. Jaydon Hill, returning from an injury, will challenge for the starting spot he lost due to injury last summer. But Avery Helm, who played a lot of football in 2021, and Georgia transfer Jalen Kimber both figure to put up a fight to start on the other side. Florida has excellent depth at corner and this could be one of the more fun units to watch Thursday evening.
The revamped run game
Playing behind a retoooled offensive line, buoyed especially by the addition of All Sun-Belt and Honorable Mention All-American O'Cyrus Torrence at guard, the Gators should have a physicality we haven't seen since early in the brief Mullen era up front. Torrence and fellow guard Ethan White will give the Gators the best run-blocking guard combination the program has had in years. Center Kingsley Eguakun is steady and smart, and left tackle Richard Gouraige had his best spring as a Gator and graded out as one of the SEC's best tackles last season, per Pro Football Focus. As is the case at corner, Florida has solid depth up front, a luxury they haven't had since early in the McElwain regime.
They will pave the way, of course, for the best skill position group on the team, the running backs. Lorenzo Lingard Jr. had a monster camp and is challenging Nay'Quan Wright to start, and Louisiana transfer Montrell Johnson gives the Gators a nice goal-line package weapon. Another former 5-star, Demarkcus Bowman, also is in the mix. Florida's run game could be fun in 2022, and that's plenty worth watching Thursday night.