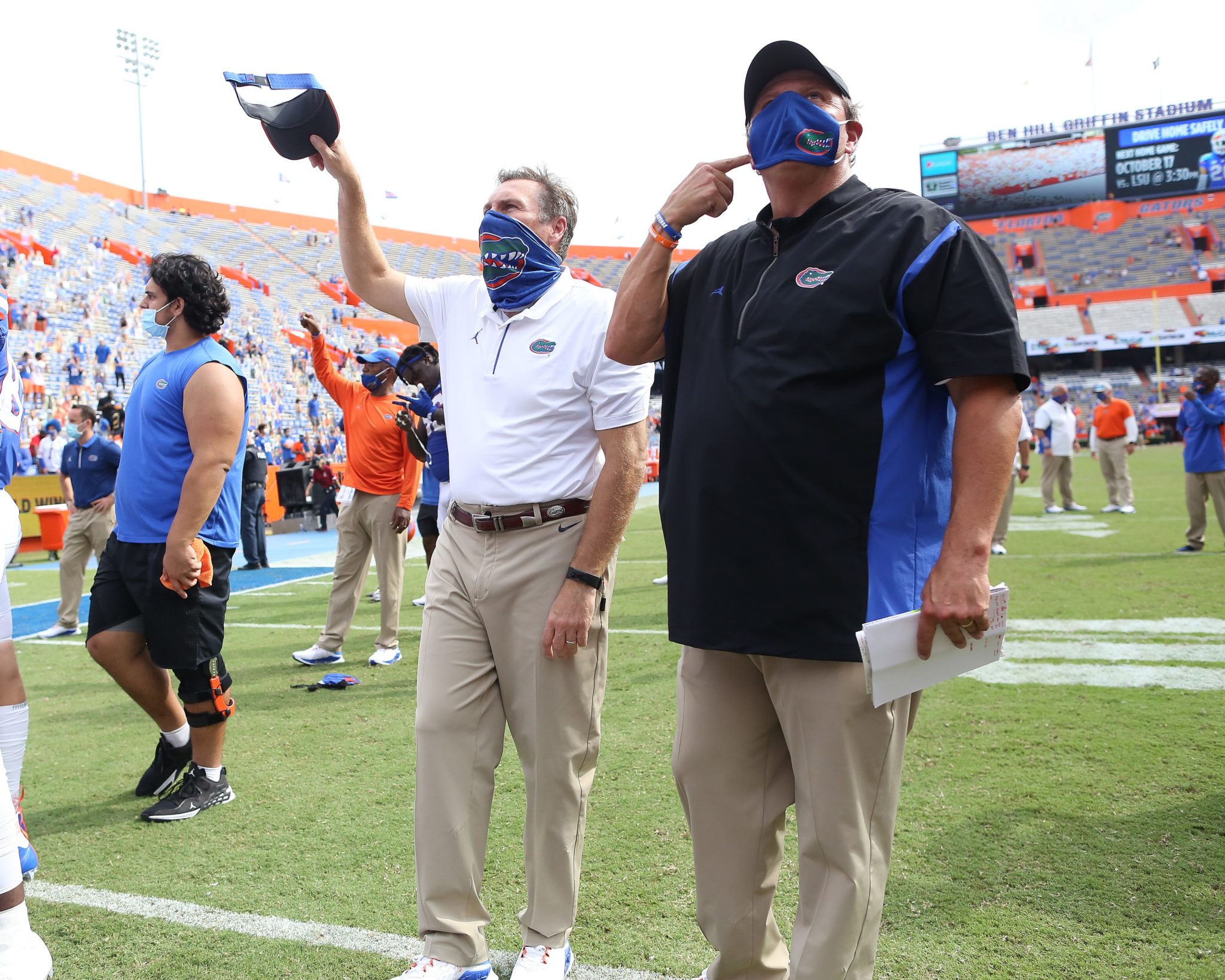 FLORIDA
Florida football: Grantham's defense makes championship unlikely in 2020
Florida at Texas A&M was a game every analyst and fan circled at the beginning of the season. Two third-year head coaches, both quarterback gurus, playing with talented senior quarterbacks. It was supposed to have a big-game feel, an early litmus test for two programs trying to take the next step.
Florida started the season playing its best offense since the Meyer, Mullen, Tebow and Harvin days, blitzing Ole Miss and South Carolina on their way to a top five ranking. Meanwhile, Texas A&M limped past a bad Vanderbilt team and had its door blown off at Alabama.
The noise around Jimbo Fisher's program after the Aggies looked outclassed and outmatched at Alabama couldn't have been any louder.
Instead of a big game, Florida-Texas A&M suddenly felt like a bit of a mismatch. At a minimum, it was Fisher and QB Kellen Mond's collective last stand. A desperate Aggies team hoped to make something out of 2020 and prove the program had energy under Fisher in the process.
That desperation made the game feel dangerous for Florida. Forgive me for going Admiral Ackbar here — but with most folks talking about Florida winning this game handily Saturday it was hard not to yell at the TV and say "It's a trap!!"
After all, the Aggies entered the game averaging only 20.5 points per game, but they also were averaging 5.3 yards a rush and 6.3 yards per play , both in the top 20 nationally. They also ranked first in the SEC in protecting the quarterback. In other words, this Texas A&M team was better statistically than the scoreboard had shown and it seemed only a matter of time until the numbers caught up with the eye test.
Plus, the Aggies' strengths — a powerful interior running game and an offense that is good at sustaining drives (7th in the country in third-down success rate entering Saturday's game) — were well suited to challenge Florida.
This was a talented, wounded Texas A&M team, playing for pride and playing at home. That can often spell trouble, and it did for the Gators Saturday. Especially for the defense under coordinator Todd Grantham.
Florida couldn't stop the interior run, surrendering 205 yards rushing to an Aggies run game that dominated the line of scrimmage and, more critically, the clock in the second half.
Florida couldn't stop the pass either, of course. Mond torched Florida for 336 yards and 3 touchdowns, constantly making both short throws in tight spaces and accurate throws downfield. Florida's secondary has now defended 116 passes in 2020. They have yet to produce an interception (the lone interception was by a defensive lineman). Saturday, they allowed Caleb Chapman, who entered the game with 6 career receptions for 52 yards, to catch 9 passes for 151 yards and 2 touchdowns.
Kellen Mond slings a 51-yard touchdown pass to Caleb Chapman, who makes a #YouGotMossed highlight on the Gator defender. Game tied at 38. pic.twitter.com/Vur24vgMfa

— Steve Helwick (@s_helwick) October 10, 2020
Senior cornerback Marco Wilson, one of the leaders of this Florida defense, was exposed on two of Mond's three touchdown throws, including the one above, where he mistimed his leap on an interceptable ball. Wilson played his worst game as a Gator, and was targeted again and again by Fisher.
When Florida did force third down, the Gators couldn't get off the field. The Aggies converted their first seven third-down tries and went 12-15 on third down on the afternoon overall. When Florida made a critical third-down stop in the third quarter, the Aggies scored on fourth down anyway, with Isaiah Spiller running through multiple tackles for a go-ahead touchdown.
https://twitter.com/SportsCenter/status/1315001914858369025?s=20
Make all the Third and Grantham jokes you want. Saturday, they were warranted.
More concerning, it didn't matter what Florida tried. When Grantham brought pressure and left his secondary in man coverage, the Aggies converted. When Grantham put an umbrella up and tried to keep things in front, the Aggies abused the 7-yard gaps between their receivers and Florida's defenders. When Florida finally slowed the pass, the Aggies blasted Florida with power football.
Todd Grantham has had some nice moments in Gainesville. His defense was key in home wins over LSU and Auburn. A Peach Bowl rout of Michigan was led by an inspired unit that buried the Wolverines in the second half. But over the last year, in games against teams with equitable talent, Grantham's defense has struggled. And in Florida's last two losses, against Georgia last year and Texas A&M Saturday, opposing offenses are a staggering 24-for-30 against the Gators on third down.
From a talent perspective, the Gators defense is ahead of its offense in the 247 Talent composite. This Florida defense was supposed to be deeper and more versatile than any unit Grantham has coached in his three seasons. Instead, they can't set the edge, they can't get leverage inside, they can't cover, they don't consistently pressure the quarterback and they can't get off the field on third down. They are poor and, as a result, an electric offense was left hanging when it finally made a mistake Saturday.
Running back Malik Davis fumbled to set up the winning A&M drive. But it shouldn't have come to that. Florida should not lose an SEC football game when it scores 38 points, averages 7.2 yards per play and has a 56% success rate offensively. For perspective, LSU's 2019 season success rate on offense was 57%. In other words, the Gators offense was prolific again Saturday. They punted once. They scored on all their other possessions until the Davis fumble. They lost anyway.
That's on Grantham, who should be doing a better job with a talented group. And if the problem is talent, that's on Grantham too. His recruiting evaluations have a ton to do with who is currently on campus defensively.
Florida arrived in College Station openly talking about the SEC Championship and the College Football playoff. They leave having suffered the program's 8th loss to Jimbo Fisher in 9 tries, wondering what's next.
It won't get any easier, with LSU, an improving Missouri and mighty Georgia lurking around the corner. Grantham flirted with the NFL after the 2018 season, but ultimately stayed in Gainesville, citing family and about 1.8 million other reasons per annum.
Head coach Dan Mullen has always valued staff continuity and he trusts Grantham. It's unlikely the veteran coordinator is going anywhere. It's also unlikely this Florida team wins any championships this season, unless Grantham's defense gets much, much better.