FLORIDA
Florida QB battle one of the most intriguing in the nation
The 2015 campaign at Florida was a success by any measure, as the Gators won 10 games, captured the SEC East and made an appearance in the conference championship game under first-year coach Jim McElwain.
Nevertheless, the offense was an abject failure once starting quarterback Will Grier got popped by the NCAA for performance-enhancing drugs. He sat out the final eight games.
Former starter Treon Harris seemed to get worse instead of better after moving up to the top of the depth chart. UF, once 10-1, lost its last three outings — including a 29-15 defeat to Alabama in the SEC title game — and fell to No. 25 in the final polls.
The Gators finished just 13th in the SEC in rushing offense, 12th in total offense and 11th in scoring offense. Harris ranked 10th in the conference in passer efficiency rating among only 13 qualifiers. His patchwork offensive line didn't help much, but the same line performed better with Grier taking snaps the first six games.
GOODBYE GRIER, HARRIS TO WR
McElwain and Co. are hitting the reset button at the game's most important position once spring practice arrives. Grier announced his decision to transfer in December — his new destination is yet to be determined — and Harris is going to shift to recever, catching passes this coming season instead of throwing them.
According to Bob Redman, the managing editor of FightinGators.com, putting the blame solely on Harris is a get-out-of-jail-free card for other components of the offense that were equally inept.
"I think Harris has gotten a raw deal from some fans," Redman told Saturday Down South, "in that I believe he gave everything he had and was all that the staff had to work with."
That being said, transitioning away from Harris was the only logical decision since he is a career 50.3-percent passer, gets sacked entirely too often and simply didn't show much improvement within the system.
"As far as resetting the quarterback position, that is the case," Redman said. "You have four healthy arms in camp now and four guys that better suit the offensive style that McElwain wants to run at Florida."
Those four healthy arms belong to Luke Del Rio, Austin Appleby, Feleipe Franks and Kyle Trask, and it's reasonable to suggest that all of them have a chance to win the job at one of the SEC's premier programs.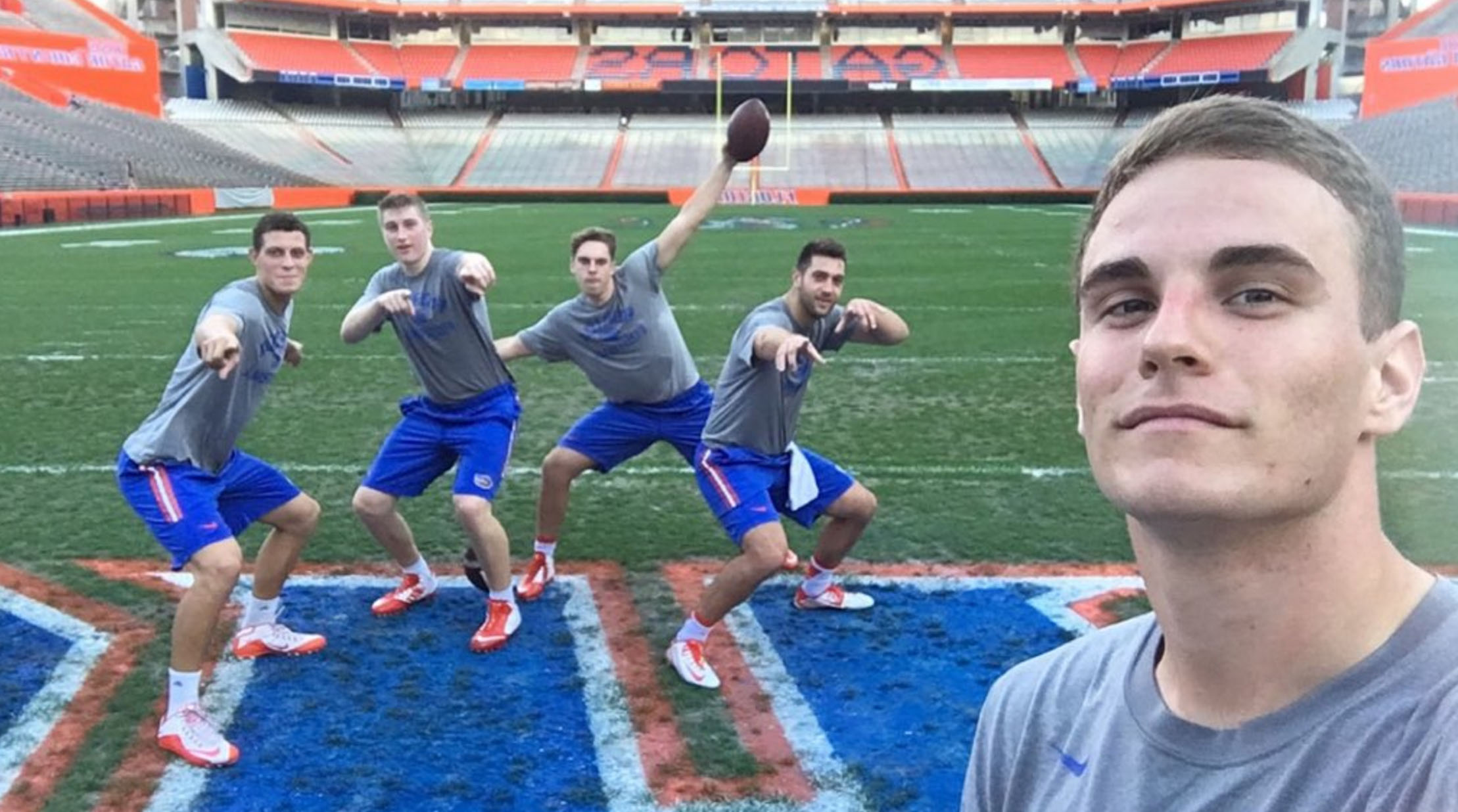 (Image from @Aapplyby12)
Del Rio — the son of Oakland Raiders coach Jack Del Rio — is a two-time transfer that first attended Alabama and then Oregon State.
Appleby is a graduate transfer from Purdue.
Franks is a four-star recruit from the class of 2016 already on campus as an early enrollee.
Trask is also a '16 signee and currently enrolled this semester, although he's a three-star prospect and not a genuine blue-chipper like Franks.
Gator Nation is quite eager to see how the coaching staff splits the snaps this spring. Del Rio appears to be the early front-runner since he practiced with the team last year upon arriving from Corvallis.
"I think Franks, Trask, Appleby and Del Rio will all get a shot," Redman said. "Del Rio is going to be way ahead in terms of knowing the offense, and I think McElwain and (offensive coordinator Doug) Nussmeier would like to go with the older guys."
While Del Rio and Appleby hope that's the case, as they each have experience at the collegiate level, it doesn't mean Franks and Trask won't be given a chance to strut their stuff straight out of high school.
"I absolutely believe the freshmen will get a shot," Redman said. "I think getting some time on the field for the best freshman is the best way to go, so that when it is his time to take the reigns, he will be better equipped to do so."
THE CASE FOR THE 'VETERANS'
Del Rio may be more familiar with the playbook than his fellow signal callers. However, to call him experienced is a stretch. He threw a grand total of 18 passes for the Beavers in 2014.
Originally a three-star prospect from Littleton (Colo.) Valor Christian High School in the class of 2013, Del Rio signed with the fabled Crimson Tide after being recruited by Nussmeier, Bama's offensive coordinator at the time. Del Rio transferred to Oregon State to play for coach Mike Riley, but Riley left for the Nebraska job a year later. Riley's replacement, Gary Andersen, prefers a dual-threat quarterback.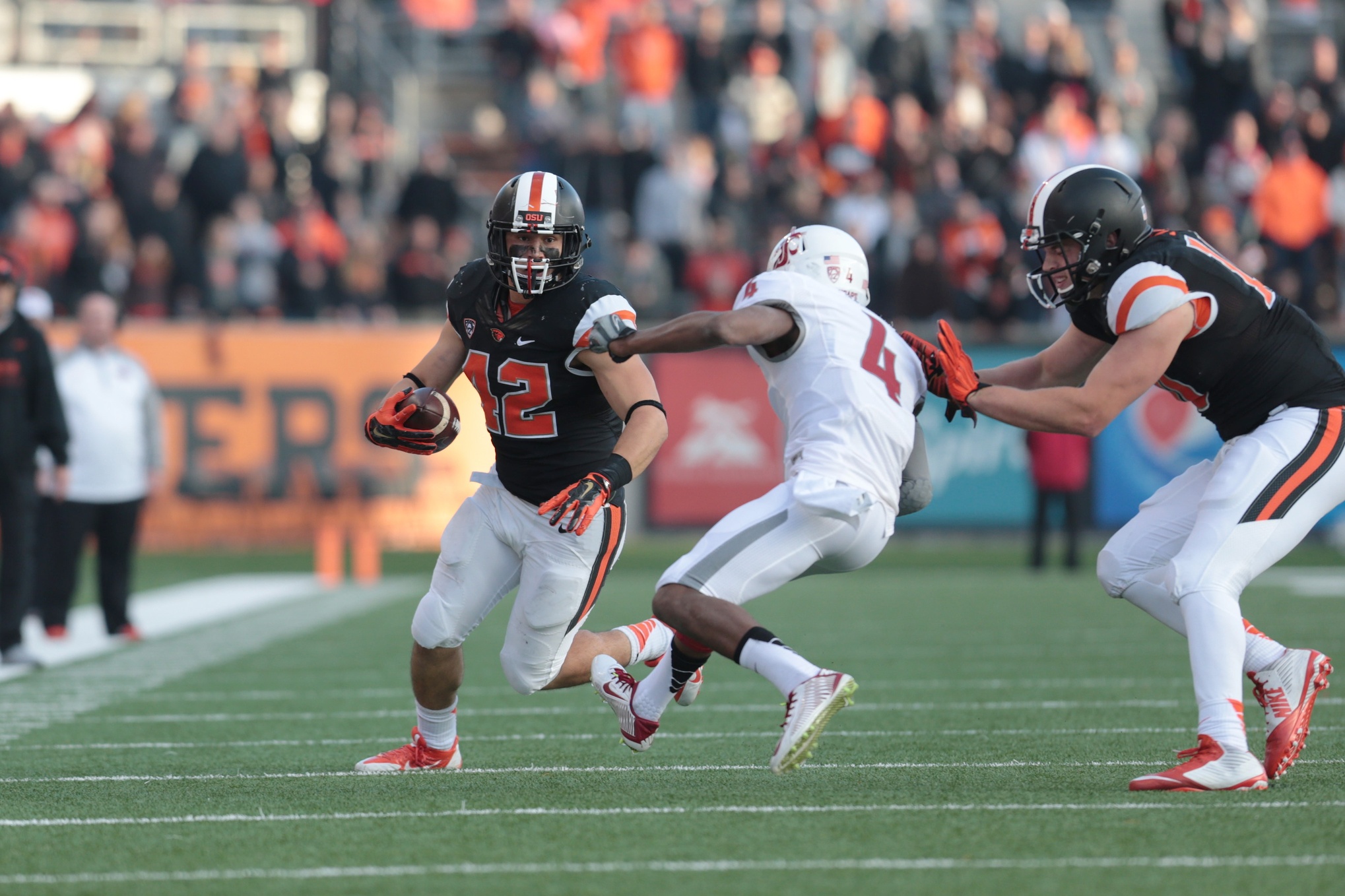 More of a pocket passer with limited size (6-1, 216) and average athleticism, Del Rio has reunited with Nussmeier at Florida. If Nussmeier thought Del Rio could compete with the Tide, then he can compete with anyone.
"I was surprised that he chose Florida from a football standpoint," said Kevin Hampton, who covers Oregon State for the Corvallis Gazette-Times. "I wasn't sure he would have the best chance at starting for the Gators."
It's fair to look into Del Rio's nomadic nature and suggest he isn't interested in waiting for his name to be called, although his tours in Tuscaloosa and Corvallis did put a lot of practice reps under his belt.
"His time at Alabama and Oregon State could be a positive in the sense that he now has plenty of experience with Division I football and has done quite a bit of scout-team work," Hampton said, "not to mention a little bit of playing time with the Beavers."
Stories have surfaced with sources praising Del Rio's efforts on the scout team for the Gators. But most of practice is closed to the media. It's difficult to separate fact from conveniently offered-up fiction.
Unlike Del Rio, Appleby has a verifiable track record in the FBS. The 6-foot-5, 239-pounder went from starter to reserve back to starter in 2015 with the Boilermakers, completing 57.5 percent of his passes and firing 8 touchdowns against 8 interceptions. Despite throwing for 332 yards in the season finale vs. rival Indiana, the coaching staff favored David Blough — two years younger than Appleby — going forward.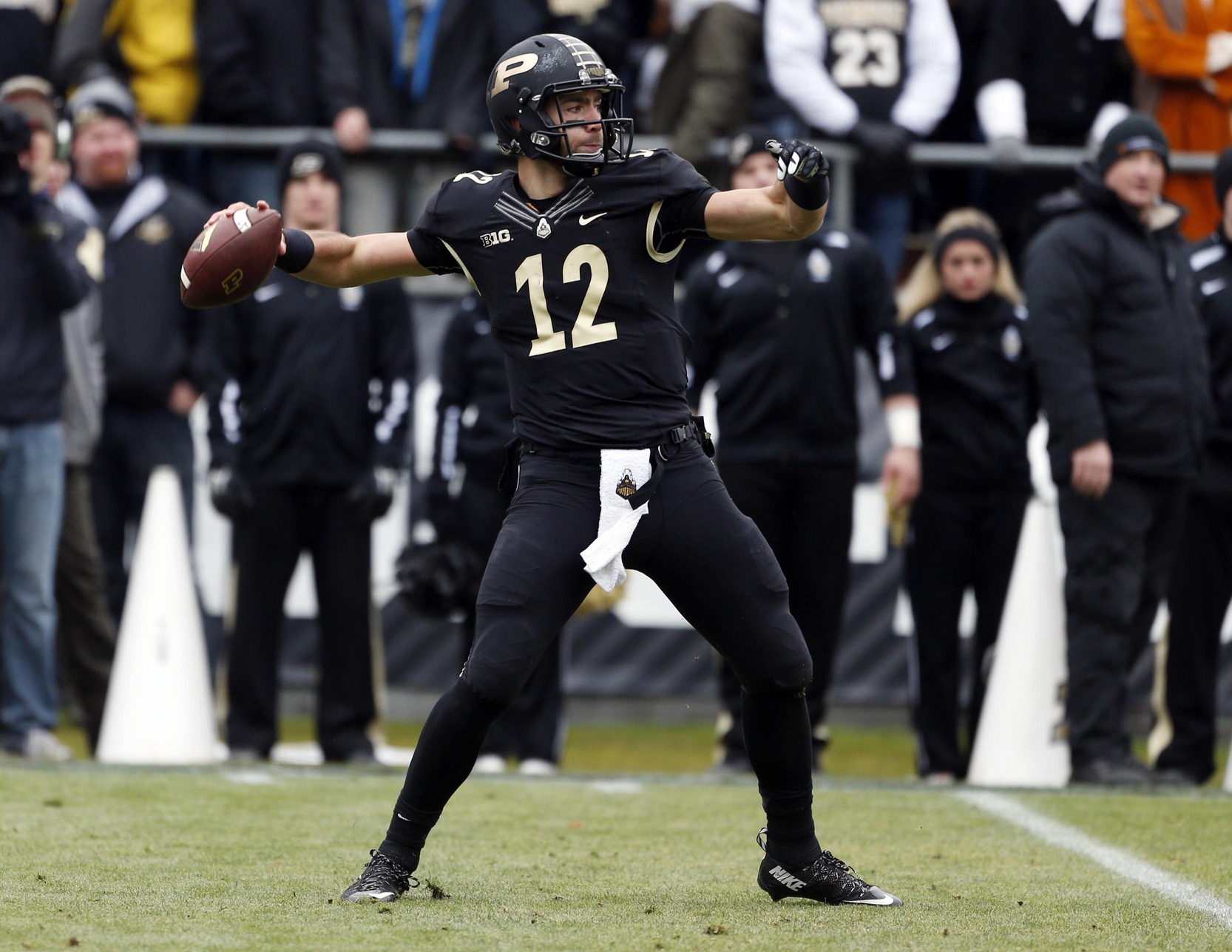 Pete DiPrimio covered Appleby for the Fort Wayne News-Sentinal during his stay in West Lafayette. He saw a good teammate, a good leader. But he also saw a quarterback that didn't put enough value in possessing the pigskin.
"The big problem was turnovers," said DiPrimio. "He had way too many, and this past season they often led to defensive touchdowns. That's why he lost the starting job. He had two or three pick-sixes and a fumble returned for a touchdown in like the first four games. Some were his fault. Some could be blamed on the line and receivers. The offensive play-calling also wasn't always the best."
Del Rio's transfer made sense due to his connection with Nussmeier. Appleby's, on the other hand, led to some initial head scratching. Projected backups at Purdue typically aren't candidates to start at Florida.
"I was surprised he wound up at Florida, but it shows the coaches there must think a lot of him," DiPrimio said. "He's not a superstar, but if put in the right system with a good line and skill players, and if he can limit the turnovers, he can be a winning quarterback. He can make winning plays at big moments. Florida should be a great opportunity for him."
THE CASE FOR THE FRESHMEN
If Del Rio or Appleby gets the gig, the Gators can win provided they follow their most recent formula. Basically, the defense needs to be so dominant that it makes up for an inferior offense.
But the Florida D will be replacing an awful lot of difference makers. Cornerback Vernon Hargreaves and tackle Jonathan Bullard look like first-round picks. Linebacker Antonio Morrison and safety Keanu Neal will hear their names called in the middle of the draft. End Alex McAllister and corner Brian Poole are late-round possibilities. Three of them — Hargreaves, Neal and McAllister — left school a year early.
To expect an elite defensive unit once again is dangerous. The offense needs to pick up the slack significantly. Desperate times call for desperate measures, and Florida is indeed desperate under center.
"(Franks) can really get the ball downfield without much effort, which will eventually allow him to attack all areas of the field in Florida's offensive system. He offers immense upside in that regard." –Thomas Goldkamp
But desperate enough to start a true freshman? That remains to be seen. Franks represents the high-upside option, as he is a 6-foot-6, 210-pound pro-style passer that had SEC offers from Alabama, Georgia, Kentucky, LSU, Mississippi State and Tennessee. Previously an LSU commitment, he flipped to Florida at the 11th hour — the power struggle involving coach Les Miles was surely a factor — and enrolled in January.
Trask, on the other hand, was being courted by the likes of McNeese State and Lamar. But then the Manvel, Texas, product went to a Florida camp in July. He earned an offer and committed to the Gators on the spot.
"There's nothing to pick at physically with Trask," wrote Thomas Goldkamp of 247 Sports. "He looks like you'd expect a college quarterback to look. He won't have any trouble at all seeing over his line, and he's got a powerful arm that should give Florida's coaches the raw tools to work with going forward."
Keep skimming the scouting report, though. There's a reason Trask wasn't recruited much: Coaches couldn't see him on Manvel's game film. He was usually sitting on the sideline watching Houston signee D'Eriq King.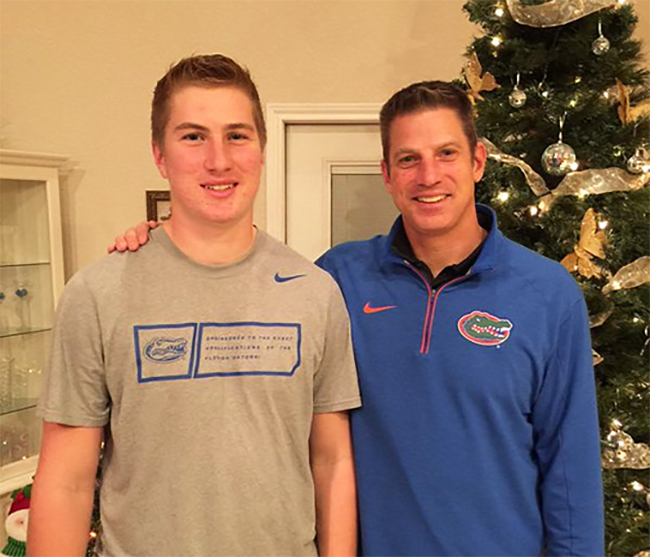 "As a backup in high school, Trask didn't get nearly the amount of game reps as other quarterbacks," Goldkamp wrote. "He played at a successful high school program and had a four-star prospect in front of him, but the lack of playing time makes him pretty hard to evaluate outside of his physical tools."
You read that correctly. One contender to get the nod at QB for the Gators this fall didn't even start as a prepster. It would be like an understudy at the local community theater getting a lead part on Broadway.
Realistically, Trask should redshirt in 2016, which opens the door that much wider for Franks. An alumnus of Crawfordville (Fla.) Wakulla High School, he will display a stunning amount of pure arm skills — the kid can spin it, no question. It might take a while for Franks to get used to running a college offense, but he'll undoubtedly deliver more "Wow!" throws in spring ball than Del Rio or Appleby.
With Grier departing, Harris disappointing and only Trask committed at the time, stealing Franks from the Tigers made the future much brighter for McElwain. Transfer QBs tend to be one-year solutions.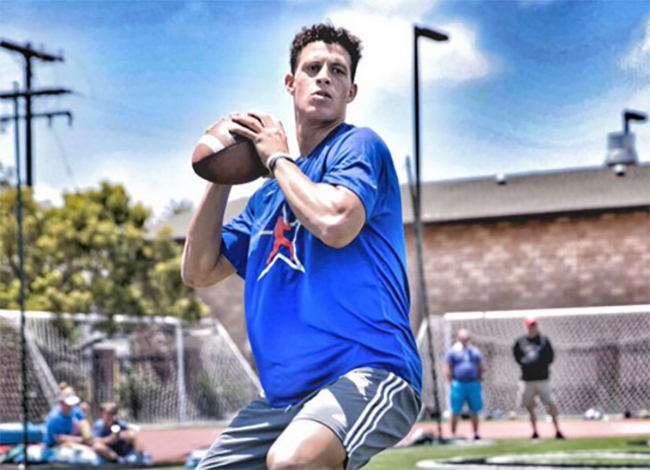 "Those watching Franks at All-American practices have raved about his big arm, and that's the biggest positive for the long, lean quarterback," wrote Goldkamp in a separate scouting report. "He can really get the ball downfield without much effort, which will eventually allow him to attack all areas of the field in Florida's offensive system. He offers immense upside in that regard."
Unfortunately, Franks shares a nasty flaw with Harris: He's inaccurate. DBs are faster in the SEC, meaning throwing windows are tighter. Missiles are no more effective than rainbows if they don't hit their target.
"The biggest knock on Franks is that his big arm doesn't always translate to crisp accuracy when the game goes live in scrimmages and practices," Goldkamp wrote. "He seems to be just a split-second slow getting the ball out, which is something Florida's coaches will harp on when he arrives on campus. If he can get used to speeding up his mental clock, he's got a lot of potential."
WHY IT'S IMPORTANT
Naturally, the brightest light this spring will shine upon the quarterbacks. That's the nature of the beast. But the Gators have a lot of work that needs to be done at the other 10 positions on offense, too.
The line allowed 45 sacks, dead last in the conference. Returning rushers Jordan Cronkrite and Jordan Scarlett combined to average a pedestrian 4.3 yards per carry. Antonio Callaway finally added some explosiveness to the aerial attack — not to mention his enviable exploits on special teams — but only managed to catch 35 passes. Kelvin Taylor, Demarcus Robinson and Jake McGee are all off to the NFL.
When a coach says he has two quarterbacks, that usually means he doesn't have any. So what does it mean when a coach says he has four quarterbacks? Not even McElwain can answer that question at this point.