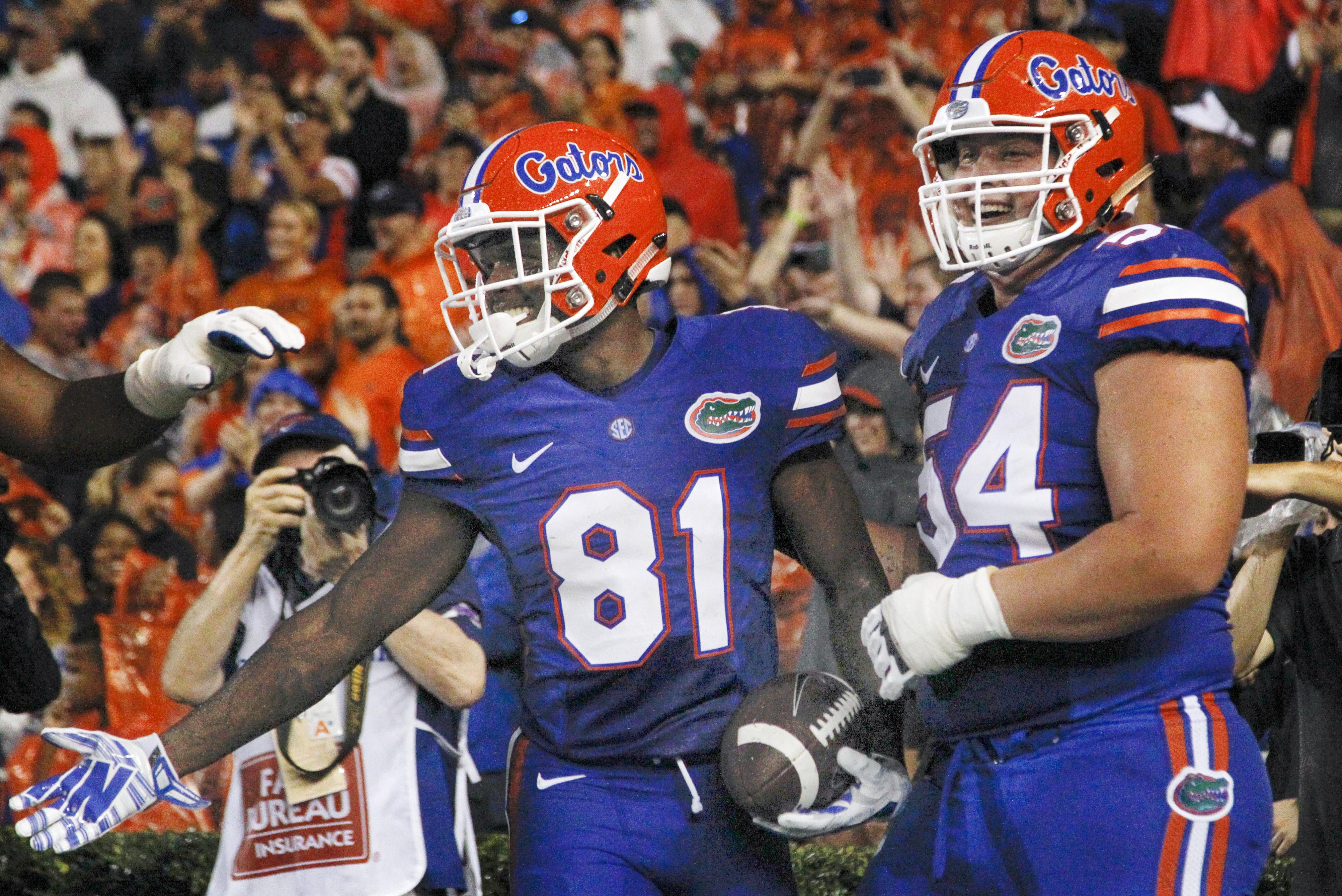 FLORIDA
All eyes on Atlanta: Gators control destiny in SEC East but can't slip up
GAINESVILLE, Fla. – Florida's bye week – the scheduled one, not the Saturday off due to Hurricane Matthew – came at an ideal time. The Gators enter the second half on top of the SEC East, but have plenty of work to do.
It doesn't feel like UF is the best team in its division. Second-year coach Jim McElwain's squad is 3-1 in conference play after beating the teams it is supposed to: Kentucky, Vanderbilt and Missouri. Since Tennessee has suffered back-to-back losses to Texas A&M and Alabama, the Gators are up a game on the Volunteers (5-2, 2-2 SEC), who won 38-28 when the two teams met on Sept. 24.
"Man, well that feels good and that's definitely good news to hear," Cece Jefferson said after the Missouri game, learning of the change in the SEC East standings. "We're just ready to go from here, man. We're just ready to play. We're focused on us, you know what I'm saying? We're focused on us and what we have to do to get where we want to go."
Not all Jefferson's teammates have been as diplomatic and politically correct. Despite having his infamous "ducks don't pull trucks" quip backfire in epic fashion, Quincy Wilson couldn't resist taking a shot at the Vols.
Funny how some things end up? pic.twitter.com/XGmtgDRUwD

— Quincy Wilson (@dc_wilson954) October 16, 2016
What likely drove the coaches mad is that Wilson said "end up." The SEC East race is far from over. In its next four conference games, Florida will face Georgia in Jacksonville on Saturday, Arkansas on the road, South Carolina at home and then LSU in Baton Rouge. Since UT holds the head-to-head tiebreaker, UF has no margin for error. It cannot lose, in part because Tennessee's remaining league games are against the East's weakest teams.
As Jefferson said, the Gators need to focus on themselves before worrying about any of the November games. While the defense has done the heavy lifting, the five wins have come against the weaker half of the schedule.
The one time Florida faced a team with proven talent in both the ground game and passing attack, it didn't end well. While UGA is off to a disappointing start (4-3, 2-3 SEC), there's no doubt that Jacob Eason, Nick Chubb and Sony Michel make for one of the most talented backfields Florida will face all season.
If the Gators were to make it past Georgia, Arkansas and South Carolina unscathed, another hurdle awaits: Leonard Fournette and LSU in a showdown at Tiger Stadium. In two games against Florida, Fournette has run for 320 yards and four touchdowns on 57 carries. Saturday night against Ole Miss he set a career high with 284 yards on 16 carries.
Even if the defense makes its necessary tweaks, the bigger concern lies on the other side of the ball. Florida's offense has flashed, at various times, in all areas. Only once this season (against Kentucky), though, has the team put together a solid four-quarter performance. And even then, Luke Del Rio got away with multiple bad throws and was fortunate to come away with only one interception.
More recently, against Missouri, Del Rio was picked off three times.The first-string signal-caller attributed his worst performance of the season to multiple factors.
"It was kind of a mixture," Del Rio said after the Mizzou game. "It was not seeing guys. I was forcing it, just trying to make something happen when there's no need. So it's all correctable, and I'll do my best to correct it."
One doesn't have to look hard to see where Del Rio is coming from. Heading into the Missouri game, the dominant storyline was Florida's woeful previous six quarters (the second-half collapse at Tennessee, the ugly win at Vanderbilt). At every press opportunity, media members asked players how having Del Rio back would help the offense. The expectation was that his return would provide a spark to the offense, and it's not surprising to see him force some throws in hopes of producing big plays.
In the second half of their SEC schedule, the Gators will need a productive, potent offense. They're no longer facing teams in which they can grind out 13-6 wins or count on two pick-sixes, as they did against Vanderbilt and Missouri.
In two SEC wins at home, Florida has run wild, gaining 531 yards on 89 rushes. On the road, however, the Gators were held to 198 rushing yards on 66 carries. Those numbers are worrisome as the Gators will play four of their final five games away from The Swamp.
The other big question has been the deep pass. If Del Rio can overcome the rust from his two-game absence due to a knee injury, there's hope that the UF offense can finally put it all together. Freshman WR Tyrie Cleveland got his first start against Missouri, giving the Gators some much-needed size (6-foot-2, 196 pounds) on the exterior.
"You know, this is going to be a really important week for him as well as he continues to just to kind of grow into that offense and really get another true, big-time threat on the other side from Antonio (Callaway)," McElwain said before the bye week.
While Brandon Powell is a speedster who can do exciting things, and freshmen like Freddie Swain and Joshua Hammond have shown promise, there hasn't been anyone who demands a secondary's attention when they are lined up on the outside like Callaway, who leads the team with 23 catches for 399 yards. If Cleveland can build upon his three-catch, 79-yard Week 7 performance, it could help the passing game take the next step.
Florida has done it all – stop the run, shut down the passing attack, pound the rock and establish the deep ball – at various times. A lack of execution and consistency, however, has kept UF from looking like one of the college football's elite teams.
As the team in the driver's seat to Atlanta, the Gators have a chance to make a statement by correcting all that's gone wrong, playing up to their potential and winning out. They've couldn't have asked for a better time to have an extra week to focus on themselves.