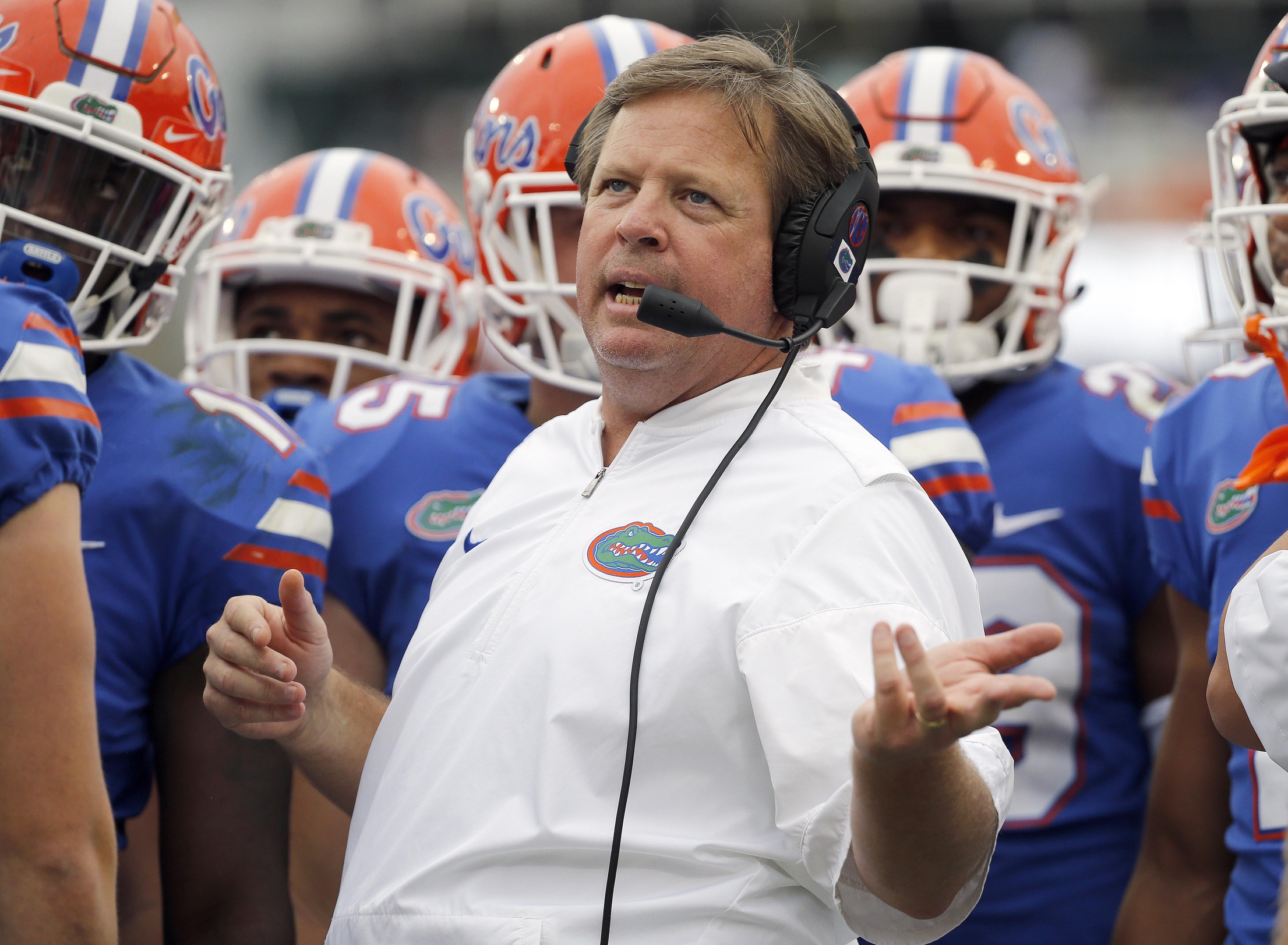 FLORIDA
2 years after the Jim McElwain shark photo went viral, I'm still baffled by the whole situation
It's been 2 years since Jim McElwain didn't mount his naked body on a shark. Actually, this past Sunday was the 2-year anniversary.
And 2 years later, it's still baffling what transpired in the days and months that followed.
What happened was a coach at a premier program coming off a pair of division titles in his first 2 seasons spiraled in a way that we rarely see. Six months after the photo surfaced, McElwain's fake death threats were the iceberg that sunk his ship (my SDS Podcast co-host Chris Marler came up with that lovely pun).
But while the shark photo wasn't necessarily the reason that McElwain lost his job, it served as a microcosm for his bizarre tenure at Florida.
In case it isn't permanently burned into your eyes, here was the photo that broke the internet 2 years ago:
Who is this man? Please RT, find him & ask him why he did this? Where is the humour in humiliating slaughtered animals? @ChrisGPackham pic.twitter.com/uHN37OywCx

— Anneka Svenska (@AnnekaSvenska) May 5, 2017
It's worth remembering that McElwain wasn't mentioned in the initial tweet. It wasn't until someone in the replies made the connection that the man in the photo shared a strong resemblance to the Florida coach:
that is the head football coach of the Florida Gators Jim Mcelwain. pic.twitter.com/wqlDcomnxX

— Matt (@theluzzmachine) May 5, 2017
Then, of course, the memes followed. So. Many. Memes.
The timing of this thing was essential. It was peak-offseason material. It was in the beginning of that quiet period during the college football calendar from the NFL Draft to Media Days, during which the most-consumed online content is college quarterbacks throwing passes to dudes on jet skis and players getting arrested.
Had this happened midseason, McElwain probably would have been able to have a press conference that day to put the issue to bed and we would have moved on to football.
Instead, the story lingered. It lingered because McElwain didn't know how to not let it linger. Four days after the initial tweet surfaced, a video from the Orlando Sentinel showed McElwain getting extremely defensive and denying that he was the man in the photo.
"First and foremost, I don't know who it is. But it isn't me," McElwain said, clearly agitated by the subject.
A few days after fact, you could probably give McElwain a bit of a pass. He obviously didn't think the story was very funny at the time.
Well, he still couldn't laugh it off a couple months later at SEC Media Days when he was asked about it again:
McElwain's full response when asked about the shark photo pic.twitter.com/EjRosdYAko

— Yahoo Sports College Football (@YahooSportsCFB) July 11, 2017
"I love the humor in it," he says. "And yet, when it did actually attack the university, but attacked my family … when you know it's not you … I bust chops with the best of them now, and yet, when it got personal …"
Uh, OK.
That definitely wasn't the tone of someone who "loved the humor in it" or of someone who "busts chops."
In fact, I asked former Florida quarterback Luke Del Rio about that a few months ago. Del Rio, a self-proclaimed "Mac guy," actually said he found out about the photo because his friend, former Michigan quarterback Wilton Speight, texted him the pic and told him he couldn't believe McElwain would do that.
That led to Del Rio confronting McElwain about the photo. And, not surprisingly, he was "pissed about it."
"The angrier you get about something, the more validity you give it. If you accuse somebody of something and they get really pissed off, it's like 'Oh. Are you hiding something?'" Del Rio said on The SDS Podcast in September. "So I asked (McElwain) and I think he was just sick of answering about it. I was like, 'Hey, what is this?' And he said, 'It's photoshopped. Do you think I'm that fat?'"
There's so much to unpack with that quote.
For starters, that did turn out to be an actual person in the photo. The Orlando Sentinel later reported that it was a former NYPD officer who was living in upstate New York. McElwain's photoshop claim makes it seem like he believed the face looked exactly like him, but that the body didn't.
Also, not take a dig at body issues or anything like that, but why is a coach coming off consecutive division titles worried about how fat people think he is? Didn't McElwain have more important things to lose sleep over? Like, you know, beating Florida State?
Florida offensive lineman Martez Ivey said at SEC Media Days when asked about the subject that he knew it wasn't McElwain because he wasn't that fat. But just the notion that someone could believe that's what he looked like without his Florida windbreaker clearly didn't sit well with McElwain.
Insecurity was really at the root of everything that doomed McElwain. From his reaction to that photo to him trying to gain sympathy points with his death threats claim, insecurity was the the common denominator.
And for someone who seemed so interested in the public perception, McElwain never understood the bigger picture. Like, when he won the Outback Bowl after the 2016 season and said afterward "we'll look for the commitment that we get from the administration moving forward, see where that's at."
News flash: It's not the best idea to put your bosses on blast in a press conference, especially when it's a different athletic director than the one who hired you. It's also not a great idea to call out your brand-new boss who is literally in the room with you.
The worst kept secret was how unhappy Florida administration was with McElwain after that.
When you break down all the things that followed those comments — the poor handling of the shark photo, "the credit card 9" scandal that broke weeks before the season and the awful start to the 2017 season that included a loss to a Michigan team that McElwain claimed Florida would "beat the heck out of" — it makes sense that McElwain's ending was so abrupt.
In one sense, it's peak-SEC in the 21st century. On the surface, firing a coach in the middle of a disappointing Year 3 after a pair of division titles without a major scandal is almost too SEC. At a lot of other places, McElwain would have survived the disaster that was 2017. Florida obviously wasn't one of those places.
But in another sense, McElwain's exit went against the SEC stereotype. That is "win big or bust." It was the off-the-field failures of McElwain that doomed him. It was why fans were uneasy about him before the 2017 season even began. His personality didn't fit at Florida. Even worse, he didn't know how to make it fit.
Not being able to laugh at yourself for being involved in a viral photo is one thing. Sending your assistants instead of yourself to go schmooze with boosters is another.
As interesting as it is to think about how McElwain could have spun the shark photo into a positive if he went about it the right way, the long-term fit was still never there.
And now, even though it was only 2 years ago, Florida fans can look back on that bizarre period knowing they're in good hands with Dan Mullen. Because of Mullen's success, it might be easy to move past the McElwain fiasco and pretend that 2017 never existed.
But it did, and we must not forget about one of the stranger college football stories in the internet age.
I certainly won't.