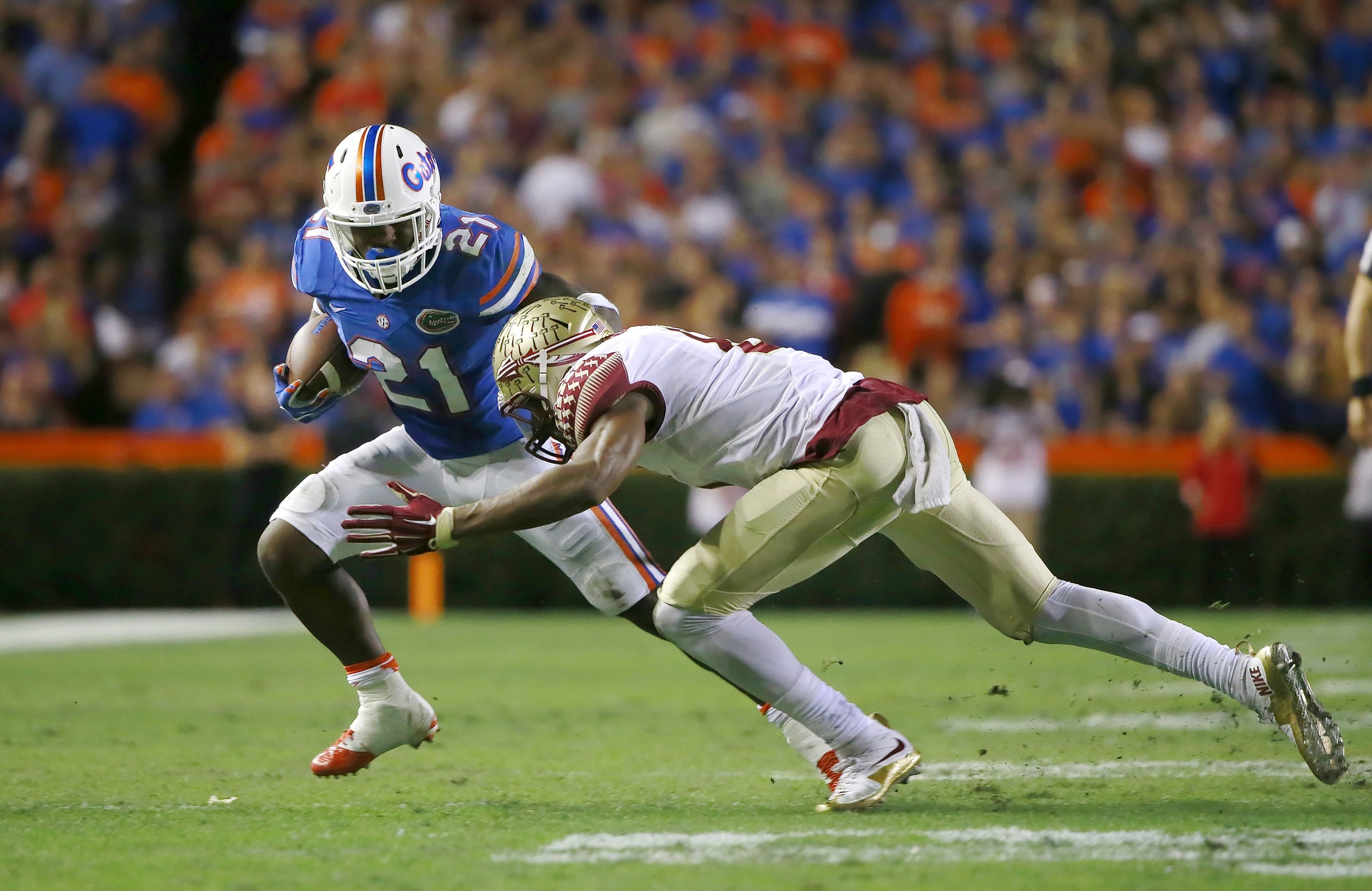 FLORIDA
UF RB Kelvin Taylor better than his numbers -- and his numbers are good
Kelvin Taylor has grown up in the shadow of his father and Florida Hall of Famer Fred Taylor.
He has survived one of the most visible sideline undressings in sports history.
And he is the Gators' most important player on offense entering Saturday's SEC Championship Game against Alabama.
It didn't feel like it because of how badly Florida played, but Taylor rushed for a season-high 136 yards in last week's 27-2 loss to Florida State. The Gators know they will need a similar performance from Taylor to have a chance against the Crimson Tide, a 17-point favorite. And the tailback believes he can deliver it.
"We have to get out of our comfort zone and play our game," said Taylor, who will become the ninth UF player to record a 1,000-yard season. if he rushes for 23 against the Tide. "I feel like we can play with anyone, but if we are not consistent, it's going to be hard to win at this level. We just have to get back to the basics."
The junior's performance against Florida State was his third consecutive 100-yard rushing game, his fourth in his past five games and his sixth this season. And of those six 100-yard games, three were against Florida's three traditional rivals — Tennessee, Georgia and Florida State.
Taylor was especially pleased with how his linemen performed against the Seminoles.
"They were staying on their blocks, finishing guys and just giving me a hole to run though," Taylor said. "Just give me a little crease. That's what I was telling those guys all season and all year, and that's what they did for me last week."
Taylor leads Florida with 977 yards, and his 13 rushing TDs are the most by a Gator since his dad also had 13 in 1997. Taylor's average yards per carry (4.05) is higher what Florida's ball carriers are averaging as a team (3.56), which is next-to-last in the SEC.
The scary thing for the Gators is that their line has also struggled with pass blocking this season, allowing 3.08 sacks per game, which is last in the conference and basically means that Taylor has had to earn some yardage on his own and that at times quarterback Treon Harris has had to run for his life.
In addition to being Florida's primary running option, Taylor has been a valuable receiver out of the backfield, ranking fifth with 17 catches for 150 yards — a decent average of 12.5 per catch. He could prove to be especially valuable to Harris as a short yardage target if Alabama chooses to ramp up its pass rush.
Coincidentally, what Taylor has done this season has not gone unnoticed by Nick Saban, who recruited Taylor out of Glades Day School.
"He certainly hasn't disappointed …" the Alabama coach said. "He's everything and more that I thought he'd be."
That's pretty lofty praise from a guy who has the leading Heisman Trophy contender in his backfield.