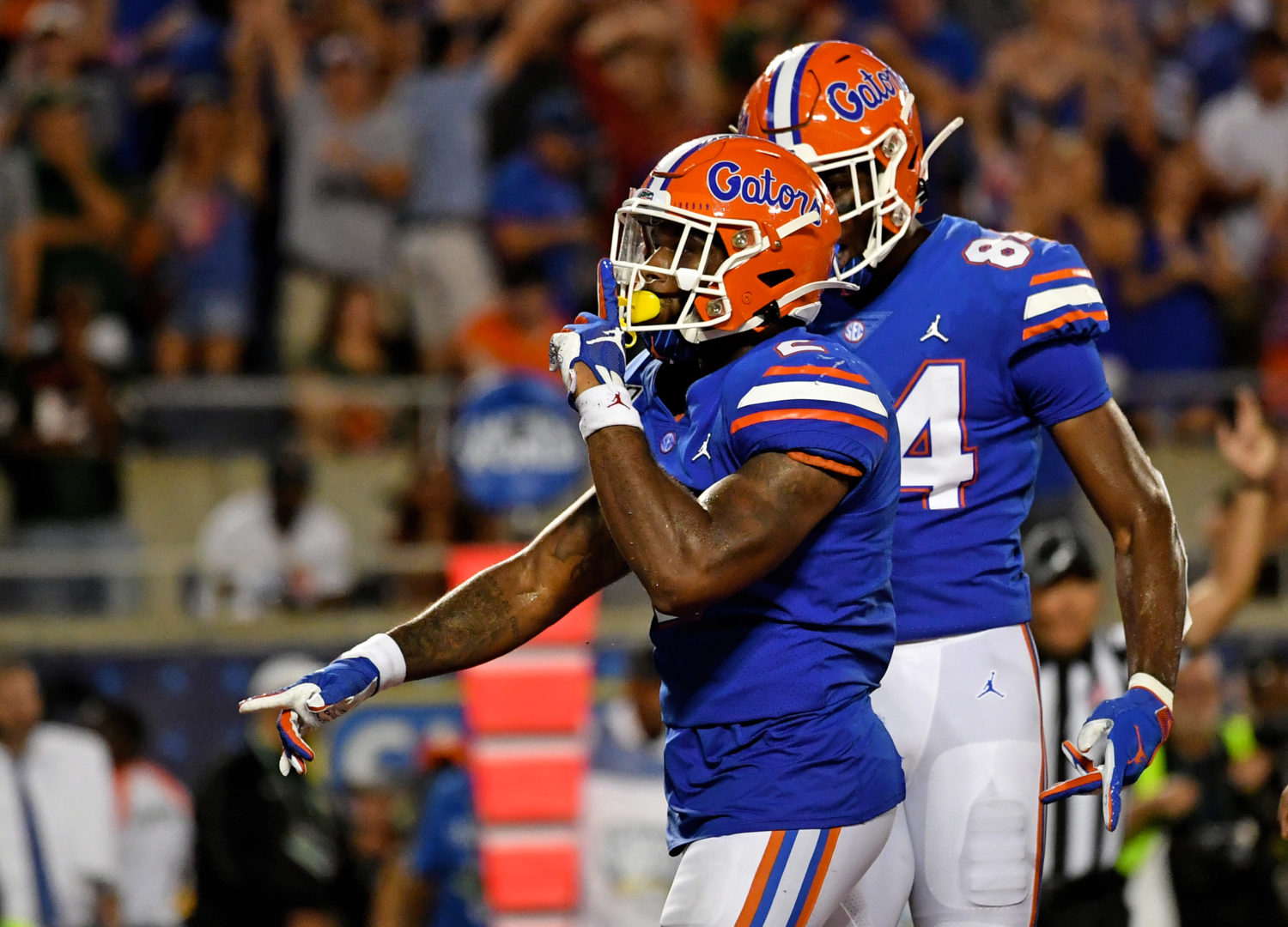 FLORIDA
Lightly recruited, Lamical Perine has silenced his doubters and become Florida's most valuable player
Lamical Perine had several opportunities to turn his back on Florida. He never did. Saturday, he begins his final laps around The Swamp as a Gator. What a ride it's been.
When the Florida Gators run out of the tunnel and into The Swamp for the home opener Saturday night, senior running back Lamical Perine might take a moment to reflect on the unlikely path he's traveled to get to this moment.
"It's been a long journey," Perine admitted this summer at SEC Media Days, where he represented the school that 2 years ago, he nearly left behind.
It seems strange a player who led the team in rushing as a sophomore considered leaving that offseason. But by late October of Perine's sophomore season, the head coach who recruited him to Gainesville had resigned and the interim staff left to stitch what was left of the season had one foot out the door. The Gators stumbled to a 4-7 finish, hitting rock bottom in blowout losses to Georgia and Missouri.
When the season ended, Perine did some serious soul searching.
"It was hard for a while," Perine said at SEC Media Days. "The coaches that recruited me to Florida were leaving. I felt lost. I lost my position coach and my head coach. But I went home and prayed on it with my Mom and my family. I decided to stay. I'm so glad I stuck it out and followed God's plan for me."
A season later as a junior, under Dan Mullen, Perine led the Gators in rushing again, tallying 826 yards, 6.2 yards per carry and 7 TDs in a timeshare with Jordan Scarlett, now with the Carolina Panthers. Perine saved his best football for the biggest games, rushing for 85 yards and 2 touchdowns in Florida's 27-19 win over No. 5 LSU and adding 98 all-purpose yards and 2 touchdowns on only 10 touches in Florida's 41-15 rout of No. 7 Michigan in the Chick-fil-A Peach Bowl.
"That's just who he is," fellow senior Jabari Zuniga said at SEC Media Days. "He's not loud or flashy, but you can rely on him to bring it every day, and to make a play when it matters most."
Maybe Perine needs to be flashier.
His consistency is probably his greatest strength, but coming out of tiny Prichard, Alabama, a sleepy hamlet on the outskirts of Mobile, many Power 5 programs weren't confident in his ceiling as a college running back. The recruiting services weren't overly impressed either. Perine, a 3-star, was the No. 493-ranked prospect in the country.
"Being from Mobile, I figured if I worked hard I'd get a chance to play in the SEC," Perine recalled. "But Auburn — coach (Gus) Malzahn told me I was too slow to be an SEC running back. I remember those words. I won't forget that sort of thing. In my eyes, I always knew I could play with anybody."
One staff that did recruit Perine heavily? Dan Mullen's at Mississippi State. Until Florida came calling, Mississippi State was Perine's only Power 5 offer.
Perine still hasn't forgotten that Mullen and his staff believed in him when others didn't. "Coach Mullen recruited me when he was at Mississippi State," Perine said. "For a while, that was my only SEC offer. It's funny how life works."
In Perine's home state of Alabama alone, recruiting services ranked 2 other running backs ahead of him in 2016. One never made it to college (Denzell Mitchell). The other was Auburn's Malik Miller, who Gus Malzahn felt was fast enough. Perine had more rushing yards last season in his final 4 games (346) than Miller has in his career at Auburn (272).
After Florida offered and Perine committed, Alabama swooped in at the last moment, figuring it could take a chance on an in-state running back.
"Coach Saban offered me my senior year of high school, but he offered me last minute," Perine said. "I felt kind of disrespected by that and so I had to stay loyal and stick with my commitment, which was to Florida."
Perine rewarded the Gators' faith in his talents with a 421-yard freshman season that included multiple 100-yard rushing performances and a highlight reel, Jamal Adams nightmare inducing, scouts dream of a run in a Florida victory at LSU.
His production and versatility have increased each season since, even amidst the chaos of Florida's lost 2017 campaign. That drive to get better is what defines Perine.
"I think when you look at Lamical, from the kid (running backs coach Greg Knox and Mullen) recruited at Mississippi State to now, (you see) a kid that does everything you need to do to become a better, complete football player," Mullen said. "He's always been a natural running back. He's relentless, hard to tackle. But he's done the work to make sure he understands protection, understands the passing game and route running, understands the system. And of course he does everything you want off the field too. It's special to see that."
Last season, Perine's production spike, as well as his improvement as a blocker and pass catcher, created some buzz about whether he'd join fellow junior Jordan Scarlett in declaring for the NFL Draft.
Yet again, when presented with a different option, Perine chose Florida, returning for his senior year and one more shot at a return trip to Atlanta, where the Gators went when he was a freshman, in no small part because of his performance against LSU.
"I think the decision he made to come back to school for his senior year will serve him well," Mullen said at SEC Media Days. "He was a well-rounded back but one still improving at being a complete back. The guys playing on Sunday right now at that position, they have value in all aspects of the game. They catch the ball out of the backfield. They are excellent in protection. That's the type of value he has."
The Gators have reaped the dividends.
One of Florida's captains, Perine has emerged as a leader on and off the football field and is widely regarded as one of the best running backs in the SEC. A 2nd team All-SEC selection who appeared on the prestigious preseason Doak Walker Award watch list, Perine hasn't let his accomplishments change him as a person. He remains the confident but humble young man from a working class family that Florida recruited, quick to deflect praise even as the accolades pile up.
"Coach Mullen has put me in the right positions to be a better player," Perine said this summer. "He's been unafraid to show all my attributes as a player, whether in the run game, being able to catch balls out of the backfield, in protections. I want to be a back that can do all those things and coach Mullen has given me that opportunity. Whatever I have to do to win games for my team, I'll do it."
Perine is a rare back, one with the power to churn out short, tough yards but also the patience and vision to break off the big chunk plays offenses rely on in the era of fast, pressure defense.
On the run below — a simple inside zone — you get an idea of how Perine can do both, as he displays the patience and vision to wait for the hole to open and then shows his burst and power to make sure he picks up the 1st down after contact.
"The main thing about him is he's got great vision and is just brutal to tackle," a Georgia assistant told me this summer. "He just runs through you and his center of gravity is so low. He's as tough a kid as there is in our league."
That blend of power, vision and better-than-you-think speed has the attention of former collegiate legends and NFL scouts alike.
Reggie Bush tweeted a video earlier this summer of Perine highlights with the title: "Most Versatile Playmaker in the Country," heady praise from one of the most versatile college running backs in history.
NFL front offices have also taken note.
"Perine is one of the highest backs on our 2020 board because he's so versatile," an NFL scouting director from a playoff team told me this week via email. "As a runner, he's got tremendous vision and leg turnover, but it's his patience, that willingness to let blocks develop without unnecessary movement that impresses most.
"He sees the game of football better than about anyone we're looking at. Are there limitations? Top-end speed questions? Sure. We have questions about it. But he has a good burst through gaps and to be consistently elite in yards after contact in a league like the SEC shows strength and a low center of gravity, which you need to be successful in our league. Plus his character is off the charts. Someone — maybe us — will be getting a heck of a player."
For now, Perine isn't concerning himself with what's next. It's been too long a journey to get here to do anything but live in the moment. He'll graduate with a degree from a top-10 public university this December (a semester early), which gives him the luxury of knowing his future is in good shape regardless of what happens with the NFL.
"I'll worry about that when it's time to. I'm going to play my role this year, whatever my workload," Perine said at Media Days. "I want to enjoy this opportunity, the chance to be the leader of the football team. I want to be a guy people can look up to. And I want to be a guy where the coaches know if they need to make a play to win a game, they can call on me."
Lamical Perine is Florida's Mr. Reliable, Florida's Playmaker. You can bet Florida's fans and coaches already know that. They've called on him for 3-plus seasons, and he's constantly answered the bell. What's amazing is how close maybe the most complete Gator was to not being a Gator at all.