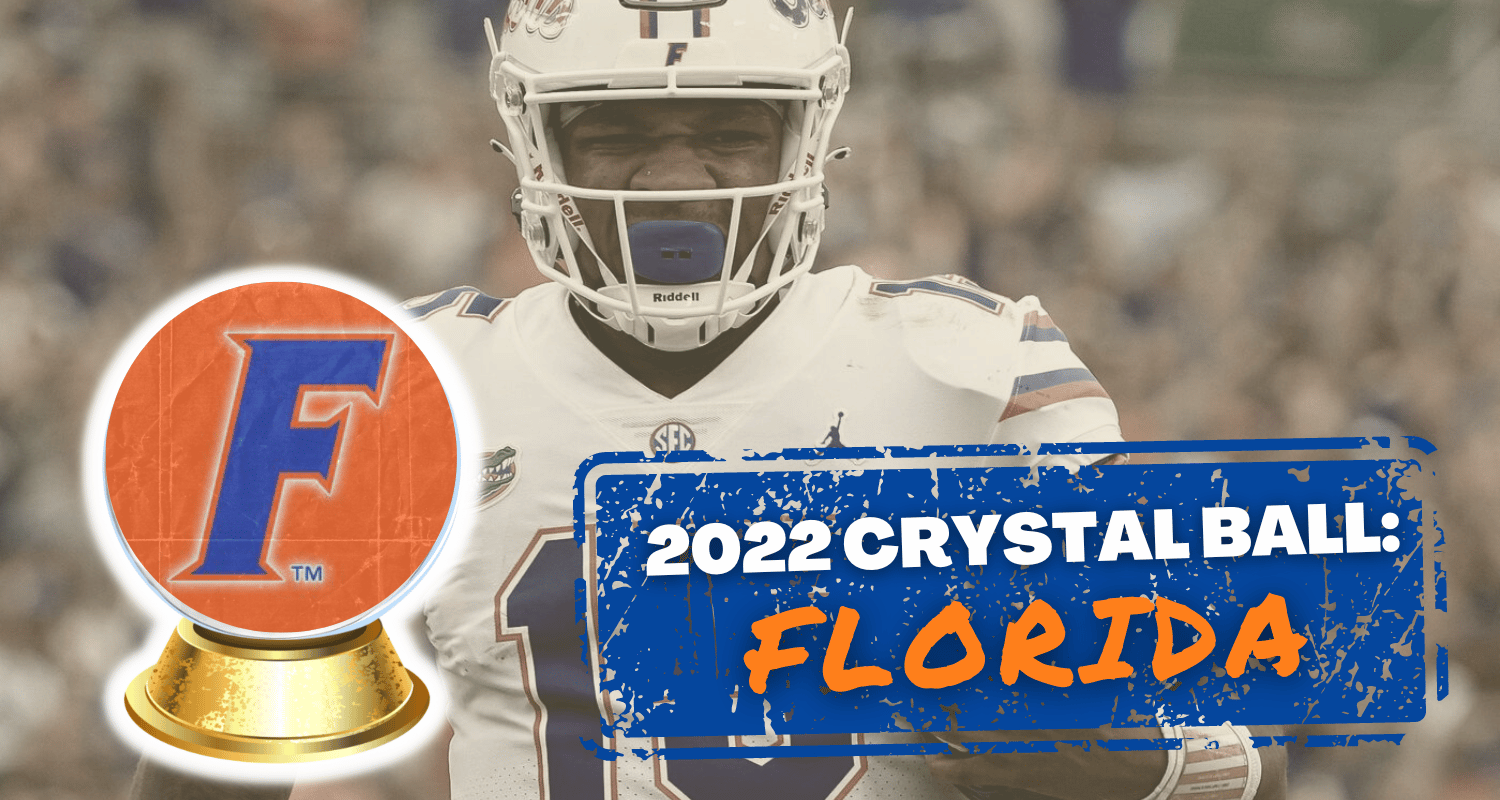 FLORIDA
The SDS Crystal Ball: Predicting every game for Florida football in 2022
Editor's note: Saturday Down South's annual Crystal Ball series continues today with Florida. Last week, we predicted every game for every SEC West team. This week, we'll predict every game for every SEC East team.
You could see the end in sight.
Dan Mullen signing a contract extension before the 2021 season felt like a temporary Band-aid for the program. But lingering from the bizarre 2020 season was the fact that Mullen looked like a loose cannon. The post-loss "pack The Swamp" comment didn't age well and neither did the mid-game brawl or the post-Mizzou Darth Vader costume. A 1-year show-cause penalty from the NCAA didn't help, and neither did Mullen essentially saying that the Cotton Bowl was an exhibition game.
Yeah, in hindsight, Scott Stricklin knew what he was doing by not raising Mullen's $12 million buyout. As a result, Florida gladly signed that check after a disastrous 2021 season that included losses to Kentucky, South Carolina, Mizzou and UCF. Oh, and who could forget Florida allowing Samford to hang half a hundred in The Swamp.
So now, Billy Napier is tasked with righting Mullen's wrongs. Can he develop those relationships at powerhouse Florida high schools and improve the talent level? Can he have a higher standard for his assistants and fire a defensive coordinator when he has the program's worst defense since the Woodrow Wilson administration? Can he not totally self-combust and prove to be a major liability in front of a microphone?
Napier has time to answer those questions. Well, at least he better have time.
A new era is here in Gainesville. Fittingly, it opened with the program's unveiling of a new state-of-the-art, $85 million football facility.
What does that mean for the 2022 squad? You've come to the right place.
The Billy Napier-Anthony Richardson case study should be fascinating
I dug into this earlier in the offseason because Richardson is one of the most intriguing players in America entering 2022. Napier was fortunate to inherit a quarterback of his talent level, who has a cannon for an arm and will run by/through/over anybody on the field.
Unfortunately for Napier, Richardson didn't close out the 2021 season as a finished product. He only had 2 games with double-digit pass attempts, and he averaged an interception once every 13 attempts. That number has to come down.
Here's what that number was for established SEC starters:
Hendon Hooker: 1 INT for every 101 attempts
Bryce Young: 1 INT for every 78 attempts
Will Rogers: 1 INT for every 76 attempts
KJ Jefferson: 1 INT for every 74 attempts
Stetson Bennett IV: 1 INT for every 41 attempts
Will Levis: 1 INT for every 27 attempts
Obviously, those guys all got the chance to start the majority of the season. Richardson, on the other hand, started once … and it was against Georgia, which featured arguably the best defense we've seen in the 21st century.
Napier is tasked with harnessing Richardson's extraordinary abilities while getting him to cut down on the pre-determined reads that ultimately lead to mistakes. That's what Napier did with Levi Lewis at Louisiana. In 3 years in his offense, Lewis threw a total of 15 interceptions. He averaged 1 interception for every 71 throws. Richardson is much different physically than Lewis, but tapping into some of those decision-making skills we saw from the southpaw at Louisiana would be a major boost for Florida.
If we're talking about Richardson as a potential All-SEC quarterback and 1st-round pick in November, Napier will have done his job at a high level.
The new Florida defense will be ______________.
"A work in progress."
Set the expectations low, Florida fans. I know, I know. You love Ventrell Miller, Gervon Dexter, Brenton Cox and Rashad Torrence. You're optimistic about Patrick Toney, who is considered one of the top up-and-coming defensive minds in the sport after 3 consecutive years with defenses that ranked in the top 1/4 in scoring. You can't wait to see what things look like in a post-Todd Grantham world.
I get all of that. It's still a group lacking depth that ranks No. 99 in percentage of returning defensive production and didn't exactly add a bunch of reinforcements in the portal. That's troubling. I agree that Miller's return will be immensely important. His absence was felt probably as much as any defensive player in the conference in 2021. But that speaks to why I'm still a bit skeptical of Florida's defense with Toney in Year 1.
Florida starts the year facing the likes of Cameron Rising, Will Levis, 2021 Baylor starter Gerry Bohanon (now at USF) and Hendon Hooker. We're gonna find out what Florida's defense is capable of in a hurry. It's OK if Florida's defense is a work in progress.
Patience, patience, patience
Jim McElwain and Dan Mullen both hit 10 wins in Year 1. What did it get them? It certainly didn't get them a Year 5. Shoot, neither made it to the end of Year 4. No Florida coach in the post-Steve Spurrier era has lasted more than 6 years.
So what difference does it make if Napier has a 6- or 7-win season? Will that make or break his time in Gainesville? Absolutely not. In Year 1 at their current jobs, Nick Saban and Kirby Smart lost to Louisiana-Monroe and Vanderbilt, respectively. Neither was in contention for a division title in Year 1. What they did in that first year was establish the foundation. How they ran their staffs, their practices and how they recruited all became program pillars.
That's the most important thing for Napier in Year 1. Yes, there will be a ton of eyes on recruiting. There should be. That's what's going to allow Florida to break out of this frustrating cycle. Florida will never get every 5-star recruit from the Sunshine State, but those continued efforts at powerhouse, talent-rich programs like IMG Academy and St. Thomas Aquinas will be pivotal.
There's a strong chance that Florida struggles out of the gate against a particularly tough schedule, and some will question if Napier has the chops that the job demands. Alternatively, Florida could rise above Year 1 expectations and some will already be dubbing Napier the next Spurrier. In either scenario, Gator fans need to keep those reactions in check.
A long climb awaits.
Game-by-game predictions
Week 1: vs. Utah (L)
If you followed my offseason predictions on any of our great platforms, you know I'm high on Cameron Rising and the Utes. Like, so high that I have them going to the Playoff. I don't think that means Week 1 is some cakewalk in Gainesville. Multiple highlight-reel plays from Richardson should be in the cards. But the play-action game of Utah burns Florida over the top on multiple occasions in the second half. Despite an impressive effort from Richardson, he also turns the ball over twice and Florida falls 28-21 in the opener.
Week 2: vs. Kentucky (L)
It's been 45 years since Kentucky beat Florida in consecutive years. In 2022, that's exactly what happens. Why? And how could Florida start 0-2 in The Swamp when it hasn't lost consecutive home games in 5 years? Unlike last year when a blocked field goal was the difference to bail out an otherwise ineffective Kentucky passing game, this time, Will Levis rises to the occasion. Two rushing scores and 2 passing scores (1 to true freshman Dane Key) put Florida in an early hole that it can't quite dig itself out of. Zion Childress picks off a Richardson pass late to halt Florida's comeback attempt.
Week 3: vs. South Florida (W)
I imagine that South Florida still hasn't recovered from what Richardson did last year in Tampa. Richardson doesn't average 38 yards per scrimmage play again, but he does connect multiple times with Justin Shorter and Daejon Reynolds to get Florida in the win column for the first time in the Napier era.
Week 4: at Tennessee (L)
The Florida and Tennessee teams that faced off last year were unrecognizable by season's end. Trying to keep pace with this Tennessee offense with the pieces it has returning will be a dangerous game. Cedric Tillman and Jalin Hyatt should both have their moments making home-run plays against a questionable Florida secondary. Points will be plentiful. Both defenses should have some rough days trying to slow down Richardson and Hendon Hooker. But for just the 2nd time in the past 18 matchups, the Vols prevail thanks to a go-ahead 50-yard Jaylen Wright touchdown scamper.
Week 5: vs. Eastern Washington (W)
Fingers crossed that we get to see Richardson hurdle an Eastern Washington tackler to break a long touchdown run and perhaps, that leads to a decent amount of reps for Jack Miller III. If that happens, it'll be an improvement over the last time an FCS foe came to The Swamp (Samford truly was stunning).
Week 6: vs. Mizzou (W)
This will be the first time Florida fans really appreciate just how valuable it was for Napier to bring over O'Cyrus Torrence and Johnson from Louisiana. Mizzou's run defense is improved with the underrated Isaiah McGuire, but it's still not quite able to stop a multi-faceted Florida ground game with Richardson. He successfully avoids Kris Abrams-Draine and Florida avoids an 0-3 start to SEC play.
Week 7: vs. LSU (W)
If this game were in Week 2, I'd be tempted to say that LSU's edge rushers would force Richardson into some bad decisions, similar to what we saw last year. But by late-October, I expect to see a more developed version of Richardson. LSU struggles to get off the field against Richardson, Johnson and the Florida rushing attack. Playing behind forces the LSU offense out of the balanced game plan it prefers, which leads to a pair of costly second-half turnovers. LSU continues its theme of losing immediately after entering the Top 25 while Florida gets a much-needed rivalry win heading into the bye.
Week 8: Bye
Week 9: vs. Georgia in Jacksonville (L)
On the bright side for Florida, it can't get much worse than last year. Georgia's talent and development trounced the product the Gators had on the field. I say "development" because even though it was a 3-0 game with 2 minutes left in the first half, we saw Richardson's inexperience lead to 3 turnovers at the end of the first half. Richardson is more poised this time around. But Nolan Smith, Jalen Carter and Kelee Ringo are all plenty capable of making it a frustrating afternoon once again. On the other side of the ball, Todd Monken's offense puts on a master class. Georgia's tight ends account for 3 Stetson Bennett touchdown passes to fuel a 2-touchdown victory in Jacksonville.
Week 10: at Texas A&M (W)
If you cannot force Richardson into some bad decisions, he's going to make you pay. That's exactly what happens in what turns out to be a frustrating letdown for A&M and a monumental lift for the visiting Gators. After an emotional victory against Ole Miss, we watch A&M's offense stall at too many key moments. Torrence picks off a pair of A&M passes and takes one of them back to the house. Napier gets his biggest win to date.
Week 11: vs. South Carolina (L)
A week after a massive victory in College Station, Florida doesn't handle success the way Napier hoped against an improving South Carolina squad. Spencer Rattler gets too much time to operate and he finds Jaheim Bell and Josh Vann downfield on several occasions. Florida doesn't lay down like it did in that blowout in Columbia last year, but again in an obvious throwing situation late, Richardson picks on someone he shouldn't. Cam Smith, that is. Shane Beamer locks up his first big road win to date to clinch bowl eligibility.
Week 12: at Vanderbilt (W)
One of the signs that Napier has things on the right track will be that Florida doesn't suffer letdowns in consecutive weeks. Even an improved Vandy squad would be a significant letdown for the Gators. Shorter and Keon Zipperer make their presence felt with key red-zone scores to fuel a blowout win in Nashville.
Week 13: at Florida State (W)
Will Mike Norvell still be on the FSU sideline? It's a fair question given how things have gone in Tallahassee lately. Florida's defense shows up ready to roll after a bounce-back showing in Nashville. Jordan Travis takes too many sacks and is forced to take some risks down late in an obvious passing spot. That sets up well for Trey Dean to be the hero this time around. Make it 4 straight for the Gators against FSU and 2 straight wins to close the regular season.
2022 projection: 7-5 (4-4), 5th in SEC East
#GoGators
Remember the part where I said "patience, patience, patience?" Well, say those words repeatedly if you're upset with a 7-5 projection for Year 1 of the Napier era. There's really not gonna be a whole lot of separation for teams 2 through 5 in the East. Last I checked, going 4-4 against the SEC would be a multi-game improvement.
The concern in Year 1 will be a defense in transition and a passing game that'll still have to work through some growing pains. That's not all on Richardson, either. It's not like Mullen left the cupboard stacked full of proven receivers. Shorter is the lone returning receiver who had a 500-yard season in the SEC, though if someone like Arizona State transfer Ricky Pearsall can be a safety blanket for Richardson, that'd be a key lift.
What do I think Florida will be in 2022? A team with an elite ground game who will have an inconsistent passing attack. If you're going to be a liability on defense like I expect Florida to be the majority of 2022, game flow will be crucial. Until we see Richardson carve up defenses in those spots, those concerns are fair.
But even if Year 1 does feel a bit herky-jerky, winning both West crossover matchups and continuing the winning streak against Florida State would still be a step in the right direction. What was Florida's best win in 2021? A home win against a 7-win Tennessee team that was still figuring out its offense? All 3 of those wins would be better than that.
Ultimately, though, Napier's future won't be determined by his Year 1 win-loss record. A macro focus is needed for Florida fans.
And maybe some deep breathing exercises.