FLORIDA
Seriously, is Will Muschamp a Georgia sleeper agent?
As Will Muschamp prepares the Florida Gators for what will likely be his final trip to the World's Largest Outdoor Cocktail party as their head coach, one has to wonder: Was this all by design? Was this the plan all along?
Will Muschamp has taken the Florida Gators to depths many fans never thought were possible again. James Cameron, while sitting in his submarine at the bottom of the Marianas Trench, reported seeing Will Muschamp pass him with a snorkel and a shovel and watched in amazement as the coach started digging deeper into the sea floor, to depths never before imagined by man.
Gone is the dominance of Urban Meyer and Tim Tebow. Gone is the conference domination of Steve Spurrier. Hell, gone is Ron Zook's ability to get smoked in meaningless bowl games, because to do that, they would have to be bowl eligible. Florida Football has gone from 2011 Kate Upton to 2014 Honey Boo Boo's mom, and FAST! Too fast…Which brings me back to the original question: Is Will Muschamp a Georgia sleeper agent?
What college did Will Muschamp attend? That would be the University of Georgia, of course. He tried to walk-on at Florida but then head coach Steve Spurrier didn't even bother to attend his scheduled meeting to discuss a potential walk-on spot. A rational person might realize that Spurrier was a busy man in the early 90's but does this look like a rational man?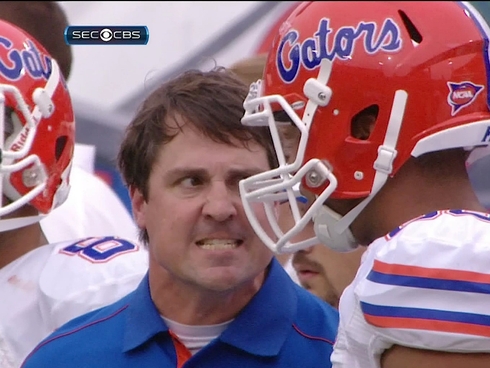 The man who would be Coach Boom was alone in the cold. Desperate to play the game he loves, he turned to the Georgia Bulldogs. Ray Goff sheltered, clothed and fed the young safety. He put Muschamp through an intense indoctrination of Florida hatred. It's basically the plot of the Angelina Jolie movie Salt. In his four years as a Safety for the Dawgs his Gator hatred grew, as he had to endure four losses to the dickishly laughing Steve Spurrier. They told him he wasn't good enough and then showed him that he wasn't good enough.
When Florida athletic director Jeremy Foley tapped Will Muschamp to take over for the corpse of Urban Meyer in 2010, Gator Nation was stunned. It wasn't a bad hire, as Muschamp was already the head coach waiting at Texas, which many consider to be the best job in football. But, it was a strange one. Nobody really had Muschamp on their suspected short lists. Also, nobody really thought Muschamp would leave such an opportunity at Texas. Mack Brown had one foot in the grave and already was mailing it in. Why leave that cushy gig in a weaker conference for job that had just nearly killed the hottest coach in college football? A rational person wouldn't make that move, but does this look like a rational person?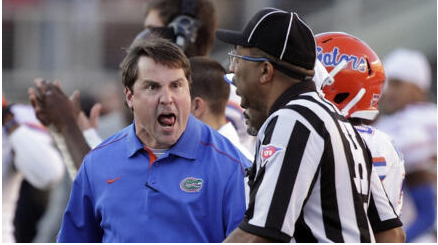 Why take the best coaching job in the sport when you could single-handedly destroy your mortal enemy?
And destroy them he has. Due to space limitations on the internet in 2014, it would be impossible to review all of Muschamp's failings at Florida, but none speak to his hidden allegiance to Georgia more than his record at the World's Largest Outdoor Cocktail Party. Maybe he couldn't give Georgia W's as a Georgia Safety but he sure as hell can give them some W's as Florida Head Coach.
In 2011, Mark Richt was on the verge of termination, trailing 17-3 in the first half before the Gators mysteriously forgot how to play football. Florida's 14 penalties for 104 yards and -19 rushing yards were strange at the time but make more sense now.
In 2012, Muschamp only suffered one regular season loss. Guess who gave them that L? The Gators, who entered the game #2 in the country, turned the ball over six times! They only managed nine points! The loss once again saved Georgia's season and paved the way for a trip to the SEC Championship against Alabama, which Richt would promptly choke away by not telling Aaron Murray to spike the ball on the final drive before a final pass attempt. I mean, a tanking Muschamp can only take Georgia so far…
By 2013, Muschamp had stopped even pretending to try and win games. The Gators went 4-8, losing to Vanderbilt for the first time since Dinosaurs roamed the earth. He threw a not-so-subtle wink to the state of Georgia with a horrific loss to Georgia Southern. But he also gave another gift to the Dawgs. Georgia, who had been been struggling after losing back-to-back games against Missouri and Vanderbilt, somehow looked like a different team. After scoring on their first four possessions, Richt realized Muschamp was actually tanking too hard, so he mixed in some fumbles and odd play calls to keep the Gators in the game. He knows getting Will Muschamp fired would be catastrophic. He let Muschamp save a little face before the Dawgs pulled out the late win. It would be the last time the 2013 Gators showed showed a pulse.
So here we are. It's 2014 and the Gators are awful. Muschamp still has a job, somehow. Georgia is without Todd Gurley, their best player 30 years, but it won't matter. They turn the team over to a young running back named Chubb, which is coincidentally the same things all Georgia fans get when they see a Will Muschamp led Florida Gators roll into Jacksonville. Look for the Gators to mix Jeff Driskel, the human tank, in during key possessions. Don't be surprised when game-deciding plays are drawn up for defensive tackle turned tight ends. Look for some of the hardest core tanking of all time until the whistle blows and Muschamp rips off the orange and blue gear, slides into some too tight red pants, no shirt, and announces he's resigning from the University of Florida and taking his dream job as linebackers coach at the University of Georgia! He'll run around the field headbutting every Gator player before riding into the Georgia locker room upon UGA VIII's brittle back, as the University of Florida burns in the distance.
In case you missed the overwhelming use of sarcasm, this was a satire…