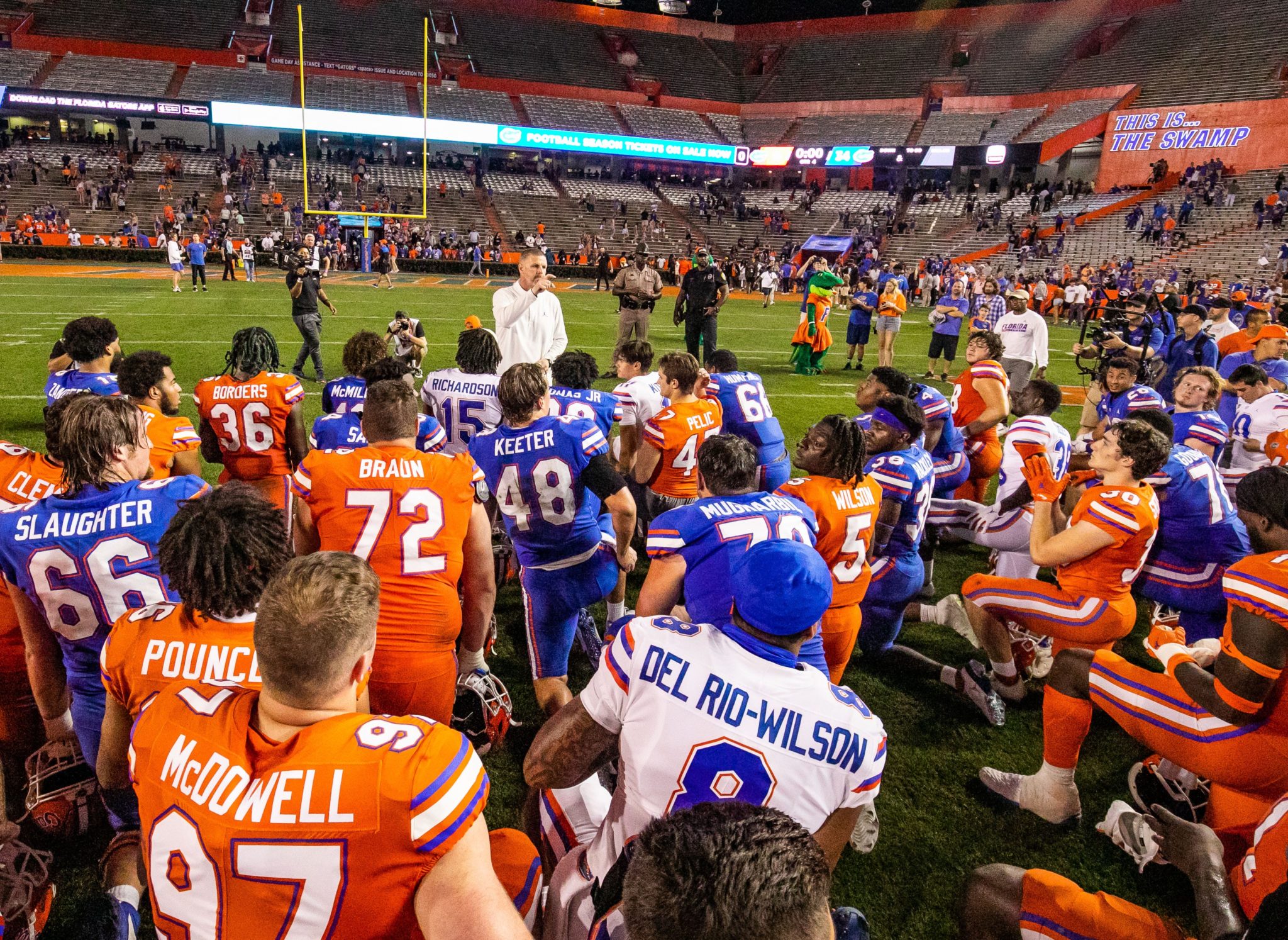 FLORIDA
Skeptic's guide to the 2022 Florida football season
Expectations at Florida are always lofty. They should be.
The program has won 3 national championships and, as the list below demonstrates, only Alabama and Georgia have won more football games among SEC schools over the past 50 seasons.
SEC program wins (1972-2021, 50 seasons)
Alabama: 491
Georgia: 440
Florida: 421
Auburn: 396
LSU: 393
The common thread on this list? Each of these programs has at least 1 national championship in that 50-year span, and only Auburn, which was denied the opportunity to compete for 2 national titles in that span despite having an undefeated season, has only one. Tennessee, another SEC program with a national title in that span, has 385 wins, but the rest of the SEC, including former Big 8 and SWC squads like Texas A&M and Arkansas, as well as a highly competitive Ole Miss program, trail the other 6 by wide margins.
Unfortunately for the Gators, they have been resting on their program laurels a bit too often of late. The 2010s was the least successful decade of Florida football since the Doug Dickey mediocrity of the 1970s, and Billy Napier is the 4th head coach (excluding multiple interims) since the graduation of Tim Tebow in 2009 ended one of the most successful eras in Gators history.
Florida has plenty of talent. They ranked 7th in the 247 Talent Composite last year, trailing only Georgia, Alabama and LSU in the SEC.
But that hasn't always meant they great — or even good — football. Napier's challenge? Changing the culture at a place that cycles through head coaches like an assembly line of late and has fielded 3 losing teams in the past 8 campaigns after fielding precisely 0 losing teams in the prior 3-plus decades. The Swamp wasn't built in a day, and neither will Florida football under Billy Napier.
As a result, while the ESPN Football Power Index has the Gators winning 7 games in 2022, there are reasons to believe Florida might not quite reach that number. Here are reasons to be skeptical about the Gators in 2022.
1. The wide receiver room lacks vertical playmakers
Florida has talent at wide receiver, with 5-star transfer Justin Shorter back for his senior campaign and high 4-star talents like Xzavier Henderson and Ja'Quavion Fraziars also on the roster. The problem is the group lacks explosiveness and a player who consistently can take the top off a defense. Shorter, Henderson, Fraziars and Marcus Burke give Florida plenty of options who can win a 50/50 ball or catch an end-zone fade. Trent Whittemore is a solid possession option. But there isn't a soul in that group a defensive coordinator has to scheme to defend sideline to sideline or vertically, and as a result, an offense predicated on a power run game that opens up shots down the field could struggle to produce big plays.
You have to generate explosives to win in the SEC — defenses are too talented, athletic, and well-coached to surrender long drives repeatedly over the course of a season. A limited Florida offense could cost Napier in Year 1.
2. Florida plays one of the most difficult schedules in the country
The Gators draw Texas A&M (you may have heard some about them this week) out of the SEC West and that game comes a week after Florida's annual Cocktail Party tilt with defending national champion Georgia. Nothing like a trip to Kyle Field to help you recover from an emotional, physical rivalry game.
Beyond that, the Gators play Tennessee on the road, have their annual duel with LSU in mid-October, and play at in-state rival FSU in a night game on Black Friday. That's difficult enough, and that's before you throw in that Florida will be the only SEC program playing a Power 5 conference champion in Week 1.
The Napier era begins with a visit from Utah, likely to be ranked in the top 5 after last year's Pac-12 championship and Rose Bowl appearance. The Gators will almost certainly be underdogs against Utah, Texas A&M, Tennessee and Georgia. If Florida loses all those games, they'll have to grab 7 wins out of 8 in games where they are favored. That's possible, but hasn't happened often in Gainesville over the past decade.
3. Anthony Richardson has not finished a season healthy since high school
Florida's best player is its quarterback, Anthony Richardson. It is always a positive when your best player plays the most important position on the field. But Richardson missed time due to injury throughout 2021, a contributing factor in his never quite stealing the job from now-departed starter Emory Jones.
A nagging leg injury from his senior year of high school has bothered Richardson since he arrived at Florida. The Florida coaches and the player say he's feeling 100% for the first time since he was a junior in high school. Time will tell. But if Ricahrdson does go down, it eliminates the best weapon Florida has, no matter how well backup Jack Miller III plays in his stead.
4. Outside of Rashad Torrence II, Florida's safeties aren't ready for prime time
Rashad Torrence II is a mainstay on NFL Draft boards, with great fluidity in coverage and the ability to lay the thunder in run support. He was one of Florida's most improved players last year and he's the first early round (2-4) NFL talent the Gators have had at safety in a few seasons.
Beyond him? Trey Dean has had some nice moments, and the coaches praised his leadership and attitude this spring, but he's hardly trustworthy in a big game. Donovan McMillon had a terrific spring game but hasn't played much college football. Ditto Corey Collier, a highly-recruited safety who still needs to add weight and muscle to contribute consistently in the SEC. Kamari Wilson, a 5-star freshman, was a recruiting coup for Napier and the new staff, but he's still a first-year player. The talent in the room is improving. The proven production still isn't there.
5. Special teams win close games and UF's aren't special
A year ago, SDS warned Florida fans that they'd miss Evan McPherson, who was drafted by the Bengals and became an instant Cincinnati legend. The Gators did, as Chris Howard took over at kicker and while accurate, lacked any real range. Florida also lost a game (at Kentucky) when it had a kick blocked and returned for a touchdown.
Florida's punter, while solid in terms of his average, ranked in the bottom half of the SEC in net, due largely to coverage issues. The Gators were also among the worst teams in the SEC in kickoff coverage, which the whole world saw when Samford took a kickoff to the house last November. The Gators don't have a great kicker and they don't cover punts and kickoffs well.
Big-time college football games are won at the margins. That means special teams.
Last year, the Gators went 1-4 in games decided by a touchdown or less.
The coaching change should help, but the specialists are merely average and this isn't a team that can steal points in the kicking game. That may haunt Billy Napier in Year 1.