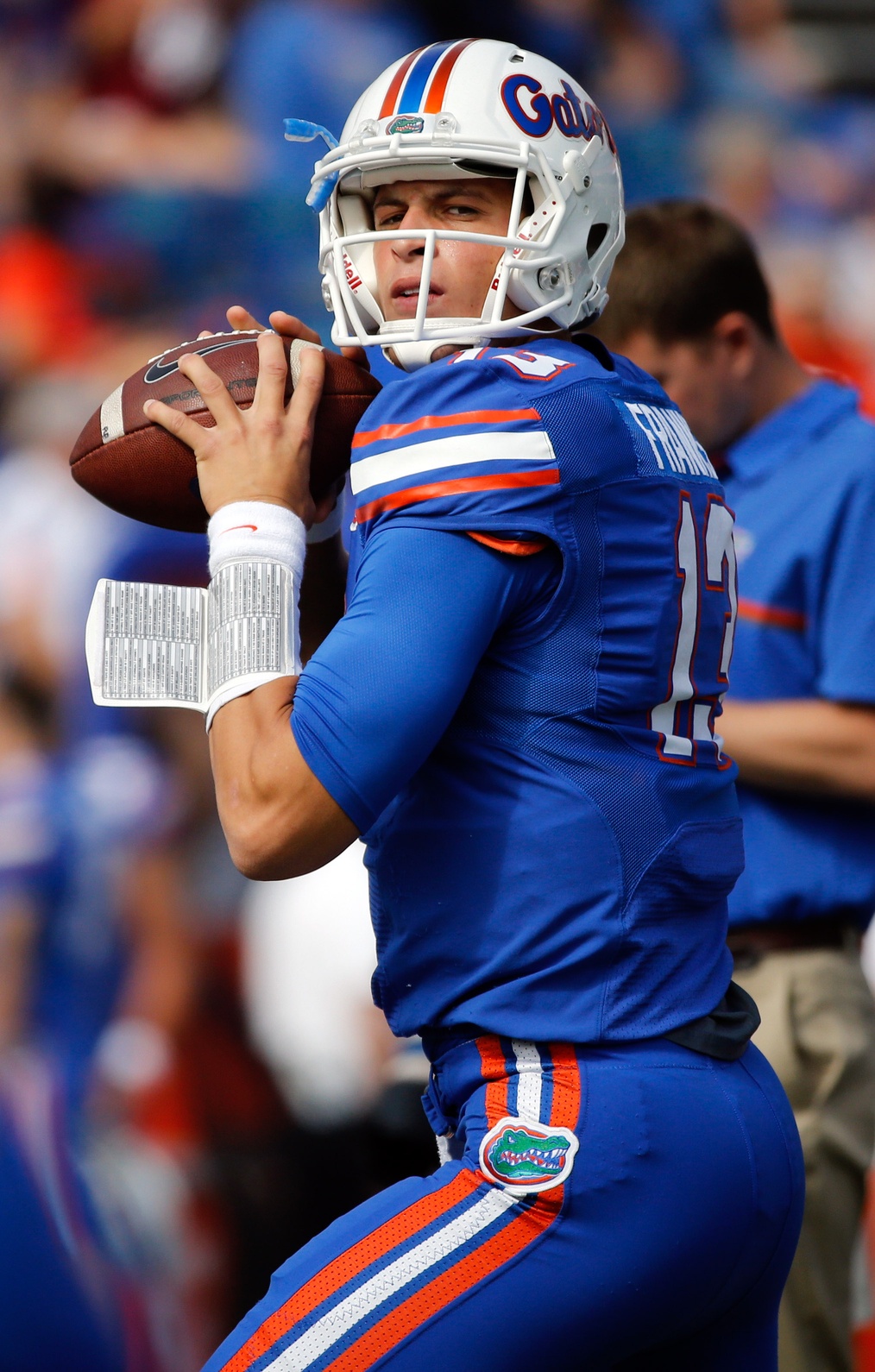 FLORIDA
Why it's time for Florida to make Feleipe Franks starting QB
GAINESVILLE, Fla. – Florida is thankfully done with playing football in 2016. A year that began with a 41-7 blowout loss to Michigan in the Citrus Bowl ended with a 54-16 thumping by Alabama in the SEC Championship Game. The next time the Gators take the field — Jan. 2 in the Outback Bowl — it will be a new year. They should do so with a new quarterback.
Austin Appleby, a graduate transfer from Purdue, has done all he can for UF. Luke Del Rio, a two-time transfer, has not shown himself to be an SEC-caliber quarterback. For coach Jim McElwain, the future is now. After a 54-16 loss to Alabama in which Appleby threw three costly interceptions, McElwain was at least open to getting a freshman ready for the bowl game as the starter and not just the emergency backup.
"You know, that's one of those deals I think we have to sit down with them and their parents and handlers and all that," he said. "I'm not sure it's fair, but at the same time, I know they want to play. So we'll see."
It's not only fair to freshman Feleipe Franks, who sought the opportunity for early playing time as a four-star recruit, to play, but it's the best thing to do for the future of the program. Some will say it's too late to "burn" Franks' redshirt, but with 15 bowl practices ahead, the timing is just right.
Here's why Franks needs to lead the Gators against the Hawkeyes:
Career starting QBs don't stick around for redshirt senior seasons
Franks has yet to take a snap this season. Right now, he qualifies for a redshirt. If he does not play against Iowa on Jan. 2, 2017, he will be a redshirt freshman for the 2017 season, with all four years of eligibility left. If he takes a snap against Iowa, he's considered a sophomore next fall.
If Franks, the No. 5 pro-style quarterback of the 2016 class, is good enough to be Florida's starting quarterback, it won't matter what year he is in 2017. A redshirt senior quarterback sounds like a luxury, but very few actually make significant contributions.
The top recruits usually prove themselves in their freshman or sophomore years, and the truly elite are gone for the NFL after Year 3 or Year 4, not needing to hang around for Year 5. Redshirt seniors are often career backups who get leapfrogged by talented younger quarterbacks.
Regardless of if Franks is a freshman or sophomore in 2017, McElwain will continue to pursue quarterbacks for the classes of 2017, '18, '19 and so on.
Franks, freshman Kyle Trask and current commit Jake Allen all know and understand that McElwain will be looking to sign a top quarterback every year. With only Del Rio in terms of upperclassmen returning quarterbacks for 2017, there's no reason to hold Franks back. Even right now, before he's taken a snap, he would be considered the favorite to start Week 1 next year.
And about that …
Iowa or Michigan, pick your poison
When Del Rio injured his shoulder against Arkansas on Nov. 5, there was some debate as to whether Franks, not backup Austin Appleby, should start for the rest of the season. But with trips to Death Valley and Doak Campbell Stadium remaining, it made sense to go with the graduate transfer over the true freshman.
Now, Florida has 15 practices to prepare Franks for Iowa at a friendly neutral site in Tampa, not nearly as intimidating as LSU or FSU on the road. Anything could happen this offseason, but in all likelihood Franks' first college snaps at quarterback will come against the Hawkeyes in Tampa or Michigan in Dallas in next year's opener. Even if he makes freshman mistakes in the bowl game, there's a significant learning opportunity to be had in getting Franks game experience before the showdown with the Wolverines.
Recruiting, recruiting, recruiting
Imagine, for a second, you're a talented offensive recruit with scholarship offers from Alabama, Auburn, Clemson, Florida, Florida State and Georgia. What appeals to you about Florida? Anything?
The past 20 Florida football games with Treon Harris, Del Rio and Appleby at quarterback, which resulted in a 12-8 record, have done very little to excite offensive recruits about playing for the Gators. In two seasons under McElwain and offensive coordinator Doug Nussmeier, UF has ranked No. 112 and No. 115 respectively in total offense.
Sure, McElwain can show highlights of Will Grier against Tennessee and Ole Miss in 2015 and tell prospects, "All I need is a quarterback," but recruits want to see that quarterback on the roster. They don't have time to wait and see if McElwain can develop one. They need to see what Franks can do, and there's only one game left.
One of the key storylines to the 2016 SEC football season has been the emergence of true freshman quarterbacks. Jalen Hurts obviously is on a different level, but Jacob Eason, Shea Patterson, Jake Bentley and even Brandon McIlwain all made an impact.
Franks was ranked higher than Hurts coming out of high school.
Franks doesn't have to have a perfect Outback Bowl. He doesn't need to look like Grier against the Rebels. The Gators just need to show that there's something to look forward to with the future of Florida football. Appleby and Del Rio simply haven't done that, and there's no reason to expect either one will against Iowa.