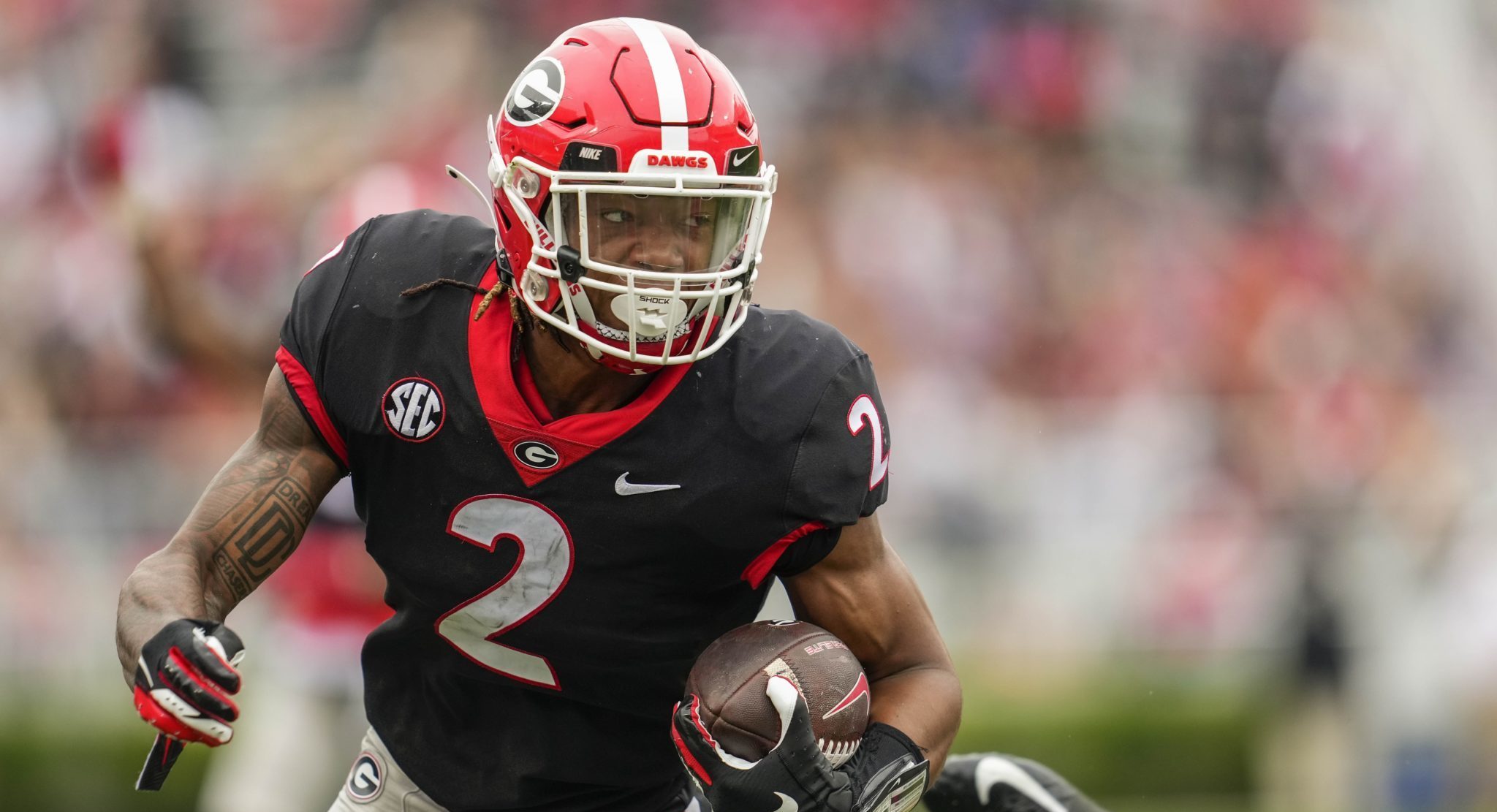 GEORGIA
5 biggest takeaways from Georgia's G-Day game
Georgia celebrated its national championship on Saturday inside Sanford Stadium for the G-Day game, complete with a close-up shot of the championship rings on the Jumbotron.
But it was also a chance to turn the page to the next chapter of the program, and start the climb of the mountain once more.
After a hot start for both teams' offenses, the defense stepped up late in the first half as the offenses also had some glitches on their passing connections, which was punctuated by an interception of Stetson Bennett by Javon Bullard.
It was a pass-heavy scrimmage as Georgia didn't put much emphasis on running the ball, and establishing its running-back-by-committee approach. There were 10 passes of at least 20 yards, as Georgia continues to shift its offense to a more pass-oriented attack, given the personnel.
.@GeorgiaFootball receives its National Championship rings at #GDay: pic.twitter.com/7e2OcmkLZ4

— DawgsHQ (@DawgsHq) April 16, 2022
A better pic of UGA national championship ring pic.twitter.com/Tay6ExNvEu

— Marc Weiszer (@marcweiszer) April 16, 2022
Here are the 5 biggest takeaways from the G-Day game:
Backup QBs
Carson Beck produced 246 yards, and showed a bit more poise and connection in the passing game than Brock Vandagriff, who went up against the No. 1 defense. Vandagriff also couldn't establish his dual-threat running ability, given the format, though he made a couple runs that drew a reaction from the crowd.
Beck had a big play to Arian Smith on a pass that went for 60 yards, and on another drive, Beck was 3-for-4 passing for 68 yards. Beck seemed composed at times during a 2-minute drill late in the first half, but then had 3 straight passes fall incomplete as timing seemed a bit off as Beck also dealt with pressure. He started 12-for-17 for 233 yards. At halftime, Beck was 12-for-20 for 233 yards, and Vandagriff was 4-for-7 for 29 yards.
Vandagriff offered one of the more impressive throws of the day late in the scrimmage as he rolled to his right and found Dom Blaylock in a tight window. Vandagriff appeared to settle in later in the scrimmage, but couldn't connect on a pair of throws on third and fourth down near the goal line.
Wide receivers
Given the format, it was expected that the wide receivers would be the stars of the G-Day game, and it panned out as 15 receivers caught passes. It's a notable shift, even in an exhibition format, that Georgia has closed the gap on the likes of Alabama and Clemson for top-shelf wide receivers.
While the tight ends grabbed the spotlight, plenty of players on the outside made notable plays, including Smith, Jackson Meeks and his 37-yard catch from Beck, and Blaylock on multiple plays. Marcus Rosemy-Jacksaint and Kearis Jackson, who made a tough catch over the middle from Bennett, appeared to running more smoothly than last season.
Arik Gilbert and Oscar Delp
If the Georgia tight ends were not already an imposing force in college football, Arik Gilbert and Oscar Delp put some more evidence into the argument. Even without Darnell Washington and Brock Bowers, Gilbert made 2 touchdown catches, including one in the back corner of the end zone that impressed Kirby Smart, and proved to be the matchup problem he's long been feared to be. Gilbert also drew 2 pass interference penalties inside the 20-yard line.
.@StetsonIv connects with @arik_gilbert for the first score of the game‼️

Watch live on ESPN2: https://t.co/ePBADRzZYS pic.twitter.com/3kgsKtMjMi

— Georgia Football (@GeorgiaFootball) April 16, 2022
Oscar Delp, the sensational early-enrollee flashed early with a catch over the middle, and then added 10 yards after contact. On several plays, he was a reliable safety net especially on short passes.
All these tight ends have Todd Monken thinking about the rare 14 personnel, which is 1 running back, 4 tight ends, an alignment that almost no one runs in college football.
Arik Gilbert making plays for UGA today and looking good. If he's healthy and settled in this fall, he's going to make that Georgia TE group very, very scary with him and Brock Bowers. Good luck to defenses dealing with that kind of size and athleticism.

— Bruce Feldman (@BruceFeldmanCFB) April 16, 2022
Running backs
Early on, it was Daijun Edwards who showed quickness twice around the right side to score 2 touchdowns, and show why he has the most wiggle in the backfield. Then Kendall Milton showed potential and growth with a 3rd-down catch and touchdown.
Milton has received plenty of comparisons to Todd Gurley but has struggled to stay healthy, and he looked the part on a swing pass out of the backfield. Milton may be the best of a solid collection of Georgia backs in recent years, as his 6-1 and 220-pound frame is difficult to contain for defenses. Kirby Smart said on the ESPN2 broadcast that Milton gets better with every carry.
Did the defense do enough?
It was definitely a slow start for the defense, and while it appeared to bounce back later in the scrimmage, it was an overall soft outing for a unit where depth and a change in leadership from last year remain questions.
There were, however, a pair of interceptions in the game, and some token pressure on the quarterbacks. There were several batted balls at the line of scrimmage, which may have been the best area for the defense. It's also worth noting that a defense starring in spring game is not usually what the fans want to see. Especially on a team trying to figure out its quarterback depth chart with several elite offensive playmakers.