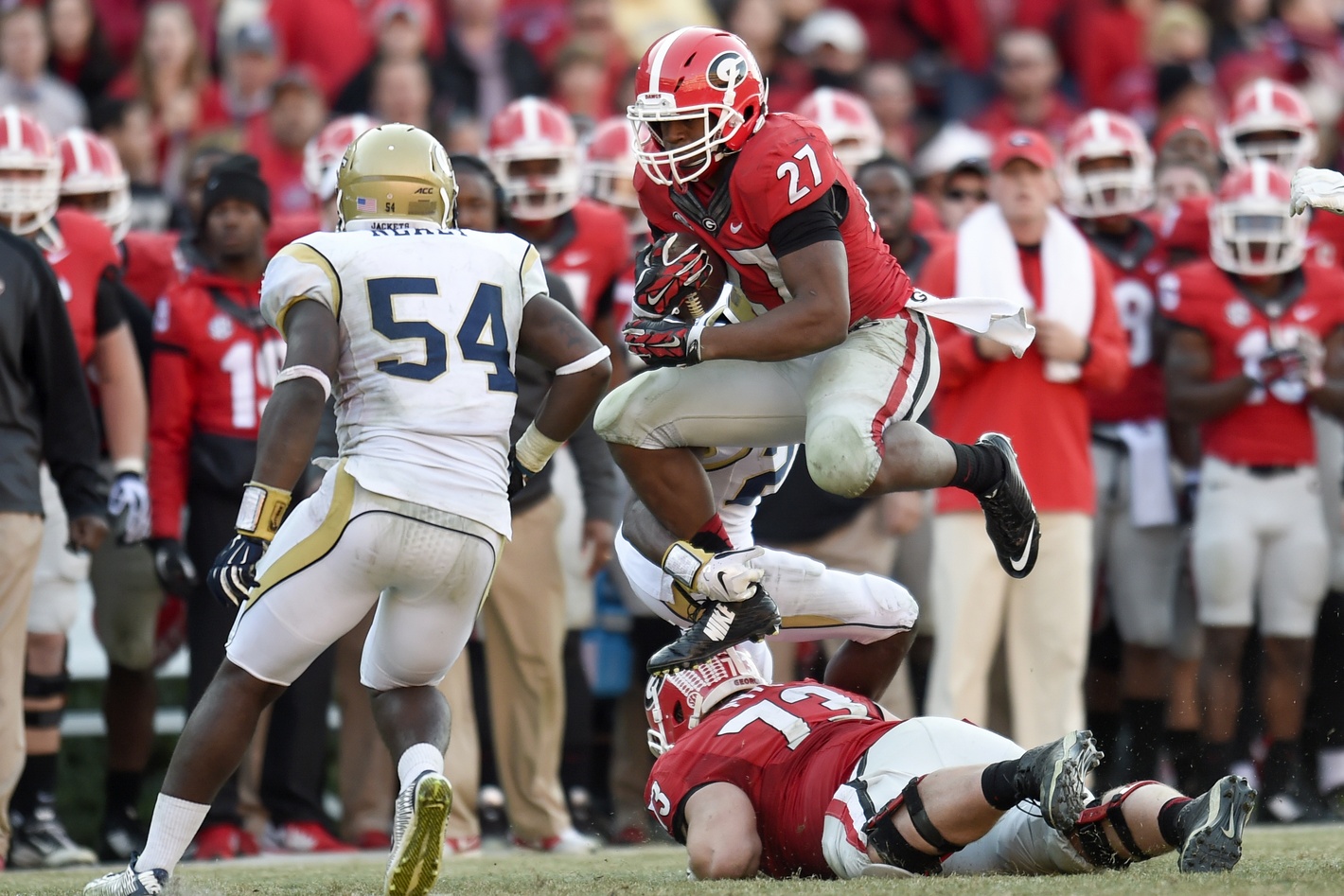 GEORGIA
5 wildest moments in Georgia-Georgia Tech rivalry in Mark Richt era
As reported by ESPN's David Ching, Georgia-Georgia Tech is the SEC's closest in-state rivalry with a margin of victory of just under 10 points per game. Saturday's edition of "Clean, Old Fashioned Hate" should yield more of the same.
Neither team is where it thought it would be. Georgia was preseason No. 9, Georgia Tech No. 16. They climbed as high as No. 7 and No. 14, respectively, before the losses started piling up.
Georgia lost three of four in October. Georgia Tech's only win since beating Tulane on Sept. 12 was a most surprising 22-16 upset of No. 9 Florida State on Oct. 24.
Their seasons, however, will matter little Saturday. Their history will. The past two matchups have gone into overtime.
With some suggesting this could be Mark Richt's final regular-season game as Georgia's coach, we look back at the rivalry's five wildest moments since he arrived:
Tim Jennings' INT in 2005
Before he was picking off NFL quarterbacks, CB Tim Jennings was doing it for the Bulldogs. His interception sealed a 14-7 victory in 2005 in one of the series' top moments.
Calvin Johnson gave Georgia Tech a 7-0 lead with a 2-yard TD catch in the first quarter. Soon after, Georgia tied it on Brannan Southerland's 1-yard TD run.
Neither team would score for the next 47 minutes.
D.J. Shockley put the Dawgs ahead 14-7 when he hit Bryan McClendon for a 19-yard TD pass late in the fourth quarter.
Reggie Ball immediately drove Georgia Tech from its 26 to inside the Bulldogs' 25. A pass interference call on 3rd-and-14 gave Georgia Tech a first down at Georgia's 11.
With the clock creeping toward 1 minute, Ball dropped back one more time. Jennings beat Demarius Bilbo to the pass and intercepted it near the 3-yard line to preserve the victory.
A decade later, many Tech fans still wonder why Johnson wasn't the intended target.
Hutson Mason throws OT INT in 2014
It's hard to top last year's game that was filled with goal-line turnovers and big plays by both teams.
Each team fumbled twice, including three at the goal line (one returned by CB Damian Swann for a 99-yard TD), and they combined for nearly 600 yards rushing.
The Yellow Jackets kicked a 53-yard field goal to send it to overtime, but after scoring a TD on their first possession, Georgia Tech's defense made it hold up when D.J. White picked off Mason's pass at the 5-yard line to upset the No. 9 Bulldogs in Athens.
Tip, almost TD catch, in double OT in 2013
Todd Gurley scored three TDs as Georgia escaped a 20-0 deficit to win in double overtime.
Georgia never led until Gurley scored on a 25-yard to open the second overtime.
The game featured more than 900 yards of total offense and a final play that got fans on both sides on their feet.
GT QB Vad Lee's pass got tipped a few too many times for Georgia fans' comfort, but the Bulldogs won 41-34.
Un upset in 2008
In what might have been this series' most entertaining game Georgia Tech ended a 7-year drought with a win over No. 11 Georgia 45-42. The Yellow Jackets celebrated beating Matthew Stafford and company by making a snack of the Sanford Stadium hedges.
Stafford threw for more than 400 yards and 5 TDs, but as it tends to do, Georgia Tech ran all over Georgia for over 400 yards and 6 TDs.
Georgia Tech trailed by 16 at the half but exploded for 26 points in the third quarter to upset a Bulldogs team that started the season ranked No. 1.
Matthew Stafford freshman drive in 2006
Before leading one of the most prolific passing offenses in school history, QB Matthew Stafford had a freshman moment.
What a moment it was.
With 8:13 left and Georgia trailing by 3, Stafford began a drive from the Bulldogs' 36 that showed why he was the No. 1 QB recruit in his class.
Stafford went 4 for 4 on the final drive for 34 yards. His 3-yard TD pass to Mohamed Massaquoi gave Georgia its winning points.