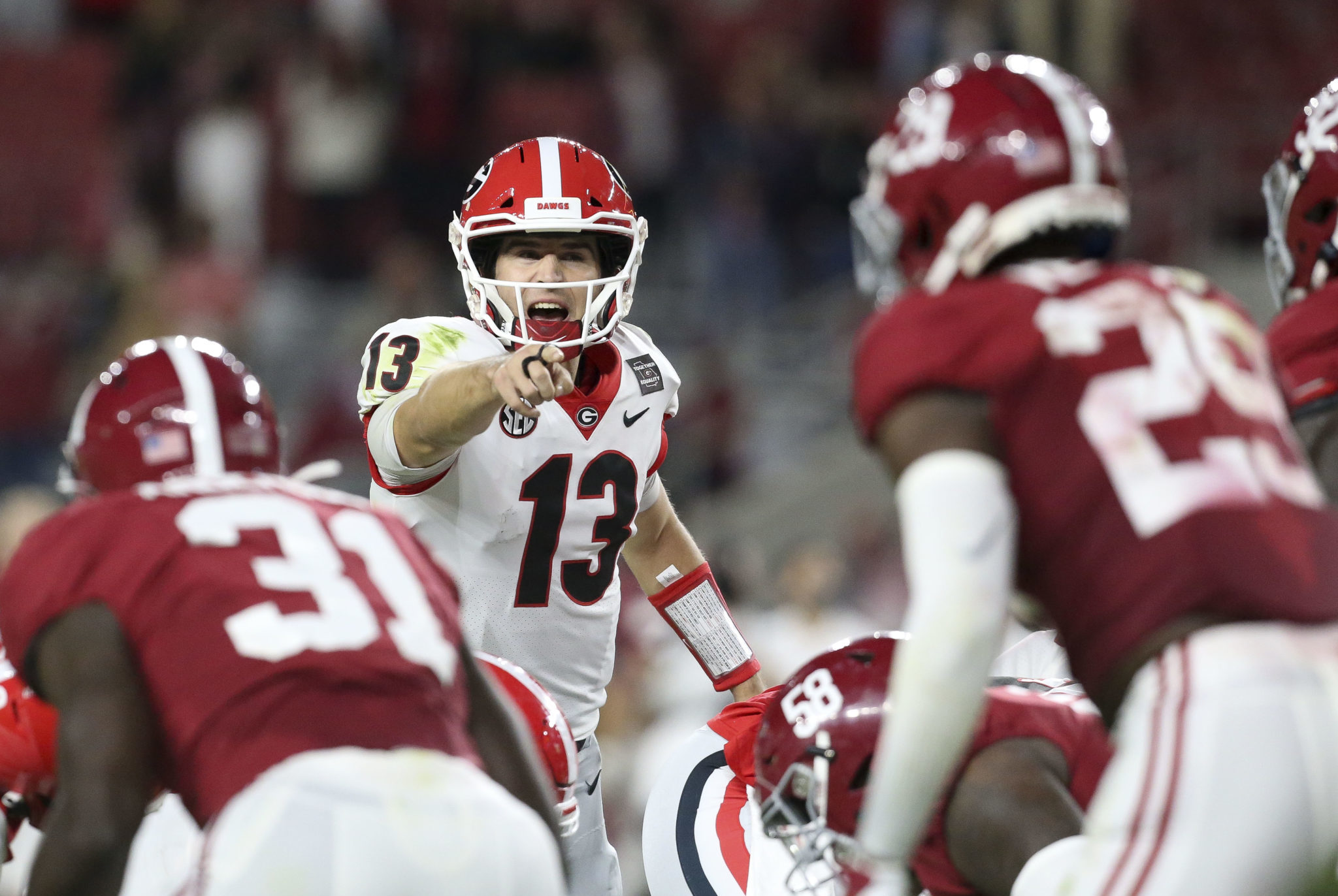 GEORGIA
Balancing the playbook: Georgia and Alabama weigh how much to change in national title game
The main black and white difference between the December meeting and Monday's rematch between Georgia and Alabama is that John Metchie III will not play in the national championship, so his 6 catches and 97 yards contribution with a touchdown will need to be made up by other Alabama playmakers.
Beyond that, the brass tacks is trying to split hairs and balance how much to change about each playbook that the opponent knows oh so well, and in some cases, helped write. Aside from arch-rivals, it is difficult to find a pair of teams that know each other as well as Alabama and Georgia do. The 4 meetings since 2017 are only a piece of the shared brain trust where at least 5 coaches, depending on responsibility, have coached at the other school, or with coaches on the other staff.
It comes down to not only what to change, or even how much, but how to execute what each side does best. As Stetson Bennett said, Georgia won't outsmart itself and instead will prepare for the tendencies Alabama has already put on tape. Put simply, why change much since both sides are, after all, in the national championship.
"They're not going to change up and go all Arkansas on us. They're not going to do that. They're going to be Alabama. And we're going to be Georgia," Bennett said. "And we're going to see who executes better. And if there is a wrinkle come Monday night from either side, then whoever adjusts best to that will win the football game."
Conventional wisdom says that each team should do what it does best and force the opponent to counter. The most important thing is to do what you do best, and it won't matter as much what the opponent does. There's always adaptation during a game, and of course, with these teams, it's mostly been at halftime.
"I also don't think you can make a lot of changes that the players are not going to go out and be able to play and execute with confidence," Nick Saban said. "So the changes you need to make sort of relative to the things that you did well or didn't do, and some of the things that they were able to take advantage of that you need to make sure you make an adjustment to."
The other easy thing to overlook is that everyone who played well in Atlanta will automatically duplicate that effort. Case in point is Alabama's offensive line, which entering the SEC Championship was a serious concern coming off the woeful effort in the Iron Bowl. Alabama owned the line of scrimmage in Atlanta. But can that unit do it again? It would be difficult to do based on the entire picture of the season. The identity, or DNA, of a team perhaps is revealed the most in a rematch.
"Their offensive line played better in that game than they had possibly all year," Arkansas coach Sam Pittman, who played each team, told the Associated Press. "Kirby likes to play physical football and get big with people and bully them, and it's hard to bully Alabama."
There's also the issue of shuffling the lineup because of injuries, as right guard Emil Ekyior (shoulder) and right tackle Chris Owens (ankle) were each injured in the Cotton Bowl.
Ultimately, the most obvious change for Georgia is turnovers, as it's lost the turnover battle against Alabama in the past 3 meetings. Bennett, for example, has thrown 5 interceptions in the last 2 Alabama games. And in the previous national championship game, Georgia had 2 turnovers, to Alabama's one.