GEORGIA
Film Study: Georgia can win big with Jake Fromm, but its roots are still on the ground
For a few more days, at least, the world is Jake Fromm's oyster — if not the world, then certainly the state of Georgia, anyway, which for a 19-year-old college freshman is a fine place to start. Four game into his UGA career, Fromm is already well on his way to surpassing last year's freshman phenom, Jacob Eason, in the hearts of Bulldogs fans, and within a few more wins of forcing even the more sober minds among them to follow suit. It's early still; after last weekend's 31-3 rout over Mississippi State, all lights are green and all drinks are on the house.
The blowout over MSU was an ideal scenario for Georgia, and for its precocious quarterback in particular, on a couple of levels. First, there was Fromm himself, who was nearly perfect: He completed all eight of his first-half attempts en route to a 9-of-12, two-touchdown performance in which he averaged nearly 17 yards per attempt. (Those numbers would have been even better if not for a pair of drops on dead-on throws.)
There was no dinking-and-dunking, checking down, or throwing away under duress. In his first SEC game, opposite a pass rush that had last been seen swallowing LSU's offense whole in Week 3, Fromm was composed and on-point from the first snap.
Beyond the stat line, though — or even the scoreboard, really — what was most encouraging for the immediate future was how snugly all of the pieces fit together: The running game held up its end of the game plan, racking up 203 yards while consistently keeping its fledgling QB out of down-and-distance danger, and Fromm held up his, reliably eviscerating the MSU secondary off play-action.
In fact, given that it faced only two or three predictable passing downs with the outcome still (theoretically) in doubt, arguably all of Georgia's success through the air was to some extent an extension of its success on the ground.
In short, it was exactly what Georgia has always envisioned for its offense at its best: A complementary, run-first attack that exceeds the sum of its many talented parts. It's a system designed to turn a merely efficient signal-caller into a star. And as long as it continues to keep him in his comfort zone, everything we've seen so far suggests Fromm is ready for his closeup.
Sweep Them Off Their Feet. For just one example of how the Bulldogs lay the foundation for the play-action passing game, I'm going to focus on a vintage Georgia staple: The power sweep. This is some real Vince Lombardi stuff at heart, and UGA still prefers to run it in a way that old-school, Lombardi-era aficionados can appreciate — out of the I-formation, with multiple tight ends blocking on the edge and a bona fide fullback paving the way for a 220-pound tailback.
The I-formation sweep was a mainstay under Mark Richt, and Kirby Smart has left it essentially unchanged. In Smart's first game as head coach (and Jim Chaney's first as offensive coordinator), Georgia scored twice on the sweep in a 33-24 win over North Carolina, including a 55-yard touchdown run by Nick Chubb that clinched the win in the fourth quarter.
The formation, personnel and blocking scheme on that run all served as templates for how the Bulldogs have run the same play in almost every game since. To the play side of the formation (in this case the right), Chaney replaced wide receivers with two tight ends, Jeb Blazevich (No. 83) and Isaac Nauta (18) split tight; both were assigned crack-back blocks to cut off pursuit, with Blazevich going in motion to seal off the defensive end and Nauta taking on a linebacker or safety on the second level. Behind them, the parade was led by the fullback, Christian Payne, and since-departed right tackle Greg Pyke pulling into the right flat.
Chubb isn't quite as ideal a vessel on the sweep as Todd Gurley was in his day — other than maybe Leonard Fournette, a more ideal vessel than Gurley probably doesn't exist — but still, when he gets a head of steam all he needs from the blocking is a small crease to take it to the house: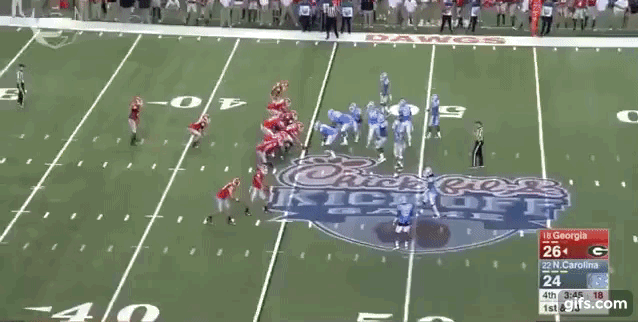 Obviously nothing about that play should have come as any surprise to Mississippi State, but seeing it coming is not the same thing as actually stopping it. Chubb also had two touchdown runs against the Bulldogs, the first of which was nearly identical to his long scoring run against North Carolina: The toss was to the left this time, but everything else — Blazevich and Nauta cracking inside, Payne and LT Isaiah Wynn leading the way outside — looked the same, as did the result: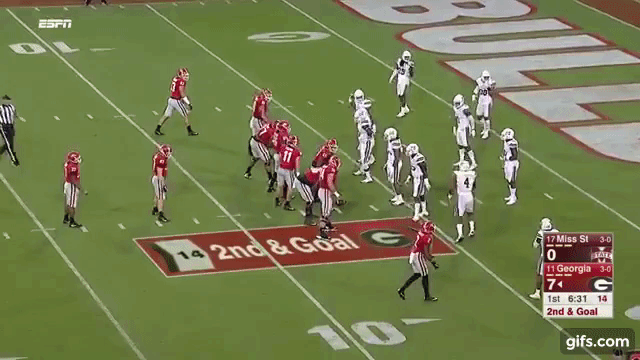 Chubb's second TD run against Mississippi State, early in the third quarter, was superficially unique in a couple ways: He received a direct shotgun snap out of a Wildcat look rather than toss from the I, and instead of a tight end cracking on the play-side DE, this time it was a wide receiver, No. 2 Jayson Stanley. Fundamentally, though, all of that was just window dressing for the old standby: Chubb left, with Wynn and Payne combining to open up a massive lane to the end zone from 28 yards out.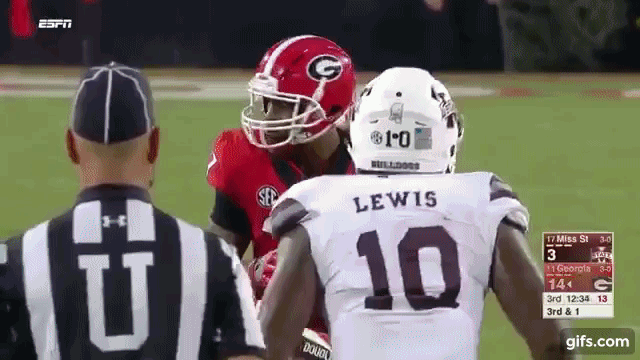 Notably, that run came on 3rd-and-1; two series later, Georgia again faced 3rd-and-1 from a similar spot on the field. Again, before the snap, everything about its personnel and alignment screamed power sweep: I-formation (this time with Sony Michel at tailback), two tight ends split tight to the boundary, Blazevich in motion for a crack-back on the defensive end.
At the snap, Georgia showed the defense just what it expected to see — a toss action by Fromm, with Wynn and Payne leading the way for Michel into the right flat — and the defense responded accordingly … the entire defense, including both safeties, who each began the play within 6 yards of the line of scrimmage, pursued further upfield, and found themselves hopelessly out of position when Fromm set up to throw to a wide-open Nauta streaking down the hash marks: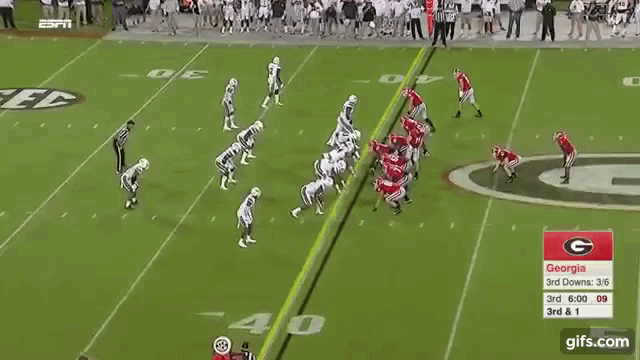 Not only was Nauta wide open — so was the tight end to the other side of the formation, No. 89 Charlie Woerner, and the fullback, Payne, who easily ran past the defenders he'd normally be blocking. Mississippi State's secondary bit so hard on the sweep action that Fromm basically had his choice of which oversize target to reward with a touchdown: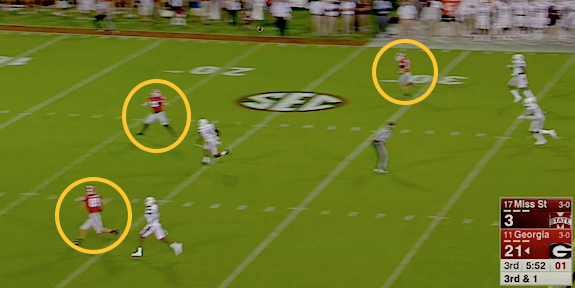 Nauta, a former 5-star recruit, was probably the right choice. But the choice existed in the first place because Georgia had already established its best play, featuring its best players (Chubb and Michel), as the defense's primary concern.
The effect was the same on Fromm's first touchdown pass, a 59-yard flea-flicker to Terry Godwin on the Bulldogs' first play from scrimmage: All the freshman had to do on both occasions was deliver an accurate pass on time — an aspect of his game that's not in any doubt — and bask in the accolades. The better Georgia is at what it does best, the better Fromm will continue to look at what he does best.
Third-and-Lost. The looming question at this point is how Fromm will look when the down-and-distance and the defense aren't as favorable. Against Mississippi State, the offense was so efficient on first and second down that he barely faced any must-throw situations on third; all three of his successful third-down completions (including the long TD to Nauta) came on 3rd-and-5 or less. Can he consistently deliver from the pocket if it's 3rd-and-8 and Chubb and Michel have been held in check?
We haven't seen enough to know, but right now the answer is not obviously yes. To date only one of his nine pass attempts on 3rd-and-7 or longer has resulted in a first down, and his only interception came on a predictable passing down at Notre Dame. There, Georgia faced 3rd-and-10 near midfield just before halftime; with play-action out of the question, the Bulldogs lined up in a four-wide set and sent three receivers deep with a tight end, Nauta, running an out route from the slot.
The Fighting Irish responded with plain quarters coverage deep while a pair of linebackers, Drue Tranquill (No. 23) and Nyles Morgan (5) — both of whom feigned blitzes before the snap — dropped into curl-to-flat lanes underneath.
Although he wasn't under any immediate pressure from a four-man rush, Fromm seemed to respond to what he expected to see (a blitz) rather than what was really there, and wound up rushing a throw to Nauta that wound up in Tranquill's hands instead: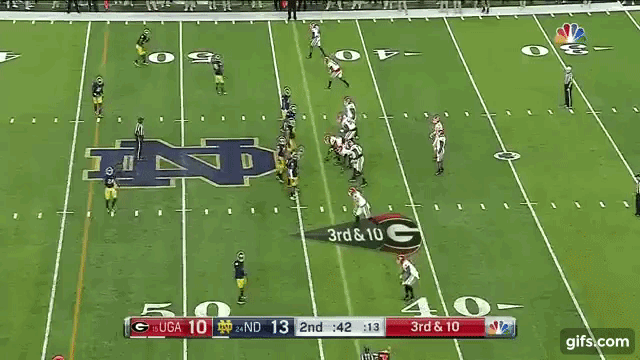 That's a typical true-freshman-in-his-first-road-start kind of pass, and one Fromm will likely (hopefully) grow out of. If third-and-long is a situation in which he winds up having a lot of experience, though, then hoping he just keeps the ball out of trouble will be the least of Georgia's problems. For the time being, the ground game is the engine.
To Saturday and Beyond. With young players, the combination of hot takes and small sample sizes means reputations can run and cold from one week to the next: As rapidly as Fromm's stock rose against Mississippi State, a subpar or simply ordinary performance this weekend at Tennessee could send it tumbling just as quickly. It's not entirely clear yet where the coaching stands on naming Fromm the full-time starter when Jacob Eason is fully recovered from his knee injury, and the assumption that it's the freshman's job to lose at this point doesn't mean he can't still lose it. You know, it's September.
But it's not too soon to say that, given his stellar ratings as a recruit, Fromm's early success is more likely to be a signal that he's on track to fulfill those projections than it is to be a mirage. Having vanquished two ranked teams already — one on the road, the other in dominant fashion — Georgia doesn't play another team in the current AP Top 25 until the all-defining Florida game on Oct. 28; ESPN's Football Power Index gives the Bulldogs at least a 65 percent chance to win every remaining game (including the Cocktail Party) except a Nov. 11 trip to Auburn.
By then, it seems likely that Fromm will be entrenched in a role that plays to his strengths and UGA will be very much in the thick of the SEC championship chase, and possibly the Playoff race, as well. To get there, the Bulldogs only needed a quarterback capable of avoiding mistakes and making the routine plays to keep the sticks moving while the running game and defense handled the heavy lifting.
If Fromm's next turn in Knoxville looks anything like his last one, they'll know they have a lot more than that.