SEC
Film Study: Mississippi State is relevant again. The pass rush can keep it that way
It's early still, but just a few weeks into the new season it already seems fair to say Mississippi State's defense was … well, severely underrated would be putting it mildly.
The front seven, in particular: Among the d-line and linebackers, the Bulldogs opened with only one returning starter from 2016, sophomore linebacker Leo Lewis, and just 10 career starts among everyone else combined. The unit as a whole returned fewer career starts than any SEC defense except Florida's, coming off a campaign in which it finished 12th in the SEC in total defense and 13th in scoring. The preseason magazines, understandably, all ranked all three levels of the D in the bottom half of the conference.
In that context, last week's thorough, 37-7 romp over LSU wasn't so much an upset as it was a revelation. This was not a defense just finding its feet, and certainly not one manned by a bunch of scrappy underdogs. It was dominant: LSU's revamped offense managed just 270 total yards on 4.7 per play — its worst night in the latter category since 2014, excluding games against Alabama — with a sizable chunk of that output coming on a pair of meaningless, garbage-time drives in the fourth quarter. Prior to that, only one of the Tigers' first eight possessions yielded consecutive first downs, or even crossed midfield.
"They beat us down," conceded LSU's all-conference center, Will Clapp, who was only stating the obvious. The Bulldogs harassed Danny Etling, rendered Derrius Guice irrelevant and generally outmuscled the ostensibly more talented team from start to finish.
In the process, they also staked their claim as legitimate players in a conference race that lacks an obvious challenger to the Crimson Tide. Suddenly the idea of Mississippi State as the SEC's second-best team isn't so farfetched: If nothing else, at least the Bulldogs passed their first significant test, which is a lot more than can be said right now for Auburn, Florida, Tennessee, Texas A&M, Arkansas, Ole Miss, or (obviously) LSU.
And they passed it convincingly. At No. 10 nationally, MSU has already surged to the front of the non-Bama pack in ESPN's Football Power Index, which also gives the Bulldogs the best chance of winning the SEC title (14.8 percent) of any of the also-rans. This for a team that, based on the available evidence a month ago, regional media types collectively picked to finish sixth in the West.
The only other aspiring contender feeling as good about its chances at the moment is the one that happens to fall next on Mississippi State's schedule: Georgia. After surviving their Week 2 trip to Notre Dame, the league's other Bulldogs are also 3-0, also boast a dynamite front seven and clearly look like the class of a watered-down East.
They're also saddled with a track record of underachieving and (for a few more weeks, anyway) resigned to starting a true freshman quarterback. For September, the stakes in Saturday night's clash in Athens are unusually high, with the winner likely to ascend into the Top 10 and officially claim the title of No. 1 Contender as conference play begins in earnest. No one saw that coming for Mississippi State, at least not so soon. But the Bulldogs have earned the stage. And if they are poised to make their move, it's going be on the strength of their up-and-coming defensive front.
Third-and-Doomed. Aside from sophomore DT Jeffery Simmons, the only 5-star recruit on the roster, Mississippi State doesn't have the pass-rushing pedigree associated with your Alabamas, LSUs and Auburns, as its fans are reminded constantly.
But the Bulldogs are considerably more athletic up front than those stale comparisons give them credit for: Simmons is emerging in his second year as a full-grown, All-SEC-caliber issue, and two other front-seven starters (DE Fletcher Adams and OLB Gerri Green) both arrived in Starkville as 4-star prospects. So did inside 'backer Leo Lewis and backup edge rusher Marquiss Spencer, who logged significant reps in the win over LSU and was credited with half a sack off the bench. The starter in front of Spencer, redshirt junior Montez Sweat, began his career at Michigan State before going the JuCo route. Except for Green, all of the above are in their first, second or third years in the program; none is a senior.
Against LSU, that athleticism was most obvious on obvious passing downs, on which the Tigers' more experienced offensive line was consistently overwhelmed. In the first half, LSU ran five plays on third down with at least 3 yards to go to convert; quarterback Danny Etling dropped back to pass on all five. On one, a 3rd-and-3 situation in the second quarter, Etling's pass was swatted down at the line by Adams. Here are the other four:
1. On its first possession, LSU faced 3rd-and-17 from its own 30 after a long touchdown pass — Etling's only downfield completion of the game, illegal or otherwise — was negated by a penalty for offensive pass interference. With plenty of margin for error in the secondary, defensive coordinator Todd Grantham played it safe, limiting the pass rush to Sweat, Simmons, Grant Harris and Green; the only wrinkle was a twist on the interior that called for Green (no. 90) to occupy enough attention from LSU's center (64) and right guard (70) to allow Simmons more or less a free run at the quarterback: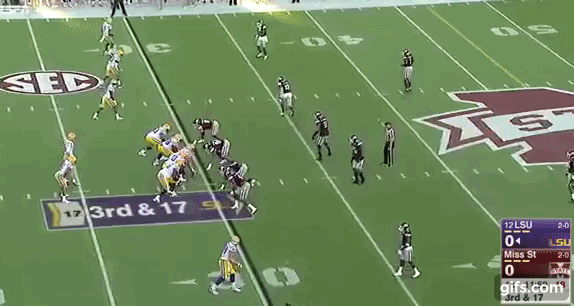 That wasn't a sack, but it accomplished almost as much. LSU had five blockers on the play to handle four rushers, plus the running back, Guice, whose initial responsibility was pass protection before releasing as a receiver. Within two seconds of the snap, fully half of that security unit was tied up with Green, leaving the Bulldogs' best player untouched: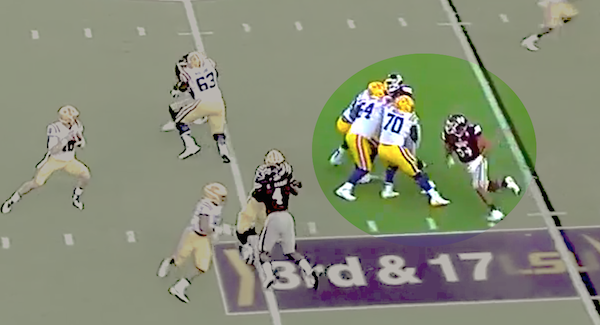 On 3rd-and-17, Etling's 11-yard scramble was irrelevant. On came the punt team for the first time.
2. Next possession: Another third-and-long, and another opportunity for Grantham to get creative on the line. In this case there was a blitz call, which sent Green (4) to attack the right tackle while the DE (Adams, No. 43), and OLB (Erroll Thompson, 40) to that side of the formation loop inside; LSU handled this fine. On the left side, though, the Tigers' LG and LT were both so concerned with the twisting nose tackle (Tre Brown, No. 96) that neither bothered to lay a hand on crashing DE Braxton Hoyett:
Etling did all he could do on this play just to escape the initial pressure and put the ball in the vicinity of an eligible receiver; whatever the plan was downfield, it never had a chance. Another punt.
3. Next possession: Third-and-3 now, more in LSU's comfort zone, allowing the Tigers to present a run formation with two tight ends (both lined up to the right) and the viable threat of play-action; given their new proclivity for the jet sweep, Guice in motion was also a concern. This time, though, the timing was wrecked not by scheme, but by two Bulldogs — Tre Brown inside and Gerri Green on the edge — simply beating their blocks and arriving in time to put Etling on the seat of his pants: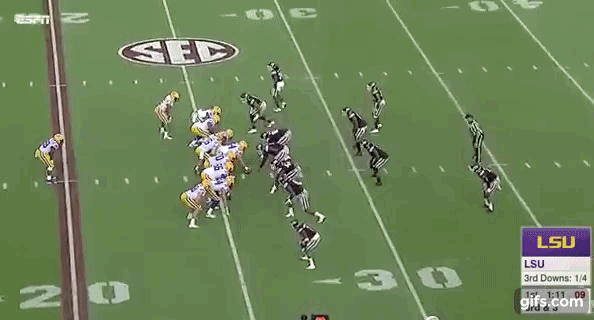 Brown gets full credit for the knockdown after splitting an initial double team at the line, but Green arguably had more influence on the high throw by forcing Etling to air-mail it with a defender directly in his line of sight. Either way, that's three possessions, three punts.
4. Moving into the second quarter, following LSU's lone touchdown drive; the Tigers faced 3rd-and-15 as a result of a penalty for blocking below the waist. Again, the Bulldogs were able to disrupt Etling's progression with almost immediate pressure up the middle, this time coming from Simmons (94) and Grant Harris (90), who ate their respective blockers for lunch, collapsed the pocket and flushed Etling into the waiting arms of Montez Sweat (9) on the outside: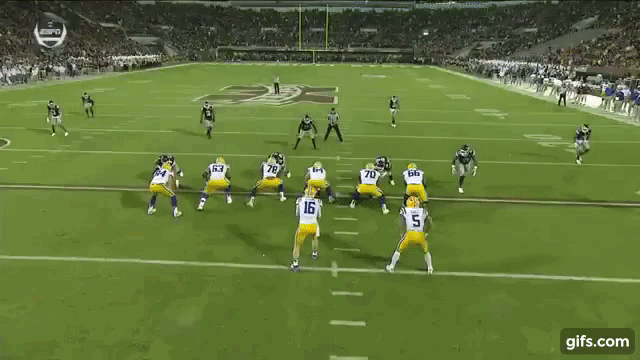 Even Guice wasn't elusive enough to make hay out of that; he was swarmed over for a three-yard gain, forcing LSU's fourth punt in five possessions.
To the extent that the Tigers improved in the second half, it was only in the sense that Etling was spooked enough to get rid of the ball before the pressure arrived: Their first two possessions of the second half ended when he bounced a pass off his receiver's facemask on 3rd-and-5 and badly missed his target on 3rd-and-7, respectively. (The former was more the receiver's fault than Etling's; the latter was an apparent miscommunication.) The third ended almost exactly like the drives above — only more so, with Etling being flushed by Sweat from the left side and hounded into a desperation throwaway at the feet of his head coach with the entire MSU front in hot pursuit: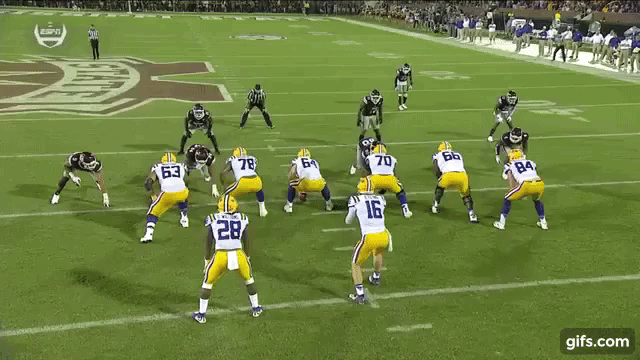 The Bulldogs finally recorded a pair of official, look-them-up-in-the-box-score sacks in the fourth quarter, including a 3rd-and-10 takedown by Simmons that effectively summed up the night. But that point, though, the game was a foregone conclusion, and there was no doubt what the conclusion would be from anyone who actually watched it. Mississippi State's pass rush was the dominant unit at virtually every opportunity and gave every indication that it has the talent and fundamental ferocity to carry that success forward.
Victors of Circumstance. I think it's important to specify that I'm talking about the pass rush, in particular, because it was much less obvious that the Bulldogs could consistently stop LSU on the ground if the game had unfolded differently. In the first half the Tigers were backed into no-win, must-throw situations by penalties; in the second, the score dictated they go on throwing. (The game got away from them in a hurry: Mississippi State's offense drove for a touchdown at the tail end of the first half and a field goal to open the second, turning a manageable, 10-7 deficit into a 20-7 hole without LSU's offense having taken a snap.) The Tigers' top two running backs, Guice and Darrell Williams, combined for just 20 carries, and just one in the fourth quarter. But on the chances they did get they both averaged more than five yards a pop.
LSU's one successful drive came at the start of the second quarter, on an eight-play, 65-yard march that — not coincidentally — featured only one third down (an easily converted 3rd-and-1) and zero pass attempts en route to the end zone. The big play of the drive was a 25-yard run by Guice behind his right tackle (K.J. Malone, No. 63) and center (Will Clapp, 64) that exploited the Bulldogs' aggression and lack of size on the edge: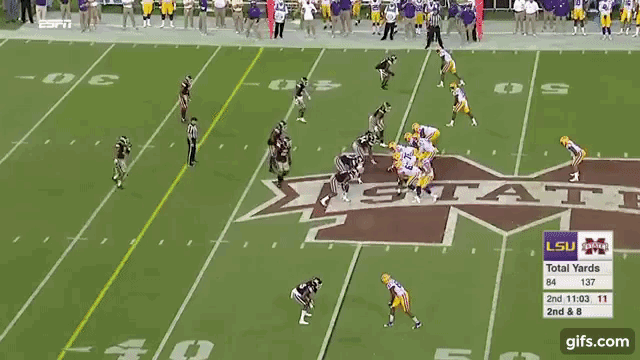 The play-side defensive end on that play was actually a linebacker, Gerri Green (No. 4), who at 245 pounds was easily caved down by LSU's 255-pound tight end, Foster Moreau (84); that block, along with over-aggressive upfield pursuit by MSU's Leo Lewis (10), opened up a crease that a back with Guice's vision and burst will take for big yards 100 percent of the time.
Two plays later, LSU came right back to the essentially the same play to the same side of the formation, this time with the more powerful Williams carrying behind Moreau, Clapp and LG Garrett Brumfield …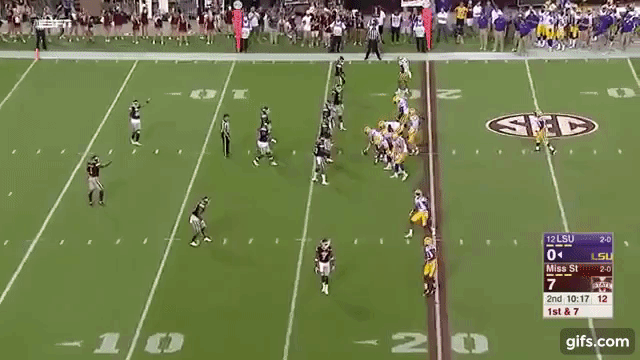 … setting up a goal-to-go situation and possibly the only example of the night on which Mississippi State getting clearly out-schemed. On the next play, LSU flipped the tight end, Moreau, to right tackle, with massive RT Toby Weathersby replacing Moreau as the third blocker on the left side.
MSU, apparently failing to recognize the swap, responded by loading up to the tight end side of the formation as if was still the strength, packing six defenders in the box on the right side of the line vs. just two to the left. That left the edge defender to the left side, Green, hopelessly overmatched against Weathersby and Malone, and easy pickings for Williams:
LSU couldn't replicate the success of that drive because it took multiple shots at its own foot early and cracked on defense before the offense was able to get its act together. But it could be a blueprint for offenses going forward against Mississippi State — especially Georgia's, which has the backfield depth to pound away and would prefer to do everything it can do to keep its fledgling QB, Jake Fromm, out of the positions that left Etling repeatedly running for his life.
To Saturday and Beyond. Almost everything about Saturday night screams slugfest. Georgia and Mississippi State both have defenses can get after the passer, and neither side completely trusts its quarterback to carry the day with his arm. (Or they probably shouldn't, anyway.) Both offenses will be content to chip away on the ground and play the field-position game for as long as the score allows — anything to mitigate the risk that their young QB will commit a devastating mistake under pressure. Third-and-long remains the nightmare scenario.
The challenge for Mississippi State will be getting there if UGA is able to run Nick Chubb and Sony Michel at the same solid clip as LSU's backs at higher volume. Fromm is a freshman making his first SEC start, but he's not just a warm body; if State overplays its hand against the run he has more than enough arm to make them pay for it on play-action. On the other hand, if Grantham is able to get him out of his comfort zone on second and third downs, Fromm is in for a long night that, at some point, is likely to include at least one untimely giveaway.
The one redeeming aspect of Etling's outing last week is that he didn't commit a turnover. But that was a fifth-year senior in his 23rd career start at the FBS level; Fromm is a 19-year-old making his third. Georgia's offensive line isn't appreciably better than LSU's in any way. To establish the run, it might not have to be. To keep the temperature from rising too quickly for its freshman QB to handle, it likely has no other choice.