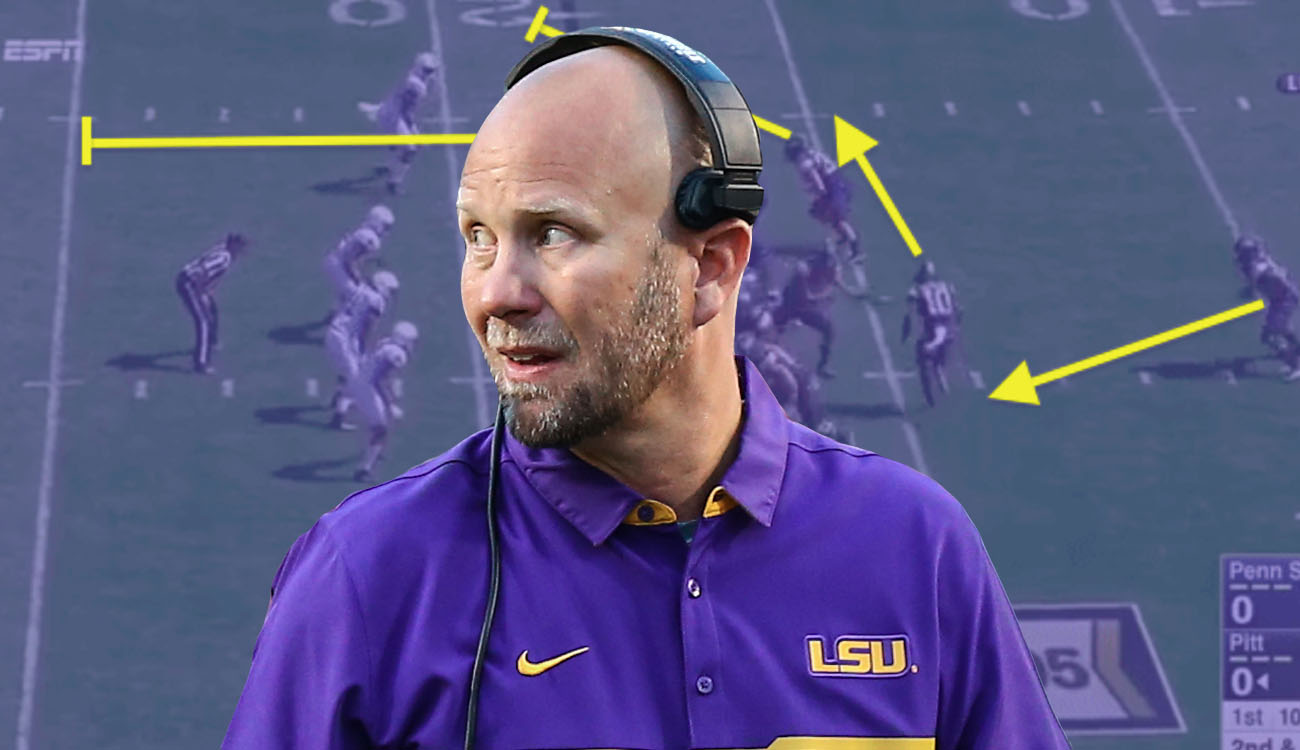 LSU TIGERS
Film Study: Warm the jets. How Matt Canada will inject excitement into LSU's offensive attack
As of last December, most LSU fans didn't know Matt Canada from Ron Mexico. On the eve of the 2017 campaign, he might be the most talked-about man in the state of Louisiana.
When you're getting paid $1.5 million per year to oversee the Tigers' sometimes hot, sometimes cold, often lukewarm offense, the notoriety comes with the territory. In Canada's new job, that could be a blessing or a curse: If he succeeds in turning around one of the most perennially underachieving units in college football, he'll be blessed — possibly with a championship, almost certainly with a shot at becoming a head coach elsewhere. If he doesn't, he'll be cursed across the state and eventually hounded out of it, just like his predecessor. All part of the job.
If nothing else, at least Canada comes by the hype honestly. In his only season Pittsburgh — hardly a traditional offensive juggernaut — the Panthers came out of nowhere to finish 10th nationally in scoring, 13th in yards per play and 15th in pass efficiency. In advanced-stat terms, they ranked second in offensive efficiency per ESPN's Football Power Index and third in Offensive S&P+. They scored at least 24 points in every game, including 42 to beat the eventual Big Ten champ, Penn State; 43 to beat the eventual national champ, Clemson; and 76 in a regular season-ending win over Syracuse, coming out on top in the highest-scoring game in FBS history. They scored at least 36 points in three of their five losses. After the first game, a comfortable, close-to-the-vest win over FCS Villanova, only one subsequent defense (Virginia's) managed to hold the Panthers below 400 yards of total offense, and still lost big.
Canada's quarterback was Nathan Peterman, a former Tennessee transfer whom SEC fans will remember from his all-time meltdown at Florida in 2013. At Pitt, Peterman demonstrated such a steady hand in Canada's system that he was deemed worthy of a fifth-round pick by the Buffalo Bills. (As of last week, he actually appears to be the frontrunner to start Buffalo's season opener, a truly incredible sentence for anyone who saw his only start as a Vol four years ago.) He led the ACC in yards per attempt and overall efficiency, outpacing Deshaun Watson, Mitch Trubisky and Lamar Jackson in those categories by a healthy margin.
LSU fans can't be asked to read that and somehow not imagine incumbent Danny Etling making the same leap on Canada's watch, even the ones who know they should probably know better. In many ways the fact that the offense is such a clean slate entering the season is one of the best things it has going for it: Aside from the lone proven commodity, All-SEC tailback Derrius Guice, it's a lineup just waiting to be molded into a unit worthy of its recruiting stars. That's seemed like a futile wish in Baton Rouge for a good long time now, but if there's anyone Ed Orgeron could have realistically hired last winter to make it a reality, he settled on the most likely choice.
HERE COME THE WARM JETS. Canada put so many interesting, effective wrinkles on film last year that trying to make sense of them all is like drinking from a firehose. Almost every play Pitt ran involved some combination of pre-snap shifts, motion, misdirection and play-action fakery, or sometimes all of the above. For the most part, the bells and whistles were designed to keep defenders so attuned to their evolving keys and assignments that they could be caught out of position or flat-flooted at the snap; the result, when it worked, was a film buff's dream. We're talking about a guy who drew up multiple touchdown plays for his starting left tackle.
So I'm just going to show you one drive: Pittsburgh's opening possession against Penn State in September, a 10-play, 99-yard march that functioned as a succinct primer for the offense as a whole. This was also Pitt's first possession of the 2016 season against an FBS opponent, and in the course of just a few plays Canada deployed all of his core tendencies to outstanding effect.
Specifically, the tendency we're going to focus on is the one just about everyone analyzing Canada's scheme picks out right away, the jet sweep, which quickly emerged last year as a go-to, every-down staple of the offense. To start, though, the Panthers kept it simple, following a quarterback sneak from the one-yard line with a straight-ahead zone run to titanium-reinforced tailback James Conner from the three. This play was well-blocked across the board, but especially by right guard Alex Bookser, whose combination block eliminated a defensive tackle and linebacker and allowed Conner to cut back for a 29-yard gain.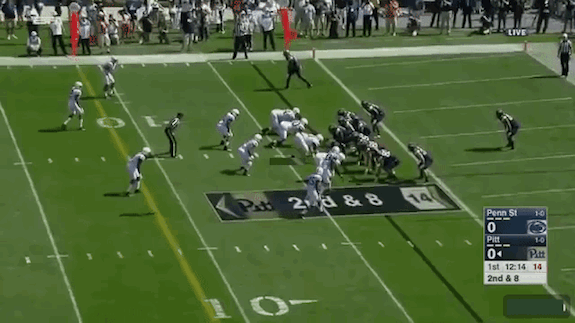 Out of the shadow of the goal line, things started to get more interesting. Following a holding penalty, Canada called his first jet sweep of the year to his designated jet sweeper, Quadree Henderson, who ultimately logged 60 carries for the season — almost all of them on a jet sweep or end-around action from the slot — and still managed to maintain his average at 10.5 yards per pop.
In this case, Henderson's initial right-to-left motion caused some confusion for Penn State's linebackers when he motioned back to the right, freezing them long enough to make them irrelevant even without being blocked. (It helps, of course, that the 'backers were understandably preoccupied with Conner, who carried out a fake off left tackle.)
Meanwhile, with Henderson's speed there's also no need to even pretend to block the play-side defensive end, No. 94 Evan Schwan, who realized something is up when no one bothers to lay a hand on him off the snap but wasn't nearly quick enough to do anything about it. That freed up the tight end, No. 83 Scott Orndoff, and the H-back, No. 35 George Aston, to become lead blockers against smaller defensive backs, mismatches that Henderson easily exploited en route to a 39-yard gain.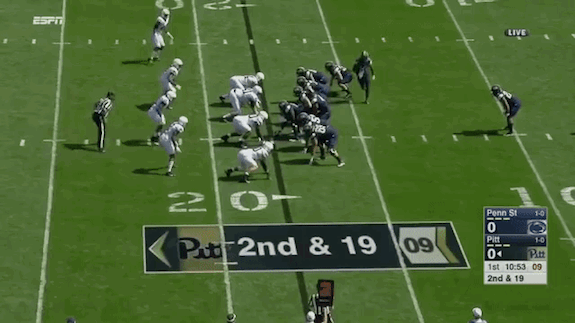 Next up it was Henderson's turn again, this time on an end-around out of a bunch formation with Aston leading the way around left end. Again, the linebackers were forced to respect the off-tackle action to Conner just long enough to forfeit any edge they might have had against Henderson's speed (or, in the case of the Mike, No. 5 Nyeem Wartman-White, to allow center Alex Officer position to seal off his pursuit). And again, the Panthers didn't bother to block the play-side end, No. 90 Garrett Sickels this time, whose momentary indecision with no blockers in front of him rendered him a non-factor.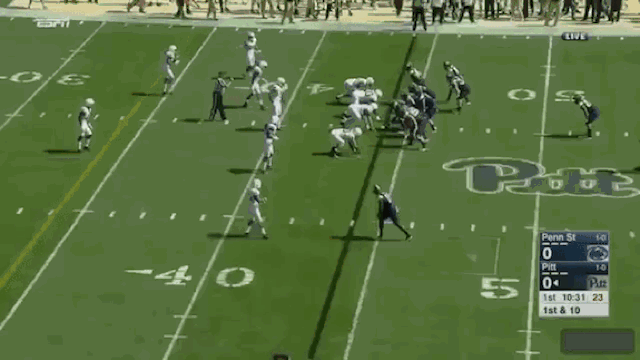 By this point the Nittany Lions were already beginning to reel. On the very next play, Pitt gave them another jet sweep look from Henderson, again with Orndoff and Aston serving as the ostensible lead blockers on the edge; Penn State was so keyed up to stop Henderson after the two previous plays that one defender, No. 24 Nick Scott, followed him all the way across the formation, thereby vacating the space on the backside the Panthers planned to attack with Conner.
With another pair of fine blocks from the right guard, Bookser, at the point of attack, and the center, Officer, on the second level, Conner had another free path into the secondary, this time picking up 22 yards on a play that would become his bread-and-butter over the course of the season.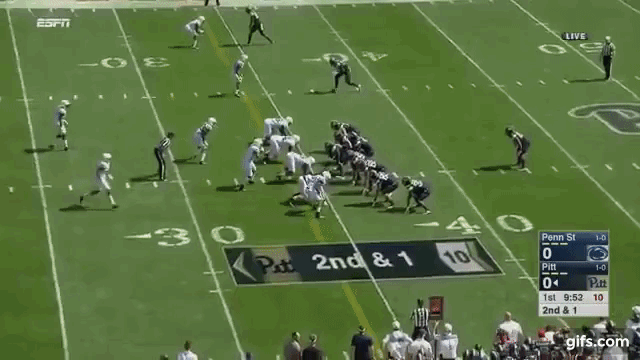 With the end zone in sight, Canada caught the Lions off-balance again on an old-fashioned shovel pass, using a combination of jet sweep and speed option looks to split the front seven and create a wide-open lane in the middle of the line of scrimmage for Orndoff. Bookser was the key block here, as well, pulling from RG to help set up first-and-goal …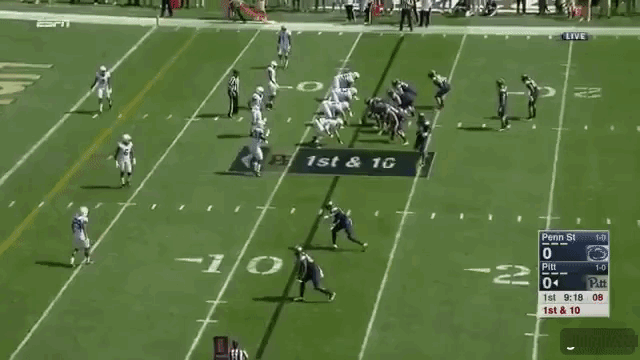 … at which point Canada elected to finish off the clinic with your standard-issue speed sweep to the fullback, Aston, from a yard out.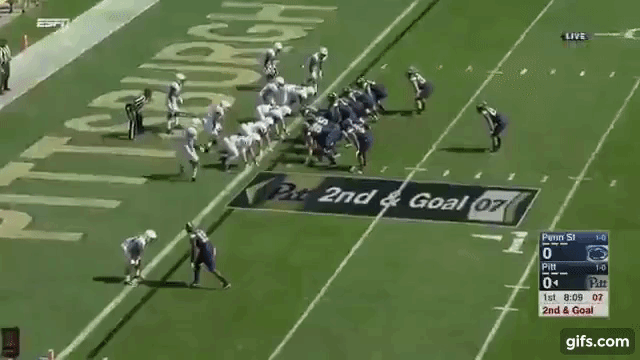 As one does.
Ten plays, 99 yards, zero true pass attempts. (Technically the shovel counted as a pass, but only technically.) As impressive as the execution, though, was how well each play fit with the others conceptually; by immediately establishing the jet sweep as a legitimate every-down weapon, Canada was able to build in multiple counters off it, keep every potential ball handler involved, and overload the defense with possibilities on most snaps. He was also able to do it largely without changing personnel.
But the bigger takeaway from this series is that none of it was in any way "gimmicky" or specialized to attacking Penn State: What you see above were the staples at the core of the Panthers' ground game throughout the season, readily apparent in every game they played.
Naturally, the play selection tended toward a lot more of Conner crashing into the line than toward jet sweeps or shovel passes, for the same reason LSU's offense would have tended toward a lot more of Derrius Guice this fall regardless of the coach or the circumstances. (Conner accounted for about 40 percent of Pitt's total carries last year, for the record). Still, Pitt continued to score touchdowns on jet sweeps and shovel passes. If opposing defenses have no choice but to respect every skill player as a potential threat on almost every play — even the fullback, man — then the routine stuff has a lot more room to breathe.
WHEELS UP. Besides its efficiency, the most notable aspect of Pitt's passing game under Canada is that, on paper, it involved a lot of receivers for whom catching passes was a secondary concern. I'm not just talking about the occasional lineman: Of the five Panthers who finished with at least 20 receptions, only one (deep threat Jester Weah) was a true wideout. Otherwise the most frequent targets were Orndoff, Henderson, Conner and Aston, none of whom regularly lined up wide, and all of whom spent more time blocking or taking handoffs than running routes.
For LSU, a team that at the moment has a lot more guys ideally suited for what Canada calls the 'F' position — stocky fullback and H-back types — than it has proven wide receivers, that's encouraging.
Even more so is the fact that Canada didn't restrict the non-traditional passing game to check downs and shallow bootleg routes in the flat. Probably my favorite play on Pitt's 2016 film is a wheel route that struck gold on a couple of occasions. The first came early in the year, at North Carolina, when the Panthers caught UNC in an ill-timed blitz; instead of bringing pressure right into the teeth of the jet sweep, as the Tar Heels probably intended, they allowed Conner to slip untouched out of the backfield with no defender in sight until he'd already rumbled for 39 yards.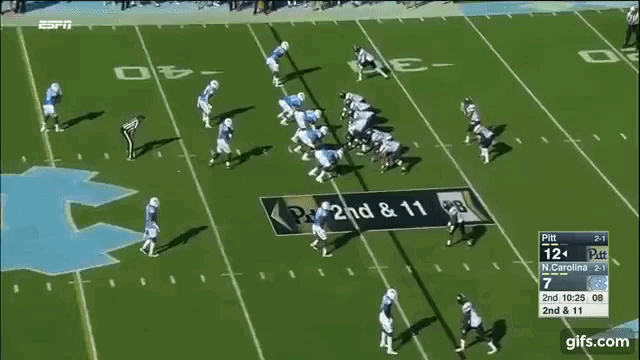 Later on, they caught Clemson napping on essentially the same route — the difference this time being that the would-be running threat was coming from a ducking, not-very-likely-to-run Nathan Peterman rather than Quadree Henderson screaming around the edge, which is just slightly harder to excuse on the defense's part. Regardless, it's another good example of how to keep everyone involved in creative and unexpected ways, and of how to scare up some respect from opposing secondaries despite minimal production and depth from the wide receivers.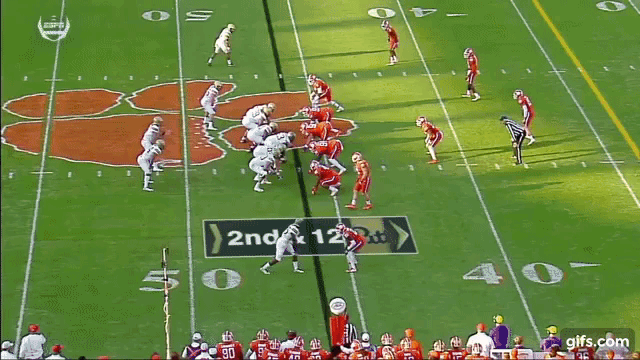 I love James Conner, a triumphant human who was consistently one of the hardest, most productive runners in the nation over the past few seasons. But at 235 pounds … well, let's just say you can get an idea in these clips why he was initially recruited as a defensive end. The prospect of Derrius Guice hauling in a wide-open wheel route with space to run is far more enticing.
TO SATURDAY AND BEYOND. BYU presents a very similar challenge to LSU's offense in this weekend's season opener that Wisconsin did in last year's opener: The Cougars are well-coached, well-seasoned and well acclimated to big games and tough environments. What they lack in speed on the back end they more than make up for in sheer mass up front. The Tigers will kick off as roughly 15-point favorites, but this isn't the kind of non-conference game where the only question is the size of the margin of victory.
If the offense looks like it did at this time last year in Lambeau Field, the scoreboard could wind up looking the same, too.
Still, Canada represents an obvious upgrade over the past decade of forgettable and downright bad play-callers in Baton Rouge, and there's no question that he has the keys all to himself. It's his show. And he doesn't have to start putting up Oklahoma-style numbers to have an immediate impact on the bottom line.
In LSU's four losses in 2016, the defense allowed a grand total of three touchdowns. The total margin in those games was 23 points; in games decided by 10 points or less the Tigers were 1-4. That's the exact opposite of the problem Canada faced last year at Pitt, where the defense was a liability.
But while LSU's defense will almost certainly be better than its offense, as always, the worst-case scenario would be for Canada to fall into the familiar habit of keeping it close to vest out of deference to the other side of the ball. He was brought in to be himself, which is to say, to be the opposite of what LSU fans have grown accustomed to over the last decade. He doesn't have to pull out all the stops for the Tigers to go on winning a lot of games. To get them back to winning championships, though, is a very different story.
Read More
Louisiana sportsbooks are up and running. Residents in the state can now signup at one of the various sportsbook operators and begin betting on NFL, college football, NBA and more.