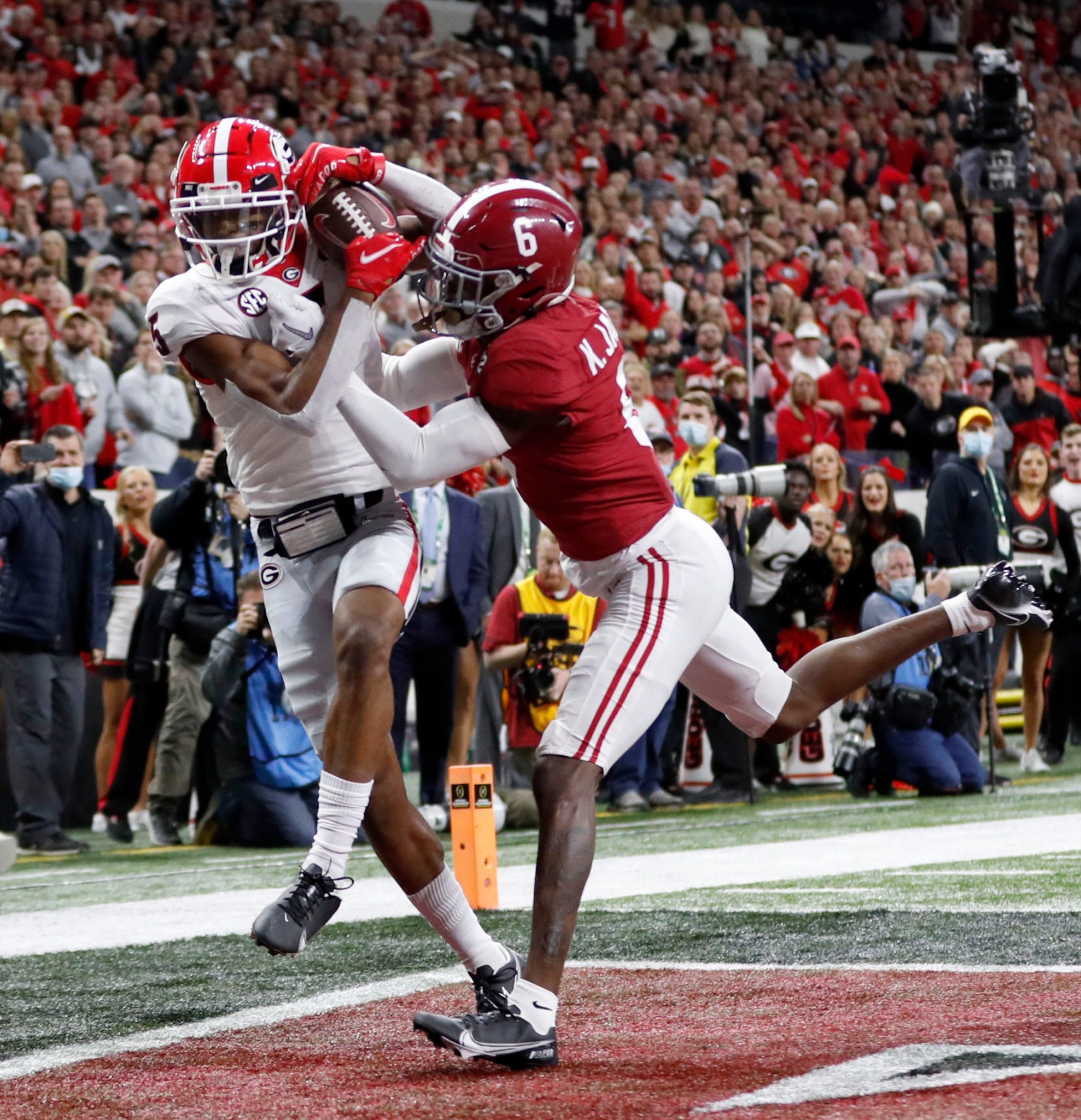 GEORGIA
Georgia fans react to Bulldogs first national title since 1980
For the first time since 1980, the Georgia Bulldogs are national champions of college football.
Thanks in part to a brilliant touchdown catch by Adonai Mitchell with 8 minutes to go and a score by Brock Bowers with a shade over 3-and-a-half minutes remaining—and a massive defensive effort in the 4th quarter—the Bulldogs defeated Alabama 33-18 in the College Football Playoff National Championship Game in Indianapolis. Kelee Ringo's pick-6 of Bryce Young with less than a minute to play put an exclamation point on a historic night.
Georgia hadn't beaten Alabama in 7 previous tries before Monday evening. Kirby Smart was 0-4 against Nick Saban prior to the Dawgs' championship triumph. Not even a controversial fumble call that went the way of the Tide that led to them taking an 18-13 lead early in the 4th would stop the Bulldogs, who pitched a shutout the rest of the way.
And now the bitter thoughts of 2nd-and-26 at Mercedes-Benz Stadium in Atlanta 5 years ago are distant memories as Georgia fans can celebrate their first title in over 4 decades. It's the program's 3rd overall, joining the 1942 and 1980 teams.
Here's the reaction from Dawgs fans as they celebrated a night to remember:
GEORGIA IS GOING TO WIN THE NATIONAL TITLE

DOWN GOES ALABAMA

— RedditCFB (@RedditCFB) January 11, 2022
Y'all, we did it! Georgia Wins! #GoDawgs pic.twitter.com/3HaMHpgrqs

— Lisa (@LISAMW979) January 11, 2022
GEORGIA WE DID IT❤️??

— Ki (@kierradavis11) January 11, 2022
oh my god, my entire life, I've waited through so much pain… THE GEORGIA BULLDOGS ARE NATIONAL CHAMPIONS

— Evan Schieber (@TheSchiebs) January 11, 2022
I decided not to tweet during this game, but I'm pumped to say WE DID IT DAWG NATION! NATIONAL CHAMPIONS!!!

— Georgia Fan Zone (@ugafanzone) January 11, 2022
may i present to you the 2022 National Champions: the Georgia Bulldogs!!! THEY DID IT! MY BOYS DID IT!!! DOWN GOES BAMA!!!!!!!!! #nationalchampionship #UGAvsBAMA #GoDawgs #DownGoesBama

— emily (@mimirose_) January 11, 2022
Glory Glory to Ol Georgia! #NationalChampionship #GoDawgs

— Joe Hayes (@jhay187) January 11, 2022
1980 WHAT!? #GoDawgs

— Trevor Woodworth (@TrevWDawg) January 11, 2022
Growing up a Dawg fan, definitely one of the best fan bases out there. So passionate. Long suffering too, always super close but not quite able to pull it off for so many years now. Happy for em! #GoDawgs

— Cameron Osburn (@CEO25) January 11, 2022
IM SO PROUD OF THIS TEAM!!! #GoDawgs

— Haley Morgan ♌️ (@hayymorgshac) January 11, 2022
I wonder what Larry Munson is telling God tonight. I bet he is painting one helluva picture up there. #GoDawgs

— Richard Hord (@NotFakeRichardH) January 11, 2022