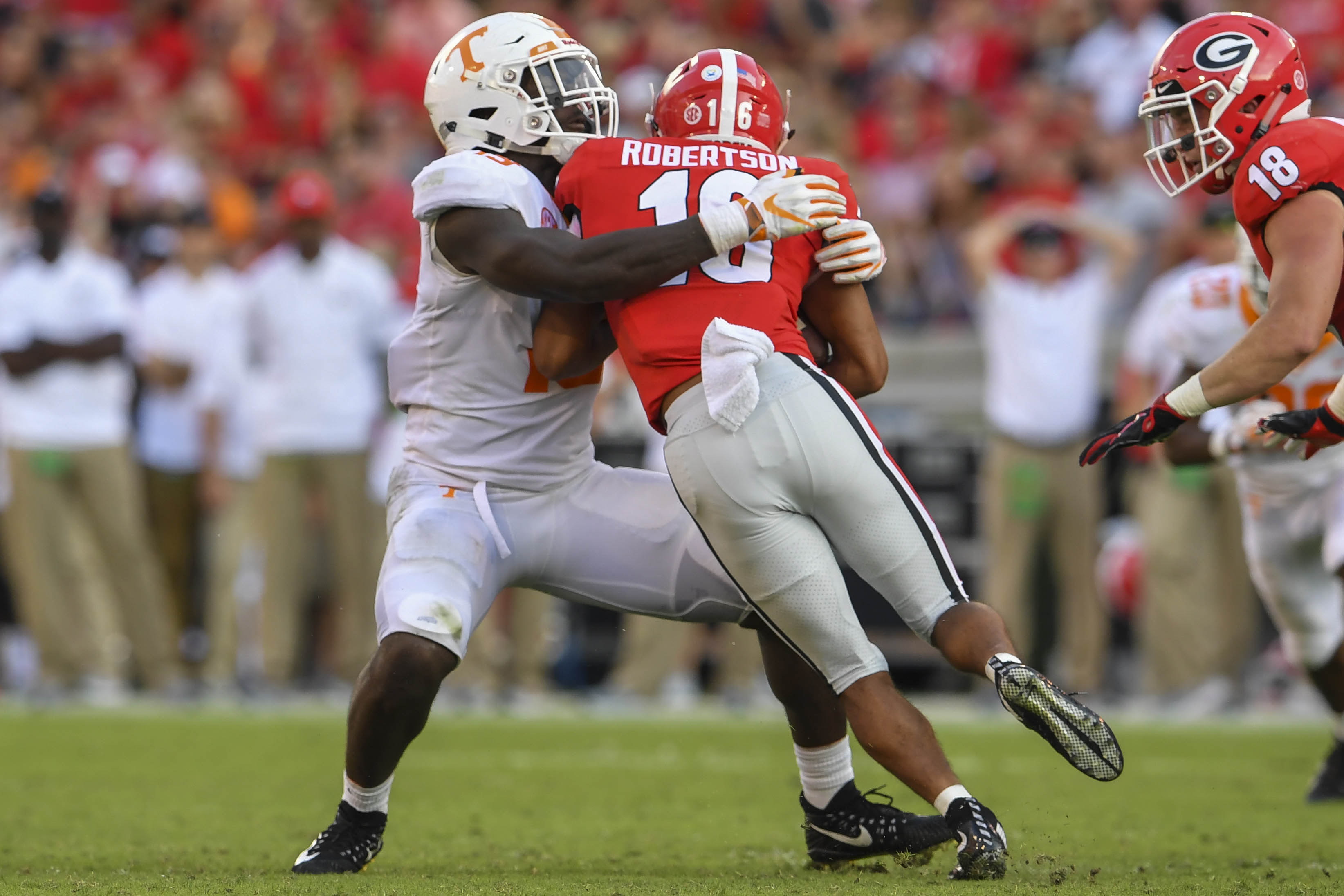 GEORGIA
Georgia football: Projecting the Bulldogs' wide receiver rotation and impact
The position group at Georgia that's going to attract the most eyeballs during fall camp is, without question, the wide receivers. The group was decimated by early departures and then a suspension, and right now there's a room full of unproven players.
There's talent, for sure, but it's clear that we have no idea how ready they are prepared to contribute. Considering Georgia has national championship aspirations, this group of fresh faces will need to step up — quickly. Last year's top 5 pass catchers are all gone.
Here are the key players in this drama:
Demetris Robertson, junior
Demetris Robertson didn't have a single catch last year in his first season in Athens after transferring from California. But that isn't stopping folks from thinking he's going to be the guy who becomes a star this year.
The credentials are certainly there. He was a 5-star recruit out of Savannah, Ga., and during his freshman year at Cal in 2016, he had 50 catches for 767 yards. He got hurt after 2 games the following year, got a medical redshirt and then transferred back home to Georgia.
"D-Rob has gotten bigger, faster and stronger, and that's what he needed," Georgia quarterback Jake Fromm said during SEC Media Days. "He's back at it, running fast, looking big, looking strong."
Robertson can play any of the receiver positions, and he has explosive speed, so he'll be counted on to make some big plays. He showed that last year on 4 jet sweeps, with a 72-yard touchdown run against Austin Peay and a 23-yard run vs. Middle Tennessee. That will certainly be part of his package this year, as will a likely role on special teams.
Tyler Simmons, senior
Tyler Simmons has had only 14 catches in 3 years, and it's sort of amazing that his 9 catches a year ago are tops among all returning players.
That should change this year — it has too, considering the situation — and it's time for Simmons to blossom.
The 6-foot, 200-pounder from Powder Springs, Ga., is an excellent blocker, and that matters a lot to coach Kirby Smart. He's also a great locker room presence, so he has a lot of teammates rooting for him to have a big senior season.
Matt Landers, redshirt sophomore
Matt Landers has all the physical tools — he's 6-5 with long arms and a good vertical, but he hasn't made much of an impact on the field just yet, which has been disappointing. He redshirted in 2017 and saw only spot duty in 4 blowout games last year.
Now that he has an opportunity to get some quality playing time, the redshirt sophomore from St. Petersburg, Fla., needs to become a contributor this year, or the freshmen nipping at his heels could pass him by on the depth chart.
Lawrence Cager, grad transfer
There's a whole lot of curiosity around Lawrence Cager, a transfer from Miami. He's big (6-5), can jump (40-inch vertical) and is a big threat in the red zone. He led the Hurricanes with 6 touchdown catches a year ago before transferring.
It's always nice to have a big receiver around the goal line, especially for the fade routes that Fromm loves to throw. Cager could add a lot to that attack, which struggled to score touchdowns at times last year. What will be most interesting, though, is to see if he can be an every-down receiver. That remains to be seen.
Dominick Blaylock, freshman
Dominick Blaylock is a 5-star recruit with a ton of talent, and if he gets his way, he's going to be a big-time contributor this year from the first whistle.
He'll need to beat out guys like Kearis Jackson, Tommy Bush and Trey Blount first to move up the depth chart, and then he can push the guys above for playing time. The son of former NBA star Mookie Blaylock won't be intimidated by the big stage and the bright lights, so look forward to him pushing guys right away.
George Pickens, freshman
Another 5-star freshman is George Pickens, and he's in that same boat — ready, willing and able to steal playing time from the older guys who haven't done much in their careers.
Pickens, a National Signing Day flip after being committed to Auburn for nearly 2 years, has all the tools to be an All-American receiver someday. How early he delivers is going to be interesting to watch. One of the key reasons Pickens flipped was the opportunity for early playing time.
Smart obviously likes both freshmen.
"The biggest thing with each one is their competitive nature. They go to a seven-on-seven and they dominate. They go to a camp and they dominate," Smart said during SEC Media Days. "Just the fact those guys are taking over every opportunity when they're given the opportunity to do so."