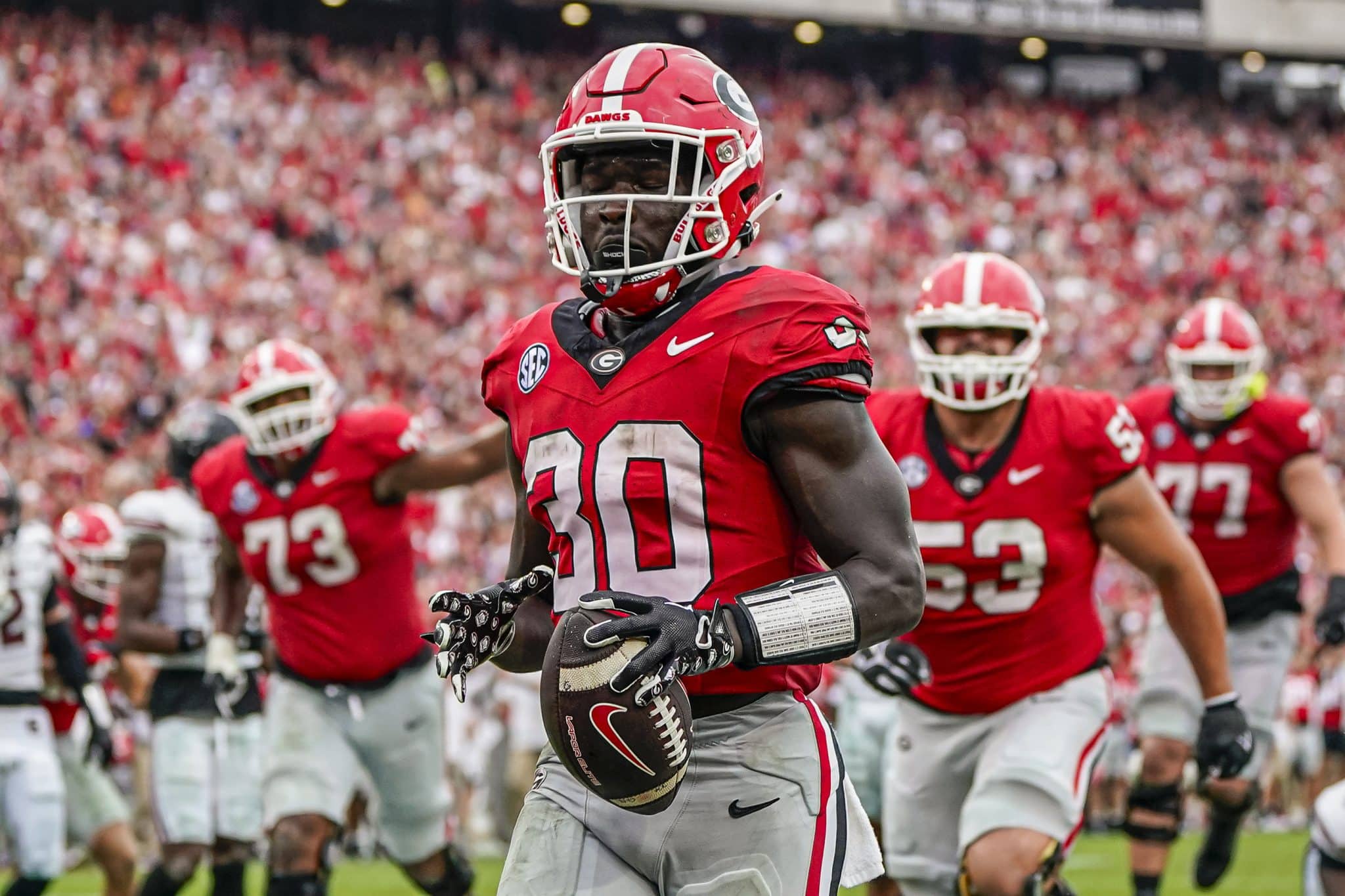 GEORGIA
Georgia football: Stock report after Week 3
OK, it's time to have a real heart-to-heart conversation: Georgia might not be invincible this year.
In a 24-14 win over South Carolina, its shortcomings were, once again, exposed.
We passed it off as a vanilla approach, protecting their stars, risk management and more in the 1st 2 weeks of the season in blowout wins over UT-Martin and Ball State. But I had this week pegged as the one that would tell the story on what exactly Georgia was — and it's still one giant question mark.
If you look at the statistics, you have to wonder how Georgia struggled so much. It was its best rushing game by far this year, and Carson Beck's numbers — as in the 1st 2 games — looked efficient.
Yet, it was another slow start. This time, the Bulldogs trailed by 11 at halftime. They failed to score a touchdown until the opening drive of the 3rd quarter. South Carolina quarterback Spencer Rattler was efficient in the first 2 quarters. The Georgia defense failed to create much havoc. The offensive line showed holes.
Look, like Kirby Smart will undoubtedly say, it's hard to win SEC football games. But if you watched the game and look at the substance, there are some serious concerns facing Georgia as it chases a 3rd straight national title.
Player of the Week: RB Daijun Edwards
What a welcome sight for the Bulldogs.
The Georgia rushing attack has been average at best in the first couple of weeks, but Edwards' return to the rotation made a considerable difference in Week 3.
Edwards rushed 20 times for 118 yards and 1 touchdown, perhaps his best game ever for the Bulldogs. Is the running game completely fixed, no more worries? Not hardly. But it's clear Georgia has its most reliable back again, and there's no reason that shouldn't help the offense moving forward.
Freshman of the Week: (Shrugs)
I'll be honest — not much to choose from here.
Edwards, Kendall Milton and Dillon Bell did the heavy lifting in the running game, and no freshman recorded significant stats on defense. Redshirt freshman Earnest Greene III was just OK on the offensive line, and kicker Peyton Woodring missed a pair of makeable field goal attempts.
It was a forgettable day for the newcomers.
Biggest surprise: Where are the WRs?
The lack of a home run threat in the passing game stands out.
Perhaps it's simply a product of watching Adonai Mitchell carve up the Alabama defense a week ago, but Georgia certainly seems to be missing his presence. To be fair, it is also missing Ladd McConkey, but McConkey is not the type of physical wide receiver who can win 1-on-1s like Mitchell can.
Georgia has a ton of very talented pass catchers, but no one like Mitchell who can be that possession pass catcher at any place on the field. It was most evident in our biggest concern:
Biggest concern: Mike Bobo's lack of trust
Bobo doesn't seem to trust his talent. Not in the red zone at least. On multiple occasions Saturday, Bobo elected for conservative wide receiver screens on 3rd downs in the red zone instead of going vertical.
I get it. I defended this approach through 2 weeks. The defense is elite. Limit the mistakes on offense, take points where you can, don't turn the ball over and so on. But in a close game against a conference rival, Georgia went conservative.
That is a cause for concern, because it tells me that Bobo doesn't trust his weapons in the passing game.
Developing trend: Slow starts
We're beating the dead horse, but the slow starts, at some point, are going to come home to roost for the Bulldogs.
They were outscored 14-3 in the 1st half against South Carolina before shutting the Gamecocks out in the final 2 quarters. Georgia managed to get the win, but I have to think it knows the trouble it will be in should it come out the same way against Auburn or Kentucky or Ole Miss or Tennessee.
The offense has moved the ball OK, but it has failed to convert it into points early.
That has to change.
Key stat: Rattler's 2nd half
After a strong 1st half, Rattler struggled in the final 2 quarters. The Georgia defense held him to just 6 completions on 22 attempts for 104 yards and 2 interceptions in the half. That was the turning point, and it gave Georgia enough room to stave off the upset.
First impression about Week 4
Georgia is going to win this game, but it's time that it showed something. There is a lot of average football being played around the country, and the Bulldogs can count themselves among that group. It's a third of the way through the season, and it's time Georgia showed it can find a higher gear.