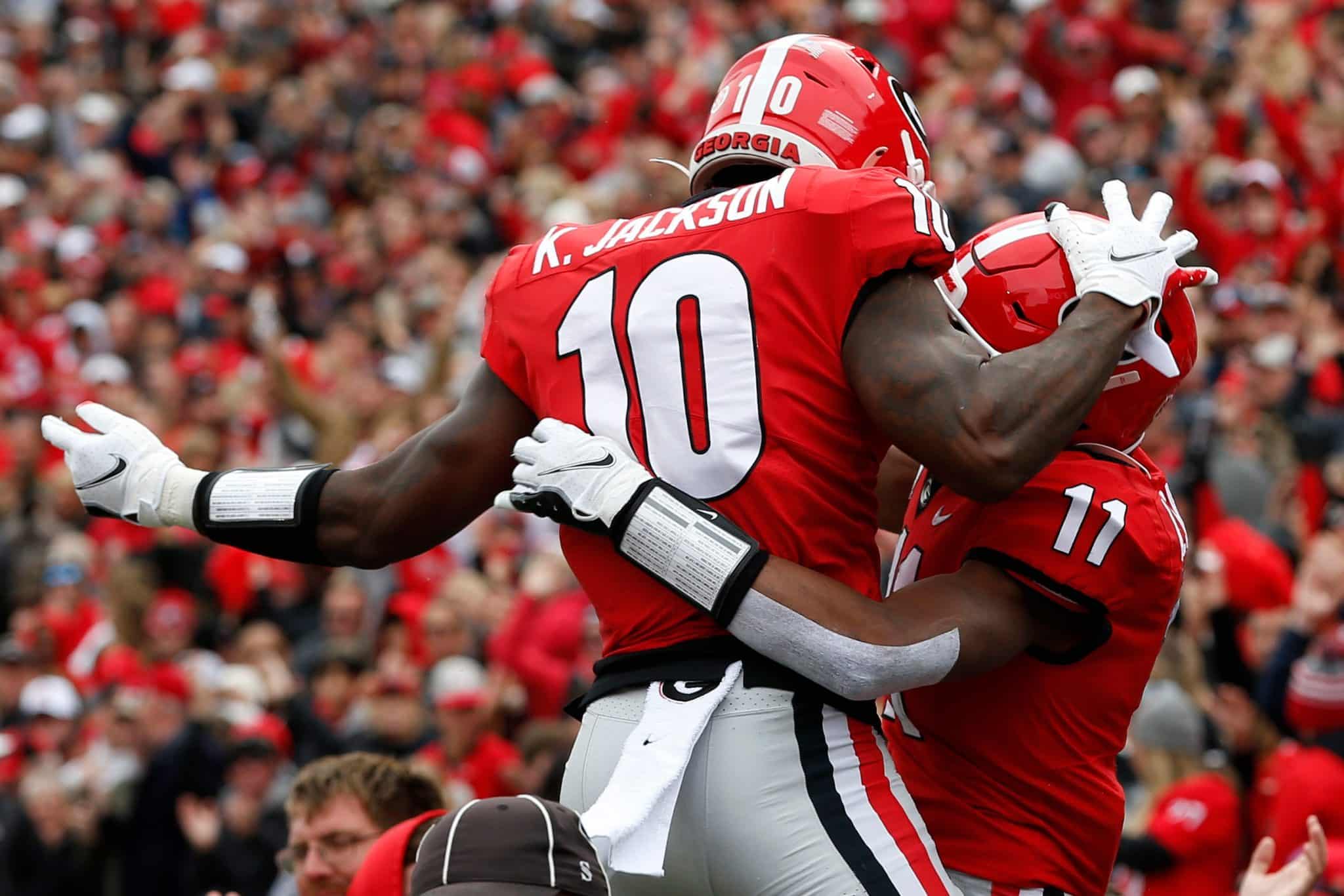 GEORGIA
There's a stunning stat about Georgia receivers, but here's why (I think) it's not for long
Let me give you, reader of this column, a little insight as to how my brain works.
On a random day in August, I was texting with a buddy of mine who happens to be a diehard Georgia fan. Because it's prediction season, we got to talking about a guy he's really high on — Ladd McConkey.
"I think he finishes All-SEC this year," my buddy texted. "His speed and (yards after catch) ability is underrated. If we are a pass-first team, I see it."
That's a bold take on multiple fronts. It's not that McConkey lacks skill, even though he's one of the few scholarship players on the roster who wasn't even close to "blue-chip" status. McConkey stepped into an effective role for a UGA team that was desperate for reliable pass-catchers after George Pickens suffered a torn ACL in spring while Kearis Jackson and Jermaine Burton both dealt with offseason lower-body injuries.
Jackson is the only 1 of those 3 Georgia wideouts who'll return in 2022, so McConkey has a path to significant reps after he surprisingly finished 2nd on the team in catches, tied for 2nd in touchdown receptions and 3rd in receiving yards.
Then what's so bold? Well, Georgia hasn't had a wide receiver earn an All-SEC selection since 2010.
That's right. Thirty-four-year-old A.J. Green was UGA's last all-conference receiver. Mind you, that's any All-SEC selection, and it's not limited to 1st-team honors.
How rare is that? Here's how many All-SEC receiver selections each program had in the last decade (2012-21):
1. Alabama, 11
2. Texas A&M, 7
3. Mizzou, 5
T4. Arkansas, 4
T4. LSU, 4
T4. MSU, 4
T4. Ole Miss, 4
T4. South Carolina, 4
9. Vandy, 3
T10. Auburn, 1
T10. Florida, 1
T10. Kentucky, 1
T10. Tennessee, 1
14. Georgia, 0
Now, obviously the counterpoint is, well, Georgia had Todd Gurley, Nick Chubb, Sony Michel and D'Andre Swift playing tailback during that time. Of course the Dawgs weren't cranking out All-SEC receivers. They also haven't had a top-40 passing offense in the post-Aaron Murray era (that's the 8 seasons of the Playoff era).
What's interesting is the preseason All-SEC selections in the last decade. Here are all the Georgia receivers who earned an All-SEC selection by either the media or coaches heading into a season (a reminder that there are 3 preseason All-SEC teams as opposed to 2 postseason All-SEC teams):
2012 — Malcolm Mitchell, 3rd team
2013 — Malcolm Mitchell, 3rd team
2014 — Malcolm Mitchell, 2nd team
2015 — Malcolm Mitchell, 2nd team
2018 — Terry Godwin, 2nd team
2020 — George Pickens, 2nd team
2021 — George Pickens, 2nd team
Shoutout, Malcolm Mitchell, who has to be the only player to ever earn preseason All-SEC honors 4 times while never earning a postseason All-SEC selection. That's hard to do.
It's also hard to not have at least 1 random All-SEC receiver selection. Shoot, even Vandy had 3 in the last decade.
The crazy thing is that Green actually was limited to 9 games during that All-SEC season in 2010, and he finished only 7th in the SEC in receiving. As great as Green was, he never hit 1,000 yards in a season during his prolific 3 years in Athens. UGA's last 1,000-yard receiver was Terrence Edwards in 2002 (that's a great bar trivia question).
Yep. It has been 20 years since UGA produced a 1,000-yard receiver. Six SEC programs accomplished that feat in 2021 alone.
The counterpoint is that Georgia has been doing just fine without a dominant receiver. Since 2017, UGA has 5 consecutive top-7 finishes with 2 national championship appearances and, most recently, a title. The Dawgs basically played the entire 2021 season without Pickens, who was widely considered the team's top receiver.
Pickens is off to the NFL, and while the tight end room is as stacked as any in the nation — Brock Bowers could very easily end that 1,000-yard drought after he had 882 as a true freshman — the question remains. How much longer will Georgia go without an All-SEC receiver?
A few things are worth noting. Todd Monken came to Georgia in 2020 with the goal of modernizing the offense with (some) Air Raid principles. UGA saw its dated approach get squashed in the 2019 SEC Championship by LSU, which ran the Dawgs off the field with its overhauled offensive scheme.
In 2020, I'd argue injuries to JT Daniels and Stetson Bennett IV — combined with the bizarre Jamie Newman opt-out that September — limited Monken's passing game vision for at least a chunk of that season.
In 2021, Monken's vision became reality. A healthy and improved Bennett was incredibly efficient and executed the downfield passing game off play-action at a high rate. Monken made it a habit to run 12 personnel (1 running back, 2 tight ends), and UGA was the only SEC team to have 3 tight ends play at least 300 snaps. As a result, Georgia finished with the No. 9 offense in the country.
So then, why didn't UGA come anywhere close to producing an All-SEC receiver? Well, for starters, Bowers happened. A true freshman tight end became a matchup nightmare, and ultimately, Bennett targeted him more than anybody. Also, a UGA team with a historically dominant defense didn't trail in the 2nd half of a game until the SEC Championship. The Dawgs ranked No. 103 in pass attempts per game (27.1). Consider that a byproduct of short fields, comfortable leads and elite efficiency.
This year, UGA's defense will inevitably take a step back. The question is how far back that step is and how much more pressure is put on the offense. I'd expect passing attempts to increase. For Georgia, simply attempting 30 passes per contest — something that 72 FBS programs did in 2021 — would be rare.
Here are UGA's pass attempts per game in the last decade:
2021 — 27.1 (No. 103 in FBS)
2020 — 30.6 (No. 74 in FBS)
2019 — 29.6 (No. 81 in FBS)
2018 — 25.4 (No. 108 in FBS)
2017 — 20.3 (No. 120 in FBS)
2016 — 29.7 (No. 85 in FBS)
2015 — 25.2 (No. 113 in FBS)
2014 — 24.8 (No. 116 in FBS)
2013 — 35.3 (No. 36 in FBS)
2012 — 28.5 (No. 95 in FBS)
Somewhere, "run the damn ball" guy just fist-pumped loudly.
To recap, 2013 was the only time that UGA ranked in the top half of FBS in pass attempts in the last decade. As in, the year that Murray was entering Year 4 as a starter was the lone time that UGA threw the ball more than your average FBS team. In 5 of those 8 seasons since, Georgia wasn't in the top 100 nationally in pass attempts per game. Granted, UGA also cracked the top 30 in FBS in yards per attempt in 5 of those 8 seasons.
What does that mean?
You can recruit all the 5-star receivers you want — UGA has exactly 5 in the 247sports recruiting rankings era, and Kirby Smart actually recruited only 2 of them (Pickens and Mecole Hardman) — but scheme is the only thing that'll turn around that trend.
Georgia now has the scheme to make that happen with Monken. Limited passing attempts aside, UGA was No. 3 in the SEC and No. 16 in FBS with 8 passing plays of 50-plus yards, and it was in the top 10 in FBS in passing plays of 60-plus yards. Even with Burton and Pickens gone, the majority of the guys responsible for those home-run plays are back, including Bennett. He might not have Matthew Stafford-level arm strength, but he did produce PFF's No. 3 grade among SEC quarterbacks on throws of 25-plus yards.
Maybe my buddy will be right and McConkey will end up being an All-SEC receiver. One would think that's synonymous with joining the 1,000-yard club. With Bowers coming off a blistering true freshman season at tight end, finally producing a 1,000-yard receiver seems more obtainable than Georgia producing an All-SEC receiver at season's end.
But who knows? A breakout season from national championship hero A.D. Mitchell could be on the horizon. If Arian Smith can return from a fall ankle injury and finally stay healthy, perhaps that All-American track speed will fuel an all-conference-worthy campaign in 2022. Or maybe Jackson can return to being the every-down player he was in 2020 and make a legitimate push for an All-SEC nod.
UGA has the scheme, the weapons and perhaps now the game flow to yield what has been lacking for more than a decade.
And if not, well, it can instead just continue to kiss that ring.