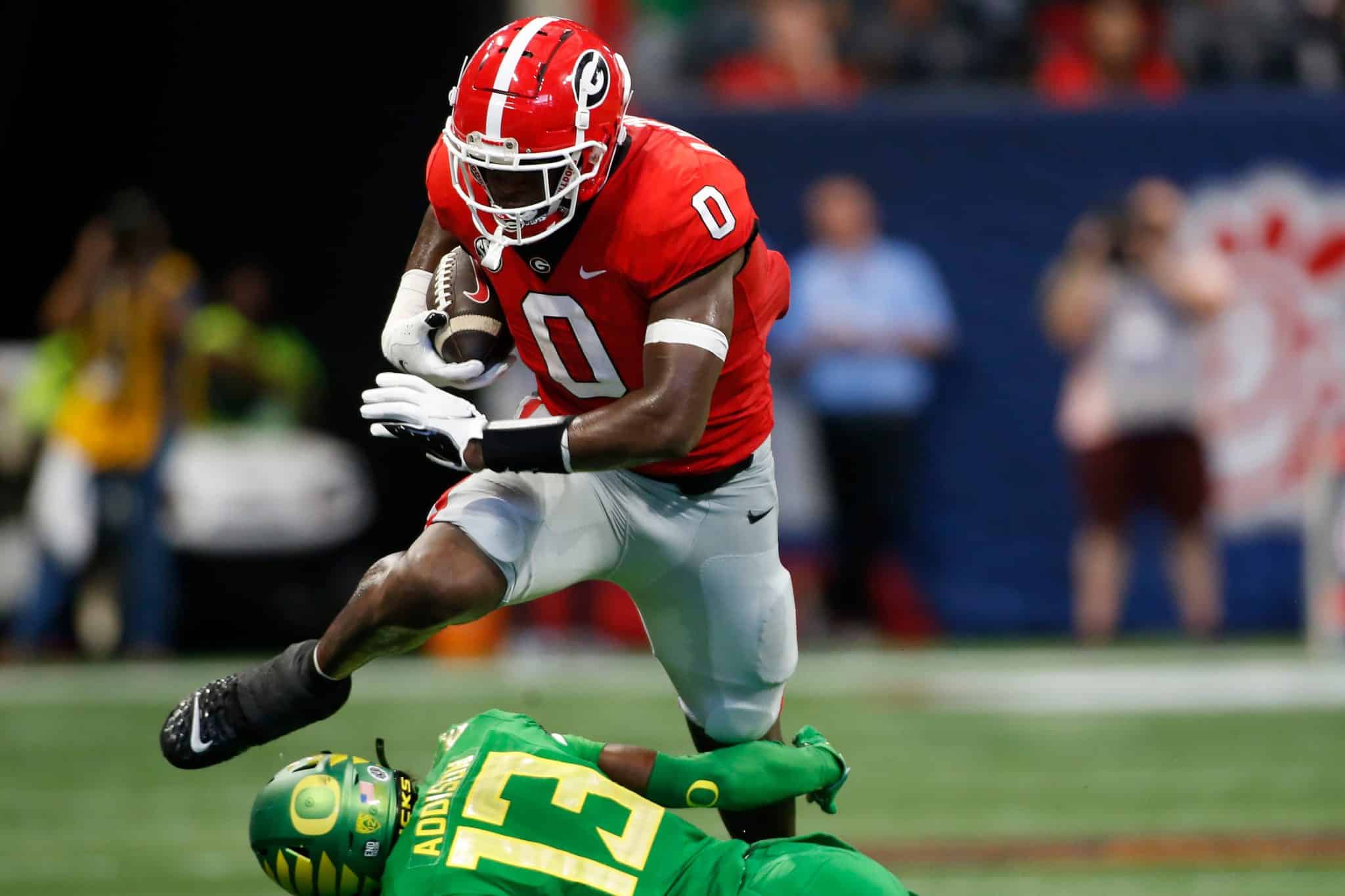 GEORGIA
Georgia football: Why 'the other tight end' Washington is the key to getting offense on track
When Georgia signed tight end Darnell Washington to a letter of intent in its 2020 class, it felt to me like one of the most consequential recruiting wins of that cycle. There were other higher-ranked players, sure, but none with as unique a skillset as the 6-7 behemoth from Las Vegas.
He was listed as an athlete coming out of high school. Some coaches were unsure where exactly his future would be at the next level. Some saw him as a potential defensive lineman. Most saw him as the mismatch of all mismatches at tight end.
One thing was certain, though –- he was going to change the unit he played for from the moment he stepped on campus.
Only that's not how it's played out.
For much of his first 2 seasons with the Bulldogs, he was an enigma. Seemingly impossible to defend in single coverage, he was essentially absent in the Georgia passing game. A player that should find frequent opportunities inside the red zone, he recorded just 1 single touchdown. The player we thought might be a gamechanger for an offense that needed one instead caught just 17 passes for 320 yards in his first 2 seasons.
He was a fine player and always reliable. But game changing? That felt like a stretch. And when Brock Bowers burst onto the scene as a freshman in 2021, Washington became the "other tight end," an afterthought to the much more successful and dynamic weapon.
I say all that to say this: If you think the Georgia Bulldogs would have escaped Columbia with their undefeated record intact on Saturday night without the contributions of Washington, you're crazy.
Beyond the highlight-reel hurdles, Washington has come into his own for Georgia this season. And with a banged-up receiving corps lacking another elite weapon to take pressure off Bowers, his importance to this team has come even more into focus.
Here are a few reasons Washington makes such a difference for the Bulldogs:
He's become a blocker first
It's not easy to be an elite recruit, come to college with the expectation of producing as a pass catcher, and instead be asked to block with regularity. But that's the role that has been carved out for Washington for much of his time in Athens and, to his credit, he's embraced it.
For a guy who says he never did much blocking in high school, he's become increasingly adept at it for the Bulldogs.
With the Georgia running game stuck in the mud for the vast majority of its game against Missouri, head coach Kirby Smart said Washington went into the locker room at halftime, said he wanted to run the ball and encouraged coaches to put the back behind him.
It took some time, but it eventually paid off.
After running for just 33 yards in the 1st half against the Tigers, the Bulldogs picked up 136 in the 2nd half. Sixty-five of those came on 2 scoring drives in the 4th quarter that helped turn the game around and give Georgia a come-from-behind win.
It was a group effort on the line, but Washington's presence certainly made a difference. Overall this season, Georgia's running game has been one of the weak spots of its repertoire. But Washington's ability to move defenders off the ball is making an impact and will be a big reason if Georgia is able to improve in that area.
It's also a big reason NFL scouts still salivate over Washington's prospects at the next level.
Can you imagine trying to bring this guy down?
If you look up the definition of "a load" in football lexicon, Washington fits it to a tee. They call him "Big O" for a reason, and Big O is a load.
He still hasn't been targeted a ton in the passing game yet this year. He has 10 catches for 184 yards and 0 scores so far. The catches match his career high from last year, and the 184 yards set a new benchmark for the junior.
When he does catch the ball, though, he makes defenders pay to bring him down.
The perfect example: Georgia was trailing 22-12 early in the 4th quarter on Saturday when quarterback Stetson Bennett looked to his big tight end down the left sideline on 1st-and-10. Bennett connected with Washington over a defender for 19 yards. Two Missouri players crashed into the tight end as he caught the ball, but Washington was barely phased.
The same can't be said for 1 of the Missouri defenders, however, who bounced off Washington and flew 5 yards in the other direction.
Washington has made a habit this year of hurdling defenders, knocking them back for extra yardage and otherwise punishing anyone who even thinks about making the tackle. It's easy to overlook just how athletic Washington can be because of a preoccupation with his size, but he moves well with the ball.
Washington's presence can take pressure off Bowers, Bennett
Look, I'll be the first to tell you I didn't expect the absence of wide receiver AD Mitchell to be as prolonged or as impactful as it seemingly has been. It's been a bit of a domino effect –- more pressure has fallen on players like Ladd McConkey and McConkey, unfortunately, has struggled.
What Georgia is missing without Mitchell is a reliable possession receiver who can beat defensive backs to the ball, a guy Bennett can trust will come down with it when he throws into tight coverage. Without that presence, the passing game has become incredibly one-dimensional, and Bennett is simply not dynamic enough on his own to make up the difference.
But Washington could –- and should — be the guy that takes some of that pressure off.
He is the biggest target with some of the best hands. A complete mismatch for defenders, he is going to be able to come down with the ball more often than not if it's 50-50. Washington's season high in receptions is 3, coming against Missouri, but it's all about the consequential catches rather than the quantity.
That big gain previously mentioned in Saturday's 4th quarter was huge, as it helped set the Bulldogs up for a touchdown that brought Georgia to within 22-19.
The Bulldogs still struggle to find him looks inside the red zone, and maybe progression in that area might help heal what ails this offense to a degree. At the same time, it's hard to let him run a route when his impact can be felt so much at the line of scrimmage.
In any case, the man they call Big O is becoming a pretty crucial piece to this offense, even if his tight end counterpart, Bowers, gets the headlines and Heisman Trophy hype.
How offensive coordinator Todd Monken continues to involve Washington will go a long way in deciding whether this offense can once again be as explosive as it looked early in the season, or just the Achilles heel on an otherwise championship-caliber team.