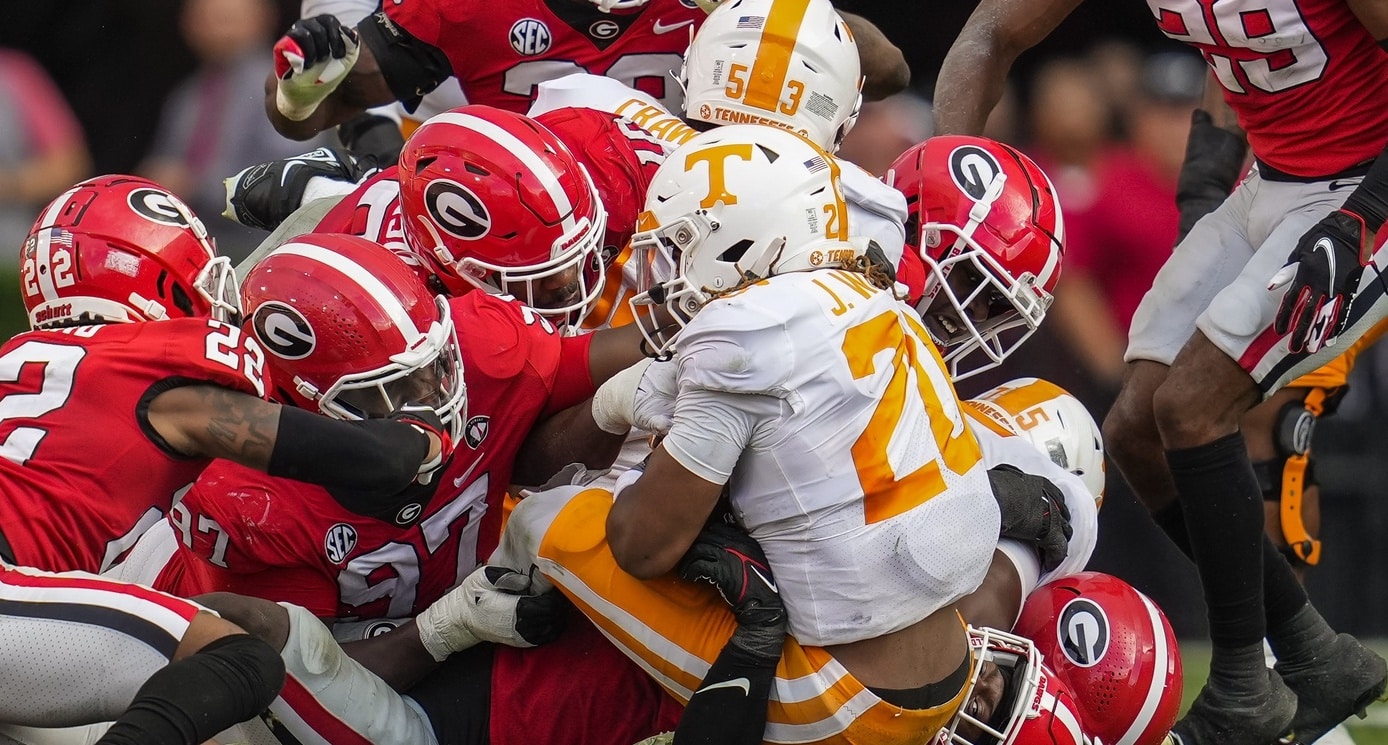 GEORGIA
Georgia stepped on Tennessee's face with a hobnail boot en route to a perfectly clear Playoff path
I was wrong. Dead wrong.
For the last 4 months, I banged the drum that Tennessee would beat Georgia in 2022. I highlighted the fact that the Vols had a the right offensive equation to crack Kirby Smart's defense. I yelled from the mountain tops that Hendon Hooker was special. I defended the Tennessee defense and outlined why the Vols were anything but a cakewalk for the UGA offense.
Swing and a miss.
For me, that is. Not Georgia.
Nah, Kirby Smart's squad connected and knocked Saturday's momental test against Tennessee out of the park. Better yet, the Dawgs stepped on the Vols' face with a hobnail boot. You don't have to be Larry Munson to understand what Saturday's beatdown meant.
The Dawgs are in the driver's seat to reach the Playoff, and if there's a team better positioned to win a national championship than them, well, I'd respectfully disagree.
Georgia did to Tennessee what hadn't been done since … Georgia did it to Tennessee last year. For the first time since that matchup in Knoxville last year, the Vols fell well short of 34 points to end the nation's longest scoring streak. A 27-13 beatdown saw the No. 1 offense in college football go without a touchdown in the first 55 minutes of action.
Mind you, that was for a Georgia defense who was without captain and top pass-rusher Nolan Smith and it lost Robert Beal Jr. to an injury early in the 3rd quarter. The Dawgs entered the day last in the SEC in sacks with 10, yet they sacked Hooker 6 times. That is, Heisman Trophy favorite* Hooker, who had only been sacked 12 times all year.
What about Jalin Hyatt? Like, the guy who led the country with 14 receiving touchdowns? Nope. No touchdowns for him.
And how about Cedric Tillman? Like, the team's top returning receiver entering the season who was getting back to full strength in his 2nd game back from ankle surgery? Nope. No touchdowns for him, either. Kelee Ringo made sure of it.
Kelee Ringo showing off his ELITE coverage skills ?? pic.twitter.com/SvbTIiewbk

— NFL Rookie Watch (@NFLRookieWatxh) November 5, 2022
That was the story of the day. Georgia looked like a team that was a step ahead of Tennessee. It looked like a group who spent time throughout the offseason and regular season preparing for the Vols' unique, up-tempo, high-octane offense. Why did it look like that? Because that's exactly what Kirby Smart did.
Smart, Will Muschamp and Glenn Schumann did what Alabama couldn't. That is, keep Hooker off-balanced and unaware of what was coming. UGA played a whole lot of man coverage on the outside with Ringo and Co., but it was the disguised blitzes and pressure that befuddled Hooker, who missed on a handful of open deep balls that he made look routine in the first 8 games.
Even down to the last offensive play for Tennessee, we saw Rian Davis shift to the right side of the defense at the last second before taking on a running back in pass protection. You know how that ended up.
Tennessee just couldn't get anything going. At one point, Jabari Small picked up a first down on a 4th-and-1 hurdle, but he fell into Hyatt's knee, and he awkwardly crumpled to the ground. It looked like Hyatt lost his lunch before heading to the sidelines.
That's probably when we should've known that it wasn't the Vols' day. It belonged to Georgia.
Check that.
We probably should've known it was Georgia's day on the 2nd UGA drive when Stetson Bennett IV scrambled in for a touchdown and celebrated by holding up his hand to mimic a phone while appearing to say "call me." Why? He had a good reason.
Stetson Bennett says he received "600 to 700" phone calls/texts (presumably from Tennessee fans) last night after his number leaked.

After his touchdown run, he threw up the ? pic.twitter.com/3IJf8FIfKE

— CBS Sports (@CBSSports) November 6, 2022
You can call Georgia many things. What you can't call them is "overrated," though those chants were belted at Tennessee by the tens of thousands of rain-soaked Georgia fans in Sanford Stadium.
Personally, I'm not big on those chants. It discredits the win. We shouldn't we discrediting the Vols after beating 5 AP Top 25 teams. This is the Playoff era, wherein every Georgia fan who chanted "overrated" should probably remember that the Vols going 11-1 is ideal for the Dawgs' Playoff chances.
Those, by the way, have never looked better.
While Tennessee's Playoff chances took a significant hit — they're absolutely not dead based on how much the selection committee valued the pre-November résumé — Georgia's CFP odds skyrocketed. I'd argue that spot is all but a lock, especially considering Smart hasn't lost a regular season game since the 2020 Cocktail Party. That's now a 27-1 in the last 28 games with the lone loss coming to Alabama in the SEC Championship, wherein Bryce Young played one of the best individual games of the Playoff era.
The Dawgs now boast 2 wins who'll undoubtedly be in the top 10 of the Playoff rankings on Tuesday. Tennessee is the only other team who'll have that. Even with tricky games at MSU and at Kentucky, Georgia will be an overwhelming favorite to go 12-0 and get to the SEC Championship without a loss. Again. After losing 15 (!) players to the NFL Draft. That's why there's absolutely a "Smart SEC Coach of the Year" argument.
The more important argument was settled on Saturday — who's the real No. 1?
The No. 1 in the AP Poll (Georgia) will be the consensus No. 1 in any and all polls after that drubbing. Anyone who argues to the contrary is entitled to that opinion, no matter how wrong it is.
It was an all-time, vintage Smart defensive showing to bring Georgia back to that unquestioned top spot. Will the Dawgs be stopped by anyone in 2022? Only a fool would bang that drum loudly.
Believe me. I learned the hard way.