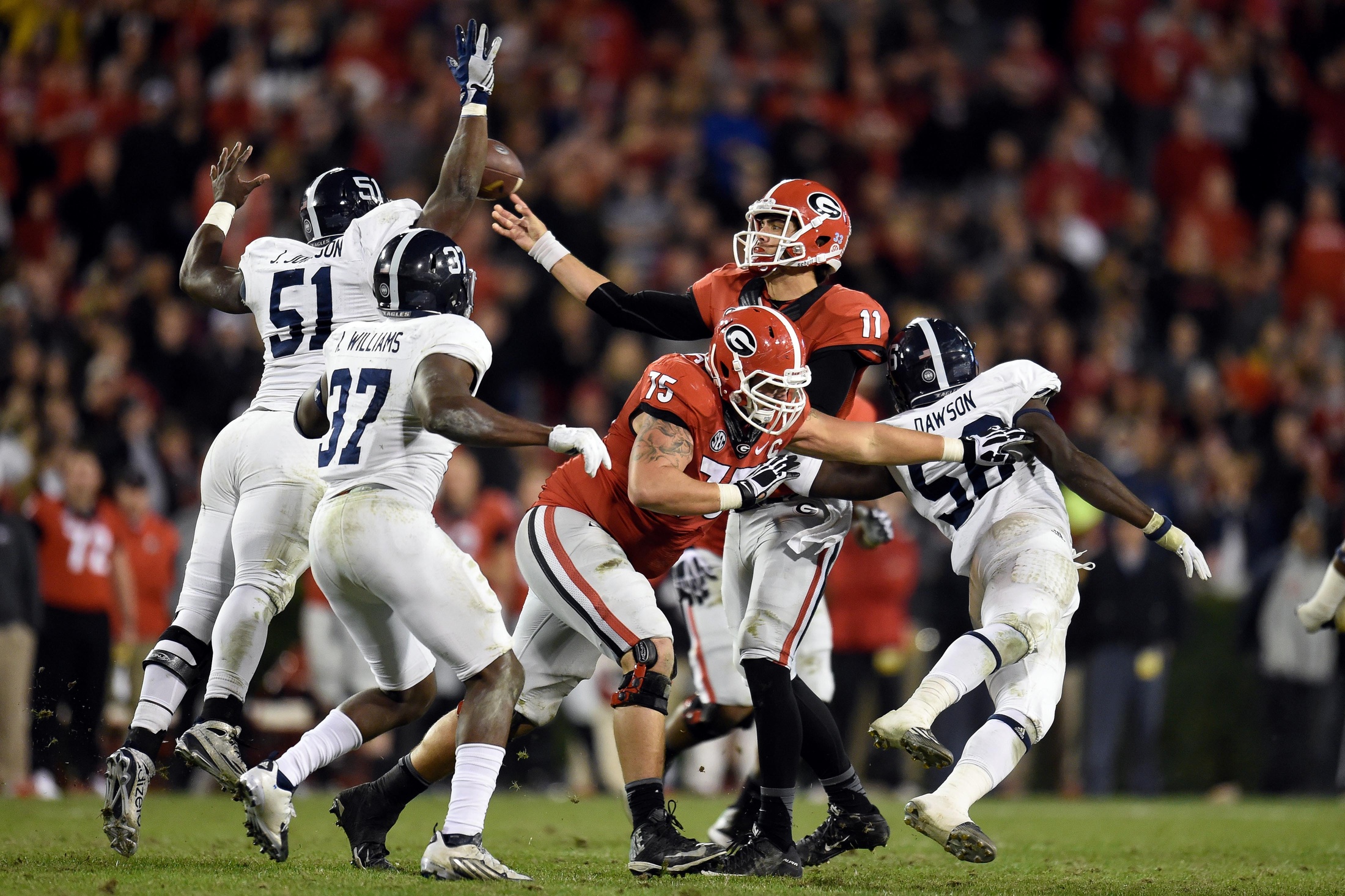 GEORGIA
Handicapping the UGA QB battle for 2016
With just a rivalry game and bowl remaining, many Georgia fans already are turning the page on 2015 and looking ahead to 2016.
And while there's expected to a number of major changes throughout the team, none will receive more attention than the Bulldogs' future at quarterback.
Senior Greyson Lambert and sophomore Brice Ramsey are expected to return, but with one of the least consistent passing games in the SEC, is either expected to start?
The Bulldogs ranked last in the SEC in third-down conversion rate this season, with an average of less than 32 percent.
The team's 183.7 passing yards per game is better than only Auburn, LSU, Missouri and Vanderbilt in the conference. Without star RB Nick Chubb, that's a group the Bulldogs should be well above as far as passing yards are concerned.
RELATED: Hiring Schottenheimer a mistake
Losing Mike Bobo has clearly hurt the Bulldogs' offense, but the best way to get the offense on track is to improve the QB play.
The only question is, with who?
Here are the three candidates to start next season:
Greyson Lambert — Through good times and bad, Lambert has been the Bulldogs' starter, and as a red-shirt senior he likely will lead the race through spring practice. Only this time he might be the favorite to land it.
"I keep saying it: I'm here to do whatever I can to help the team win," Lambert said to DawgNation last week. "… As a competitor, I want to play. But my mindset had to shift to approach it a little bit different (when Bauta started). (What) can I do … to help the team?'"
The Bad: After a fantastic first month that included a record-setting game against South Carolina, Lambert's inability to produce points, or pick up first-downs, has limited the Bulldogs all season.
The Good: As Chip Towers of DawgNation reported, Lambert is "UGA's primary QB." The job is his to lose. Lambert sits fourth in the SEC with a 63.5 completion rate and has thrown just two inceptions after starting all but one game.
Brice Ramsey — Despite not getting the opportunities he hoped as the No. 6 pro-style QB from the 2013 class, The Telegraph reports he has no plans to transfer. Once again, he'll compete for the starting job next season.
The Bad: He has yet to start, as the coaches elected to go with Lambert and, more curiously Faton Bauta (who threw four INTs in his only start against Florida) instead.
The Good: He remains an obvious candidate. He has the skill and makeup to fit perfectly in Mark Richt's system, as the Georgia fanbase remains eager to see what the sophomore can do.
Someone wrote this on whiteboard in room where Richt is holding his presser. pic.twitter.com/KmHp56pimI

— Seth Emerson (@SethEmersonAJC) October 31, 2015
"He'll continue to battle at the quarterback position and try to get better every time he gets snaps, but he's been an outstanding teammate," Richt said to The Telegraph earlier in the month. "There hasn't been any griping or moaning."
Jacob Eason — If you're a Bulldogs fan and don't know who Eason is, don't worry, you will. Eason officially signed with Georgia last week so the Eason-era is set to begin in Athens next year, the only question is will he start?
RELATED: Bulldog fans eager for Eason
"He's somebody that's going to come in and compete to play," Richt told The Telegraph on Tuesday. "He may provide a spark; I don't know."
The Bad: The Bulldogs haven't started a freshman quarterback in their first game since Aaron Murray in 2010. That turned out OK. Will Eason really take control of the quarterback race from day one?
The Good: The quarterback position at Georgia desperately needs a spark after two seasons of mediocrity following Murray's departure in 2013.
Eason leads his Lake Stevens' Vikings through the Washington State playoffs with 545 passing yards and 7 TDs (no INTs) in their first two playoff games and looks every bit like the high-octane QB Bulldogs fans are looking for.