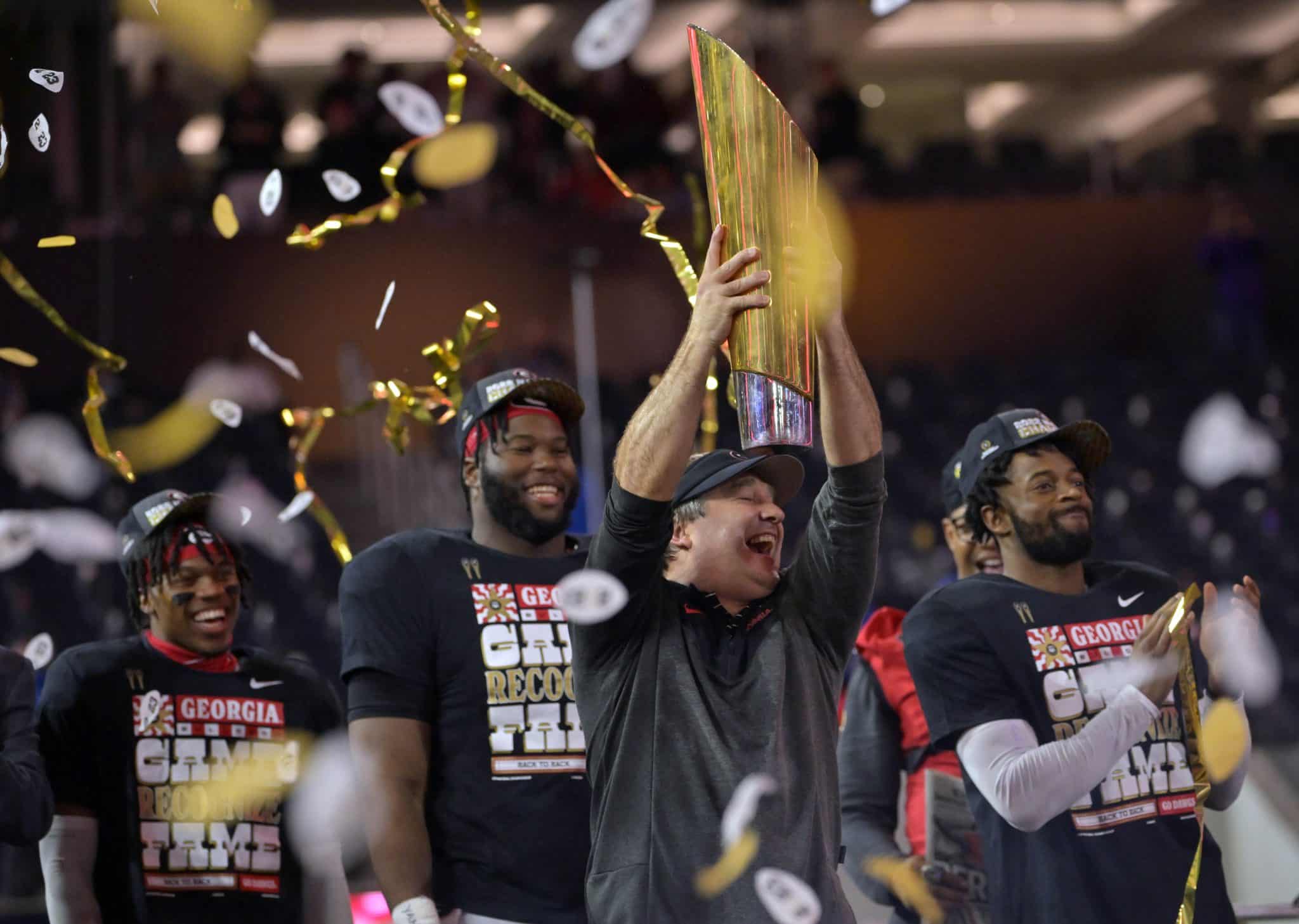 GEORGIA
Hayes: 3-peat? Why not? Nobody is slowing down Kirby Smart's hungry Dawgs
He was sitting there with a panoramic view of it all, a guest on the ESPN broadcast to offer up analysis of what was unfolding in front of his eyes.
He must have wanted to puke.
There was Georgia, an identical twin of Alabama a decade ago, rushing before the eyes of Tide coach Nick Saban.
Meet the new boss, same as the old boss.
If this is what happens after Georgia loses 29 players to the NFL Draft and transfer portal from the 2021 national champions, what happens when the Dawgs lose half that?
We're about to find out next year.
That's all that's left for the imagination after Monday's 65-7 emasculation of TCU in the Playoff National Championship Game gave Georgia its second straight national championship.
Because if losing 32 percent of your team doesn't derail your chances of repeating as national champions, what will?
If losing 5 elite defensive starters — all NFL 1st-round picks — and this year's team captain and most productive defensive player (who came back instead of being a 6th player picked in the 1st round) to injury doesn't force a step back on defense, what does?
A 3-peat, just for informational purposes, hasn't happened since 1936.
Don't think Georgia's maniacally obsessive coach Kirby Smart isn't already thinking about it.
"As long as you don't have entitlement in your program, you've got a shot," Smart told ESPN's broadcast minutes after another Georgia championship season. "Right now we don't have that. It's creeping, and games like (TCU) make it that way."
The confetti hadn't even fallen on another season, the trophy presentation hadn't been made, and Smart already was looking toward what's next.
Already warning of the ills of those who believe too much in what they've done, and not enough of what's still out there. He made up this contrived notion heading into the season that "everyone doubted" Georgia, and that the Dawgs were the hunter — not the hunted.
And they believed him.
"We know there are doubters out there," Georgia quarterback Stetson Bennett said earlier this week. "That's fueled us."
The next question: How does Smart wind up and motivate the 2023 team, and keep them from complacency?
Because I've got some bad news for everyone: Georgia might just be better next season.
Georgia will be a prohibitive favorite to win the Playoff again, and as much as we love to glorify the remarkable story of rags to riches quarterback Bennett, the train doesn't end here.
Carson Beck will play quarterback next year, and he's far and away a more gifted quarterback than the quarterback who was responsible for many of the 29 wins in 30 games over the past 2 seasons.
Branson Robinson will be the No. 1 running back and Arian Smith and Adonai Mitchell will be 2 dynamic wideouts, and the offense will more than likely be even more efficient — and dangerous.
If you're not a Georgia fan, or you turned to Netflix after Georgia led by 31 at halftime, those names mean nothing to you. Have patience, they will.
Just like Jason Walker and Mykel Williams and Daylen Everette and Xavian Sorey Jr. and Marvin Jones Jr. They'll be household college football names in 2023 on the best defense in the nation — like the past 2 plug-and-play defenses that led the nation in scoring defense.
We're living through what Saban (and Smart, as his defensive coordinator) built a decade ago all over again. Alabama won the national title in 2011-12, the last back-to-back national champions until Monday — but it could've been much, much more.
A year later, Saban badgered officials to put 1 second on the clock at the end of the 2013 Iron Bowl because he wanted to try a long field goal to win game — despite Alabama's history of average kickers. Then Kick-6 happened, and the chance to win 3 in a row ended.
A year later, Alabama lost to Ohio State in the Playoff semifinals, and a year after that, the Tide won the national championship in Smart's last season in Tuscaloosa. Those 3 titles in 5 seasons could've easily been 4 of 5.
Now here we are with Georgia, and Smart orchestrating the same thing.
At one point during the massacre, TCU coach Sonny Dykes watched another Georgia touchdown and simply said, "Wow." You're not alone, Sonny.
Smart has figured out the 1 thing that Saban has done better than any other in his unforgettable time at Alabama. Recruiting is important, player development is critical, big game moxie is rare.
But what Saban does better than anything else is convince the next team that even though you reached the mountain and grabbed the gold last year, next year's gold is even better. It's shinier and brighter and you'll want to embrace it like nothing you've ever seen.
Now Smart gets a second shot at it, and Georgia — after going 41 years without a national title — will be at the front of the line again for 3 in a row. No team outside the SEC is built at this point to beat Georgia.
Ohio State will have a new quarterback, and Michigan could have a new coach. USC doesn't have a defense, and Clemson isn't the same Clemson of years past.
LSU might still be a year away, and Oregon doesn't want this heat again.
The only team that could derail the train is You Know Who.
The same program whose coach sat in the broadcast booth Monday night watching his identical twin of a coach/program take control of college football.
Earlier this week, with the long grind of a season winding down and a mentally and physically tired Georgia team running on fumes, Smart turned up the wick and practiced good on good.
The hunter had prey in the way. Why stop now?
Meet the new boss, everyone. Same as the old boss.
For now, anyway. Give him another season to change that.