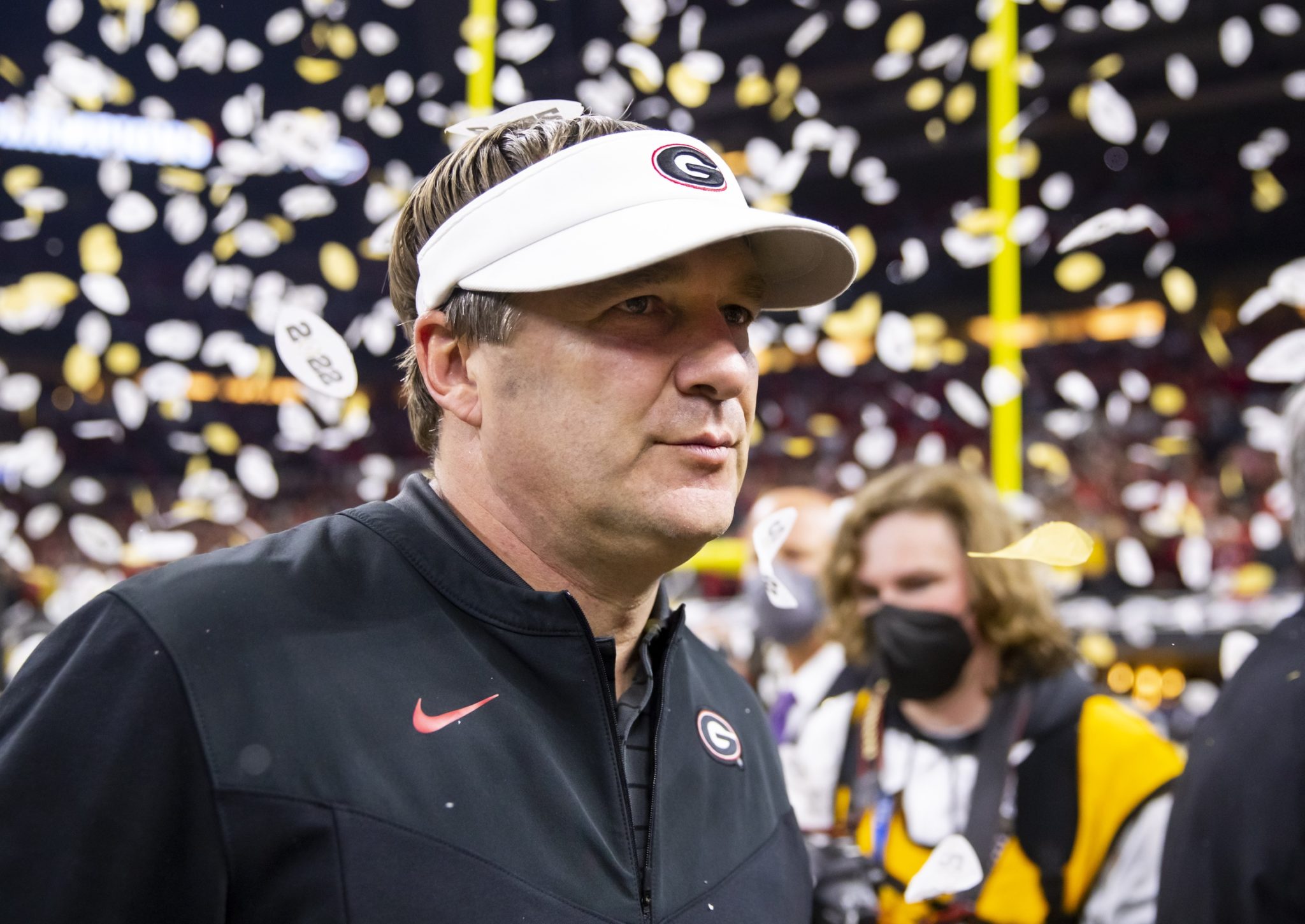 GEORGIA
If Georgia doesn't repeat, don't play the results and chalk it up to complacency
As soon as Kirby Smart said it, my mind went all over the place.
In the main media room at SEC Media Days, the Georgia coach addressed the issue of complacency. Five times, to be exact. Lord knows that Smart is hardly the first coach or the last to address the subject on the heels of winning it all.
In Smart's opening statement in Atlanta last month, he addressed complacency and specifically, what he's doing to avoid that.
"People ask the question, How does it feel to be hunted? We will not be hunted at the University of Georgia. I can promise you that," Smart said. "The hunting we do will be from us going the other direction. We're not going to sit back and be passive about.
"Our guys have asked questions, and we've done a lot of studies on how the mighty have fallen. We have skull sessions, 15-minute meetings, 20-minute meetings and breakout groups. We talk about how the mighty have fallen. I'm talking about in business, sports, history. You learn from the mistakes of others."
I gotta know. Who did Smart choose to showcase in these skull sessions on how the mighty have fallen? Enron? Blockbuster? Richard Nixon? OJ Simpson?!?
(On an unrelated, apolitical note, I'd love to think that the Georgia football team watched "All the President's Men" in 20-minute increments during these skull sessions. In my imagination, those were similar to the 20-minute breakout sessions Michael had in "The Office" so that everyone could watch random episodes of "Entourage.")
Honestly, I love that idea. There's a lot to be learned from watching how others handle success. Some get a life-changing contract and admittedly lose their motivation. Others taste success — either in business, sports or history — and it drives them to unprecedented heights. Smart, who just received a life-changing contract, seems set on making sure he falls into the second group.
With Georgia, the narrative is no longer "can they ever win the big one?" It's, "well, what's next?"
If UGA fails to repeat, it won't be from complacency. There have been 21 national champions in the 21st century who attempted to repeat (that excludes 2021 Georgia because the season hasn't happened yet). Only 2 of them — 2004 USC and 2012 Alabama — accomplished that feat. If you want to go back to UGA's previous last national title in 1980, only 3 teams repeated as national champs.
Think about that. That's 3 of the past 41 national champs (7.3%) that successfully repeated.
Yet still, anything short of another national championship and we'll see the lazy national narrative that UGA got complacent. Never mind the fact that UGA lost a modern NFL Draft era record 15 players, 5 of whom where defenders picked in Round 1. By the way, no program had more players selected in the NFL Draft in the past 3 years than Georgia (LSU is tied with 31). Surely that context isn't important to some because "UGA's entire roster is loaded with 5-stars." Right.
Listen to Smart talk about complacency with that roster attrition context and you'll see why that subject is overrated as a potential hurdle.
"I've done the rounds this morning, I'll bet you at least 50 people have asked me the question, so feel free when we open up for questions to ask me, the concern there is for complacency," Smart said in Atlanta in July. "That does not concern me in the least. To be complacent, you have to have done something and achieved something. The men on this team for this season have not done that. They have not. We had 15 players that have now gone to NFL camps or draft picks. They're gone. We have some returning players, but they're hungry as ever."
As Smart said, it's not that complacency is a made-up concept. It's real. Other repeat bids might've fallen a touch short because of complacency.
Ohio State's 2015 squad was the first unanimous preseason No. 1 in AP Poll history, yet that squad never played with the "backs against the wall" mentality that the 2014 squad had after the Virginia Tech loss, and it failed to win a division title. Can we say 2015 Ohio State was complacent because it underachieved? You could make the case. But wait, didn't Urban Meyer say in the spring before 2015 that his team had avoided complacency?
"At this point, I am watching (complacency) very closely," Meyer said after Ohio State's 2015 spring game (H/T Sporting News). "I've been in situations where complacency and entitlement seep into the program, but I've not seen it yet."
Is it fair to say we eventually saw "complacency and entitlement" that November when Ohio State's offense collapsed in crappy weather conditions against a Michigan State team playing without starting quarterback Connor Cook? Maybe. Or maybe a team team dealt with one of the most polarizing quarterback battles ever lacked an offensive identity because it waffled at the game's most important position deep into the regular season.
Meyer's reference to having seen "complacency and entitlement seeping into a program" could've referred to his 2007 Florida squad, who had eventual-Heisman Trophy winner Tim Tebow, but clearly didn't have the killer instinct that those 2006 Gators had when they won it all. By the time you finished reading this sentence, Jacob Hester just converted another 4th down run against the 2007 Florida squad.
But can you really be considered "complacent" if you're only the preseason No. 6 team like 2007 Florida? Maybe not.
In all likelihood, UGA will go into 2022 as a top-3 team, but not as the preseason No. 1. Still, the Dawgs could actually be double-digit favorites in every regular season game they play.
If they go 12-0 coming off a national title, that'd actually be more of the norm in recent memory. They'd be the 5th defending champ to accomplish that feat in the past 9 seasons (2014 Florida State, 2016 Alabama, 2018 Alabama and 2019 Clemson). All of those teams entered the following season as preseason No. 1 in the AP Poll. Of course, all of those teams eventually suffered their first loss in the Playoff and came up short of a repeat bid. Did they all get complacent? Or did they perhaps just have an inferior team who couldn't execute in a win-or-go-home game?
It could be a mix of both. I'm willing to say that unless UGA encounters a 2020 LSU-like collapse, complacency won't be at the root of a repeat bid that comes up short.
It's the way that Smart addressed the subject and his past experience that suggests that he's not wired to coach a complacent team.
Kirby Smart's explanation in his halftime interview for the outburst: "Didn't manage the clock whole well at the end." pic.twitter.com/7BlHue0gxw

— Pete Nakos (@Pete_Nakos96) January 1, 2022
Kirby Smart, man up 18 points in the fourth quarter on the brink of another division title…about that. pic.twitter.com/ip06YCBrc7

— Connor O'Gara (@cjogara) November 3, 2018
Yep. That's the look of someone who has 5 consecutive seasons of top-7 finishes with 2 national championship appearances and a ring, yet it's clear that he wants more. You don't recruit and develop talent like Smart to just win 1 title.
Ten years ago when Smart was Alabama's defensive coordinator for the last repeat national champ, you can bet that he took copious notes. Smart was part of 4 national championship teams at Alabama. Three of them couldn't repeat — he wasn't there for the 2016 repeat attempt because he took the Georgia job — but when asked about what he learned in regard to managing expectations coming off a championship, Smart actually referenced his year as the defensive backs coach with defending champion LSU in 2004.
"People don't realize they were coming off a national title. I was not part of that. But we had a tremendous team coming back, like uber talented. A lot of draft picks," Smart said." That was probably one of the toughest jobs that's ever — because you had complacency. You had guys that were going to be first-round picks, no matter how they played, off of how they played the year they won the national championship."
Go figure that Marcus Spears was the only player on LSU's 2004 squad who was picked in Round 1 in the 2005 NFL Draft, and he was an All-American in his pre-draft season. But that's beside the point.
Like the 2004 LSU team, Georgia's 2022 squad is still full of possible future first-round picks, all of whom played extremely well in the national championship. Jalen Carter blocked a kick and had 6 quarterback hurries. Nolan Smith had 2 tackles for loss, including a sack on the last play of the the night. And of course, Kelee Ringo delivered the most important defensive play in Georgia history with his pick-6 in the 4th quarter.
All of those guys are back as preseason first-team All-SEC selections. Along with Stetson Bennett IV, they're the backbone of a team who will have a new identity in 2022.
A year that ends with anything but national championship confetti will be seen by some as a sign that UGA didn't handle success well. In reality, a team who ranks No. 96 out of 131 FBS teams in percentage of returning production has other issues to worry about.
"Complacency is not the concern," Smart said. "Experience is our concern. Our kids will buy into that, and we'll get them ready in fall camp."