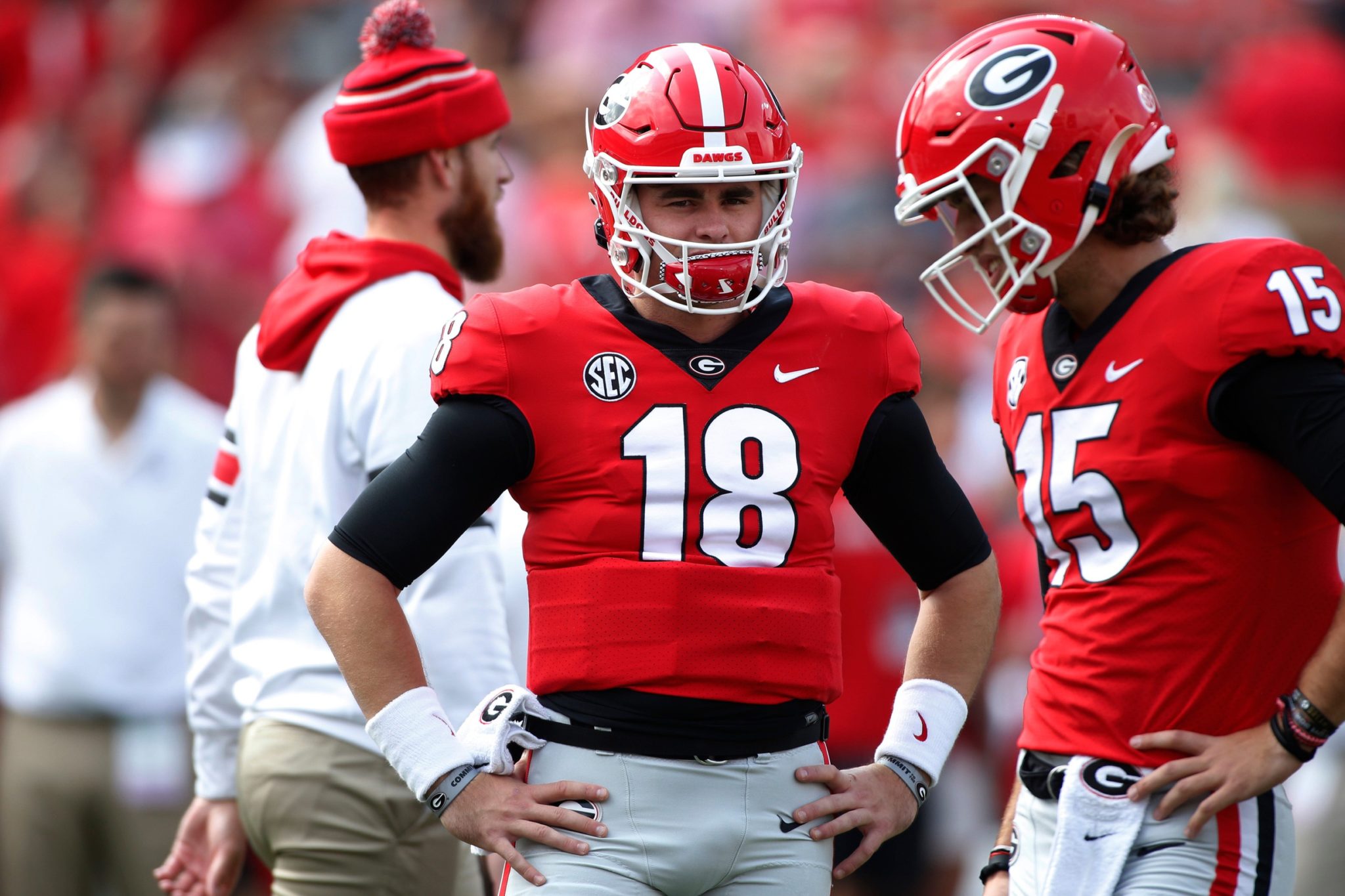 GEORGIA
If Stetson Bennett IV is running it back, what does that mean for UGA's QB room?
There's a phrase that I now use when asked about how long Nick Saban will coach before riding off into the sunset.
"He's coaching until the robots get here."
I'd still say that even though Saban just lost to a former walk-on quarterback for the first time at Alabama, that's not really changing. As for said walk-on, well, maybe I should tweak my phrase when asked about how long he'll play.
"Stetson Bennett IV is going to be Georgia's starting quarterback until the robots get here."
In other words, yes, I expect that Bennett will run it back and return to Georgia for Year 6. And yes, I expect the whole "winning Georgia's first national title in 41 years" thing will be a bigger flex than "former 5-star recruit."
By the way, there are 2 of those on Georgia's roster. JT Daniels and Brock Vandagriff are still, last I checked, on Georgia's roster.
(I legitimately just had to check Twitter to make sure I didn't cold-take myself. Ya never know when portal is gonna portal.)
The question of Georgia's 2022 quarterback room has been on the back burner, albeit with good reason. "Winning Georgia's first national title in 41 years" was on high heat on the front burner. Now, though, we must address the future. Go figure that the safest bet to return is now Bennett.
So what about the rest? Let's break that down:
Gunner Stockton
Eligibility left — 4 years
On UGA's 2022 opening day roster? — Yes
It'd be surprising to see Stockton bolt upon arrival, especially after we just watched Kirby Smart favor a more mobile quarterback to lead his offense. That's what Stockton is. Unlike Bennett, he's on the right side of 6 feet, but not by much. Stockton is a Georgia native who committed to the program last January after dropping his South Carolina pledge. Technically, he didn't sign as a 5-star recruit, but he added to the long list of blue-chip quarterbacks on UGA's roster.
It would have to take some sort of off-field issue for Stockton to use his 1-time transfer exemption before he's able to play in his first college game.
Brock Vandagriff
Eligibility left — 4 years
On UGA's 2022 opening day roster? — Yes
This is where it gets a little tricky. Is there a scenario in which Vandagriff bolts? Absolutely. If he still senses out of camp that he's no more than No. 3 on the depth chart, the former 5-star recruit could be on his way out. Physically, he's unlike any quarterback of the Kirby Smart era. Maybe Jamie Newman is the best comp in terms of his arm strength and how imposing he can be as a runner. Vandagriff, who got 10 garbage time snaps in 2021, had a front-row seat to watch Daniels get benched in favor of Bennett. Who knows if that made any sort of long-term impression.
It was pretty clear out of spring camp that Vandagriff was more than a rolled ankle away from starting as a true freshman a la Jacob Eason and Jake Fromm. For what it's worth, Todd Monken made sure to give Vandagriff praise ahead of the Playoff, adding that "we believe he's going to be a very good player" (H/T 247sports). According to 247sports' Rusty Mansell, Vandagriff made significant strides in the latter half of the season.
How much of that is just trying to keep Vandagriff on the roster? I couldn't tell you. He now seems like a better fit scheme-wise for what Monken wants to do, and he stands to benefit the most if Daniels and Carson Beck both bounce.
Speaking of that …
Carson Beck
Eligibility left — 4 years
On UGA's 2022 opening day roster? — No
I'm old enough to remember being baffled that Bennett, not Beck, was getting the Week 2 start after Daniels' injury. That seems like forever ago. Even longer ago was Beck looking solid in UGA's spring game and seemingly establishing himself as QB2. Beck has all of his eligibility left after playing exactly 4 games in 2021 to fall under the redshirt threshold (remember that 2020 didn't count against anyone).
I'd be surprised if Beck stuck with Georgia for another season. The Florida native would have plenty of suitors in the transfer portal. This is the difference with the new transfer rules. Under the old rules, Beck might've stuck it out in Year 3 because that's not a whole lot different than transferring and sitting out a year. But now, Beck could leave Georgia, enroll elsewhere in spring and have immediate eligibility in 2022.
I doubt that Beck would go back to the Sunshine State to play for Florida, AKA the team he admittedly used in hopes of getting a UGA offer. Florida State would make a bit more sense, especially with the fluid quarterback situation in Tallahassee.
JT Daniels
Eligibility left — 2 years
On UGA's 2022 opening day roster? — No
Daniels has potential to be one of the better quarterbacks in the country. I was probably a touch higher on him than the consensus in terms of the non-Georgia fans. But as long as Bennett is coming back, there's nothing that can be done between now and opening day that would allow Daniels to beat out Bennett.
Well, let me rephrase that. There's nothing that can be done on the field* between now and opening day that would allow Daniels to beat out Bennett.
If you don't believe that, perhaps you forgot how Smart handled Jake Fromm-Justin Fields dynamic after Fromm led the Dawgs to their first national championship berth since the Herschel Walker era. But beyond that, look at the fact that this was never really much of a back-and-forth once Daniels was sidelined. Daniels attempted 11 passes vs. FBS competition after September. That's it.
It's wild to think about how much changed since Daniels represented Georgia at SEC Media Days in July. Smart was adamant that Daniels was his guy … and then Bennett became his guy … again.
Daniels is entering Year 5 of college, and even though he has 2 more years of eligibility — he redshirted in 2019 and 2020 didn't count against anyone — he just completed his third consecutive season in which he started 4 games or less. The guy has to be chomping at the bit to play. He was the National Gatorade Player of the Year as a high school junior, and he's now lost his job to injuries twice.
I wouldn't be surprised if Daniels hit the portal and went to a place where he was essentially guaranteed a starting gig.
So then what would be the pecking order?
If my scenario plays out with all 5 UGA quarterbacks, here's what I think that would look like on the depth chart:
QB1 — Bennett
QB2 — Transfer
QB2 — Vandagriff
Assuming he's redshirting — Stockton
See what I did there? Yeah, I always expect Smart to recruit over his blue-chip quarterback prospects. Granted, he didn't this past season in part because he already had 2 transfers recruited going into the 2020 season. If Smart loses Beck and Daniels to the portal, I think those odds increase a great deal.
Georgia went into the 2017 season with a true freshman backup and it worked out, but that was just on the heels of Smart's first full recruiting cycle. It's also hard to get quarterbacks lining up to join a room with a 5-star, true freshman starter like Eason was.
Could that be Caleb Williams? Jaxson Dart, perhaps? At this point, it seems foolish to say that Smart would opt out of recruiting any talented quarterback in the portal.
As always with the Georgia quarterback room, stay tuned.