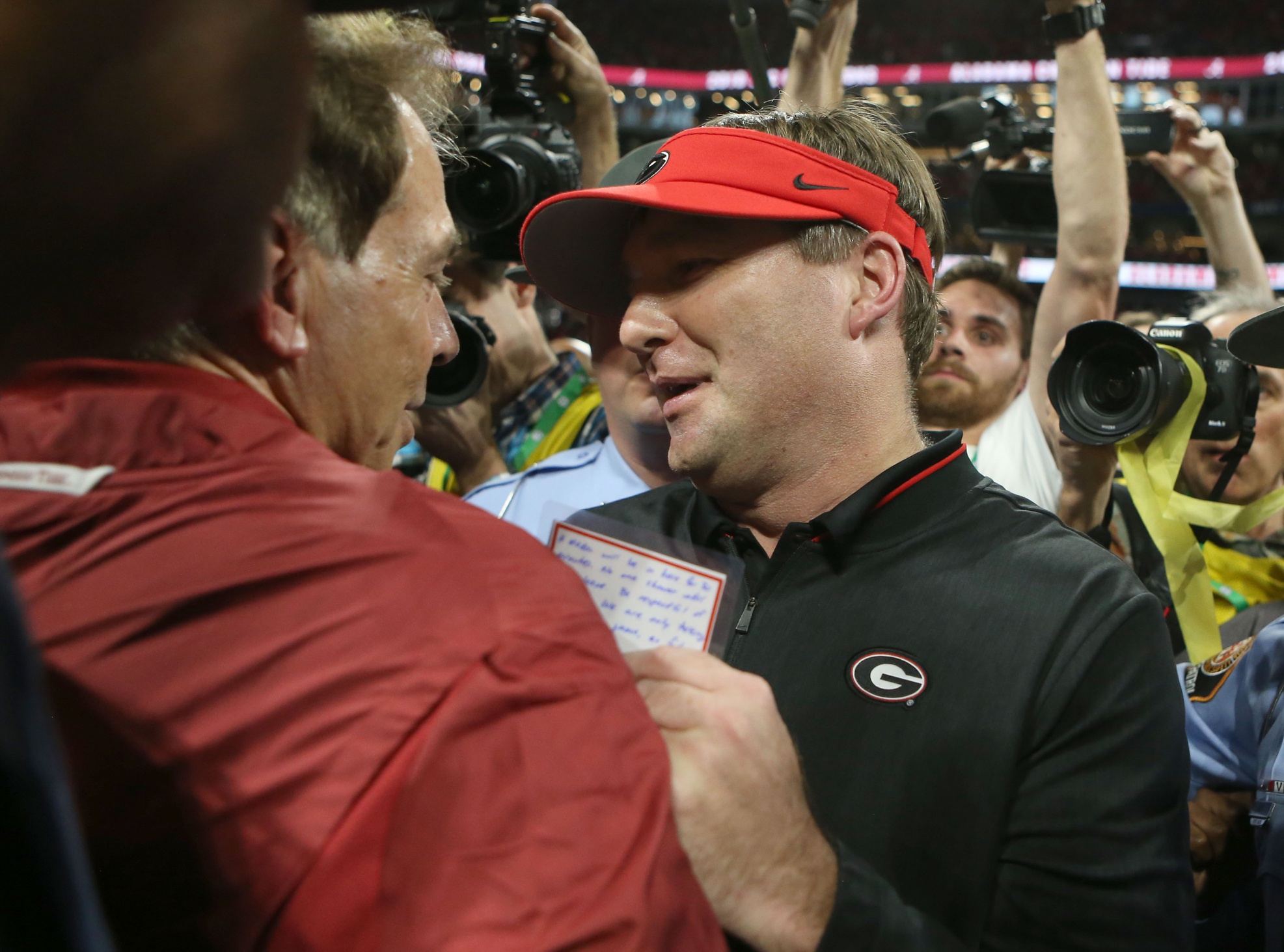 GEORGIA
Kirby Smart-Mark Richt comps? Nope. Smart is only chasing Nick Saban
I'm ready to roll my eyes.
In the event that Georgia does indeed lose to Alabama again, we're going to see some side-by-side graphic/tweet/explanation of why Kirby Smart is just Mark Richt 2.0. The "can't win the big one" mantra will grow even louder and the "it's never gonna happen" crowd will multiply.
Eye roll.
It's true that Smart set the standard of ending the 1980 jokes once and for all. Until he does that, there's a contingency of people who will continue to say that Smart doesn't have the mental makeup to win a national title. Never mind the fact that he lost his mind up 27-3 at halftime of the Orange Bowl because his quarterback didn't manage the clock the way he thought he should've. Richt, as good as he was, never would've shown that type of edge in that spot.
But this is about more than personality traits. It's a wins-and-losses business, and by virtue of getting to a national championship twice, Smart earned the right to move past those lingering Richt comparisons.
Now, Smart is only chasing Nick Saban.
Before you say, well, what about Dabo Swinney? It's Swinney who has multiple rings and just missed the Playoff for the first time in 7 years. Of course, it was Smart who helped make that happen by handing the Tigers a season-opening loss in their first matchup since Clemson became Clemson. Swinney is more accomplished for now, no doubt.
Having said that, this was never about building it Clemson's way. Smart, the Saban disciple, set out to build a replica of the Alabama program he left — recruit top-ranked classes, create the most competitive practice environment in the country, win national titles, repeat. In Year 6 at Georgia, Smart is still chasing that. Sixty minutes is the only thing standing in his way of taking that all-important next step into the upper echelon.
We laid out the inevitable but lazy Richt comps if Smart loses. If he wins, though? There's no longer a ceiling. Smart will have broken through and perhaps opened the door to the next college football dynasty.
And while he'll face scrutiny unlike any in his career if Georgia loses to Alabama again, let's also not forget that Smart is still in just his 6th year as a head coach. Swinney didn't reach a title game until Year 7 as a head coach. Steve Spurrier needed until Year 10, as did Saban.
This is the side-by-side graphic that nobody ever talks about as it relates to Saban vs. Smart:
By Year 6 as FBS HC
Saban
Smart
Overall win %
0.614
0.813
Conference win %
0.625
0.816
AP Top-25 finishes
1
5 (including 2021)
AP Top-10 finishes
1
5 (including 2021)
National title berths
0
2
At the end of Year 6 as an FBS head coach, Saban was 48 years old. Smart is currently 46. We don't make these comparisons because, obviously, Smart walked into a better situation at Georgia than Saban did at Toledo and then Michigan State. Smart instead gets knocked because he's in Year 6 without a national title while Saban won in Year 4 at LSU.
But any belief that Smart is "behind schedule" is overblown. It can be considered a disappointment that he didn't get it done in 2017, but let's also remember that was his 28th game as a head coach. In Saban's 28th game as a head coach, he was just trying to lead 2-2 Michigan State in an early-October game against unranked Iowa.
You're not supposed to get a first job like Smart got. He's in that category of Ryan Day and Lincoln Riley as coaches who were coaching in a Playoff by Year 2 as a head coach (Day and Riley both did it in Year 1). Until Smart wins it all, he'll continue be lumped into that group and a far arm's reach from his former boss.
Speaking of his former boss, Saban is 1 of 4 active head coaches with a ring. Here's when they each won it all as an FBS head coach:
Nick Saban, Year 10, age 52
Dabo Swinney, Year 8, age 47
Jimbo Fisher, Year 4, age 48
Mack Brown, Year 21, age 54
Again, Smart is younger than all of those respective coaches and you could argue that he's set up better for long-term success than any of those coaches after they won it all the first time. That includes Swinney.
Nobody can really deny that when one considers the resources and roster talent in Athens. What they can deny is that Smart is an elite in-game decision-maker. It's not that he's never had a comeback in a meaningful game. We remember the blown leads against Alabama, but we forget about the in-game comebacks like 2017 Oklahoma, 2017 Notre Dame and 2020 Cincinnati. Georgia trailed in the final 4 minutes of all of those games, each of which carried its own significance.
But that stigma is going to hover over Smart like a dark cloud until he out-coaches Saban. Each of the 4 losses all had their own reminder that one was the master and the other was the disciple:
2017 National Championship: Alabama backup QB enters, UGA can't get stops and blows 4th quarter lead
2018 SEC Championship: Alabama backup QB enters, UGA can't get stops and blows 4th quarter lead**
2020 regular season: UGA offense gets shut out in second half, blows halftime lead and UGA loses 41-24
2021 SEC Championship: UGA goes up 10-0, Alabama goes on 38-7 run and UGA loses 41-24
**Also, the Justin Fields fake punt attempt
When Brock Bowers hauled in that touchdown grab in the 2021 SEC Championship, it marked the first time that Smart's team scored a point in the 4th quarter against Saban.
Really. Go look it up.
It doesn't matter that Smart led for 119 minutes and 9 seconds in 240 minutes of football against Saban, and that no other Saban disciple has led against him for even half as much time (Fisher is No. 2 on that list with 56 minutes and 48 seconds).
Just for a little perspective on that, Swinney also faced Saban exactly 4 times from 2015-18 and led for just 73 minutes and 21 seconds. The difference, of course, is that Swinney was 2-2 in those 4 games having twice made the right late adjustments to beat Saban in a national championship.
That's the only thing left for Smart to chase. As Smart has continued to recruit better than anybody not named "Saban," any thought of Georgia becoming the 2020s version of the 2010s Alabama has been followed by "yeah, but." As in, yeah Smart has the best chance to lead a dynasty, but we can't throw out the "D-word" until Smart puts 60 minutes together against you-know-who.
All of that can change Monday night.
Lose for a 5th time and nobody will pat Smart on the back for becoming the only coach with an active streak of 5 consecutive top-7 finishes in the AP Poll (assuming Oklahoma and Clemson both miss the cut after non-New Year's 6 bowl victories).
But win for the first time and many — minus those who bleed crimson — will reference some variation of Saban passing the torch to Smart. Time will tell if that's a bit premature. It's not like Saban is going away anytime soon. We could begin a new back-and-forth instead of the Charlie Brown-Lucy dynamic that existed in the first 4 meetings.
Now seems like as good a time as ever for Smart to finally kick the football.