GEORGIA
How Georgia's versatile secondary sets up the defense for success
There are a lot of reasons Georgia is playing high level defense this season. Kirby Smart is in Year 2 of his defensive system and they had two years of Nick Saban-tree coaching from their previous defensive coach Jeremy Pruitt (now in Smart's old stead at Alabama). The DL is playing very high level football and the linebacker trio of Roquan Smith, Davin Bellamy and Lorenzo Carter is among the best in the nation.
Another factor though is the secondary, which has helped Georgia rank fourth in passing S&P+, eighth in defending passing downs, and first in IsoPPP, which measures a defense's ability to avoid conceding big plays.
They're basically a very veteran and versatile group that has allowed Smart to build a few different packages to make the most of their defensive talent as they take on different styles of offense.
The main group
In today's game, your nickel package is pretty much your base defense, although Georgia will play "base" personnel with four defensive backs more than many other teams. The five DBs that take the field in nickel are all essentially starters, here's that group:
Aaron Davis is the starting left cornerback, but he slides inside in the nickel package while McGhee takes his place at cornerback. In the dime package McGhee slides into nickel while Davis plays weak side linebacker.
You'll notice that none of them was a bluechip recruit (per 247's composite rankings) but they are all in their third year or more as college players. Experience and chemistry is everything in modern, pattern-matching coverage and the Bulldogs have that with this group.
The main cogs
Aaron Davis is the best player of this group, despite his modest statistical profile in comparison to some of the others. His ability to play physical on the perimeter and even in the box …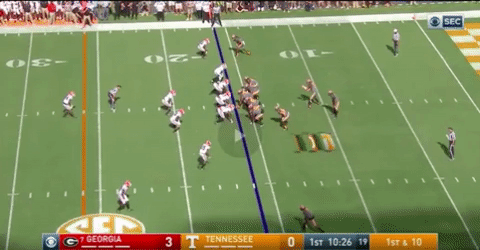 … makes the Georgia nickel package pretty credible against physical spread offenses. Meanwhile his coverage abilities either outside or in the middle of the field are generally a major part of Georgia's plan for taking away key receivers with tight coverage.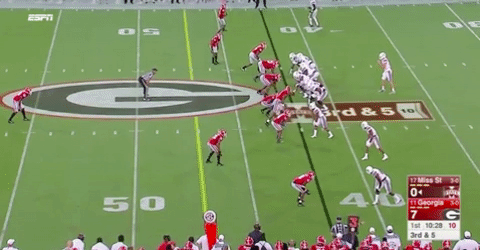 Dominick Sanders was the big name coming into the season, but safety J.R. Reed has had the bigger impact due to his fantastic range and ability to play as a deep, quarters safety who can make stops in the run game near the line of scrimmage.
He begins this play backpedaling from 12 yards deep but still arrives to make the tackle within 3 yards of the line of scrimmage.
Cornerback Deandre Baker is the other main contributor. The Dawgs play him in man coverage a good amount with varying degrees of help around him but his abilities in deep zone …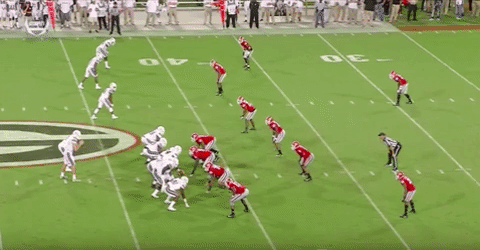 … and overall tackling allow him to be almost like an extra safety on the field. The versatility of Davis and Baker make the secondary go while Reed and Sanders' range and tackling from deep alignments are key factors in Georgia refusing to give up big plays this season.
They rank among the best in the SEC in not allowing big plays, despite playing one more game than half the league.
[table "" not found /]
The key schemes
The Bulldogs are fairly standard in their coverages, though like many other squads with former Saban assistants, they have better variety than some teams. Outside linebackers Carter and Bellamy are pretty versatile, which gives the Dawgs some flexibility when playing their 3-4 defense even against spread looks.
They've been able to roll coverages to one side of the field or the other due to the experience of the secondary and don't get caught in busts too often while changing which linebacker blitzes.
The Dawgs are comfortable playing Carter or Bellamy in the flats against a variety of different formations, whether that requires a quarters coverage from the secondary:
Or rolling into cover 3:
Both require a certain degree of flexibility from the secondary. Reed is often asked to play man coverage on slot receivers in the Cover 3 sets, even though nailing down the different pattern matching rules for multiple coverages can doom an inexperienced secondary.
They're probably at their best in the nickel package with Davis locking down the slot while the safeties are more freed up to play over the top in their quarters coverages rather than covering for the outside linebackers. They have enough quality depth at DB that getting five on the field rather than four only heightens their ability to move guys around to deny easy passing windows and buy time for the pass-rush.
There aren't too many strenuous tests remaining; of its final five opponents, only South Carolina is averaging more than 220 yards passing per game.
We might have to see this group in action against Alabama or in the Playoff before we truly know their ceiling.