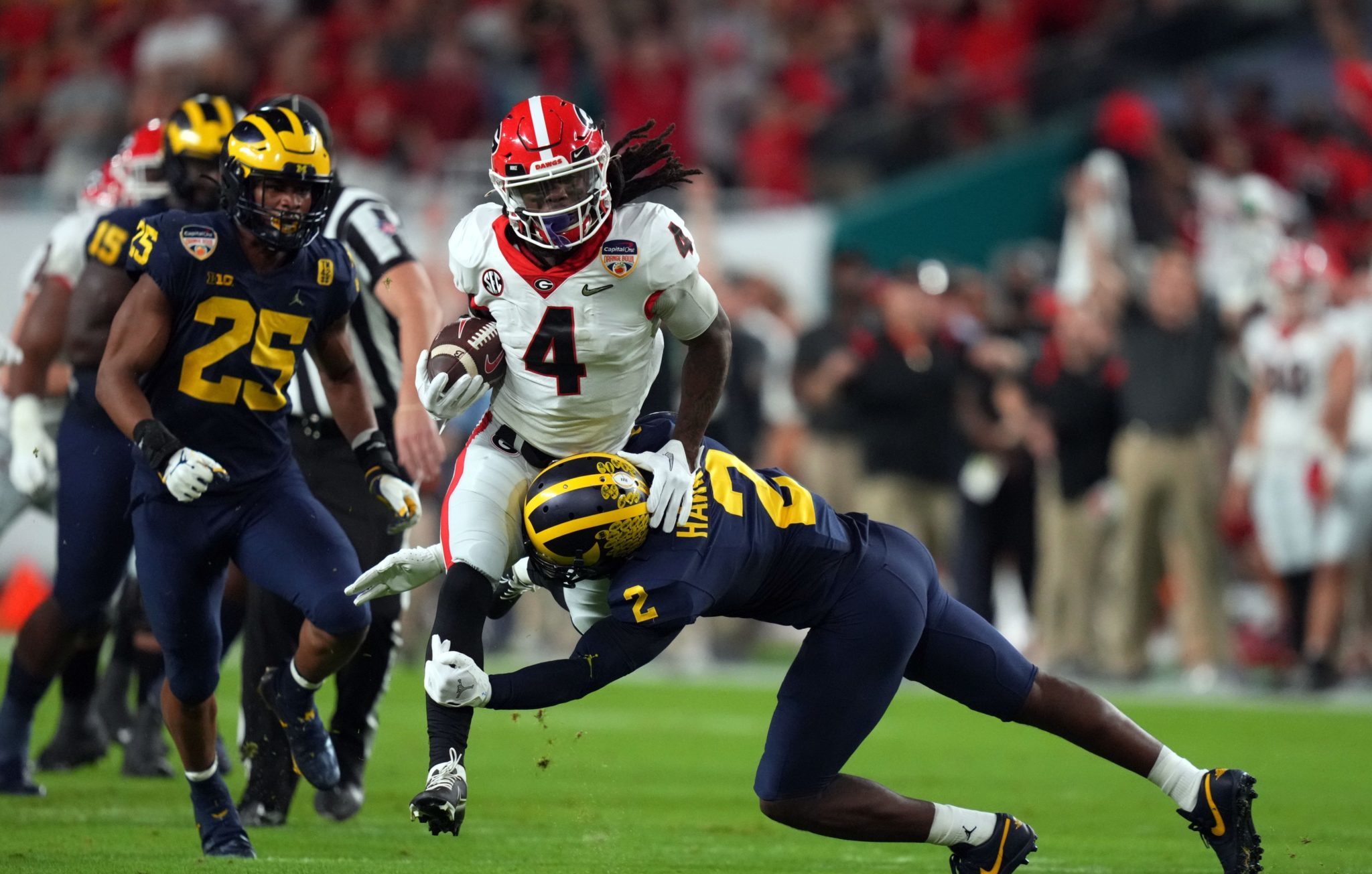 GEORGIA
Rapid Reaction: Stetson Bennett shines as Georgia defense smothers Michigan in Orange Bowl
Georgia played the Orange Bowl on its terms, and the Bulldogs looked more like the team that started 12-0, and less like the team that lost to Alabama in the SEC Championship in Atlanta. Now Georgia will get a chance to avenge that loss in a little more than a week.
For now, Stetson Bennett silenced the critics, even in his own fan base, with a sensational game with at least 2 incredible throws as Georgia advanced to the national championship game. As great as Bennett played, the Georgia defense returned to its smothering ways, and at one point created a turnover on 3 straight Michigan drives.
One of Bennett's favorite targets was James Cook, who caught 3 passes for 99 yards, including a 39-yard touchdown pass as Bennett was hit in the pocket that put the final nail in Michigan's coffin with 11:11 remaining. Michigan scored a late touchdown, but Georgia prevailed 34-11.
Brock Bowers didn't waste any time to get involved and make a huge impact on the Orange Bowl. The freshman tight end for Georgia caught 3 passes for 51 yards, including a 9-yard touchdown to open the scoring. It was the 12th touchdown of the season for Bowers, the single-season receiving record for Georgia, after he already held the single-season reception record for a UGA tight end at 50.
Georgia's single-season leader in TD receptions, @brockbowers17!

Watch live on ESPN: https://t.co/bsfoIVx1at pic.twitter.com/ZZfG8KkjLM

— Georgia Football (@GeorgiaFootball) January 1, 2022
After Alabama knocked off Cincinnati earlier Friday in the Cotton Bowl, the national championship is set for Jan. 10 in Indianapolis.
Georgia's fast start began with Bowers, but it continued with a trick play when Kenny McIntosh took a handoff from Bennett, and then pulled up to find Adonai Mitchell in the end zone for an 18-yard touchdown.
Between Bennett and McIntosh, Georgia started the game 9-for-9 passing for 103 yards, including Bennett hitting George Pickens on a third down play. By the time Georgia started 4-for-4 on third down conversions, it appeared that it would be a long night for Michigan.
The two-touchdown lead for Georgia with less than 5 minutes left in the first quarter was by far the biggest deficit Michigan faced all season. Four points was previous largest deficit, which was the final margin of defeat against Michigan State.
Bennett's best throw might have come late in the first half with a 53-yard toss to Cook down the right sideline on third down and three.
The Mailman delivers a dime 🎯#CFBPlayoff pic.twitter.com/kGrKbLSUru

— ESPN College Football (@ESPNCFB) January 1, 2022
But then he took the top off with a 57-yard touchdown pass to Jermaine Burton to give Georgia a 27-3 lead with 1:38 remaining, which it took to halftime. That helped Bennett finish the first half with a passing line of 16-for-22 for 234 yards and 2 touchdowns. Bennett also had an impressive run of 20 yards.
Big plays helped Georgia build a big lead by late in the first half. Georgia had a play of 20 yards or more in all 4 drives to start the game, and the Bulldogs scored on all of them. The final possession of the first half was the only empty possession for Georgia by that point. Bennett's 16 completions and 234 yards in the first half were season highs.
With Jordan Davis smashing through the Michigan offensive line, and Nakobe Dean sprinting down running backs, Michigan couldn't get much going by halftime. Georgia held Michigan to just 29 rushing yards, and 2-for-7 on third down or fourth down as Georgia had 2 sacks and 4 tackles for a loss in the first half.