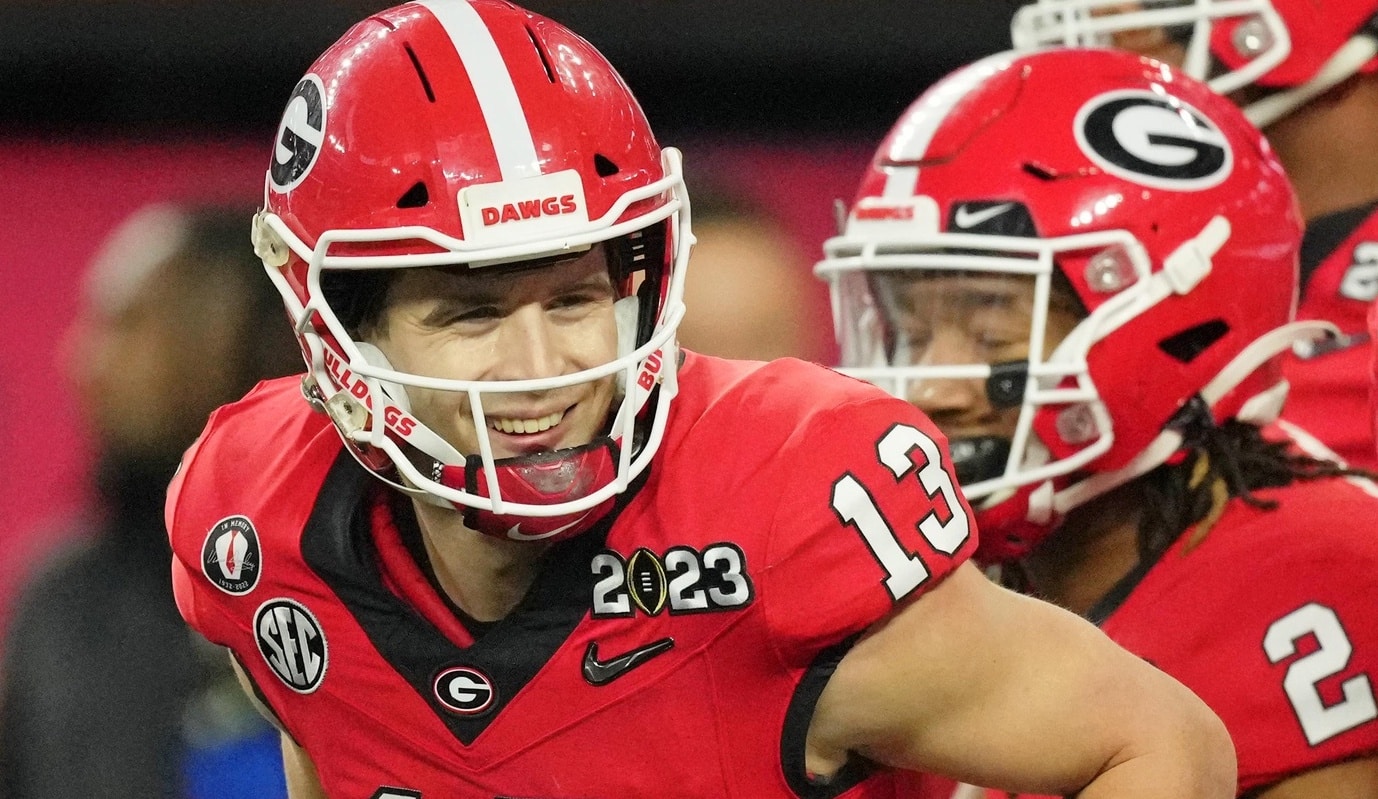 GEORGIA
Stetson Bennett IV haters: Take a walk and realize this dude is a college football legend
I feel for you, Stetson Bennett IV haters. Monday night wasn't for you.
In your ideal world, the final chapter of the Bennett story would've been a sad one. You would've fired off tweets about his height, brought up his Heisman Trophy credentials and cackled at the Georgia fans who defended No. 13 from Blackshear, Ga.
But of course, that's not how it went.
Instead, Bennett's story ended with him walking off the field at the 13:25 mark of the 4th quarter. With another national title under his belt, Bennett made his way over to Kirby Smart, who greeted him with a hug before he could reach the sideline. A curtain call with that much time left in a national championship wasn't what the anti-Bennett crowd hoped for, and it's safe to say the doubters had already turned on Netflix by the time he was greeted by Georgia fans at SoFi Stadium with literal bows.
You can't make this up. You can simply step back and appreciate it.
Even you, Bennett haters.
The man closed his career as a college football legend. Six total touchdowns. In a national championship. He joined Joe Burrow as the only player in the BCS/Playoff era to account for 6 total touchdowns in a game.
No, Bennett haters. Drop your weapons. I'm not about to say that Bennett was a better college quarterback than Joe Burrow. This isn't about that. This is about appreciating someone who, as Kirk Herbstreit said, might just be the most decorated quarterback of the Playoff era.
Even though Bennett won't be eligible for the College Football Hall of Fame because he was never named an All-American, there's no denying that he's one of the most decorated quarterbacks we've seen in the 21st century. He joined Matt Leinart and AJ McCarron among the quarterbacks who repeated as a national champ.
Give me Bennett over both guys.
Why?
Cover your eyes, Bennett haters. You're not gonna like this part.
This is the part where I point out the fact that Bennett played in 4 Playoff games and he earned Offensive MVP honors in all of them. Think that's just handed out to the quarterback by default? OK.
Entering tonight, Bennett had a quarterback rating of 185.97 against teams that were currently in the AP Top 25, and it was at least 180.0 in 6 of those 7 games. That was the best in America and 6th in the Playoff era. And again, that was before the whole 304-yard, 4-touchdown pass day from Bennett, which didn't even include the 2 rushing scores.
In the last 2 seasons, Bennett started against 11 teams that were ranked in the AP Top 25 at the time of the matchup. In those games, he:
A) Had a 28-3 TD-INT ratio
B) Averaged 10 yards/attempt
C) 8 games w/ multiple TDs and no INTs
D) 2 games with an INT
E) All the above
It's "E." It's always "E."
I know, I know. "Anybody can look elite throwing to Brock Bowers," Bennett haters would say. It's fair to say that Bennett has weapons. Most elite teams do. It's also fair to say that Bennett delivered darts to Bowers, Ladd McConkey and anybody else who was on the receiving end of one of his on-target passes.
Whatever Todd Monken dialed up, Bennett executed it to a T. The duo that Bennett admitted to the ESPN crew "was more a of a love-hate relationship" looked as in sync as one could've. There wasn't a rough 30-minute stretch from Bennett like we saw in the Peach Bowl. There was just dominance.
It's hard to fathom why there could still be Bennett skeptics. Fatigue? Heisman Trophy invite frustration? Limited NFL upside?
None of that matters. Bennett's résumé will go down as one of the greatest we've ever seen in the sport. On a night in which he moved past Aaron Murray for the all-time single-season Georgia record for passing yards on a season, Bennett quieted the "game manager" narrative 1 final time. The only Playoff game in which Bennett failed to have a quarterback rating of at least 187.0 was last year's championship, when he was perfect in the 4th quarter to come back against Nick Saban's defense.
He made it look easy. The poise, the post-touchdown smirks to the sideline, the "aw shucks" postgame attitude. It's not supposed to look this easy. "I was just trying to do my job and we ended up here," Bennett told Rece Davis on the postgame podium.
Bennett did more than his job. His job was originally to be the scout team quarterback to simulate Baker Mayfield ahead of the Rose Bowl (in case you forgot). Then it was to dig Georgia out of an offensive rut when D'Wan Mathis struggled in the 2020 opener against Arkansas.
Somewhere along the line, Bennett's job changed, whether he acknowledged it or not. He had to be historically great in order for Georgia to be historically great.
He was.
Bennett is the unquestioned best quarterback in Georgia history. The question now is whether he deserves to be remembered as the best player in Georgia history. Time will tell.
As Bennett soaked in the scene during his postgame interview with Holly Rowe, he had a hard time finding the words to process what he did. One thing Bennett did realize? Smart doesn't dial up curtain calls for everyone.
"That was special," Bennett said. "I'll remember that for the rest of my life."
Even the Bennett haters should've been able to agree on 1 thing by night's end.
That was special, alright.