GEORGIA
What's next? Severed finger leads to Mays family suing Georgia
The Georgia Bulldogs have been busy making headlines on Wednesday. Monty Rice and Jake Fromm both announced their decisions for the 2020 season. Offensive lineman Cade Mays is reportedly transferring to Tennessee. Now a story about Mays' father is making the rounds on Twitter.
On UGAsports.com, the Rivals' affiliate covering Georgia, a thread shows that the Mays family is suing Georgia and others over an incident that happened on a Cade recruiting visit in Athens. The thread is part of the site's pay subscriber forum, but Radi Nabulsi shared some of the highlights of the story on Twitter. Kevin Mays, Cade's father, had his right pinky partially amputated after it was caught in a folding chair which was wedged against a column at a Bulldogs athletic event. Sam Pittman, then-UGA offensive line coach and now the head coach at Arkansas, picked up the finger and put it on ice. The Mays family is suing UGA and the chair manufacture, screenshots of records posted by Nabulsi show.
Cade Mays ended up signing with UGA despite the incident. Records show the suit was filed on Dec. 5, but news of the suit was shared on the Rivals forum the same day that ESPN reported Cade is transferring to Tennessee.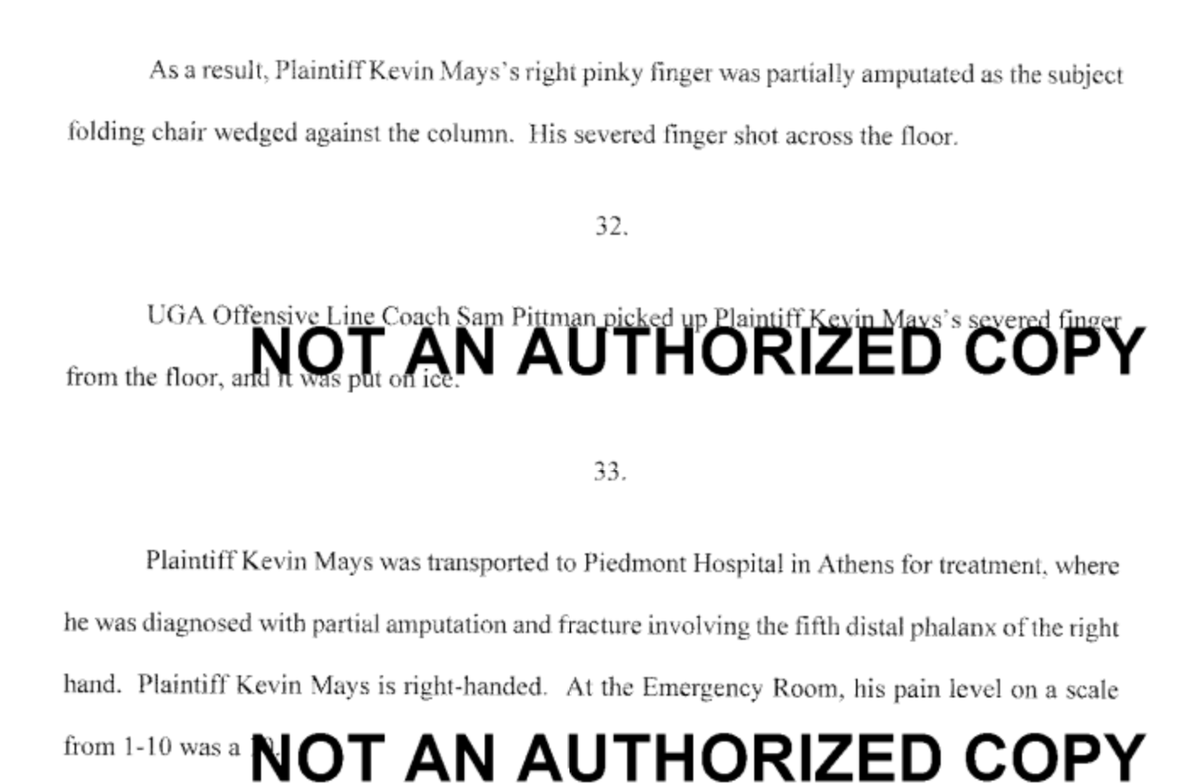 Happened on a recruiting visit before Cade enrolled. Still picked Georgia anyway. https://t.co/Yuscgg2wtR

— Radi Nabulsi (@RadiNabulsi) January 8, 2020