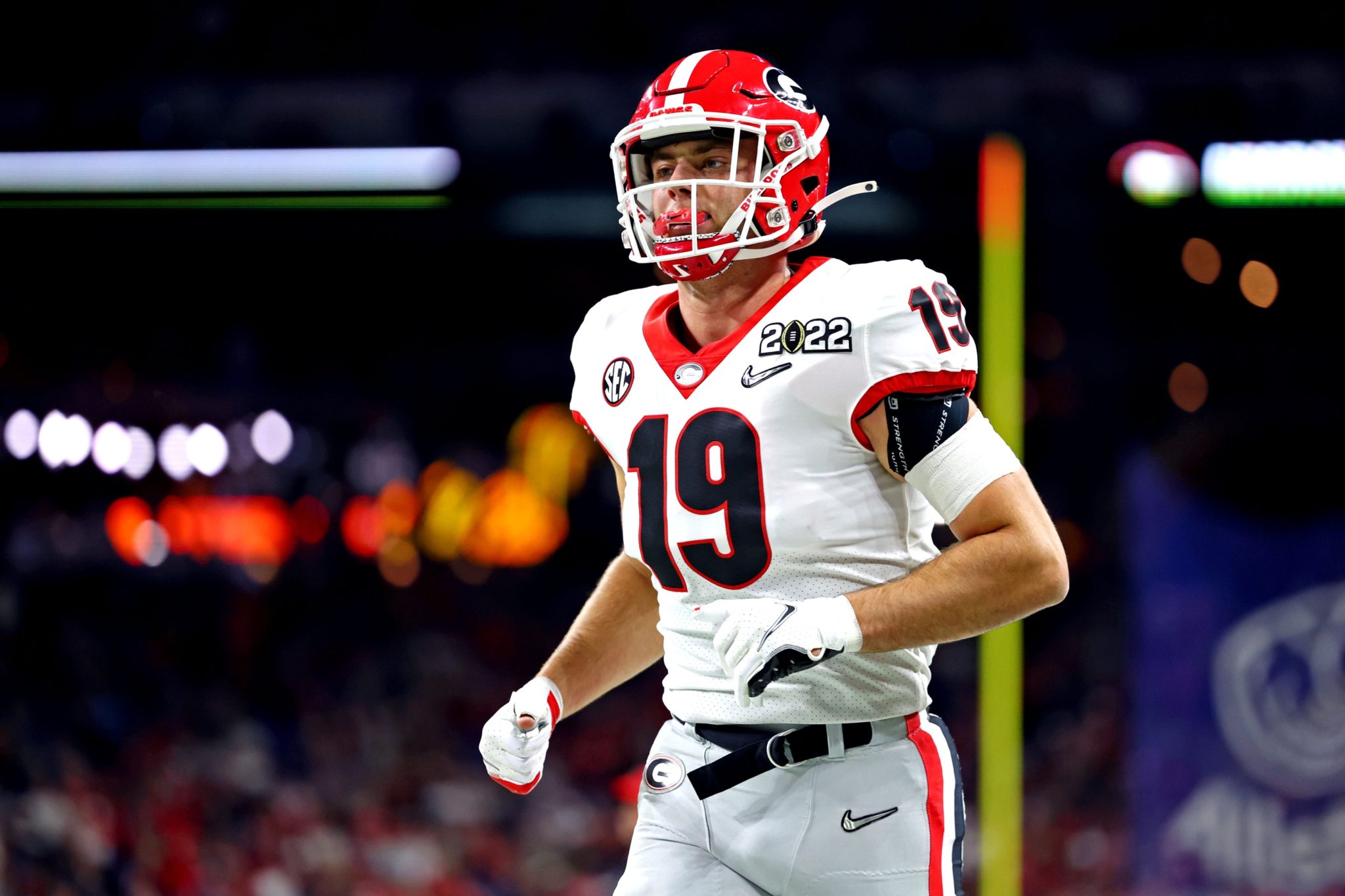 GEORGIA
Why I hope Brock Bowers can avoid what happened with Derek Stingley Jr.
Brock Bowers, Derek Stingley Jr. and Jalen Hurts.
If I had a podium reserved for the best SEC true freshmen in the Playoff era, that's who would be standing on it. Bowers put himself in that conversation after shattering Georgia receiving records and emerging as the best offensive player on a national championship team. Hurts was a Hunter Renfrow drop from doing that, while Stingley was the best defensive player on LSU's historic 2019 squad.
At the time when Stingley and Hurts set the world on fire during their true freshmen seasons, nobody could've predicted how their college careers played out. Hurts lost his starting job for good a year later at halftime of the College Football Playoff National Championship and ultimately transferred to Oklahoma after his junior season (where he bounced back and became a Heisman runner-up). Stingley played in just 10 more college games and ultimately never intercepted another pass in an injury-plagued 2 seasons in Baton Rouge.
For the sake of today's argument, let's focus on the Stingley-Bowers comp. Bowers' meteoric rise put himself in the same conversation as 2019 Stingley. Fingers crossed that Bowers' next 2 years follows a different path from the former LSU star.
Call me crazy, but it'd be nice to see Bowers play more than just 10 college games before heading off to the NFL.
That's not a shot at Stingley. He had physical issues and he worked through off-the-field issues in 2020. Stingley is likely about to become a top-5 pick en route to a long, productive NFL career. If Bowers does just that, kudos to him.
But it'd be a real shame if Bowers' college peak happened as a true freshman.
Obviously there are factors outside of his control that could contribute to that. If he doesn't stay healthy playing an extremely physical position in the SEC with bracket coverage for the rest of his career, surely that's not a sign he regressed. There are other things that can get in Bowers' way from becoming a truly special player in college football.
Ah, let me rephrase that. There are other things that can get in Bowers' way from continuing to be someone who Nick Saban called "one of the premier players in college football."
Bowers is the guy who was praised for his work ethic throughout the offseason. That's why Georgia coaches compared him to NFL All-Pro tight end George Kittle. And in many ways, it's fitting that the physical freak from wine country was likened to the San Francisco star. Bowers runs through tacklers in extremely Kittle-like fashion:
George Kittle literally dragging The Saints will forever be legendary 😤💪🏽 | #49ers #SFVsNO #FTTB pic.twitter.com/hQP0OhB1wz

— OurSF49ers (@OurSf49ers) November 10, 2020
Brock Bowers has 6 touchdowns in his last 4 games.

Only 4 other Power 5 TEs had more than 6 touchdowns all season.

TBD on human status.pic.twitter.com/MPZFlJWvl2

— Connor O'Gara (@cjogara) January 4, 2022
Bowers already did Kittle-like things as a 19-year-old true freshman. Besides being a 1-man wrecking crew with the ball, Bowers was also PFF's No. 13 Power 5 tight end in terms of run-blocking grade (he was also the highest-graded Power 5 tight end overall). Even 2020 Kyle Pitts wasn't ever on that level as a run-blocker. All signs point to Bowers being a matchup nightmare who terrorizes defenses in a variety of ways for the next 2 years.
So why the cause for concern?
A year ago, I compiled a list of the SEC's top 10 true freshmen of the previous 5 years (2016-20). Here's what that list looked like when it was compiled in early 2021:
Derek Stingley, 2019 LSU
Jalen Hurts, 2016 Alabama
Jake Fromm, 2017 Georgia
Jaylen Waddle, 2018 Alabama
Benny Snell, 2016 Kentucky
Treyveon Williams (A&M) and Damarea Crockett (Mizzou), 2016
Will Anderson, 2020 Alabama
Jonah Williams, 2016 Alabama
Tank Bigsby, 2020 Auburn
John Rhys Plumlee, 2019 Ole Miss
You'll notice a bit of a trend there. The top 3 guys didn't ascend into superstardom at their respective schools. Sure, guys like Waddle, Snell and Anderson all did. But that should serve as a reminder that nothing is guaranteed with true freshman success in the SEC.
We often expect these things to be linear when in reality, that's not always the case for 18-22 year-old athletes. Bowers may or not be a human being — that's a running Twitter joke for those of you following along — but there's no telling how he'll handle being a household name. In the NIL era, he's now got everyone and their mother trying to get after him. It's a little different than going into camp as the third-string tight end that nobody outside of Georgia had heard of.
Bowers is about to enter a new stratosphere of fame. Much like we picked apart Stingley for some of his shortcomings with open-field tackles in 2020, Bowers is about to get dissected in a totally new way. Every drop, every missed block, every quiet day in the passing game will be critiqued. Fair or not, that's the standard he set for himself.
In a perfect world, college football fans would see Bowers redefine the position in the next 2 years. It'd be one thing if Bowers just completed a pre-draft season like what he had. He'd just be regarded as another elite tight end prospect. But he's in position to become the first tight end to ever deliver a 3-year career at an All-American level.
Whether he knows it or not, Bowers already raised the bar for all true freshman tight ends. He made it look easy at a position that's anything but that. It only sped up the offseason hype train that he had 26 catches for 366 yards and 7 touchdowns in his final 5 games en route to a national title.
What's next for Bowers remains to be seen. For all we know, his college peak already happened. Maybe it was running through half of Alabama's defense into the end zone in the SEC Championship. Perhaps his most memorable play will actually be the 4th quarter touchdown he had in the rematch. We don't know.
What I do know is that I get bummed thinking about how Stingley's career played out after his All-American season as a true freshman. It's not everyday we see immediate greatness like that.
Bowers showed the college football world immediate greatness. Fingers crossed that he's got plenty more left to show in the next 2 years.