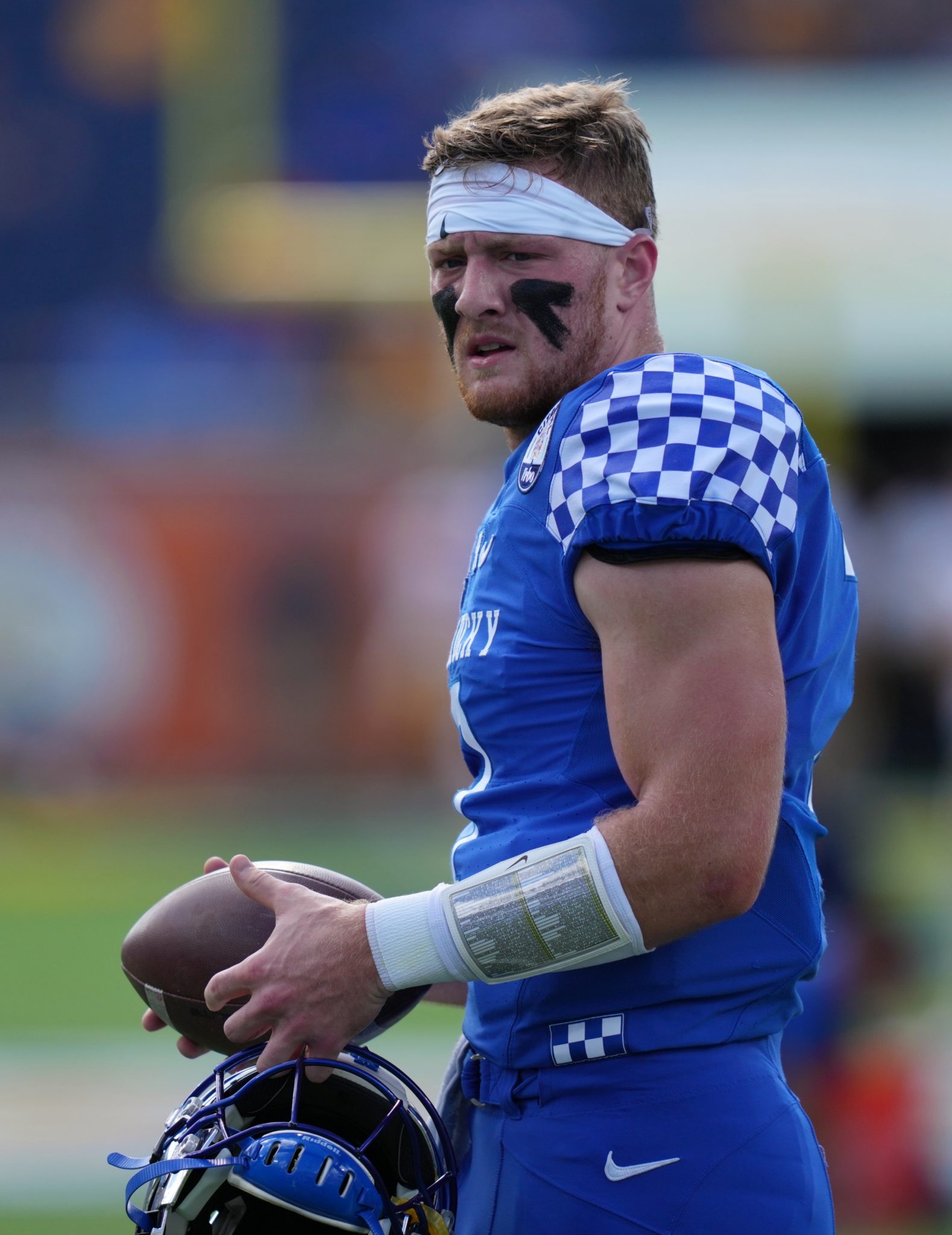 KENTUCKY
Better or worse? Previewing Kentucky's offense in 2022
It's a good time for Kentucky football. Mark Stoops' 'Cats won 10 games last year, making a pair of 10-win seasons in 4 years. The last time Kentucky did that? Never. Stoops has built a fearsome program on the backs of under-the-radar recruiting, individual player developments and staff continuity. But now he has an ingredient he's never had at Kentucky — a starring returning QB.
Penn State transfer Will Levis claimed Kentucky's QB job in fall camp last year and was excellent, if sometimes uneven, in Kentucky's 10-win season. Levis passed for 2,812 yards and 24 touchdowns and added 376 yards and 9 more touchdowns on the ground. His decision to return to Lexington means that Kentucky expects big things from its offense in 2022 — maybe not Hal Mumme-Mike Leach Air Raid big things (1997 and 1998) or Rich Brooks-Andre Woodson type things (2006 and 2007), but more of the kind of things that keep 10-win seasons happening.
Kentucky averaged 32.3 points per game last season — the first time they averaged more than 30 since the 2010 offense averaged 31.2.
Kentucky did lose star wideout Wan'Dale Robinson, who rewrote the UK record book in his only season as a Wildcat (104 catches, 1,348 yards). The Wildcats also will have to break in a pair of new tackles, which could be more adventurous than they'd like. Another X-factor is rumblings about the status of running back Chris Rodriguez after an offseason DUI arrest and rumors of other troubles.
But Kentucky returns an All-SEC level quarterback, a veteran and talented running back group (particularly if Rodriguez is part of it), and a solid corps of promising receivers, led by another veteran transfer to help fill Robinson's rather large shoes. There's optimism for Kentucky football, and that's been fairly rare historically.
How will it shake out on offense? Let's take a look.
Passing game: Better
After years of ground-and-pound offense, Kentucky implemented an actual passing attack under now-L.A. Rams offensive coordinator Liam Coen. The good news is that even with Coen's exit, this trend figures to continue.
Yes, Wan'Dale Robinson will be tearing up NFL defenses rather than SEC defenses. Yes, Kentucky has to establish a couple of new tackles who can keep Levis upright and in one piece. But Levis drastically improved down the stretch of Kentucky's season, getting more comfortable as he gained starting experience. After throwing for 14 touchdowns and 9 interceptions in UK's first 7 games, in the last 5, Levis passed for 10 touchdowns against just 4 interceptions, and he also rushed for 6 of his 9 scores. His arm talent, leadership and developing decision-making mark Levis as a future star — possibly even a 1st-round draft pick next April. If he's healthy, he will easily become UK's first 3,000-yard passer since 2010.
Wan'Dale Robinson will be missed, but the new top dog, Tayvion Robinson, has all the skills to shine. Robinson was Virginia Tech's top receiver but elected to transfer to the Wildcats. Expecting 100 catches and 1,300 yards might be a bit much, but he could well put up, say, 75% of Wan'Dale's productivity.
Meanwhile, he'll be helped by a cast of developing young players. True freshman Dane Key shone in Kentucky's spring game and has earned praise from new offensive coordinator Rich Scangarello. Barrion Brown, a 4-star recruit, is too good to sit. Returnee DeMarcus Harris has shown good hands.
Tight end Keaton Upshaw also returns, and given his red-zone success early in his career, he could be a big part of this offense after missing the 2021 season with an injury. Izayah Cummings was a wide receiver who shifted to tight end midseason and showed significant skills in space. Brendan Bates is a physical catch or block type, and Jordan Dingle might have the best long-term future of any of this talented group.
Look for Kentucky to use a lot of 2 tight end packages and to feed Robinson inside and the young playmakers on the edge. As long as Levis is healthy, this group can top the 2021 numbers (224 yards per game).
Running game: Slightly worse
On the other hand, Kentucky's ground attack has almost nowhere to go but down. On recent UK teams where the passing game was either non-existent or less than dangerous, the ground game had to save the day. Largely, it did.
But the death of offensive line coach John Schlarman led to his one-year replacement by Eric Wolford, who was a polarizing presence in Lexington. Wolford left for Alabama and has been replaced by San Fransisco 49ers coach George Yenser, which makes him the 3rd offensive line coach in 3 seasons. That group, as noted above, will be looking to plug in a couple of new tackles, which is always a challenge.
The wild card here is Rodriguez, who enters the season with an excellent mathematical shot to eclipse Benny Snell as the program's all-time leading rusher. But that assumes that he's on the field. Rodriguez was arrested for DUI last month, and since that time, the rumor mill has been cranking, indicating that he has other issues hanging over his head. Noted Kentucky insider Matt Jones has reported that Rodriguez's status for 2022 is uncertain. While some around the program have back-pedaled, there's still something going on to be sorted out before the 2022 season.
Rodriguez rushed for 1,379 yards and 9 touchdowns last year. If he's out for some or all of the season, the other backs will become pivotal. Kavosiey Smoke has seen his role decrease, but the veteran does have a history of explosive runs and has posted over 1,300 rushing yards in his UK career. JuTahn McClain, who missed time early in the season after an off-field incident, was increasingly featured as a 3rd-down back. He rushed for 165 yards on 34 carries, and the staff still seems to like his versatility. Freshman La'Vell Wright seems to have the wiggle on the edge that the UK staff prize, and he'll likely see some time in 2022.
Overall, Kentucky rushed for 199.5 yards per game last year and had 5.23 yards per carry. Those numbers were down slightly from previous seasons, as UK led the SEC in rushing in 2019 and was just 14 yards off the lead in the 2020 all-SEC season. Kentucky's 38.2 rushing attempts per game were 4th-highest in the SEC, and with the experience of Levis, that number could drop to around 35 carries. If Rodriguez is out or the tackle situation is a problem, those numbers could fall even farther. But pencil in UK for 35 carries, 175 yards per game, and a greater reliance on the passing game.
Special teams: Better
Matt Ruffolo is back for another season, and he's a very adequate option at kicker (10-for-13 in 2021 on field goals), albeit without the kind of rocket leg that some now expect. Chance Poore might take a crack at long field goals, if needed. Except for a painful 2019 loss to Florida, Kentucky hasn't been impacted by missed kicks in close games, which is probably the goal as much as any other.
Stoops has tended to use walk-ons in the return game, not wanting to risk injuries to star players on special teams. But given the number of speedy options, it would be a surprise to see him not cut one of UK's blazers loose in 2022.
The results will likely be better than last season's 16.7 yards per kickoff return. Josh Ali did return a punt for a touchdown in 2021, but it wouldn't be surprising for UK's speedier receivers to equal or best that mark as well.
Overall: Better (with C-Rod?)
In the grand scheme of things, there are plenty of reasons to expect UK's passing game to continue making significant improvement. Levis gives Kentucky its strongest returning QB in at least a decade, and while the No. 1 receiver won't equal Wan'Dale, Kentucky should have a better group of capable receivers than at any time since at least 2010. Last season also saw Kentucky finally reaping some benefits of offensive balance. After several years of having a limited passing game or no real passing game, the threat of the pass helped Kentucky out almost as much as the actual passing game.
But … Chris Rodriguez matters.
Yes, Kentucky has depth behind him. But improvement is largely based around having one of the SEC's top returning running backs. The continued smoke around Rodriguez's situation for 2022 is deeply concerning. In the aggregate, Kentucky's other backs can probably match Rodriguez in rushing yardage. But Kentucky's best teams under Stoops have had the luxury of that strong physical back who can turn 3rd-and-2s into 1st-and-10s. Nobody else in Kentucky's running back room has shown that ability.
If 3rd-and-2 starts turning into 4th-and-3, Levis has to carry an awfully big portion of the offensive load. If Rodriguez is available for most or all of the season, Kentucky will be better offensively. If he's not, then the season will largely hinge on how well Kentucky can replace him. And in that situation, the preliminary forecast would go from better to slightly worse.