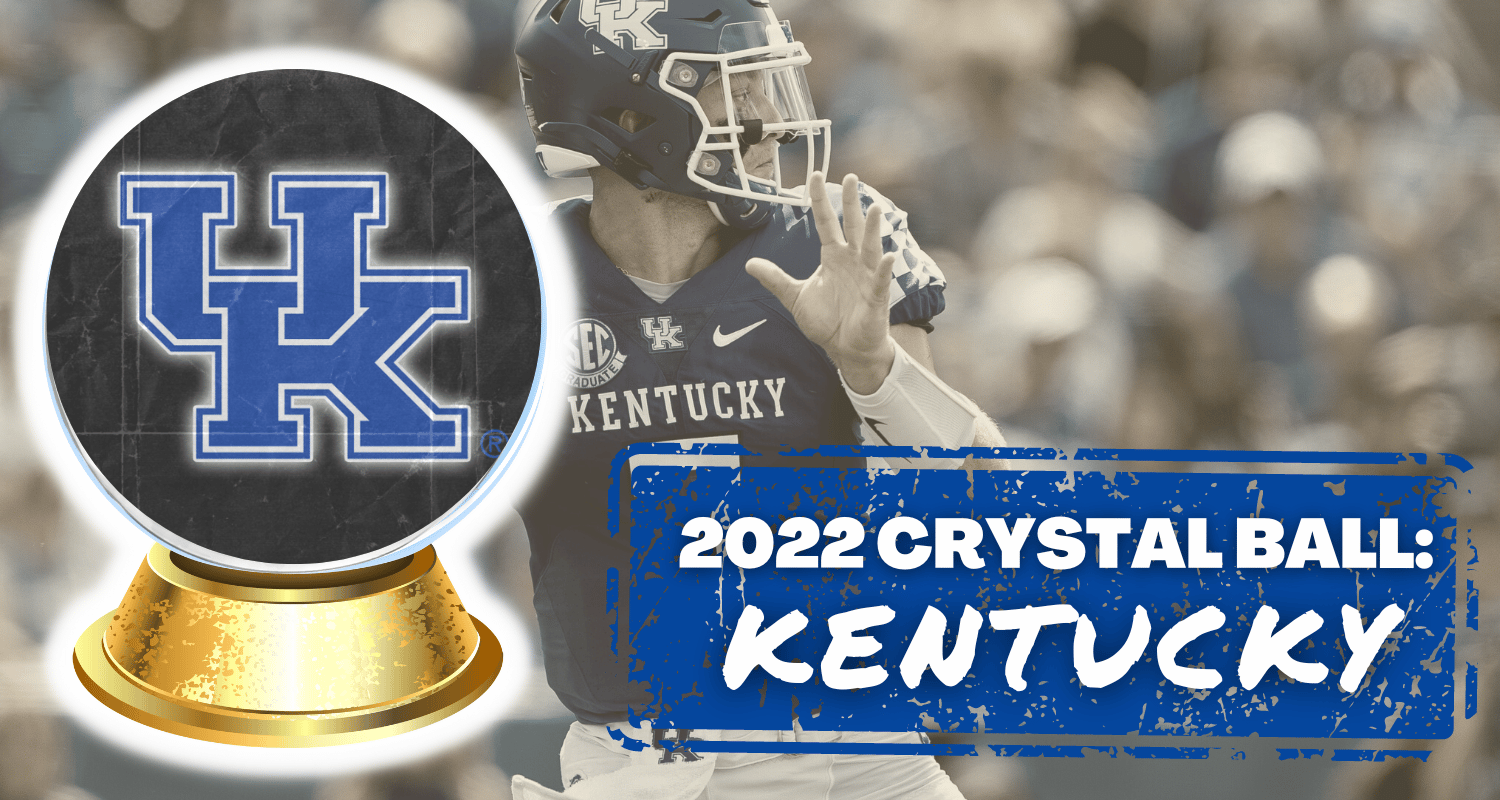 KENTUCKY
The SDS Crystal Ball: Predicting every game for Kentucky football in 2022
Editor's note: Saturday Down South's annual Crystal Ball series continues today with Kentucky. Last week, we predicted every game for every SEC West team. This week, we'll predict every game for every SEC East team.
So you thought 2018 was it?
If there was a feeling that 2018 was Kentucky's peak that would never be reached again, well, 2021 put that theory to bed. A historic 6-0 start included wins vs. Florida, LSU and top-15 Iowa. Sure, Iowa was the only team that Kentucky beat who finished in the AP Top 25, and Florida and LSU both fired their coaches during the season.
But a 10-win season was plenty memorable. A winning record in SEC play to Kentucky was once the football to Charlie Brown's right foot. Now, it's happening more often in Lexington than presidential elections. This ain't your dad's Kentucky. It's not even your older brother's Kentucky.
The question now isn't about what type of program Mark Stoops has heading into Year 10 in the SEC. It's about what it looks like with that foundation as firm as ever. Does that mean a trip to Atlanta is in store? Or does that just mean 8 wins is a safe bet?
We don't know yet. Here's what we do know about Kentucky in 2022:
The Will Levis hype train already left the station
Buddy, did it ever. After a solid, but not earth-shattering first year in Lexington, the Penn State transfer made headlines in May by showing up all over the way-too-early mock drafts for 2023. Time will tell if Levis is worthy of being 1 of the first 32 players selected in the NFL Draft. Levis did receive third-team All-SEC recognition ahead of the 2022 season.
What Levis is vs. what he could become are 2 different things. Last year, he was a fearless, strong-armed but sometimes mistake-prone quarterback who got better as the season progressed. The summer enrollee took control of the locker room and proved to be durable by finishing as 1 of 5 SEC quarterbacks to start all of their team's games in 2021. He had the best season by a Kentucky quarterback since Andre Woodson in 2007.
So what will Levis become? Well, he showed off his cannon for an arm last year. The problem was his downfield accuracy. As much of a success as Kentucky's offensive overhaul was with Liam Coen, Levis had as many completions of 30-plus yards as Emory Jones and Connor Bazelak. On passes of 40 yards, Levis only had 8 such completions, which was No. 9 in the SEC.
The downfield ability is there. The accuracy isn't yet. Maybe it will be with more familiarity in the offense, which also got a slight tweak with Coen's return to the Los Angeles Rams. Rich Scangarello came from the Sean McVay/Kyle Shanahan tree by way of the San Francisco 49ers, so one would expect the transition shouldn't be drastic.
Levis did lose Wan'Dale Robinson, who set Kentucky records for single-season receptions and receiving yards. Virginia Tech transfer Tayvion Robinson is expected to step into those big shoes, though obviously it's no guarantee that the veteran wideout will be quite the threat of his predecessor.
Losing Josh Ali and offensive line anchor Darian Kinnard will be significant, as well. Levis is the unquestioned leader of a Kentucky offense with some key questions to answer that go beyond whether he can live up to his lofty preseason billing.
Speaking of that …
The Chris Rodriguez situation
It's assumed that the All-SEC tailback will miss multiple games with a suspension stemming from a DUI arrest and another issue, according to Kentucky Sports Radio's Matt Jones. That would mean the Wildcats are without their best offensive player for the Florida game, which comes in Week 2. If Kentucky is without Rodriguez for games against Youngstown State (Week 3) and Northern Illinois (Week 4), that might not carry the same significance.
Two things can be true at the same time. One is that even though Rodriguez worked through some uncharacteristic fumbling issues, he's still immensely valuable as a workhorse, 3-down back. His yards after contact since 2020 is best in the SEC (via PFF) and his strides in the passing game could allow him to become even more important in 2022.
But it's possible that Kentucky doesn't skip a beat without Rodriguez. The Cats planned for Rodriguez's potential absence by being active in the transfer portal. That included adding third-team FCS All-American Ramon Jefferson from Sam Houston State, as well as the quiet addition of Tennessee's Dee Beckwith. That, along with 5th year senior Kavosiey Smoke, should be enough to keep the ground game afloat.
Even if Levis takes that next step, Kentucky still wants to have balance while utilizing the play-action passing game. If Kentucky gets through a Rodriguez-less stretch unbeaten and then adds him with fresh legs, it could be a huge boost to overcome a midseason lull.
Is a vintage Mark Stoops defense on the way?
It depends on your definition of "vintage." If that means simply producing a top-30 unit, sure, vintage is in the cards. That's what Stoops did 3 out of the last 4 seasons. If recreating the Josh Allen-led 2018 group is "vintage," that would mean a top-10 group who consistently does the heavy lifting.
I wouldn't say the latter is quite as likely, though I do love a returning group of front-7 players that includes Deandre Square, Jacquez Jones and JJ Weaver. The Cats should be good up front, especially if Justin Rogers takes that next step in the middle of a young interior defensive line. Kentucky can again have a top-20 run defense even if none of those guys blossom into first-team All-SEC players.
The question Stoops and Co. need to answer is on the back end. In their 3 losses in 2021, Kentucky got picked apart in the passing game. In those 3 games, Georgia, MSU and Tennessee had a combined 14 incompletions. Stetson Bennett and Will Rogers might've been more successful on the underneath routes, but Hendon Hooker had 4 completions of 30 yards on a night in which he averaged 15.8 yards per attempt in a 45-42 win.
What does that mean? Stoops needed more guys who could cover and stop the bleeding in those spots. That's why he went out post-spring and got safety Zion Childress from Texas State, as well as safety Londyn Craft from Mississippi State and Ole Miss corner Keidron Smith. All having starting experience and should help Kentucky have more depth in the defensive backfield, which was 1/2 of the reason why Kentucky came just short of reaching a New Year's 6 Bowl.
The Cats won 10 games despite being ranked No. 125 in turnover margin. That needs to turn around if UK is going to have any chance of delivering a "vintage" Stoops defense.
Game-by-game predictions
Week 1: vs. Miami of Ohio (W)
Kentucky's last loss to a non-SEC team was in the 2017 Music City Bowl when Benny Snell got ejected for nothing. No, I don't see that streak coming to an end against a MAC team coming off a 6-6 regular season.
Week 2: at Florida (W)
It's been 45 years since Kentucky beat Florida in consecutive years. In 2022, that's exactly what happens. Why? And how could Florida start 0-2 in The Swamp when it hasn't lost consecutive home games in 5 years? Unlike last year when a blocked field goal was the difference to bail out an otherwise ineffective Kentucky passing game, this time, Levis rises to the occasion without Rodriguez. Two rushing scores and 2 passing scores (1 to true freshman Dane Key) put Florida in an early hole that it can't quite dig itself out of. Childress picks off an Anthony Richardson pass late to halt Florida's comeback attempt.
Week 3: vs. Youngstown State (W)
Stoops might always have a soft spot for his hometown, but not between the lines. Cats roll.
Week 4: vs. Northern Illinois (W)
That's a tricky spot. Northern Illinois is coming off a MAC Championship season and the Huskies rank No. 8 in FBS in percentage of returning production. If Kentucky is asleep at the wheel or perhaps not shifting in the right gear ahead of the road game against Ole Miss, this could be an upset spot. I'm still gonna bank on that Kentucky offensive line taking care of business and preventing this from having a 2021 Chattanooga-type vibe to it.
Week 5: at Ole Miss (L)
This game has sneaky shootout potential. A Kentucky front with questions post-Josh Paschal could struggle to slow down the Ole Miss ground game. Alternatively, Levis is capable of making Ole Miss pay for not consistently pressuring him. This battle of 10-win teams is loaded with twists and turns. Both teams turn the ball over, both teams take a second-half lead and both teams have a chance to win late. But Jonathan Mingo slips through the Kentucky defense to set up a goal-line score that ultimately keeps Ole Miss perfect to start 2022.
Week 6: vs. South Carolina (W)
After Stoops' "culture vs. climate" reference, it's safe to say this one will have a little bit of extra juice. It's no secret that the UK coach has taken great satisfaction in beating South Carolina over the years. Of course, things are different now with Shane Beamer than the previous regime, so saying that Kentucky will win simply because Stoops is 7-2 against the Gamecocks isn't enough. What does feel significant is that South Carolina is unproven in true road games. Kentucky wins the battle in the trenches in Lexington to assert itself in the top half of the SEC East.
Week 7: vs. Mississippi State (W)
MSU hasn't won at Lexington since Dak Prescott was leading No. 1 MSU in 2014. It's been a minute. That's actually the last time that the road team won this matchup. Unlike last year when Kentucky looked totally overmatched against Will Rogers and the Air Raid, this time, it's Levis who steals the show late. Instead of forcing throws, he turns to his legs to keep drives alive. Kentucky controls the clock with the ground game and doesn't allow MSU to get in a rhythm like it did last year.
Week 8: Bye
Week 9: at Tennessee (L)
This is a measuring stick game for Kentucky's defense after the Vols gashed them at will in Lexington last year. The battle for East runner-up honors follows a similar game script. Both quarterbacks put up video game numbers in what turns out to be a 2021 Arkansas-Ole Miss replay. But instead of a 2-point conversion that comes up short, Levis picks on Ohio State transfer Andre Turrentine, who makes his biggest play as a Vol with a game-ceiling interception. Kentucky's bid to avenge last year's shootout in Lexington comes up short.
Week 10: at Mizzou (L)
Wait, what? Yep. Eli Drinkwitz always has at least 1 Toby Keith game. It's his "how do you like me now?" game. It's always at home as an underdog, and it's always late in the season. That comes in a sleepy noon game against Kentucky. A week after the Kentucky offense clicked on all cylinders, it struggles to string together scoring drives. Luther Burden's breakout moment comes by way of a 50-50 ball that he snatches for a long touchdown to put Kentucky on upset alert. Just like in UK's loss to the Vols, the comeback bid comes up short. Drinkwitz earns his best win of 2022.
Week 11: vs. Vanderbilt (W)
Will Vandy help UK stop the bleeding? Definitely. Kentucky gets a much-needed home exhale after a pair of road losses. Clark Lea's defense can't find answers for the Robinson-Key combination, and Mike Wright spends the afternoon operating from a multi-score deficit. Kentucky takes a couple of frustrating weeks out on Vandy.
Week 12: vs. Georgia (L)
It might not be an SEC East title game like it was in Lexington in 2018, but unfortunately for the Cats, the result will be the same. A year after Levis' pinpoint accuracy was on display in Athens, he gets greedy. A Christopher Smith interception kills some early UK momentum and UGA enters the break somehow with a touchdown lead after being outplayed for most of the first half. That balloons when the Stetson Bennett-AD Mitchell connection gets cooking down the stretch. Two weeks removed from Hendon Hooker running and throwing all over UGA, the Dawgs shut down Levis and walk out of Lexington having clinched the East title for the 5th time in 6 years.
Week 13: vs. Louisville (W)
Do I think Levis wants to go out with 1 more trouncing of Louisville? Absolutely. A hero's sendoff for Levis results in another blowout victory against the Cards.
2022 projection: 8-4 (4-4), 3rd in SEC East
#BBN
If that's a disappointing projection, think about this, Kentucky fans. That would mean a 5-year stretch from 2018-22 in which Kentucky went 41-21. That's a winning percentage of 0.661. When was the last 5-year stretch in which Kentucky boasted a better winning percentage than that, you ask?
That was 1950-54, 4 of those years were coached by a certain Paul "Bear" Bryant. And again, that's just for an 8-win season. That's how you know that Stoops is in rare air. Nick Saban and Kirby Smart are the only other SEC coaches who can boast about a historic 5-year stretch for their respective programs. Don't take that for granted.
So what if 2022 doesn't end with a regular season trip to Atlanta and it's instead a Florida bowl berth for the 3rd time in that 5-year stretch? Consider where Kentucky was a decade ago. That is, the worst program in the SEC. Even Vandy was in better shape than Kentucky.
For all I know, Stoops' Year 10 will be historic once again, and not just because he's 2 wins away from passing Bryant on the program's all-time wins list. Maybe it'll include Levis having an All-SEC season and leading a top-20 offense. Perhaps the Cats will have a season worthy of a New Year's 6 Bowl. Or maybe, just maybe, Kentucky will catch Georgia at the right time and steal the East for the first time since divisions became a thing.
Whatever the case, there's more than hope in Lexington. The fact that projecting an 8-4 season for Kentucky will be perceived as "disrespectful" tells you everything you need to know.