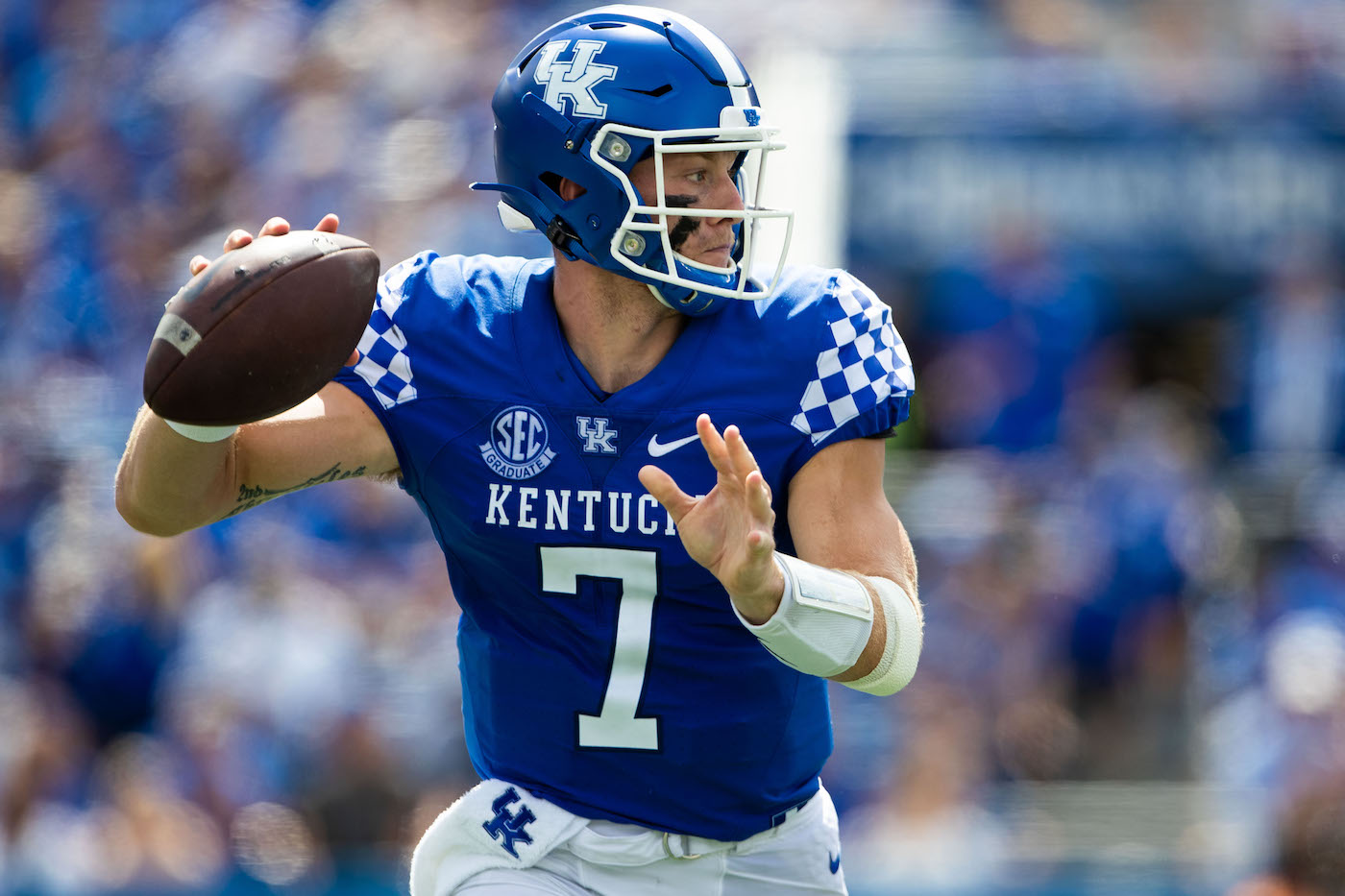 KENTUCKY
Kentucky football: 5 biggest takeaways from Blue & White spring game
For the first time since 2019, Kentucky had a spring game. That said, it was an offense/defense format, rather than 1st team vs. 2nd team, or Blue vs. White, so like the old TV show Whose Line Is It Anyway?, the points didn't really matter. The performance was real, though, even if UK was stuck playing in a mostly empty stadium a couple hours after a snowstorm ripped through the area. Here are 5 biggest takeaways from the spring game.
1. Tayvion Robinson and Dane Key were impressive
One of the biggest questions heading into spring was who would fill the ample shoes of Wan'Dale Robinson in making Kentucky's passing attack go. Two likely candidates showed some impressive skills Saturday. Tayvion Robinson showed some significant shake-and-bake ability in the middle of the field. The Virginia Tech transfer looked every bit the wily veteran and seems to have good chemistry with Will Levis. Meanwhile, Key, the wiry early-enrollee freshman, grabbed several passes, including a 22-yard scoring dart over the middle from Levis in which Key left UK's Tyrell Ajian looking like he was on roller skates. However UK's wide receiver rotation ends up, Robinson and Key certainly look like significant parts of that group.
2. No clear leader at QB behind Levis
Will Levis looked like the comfortable veteran that he is, running the offense without an ounce of difficulty. But the QB battle behind him remained uncertain. There was little distinction between 2-year veteran Beau Allen, redshirt sophomore Kaiya Sheron and Iowa transfer Deuce Hogan. It'll be interesting to see who emerges in the fall as Levis' primary backup.
3. Scangarello seems to have UK rolling
With the loss of offensive coordinator Liam Coen back to the LA Rams, there was some concern about the late hire of former 49er assistant Rich Scangarello. Admittedly, it's hard to judge from a game where the QB didn't take live hits and running back Chris Rodriguez played briefly. But Scangarello seemed to balance the run and pass effectively, even with reserve running back Michael Drennen seeing most of the rushing attempts. Obviously, live defenses, particularly SEC ones, will be a more interesting test than an intra-squad scrimmage, but the early reviews for the new OC are positive.
4. Jordan Lovett could be an impact player
Kentucky's secondary has been an area of concern, with the loss of several significant contributors to graduation or, in the case of Vito Tisdale, injury. With no hits on the quarterback and some relatively vanilla defensive play-calling, this game didn't offer a ton of opportunity for defensive backs to shine, but sophomore Jordan Lovett showed a nose for the ball. Lovett did a nice job in coverage, deflecting a 4th-down pass at the goal line in one series. The in-state product looked like he might play his way into increasing action in 2022.
5. Kicking was a little disconcerting
Special teams play was limited to unrushed field goal attempts. But in some ways, that made it more disconcerting that veteran Matt Ruffolo did not have a great day. The 52-yard field goal attempt that sailed right was understanable, particularly on a very breezy afternoon. But the shanked extra point is a little different. Kentucky is always going to play a fair number of close games. Ruffolo doesn't have to be out there nailing 60-yard kicks … but UK needs him to be dependable.