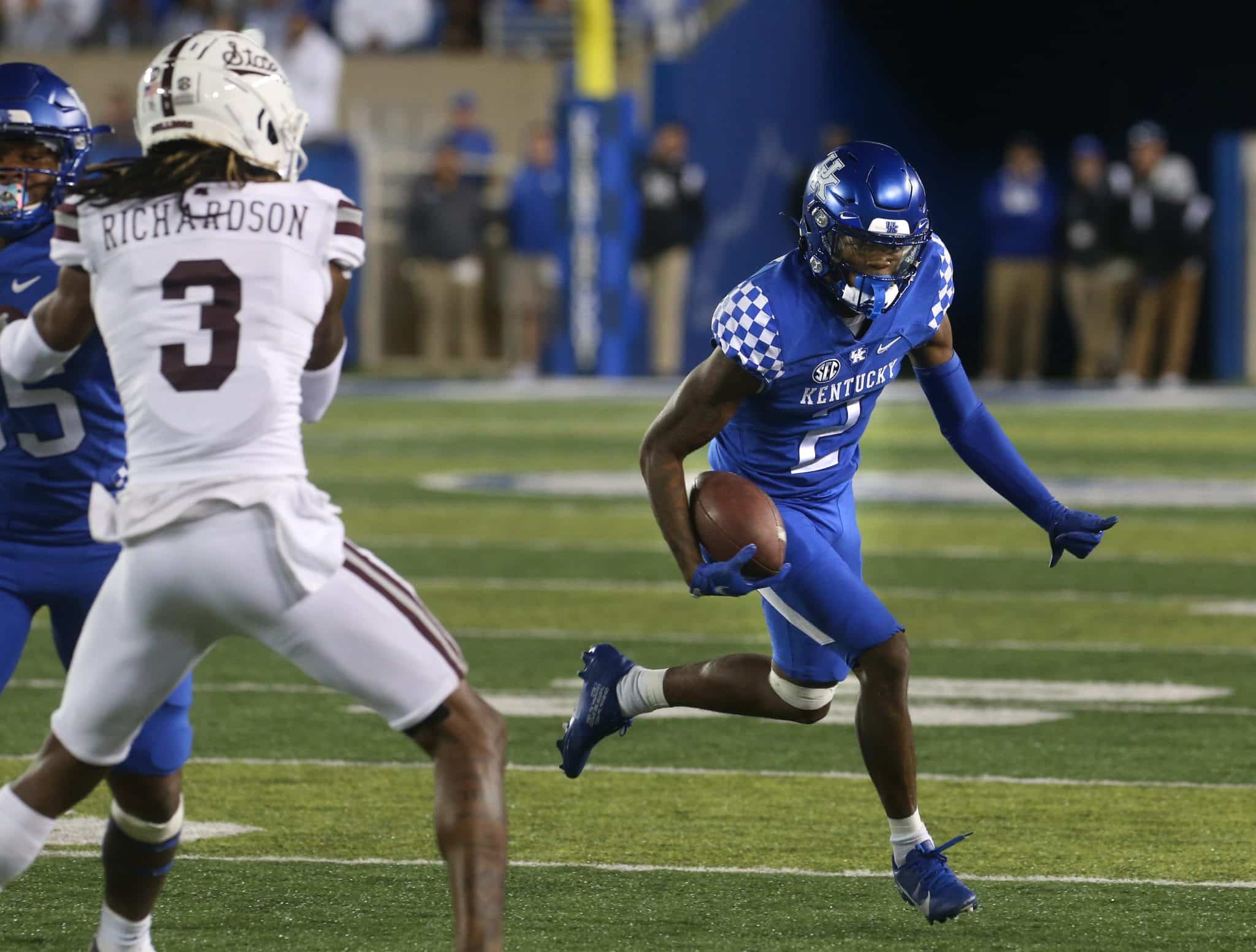 KENTUCKY
Kentucky football: Top 7 'Cats from UK's first 7 games of 2022
Kentucky hasn't made it look easy, necessarily, but the Wildcats hit midseason at 5-2, en route to what will almost certainly be another bowl season.
Kentucky's offense has been a hit-and-miss proposition, but the Wildcats defense has been the team's bedrock.
With Kentucky headed for a bye week, it's time to look back on the first 7 games and name our top 7 Wildcats of the season to date. And, yes, a list like this is necessarily incomplete and inevitably somebody great gets left off.
A few guys who could have been on the list but weren't include Keidron Smith, Deone Walker, Jacquez Jones (who has been great but has now missed 2 games) and Dane Key, who could end up being UK's leading receiver. Any or all could be on this list after the next 5 games.
But, for now, UK's top 7 players of 2022 are:
7. Chris Rodriguez, RB
Rodriguez missed Kentucky's first 4 games of the season, but he's hit the ground running, naturally. In 3 games, C-Rod has 395 rushing yards and 3 touchdowns. He surpassed 3,000 career rushing yards in the Mississippi State game, and although Benny Snell's record 3,873 yards might be out of reach, Rodriguez's place within Kentucky football is certainly secure.
6. Tayvion Robinson, WR
A smooth all-around athlete, Robinson has caught 25 passes for 392 yards and 3 touchdowns, even while missing the Mississippi State game because of injury. He also has a 50-yard punt return and 21 rushing yards to his credit. While Robinson hasn't quite made the splash that Wan'Dale Robinson made a season ago, largely due to the talented freshmen around him, he's still been the steady, veteran hand that Will Levis needed.
5. Barion Brown, WR
Brown and fellow freshman target Key have both been special. Kentucky seems to be increasingly focusing on Brown, who has a kick-return touchdown and had a punt return for a score against Mississippi State taken off the board because of a penalty. Meanwhile, he's caught 24 passes for 350 yards and 2 touchdowns. Key is a more polished player at receiver, but Brown's speed enables Kentucky to benefit from him on special teams, which could be key down the stretch of the season.
4. Carrington Valentine, CB
A season ago, the Kentucky secondary was subject to getting picked on, and Valentine was a young player finding his way. This season, the junior cornerback has been a 1-man, no-fly zone. Valentine has 24 tackles and 1 sack, but it's his 7 passes broken up (including an interception) that demonstrate his improvement this year. A position group that was once a weakness has become something of a strength, and Valentine has been a key to that transformation.
3. Jordan Wright, LB
Wright has been a disruptive presence for the Wildcats' front. With 33 tackles, 7 tackles for loss, 3 passes broken up, 3 quarterback hurries, 1 sack and a key interception against Florida, Wright has enabled Kentucky's secondary to wait for advantageous moments to pounce … while he himself has made more than a few big plays up front.
2. DeAndre Square, LB
A super-senior linebacker, Square has always been a leader for Kentucky's defense. But this season, he seems a step quicker, better able not only to drop his shoulder on a rusher but to slide into coverage for an interception, as he did against Mississippi State on Saturday night. Square leads UK with 52 tackles, and his 3 tackles for loss and 3 passes broken up demonstrate how versatile he's been this season.
1.Will Levis, QB
The unquestioned leader of the Wildcats, Levis' legacy got a boost against Mississippi State. Already hobbled, he shrugged off a left shoulder injury and returned to lead the Wildcats to victory. The stat sheet says 1,635 passing yards and 13 touchdowns. But Levis means more to this team than the numbers say, and it wouldn't be surprising for him to have another big statement game down the stretch of the season.