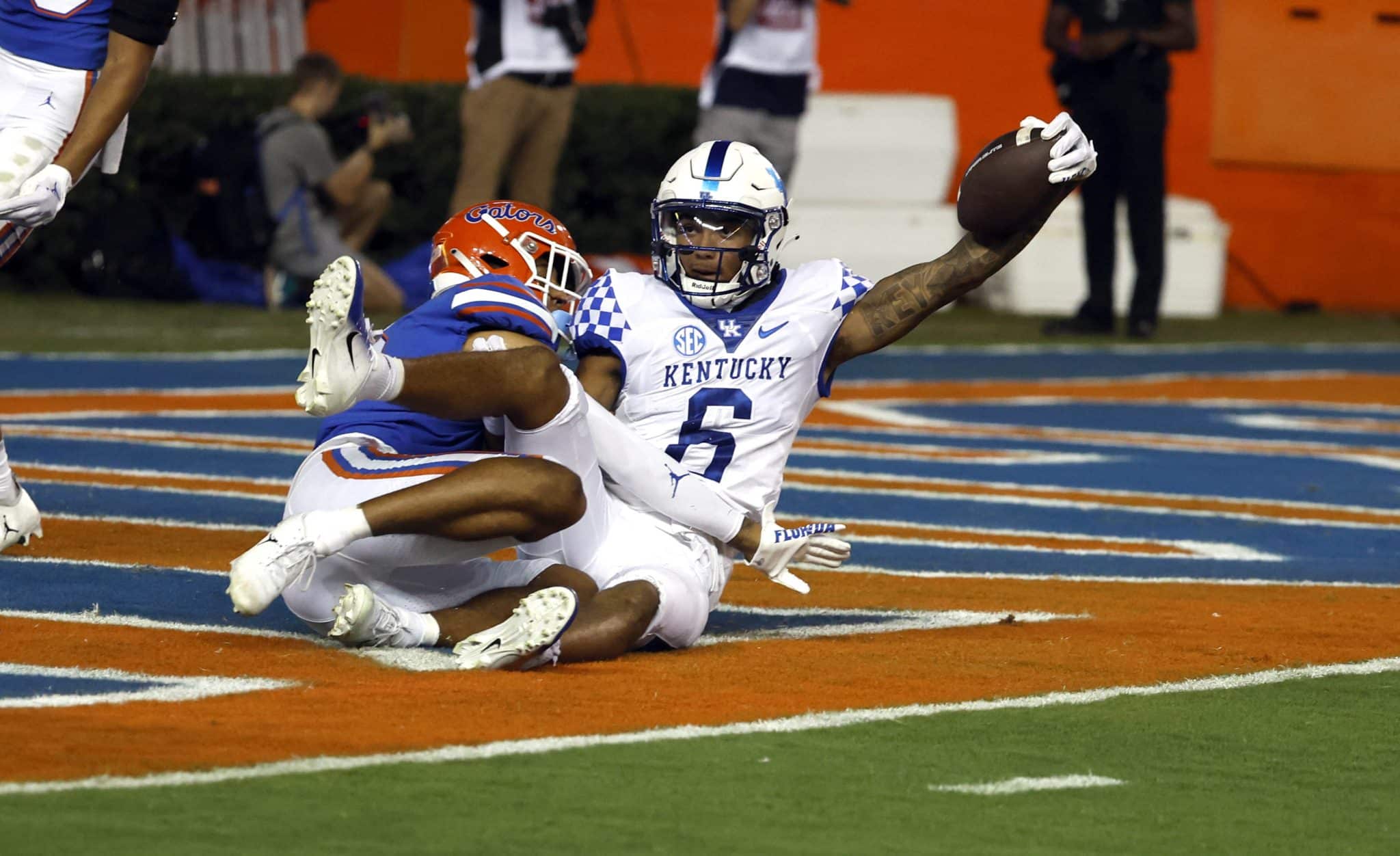 KENTUCKY
Rapid Reaction: Kentucky takes down Florida as Anthony Richardson struggles
Kentucky has once again gone to The Swamp and handed a first-year Florida head coach its first loss. Mark Stoops' No. 20 Kentucky squad extinguished any UF hype with a 26-16 win over Billy Napier's No. 12 Gators.
Kentucky's defense came up with the most impactful turnovers of the game. Two interceptions thrown by Florida QB Anthony Richardson were turned into 13 points for the Wildcats.
The Gators were up 16-7 with a chance to take control of the game after a safety in the second quarter when Richardson was picked off by Jordan Wright deep in Gator territory. In the third quarter, UF was driving when Richardson threw a pick-6 to Keidron Smith, giving UK a 23-16 lead.
A week after his standout performance in his first home start, Richardson struggled mightily all night. He was woefully inaccurate as a passer (14-of-35, 143 yards, 2 interceptions) and surprisingly ineffective as a runner (6 rushes, 4 yards).
Statistically, Kentucky QB Will Levis' performance (13-of-24 for 202 yards, TD, INT) wasn't necessarily one for the ages, but he played one of his best road games as a Wildcat. Levis' only turnover was a fluky interception caught by a Gator defensive lineman.
Freshman Kentucky receiver Dane Key caught a highlight 55-yard touchdown, the biggest passing play of the game for either team.
Running the ball is a big part of Kentucky's identity under Stoops. UK was hardly productive running the ball in Week 1 against Miami (Ohio) and struggled with the ground game in the first half against Florida.
Even without star RB Chris Rodriguez, Kentucky got the ground attack going in the second half and was able to take control of the game. UK out-rushed Florida 107-32 yards in the final 2 quarters. Wildcats RB Kavosiey Smoke finished as the game's leading rusher with 14 carries for 80 yards.
A lack of depth on defense continues to be an issue for UF. With 8:41 left on the clock in a 1-score game (23-16), Napier opted to go for a 4th-and-3 in UF territory. The defense actually forced a field-goal attempt that was missed, but it was a telling moment.
For Kentucky, it wasn't always pretty. Snap issues led to a safety on a punt and an extra-point attempt unraveling, making for a 3-point swing in UF's favor. The Cats, though, hung in there and eventually took control of the game, getting off to a 1-0 start in SEC play.