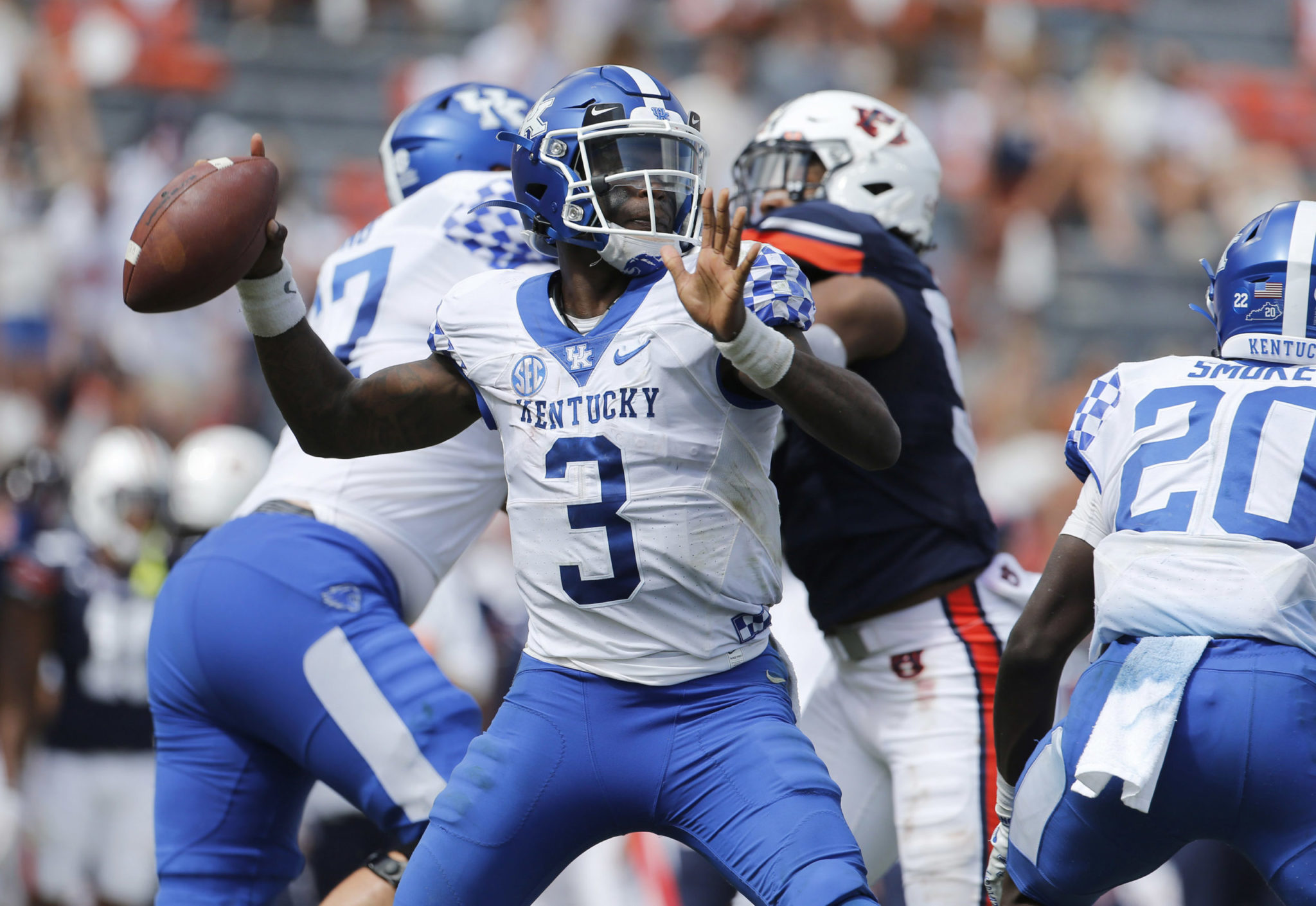 KENTUCKY
Rust or reboot? As Terry Wilson struggles, should UK rethink personnel or philosophy?
First things first — seeing Terry Wilson back on the football field, running and passing, just 12 months after he shattered his left patellar tendon in a game against Eastern Michigan, was a wonderful thing. The seriousness of Wilson's injury would be hard to overstate — and so would his work ethic in getting back into playing shape, according to his coaches.
It was foreseeable that Wilson's first foray back to competitive football might be a bit rusty. But after Kentucky's 29-13 loss to Auburn, it's fair to wonder whether Wilson was rusty, or if he showed signs of issues that might necessitate some changes in Kentucky's game-planning or personnel, even at quarterback.
The stat sheet reflects a decent day of work from Wilson: 24-for-37 passing for 239 yards, a touchdown and an interception, and 13 carries for 42 yards on the ground. But without bringing up Mark Twain's axiom about statistics, the numbers don't reflect the whole story.
Here are a handful of plays that fall somewhere between "rusty" and "disconcerting."
Twice in the 1st quarter, Wilson caught Auburn offsides, and on both occasions, he threw dump-down passes (the 2 completions were for a total of 4 yards) rather than take a shot downfield with a free play.
In the closing seconds of the first half on a 3rd-and-goal inside the Auburn 1, Wilson threw a pass directly into coverage, which went for an apparent pick-6 (which was negated due to an Auburn targeting penalty).
After throwing a sharp touchdown pass to Akeem Hayes, Wilson led UK on a 2-point play to try to tie the score. When no receiver was open, he threw the pass directly out of bounds, not even taking a shot at a receiver.
With Kentucky trailing 15-13 early in the 4th quarter, Wilson ran the ball on a 3rd-and-4, and fumbled with little evident pressure. Auburn's recovery and ensuing touchdown basically ended the game.
On at least 1 occasion, Wilson scrambled and slid a yard shy of the 1st-down marker.
Those are 6 negative plays (since No. 1 is 2 plays) Wilson made. They range from the trivial (almost every rushing quarterback will echo No. 5 above occasionally) to the colossally important (No. 4 would fit that definition, but No. 2 is especially apt for that category). The other plays are essentially "Football 101" calls, and while every QB has an occasional brain cramp, those can become pivotal plays, when they result in not even taking a chance to put points on the scoreboard.
Does this mean it's time for Kentucky to consider transfer Joey Gatewood (when and if he's ever eligible) or true freshman Beau Allen or senior Sawyer Smith for some snaps? Let's put that question aside for a moment.
As Wilson tries to regain his confidence and comfort, UK would be wise to not lean on him too heavily. In the 1st quarter against Auburn, Kentucky rushed the ball 13 times for 82 yards. During the same span, Wilson went 5-for-7 on passes for a humble 37 yards. What's disconcerting is that Kentucky, trailing 8-7 after that quarter, went with 31 more passes for the rest of the game against 27 runs (including the disastrous pick-6 that wasn't … which hindsight suggests should have been a run).
Sure, some of that came when the Wildcats were down by multiple scores late. But, for instance, in the 3rd quarter, Kentucky ran 11 passes and 6 rushing plays, despite being in a 1-score game for the entire quarter.
In 2018, when Wilson completed 67% of his passes and mostly leaned on Benny Snell and on his own ground game, the results were often somewhat less than spectacular. But Wilson also avoided making the kind of mistakes that turned competitive games into losses. Admittedly, Snell is now with the Pittsburgh Steelers, but if you watched UK outrush Auburn 145-91 Saturday, you know that some of the same strategy would likely work out just fine in 2020.
Before anybody thinks seriously about replacing Wilson, there needs to be a legitimate conversation about whether it's in the Wildcats' best interests to expect him to throw 40-ish times a game. If the answer is no, then Kentucky's probably well equipped to go back to the 2018 days with Wilson. But if Kentucky does want to go with a more or less 50/50 split of passes and runs, it might not be the craziest thing to start working in the backups, at least as a second possibility.
Despite the loss, Terry Wilson is 12-4 as a starting quarterback at UK. Saturday suggested that if Kentucky expects too much from him, those numbers may not hold. But whether it's rust or something more serious that troubled Wilson, before any QB move is considered, UK's offensive direction is the first question on the table.
We've seen what Wilson can do … what we're not as sure about is what Kentucky is asking him to do.