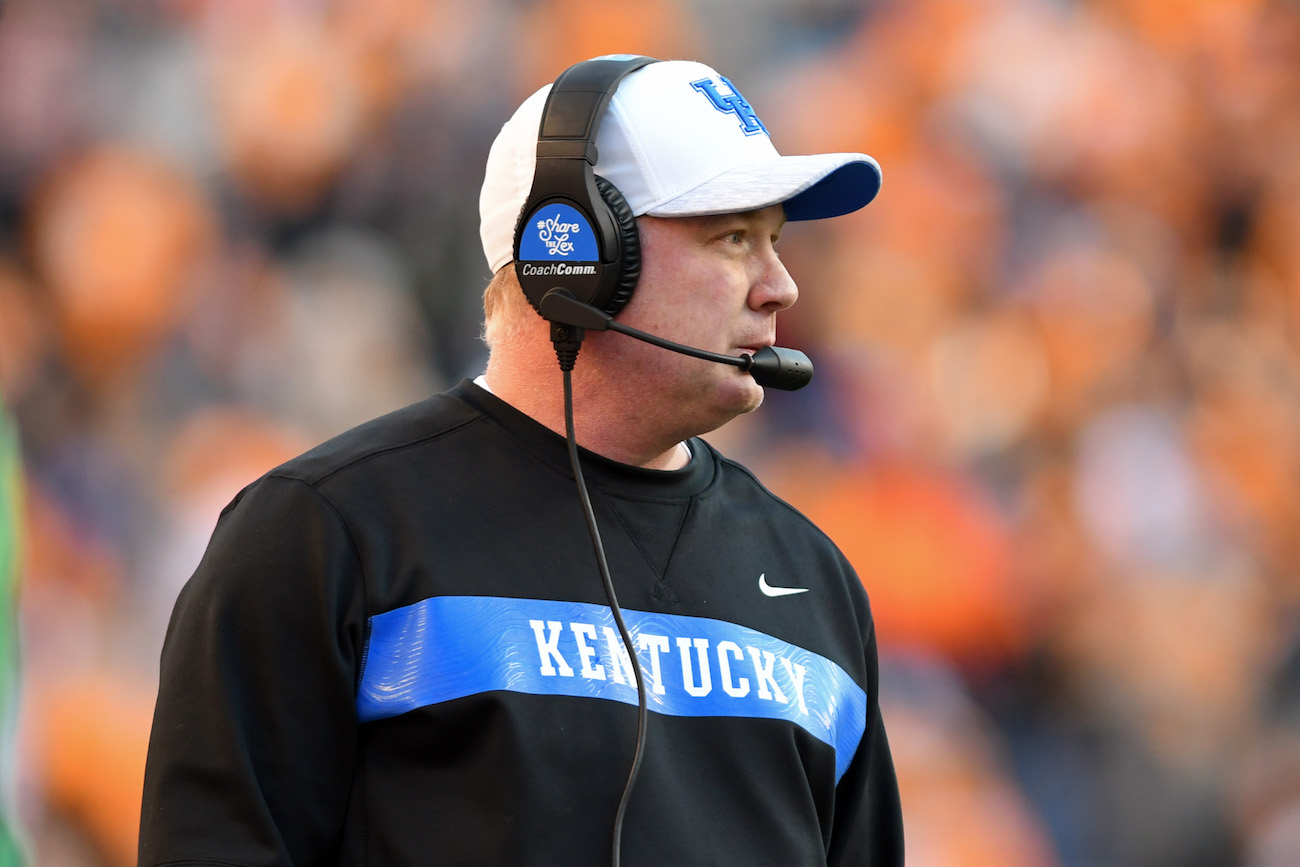 KENTUCKY
Something Mark Stoops said is worth remembering throughout this offseason
Story time.
Last week, we had Kentucky coach Mark Stoops on The Saturday Down South Podcast.
Shameless plug time.
If you haven't listened to the entire interview yet — it starts around the 39-minute mark — I won't be mad if you take the next 25 minutes to do that. It was great. We discussed a bunch of important things with the Kentucky coach, such as his go-to Chick-fil-A order and his favorite Kash Daniel story. We even convinced Stoops to open a bank with fellow Youngstown, Ohio, native Bo Pelini.
By the time we were ready to sign off, I had a new appreciation for Stoops and his mindset. As we wrapped things up, he added one final, rather unprompted thought about his team's 2019 outlook.
"What kills me now … here's the beautiful thing this year that I love. Everybody's doubting us now because 'oh, we lost 16 players.' I said, 'A year ago, you didn't talk about any of those guys. Nobody gave us any credit a year ago,'" Stoops told us. "So who's the new 16 guys on this team that nobody knows or cares about or doubts?"
That 16 players Stoops referred to was the 16 seniors who left the 2018 team. That didn't include 2-time first-team All-SEC tailback Benny Snell, who declared for the NFL Draft with a year of eligibility remaining. As a result, you won't find anyone listing Kentucky as a preseason Top 25 team following the program's best season in 41 years (the Cats were ranked No. 12 in the final Associated Press Top 25).
But man, Stoops has a point about his team's preseason outlook.
The loss of Snell and likely top-5 pick Josh Allen will be seen as too devastating for Kentucky to repeat what it did last year. But last year clinched the program's third consecutive season of 7-plus wins. The other SEC teams that accomplished that are Alabama, Auburn, Georgia, LSU and Texas A&M. In fact, look at this breakdown of total wins by SEC teams in the past 3 years:
Alabama: 41

Georgia: 32

LSU: 27

Auburn: 26

Kentucky: 24

Texas A&M: 24

Florida: 23

Mississippi State: 23

South Carolina: 22

Missouri: 19

Tennessee: 18

Vanderbilt: 17

Ole Miss: 16

Arkansas: 13
Those numbers might surprise a few people (the fact that Alabama averaged 3 more wins per season than the second-place SEC team is insane in itself).
How many people would have had Kentucky with more wins than Florida? Or as many as Texas A&M? Or with more wins than Stoops' favorite team to get compared to, South Carolina?
Speaking of the Gamecocks, who Stoops has beaten 5 years in a row, the comment about his team's 2019 preseason outlook seemed an awful lot like the postgame intensity he had after winning that 2017 matchup at South Carolina:
What did Mark Stoops think of being the underdog against South Carolina? pic.twitter.com/yL7bP8vntB

— Joe Mussatto (@joe_mussatto) September 17, 2017
Stoops also said that night "everybody for months talks about South Carolina but nobody talks about us. Well, that's how we like it."
You know what? He's right. After a year in which he earned SEC Coach of the Year honors for leading a team of mostly 2- and 3-star recruits to 10 wins, the narrative about Kentucky isn't "oh, well Stoops has earned the right to be penciled in for 8 wins, no matter how much talent he has to replace."
And it isn't just about not having Top 20 recruiting classes to step in. Coaches like Paul Chryst and Mike Leach get that sort of unconditional preseason love without blue-chip recruits.
If we're being honest, though, Stoops probably should be given that kind of love. Nick Saban is the only SEC coach who's been at his school longer than Stoops, and with good reason.
Stoops seems to have found a solid model to make Kentucky at least a decent Power 5 team on a yearly basis. He finds the Ohio guys like Snell and C.J. Conrad who weren't offered by the in-state Buckeyes. Stoops then takes the lightly-recruited defensive players like Allen and Mike Edwards and turns them into stars. Perhaps of equal importance, Stoops has continuity on his staff that few in the SEC have.
Oh, and that other thing. He and his team feast on the yearly preseason doubt.
Confession time.
I can't sit here today and pretend that I know who's going to replace those 16 seniors (and Snell). Stoops probably has a good idea, but I bet even he doesn't know exactly who those guys are going to be. That's OK. He doesn't have to.
One last confession. Heading into last year, I predicted that Kentucky would win 5 games. Even worse, I had the Cats losing to South Carolina … as well as Florida, Mississippi State and Mizzou, all of which were bowl teams Kentucky beat.
But I also added this note at the end of my preseason projection last year:
In many ways, this is a prime opportunity for Kentucky to cash in. Half of their SEC games are against coaches entering their first years at their respective programs. Compare that to Stoops, who was spooked to realize that he's tied for the second-longest tenured coach in the conference.

If Stoops does get back 7 wins and proves me wrong in Year 6, I think that gives him the leash to make some history. No coach has ever lasted a full decade at Kentucky. Usually, there's a rise and a fall.
Stoops proved me and everyone else wrong. Clearly, that wasn't lost on him.
His parting words last week won't be lost on me.