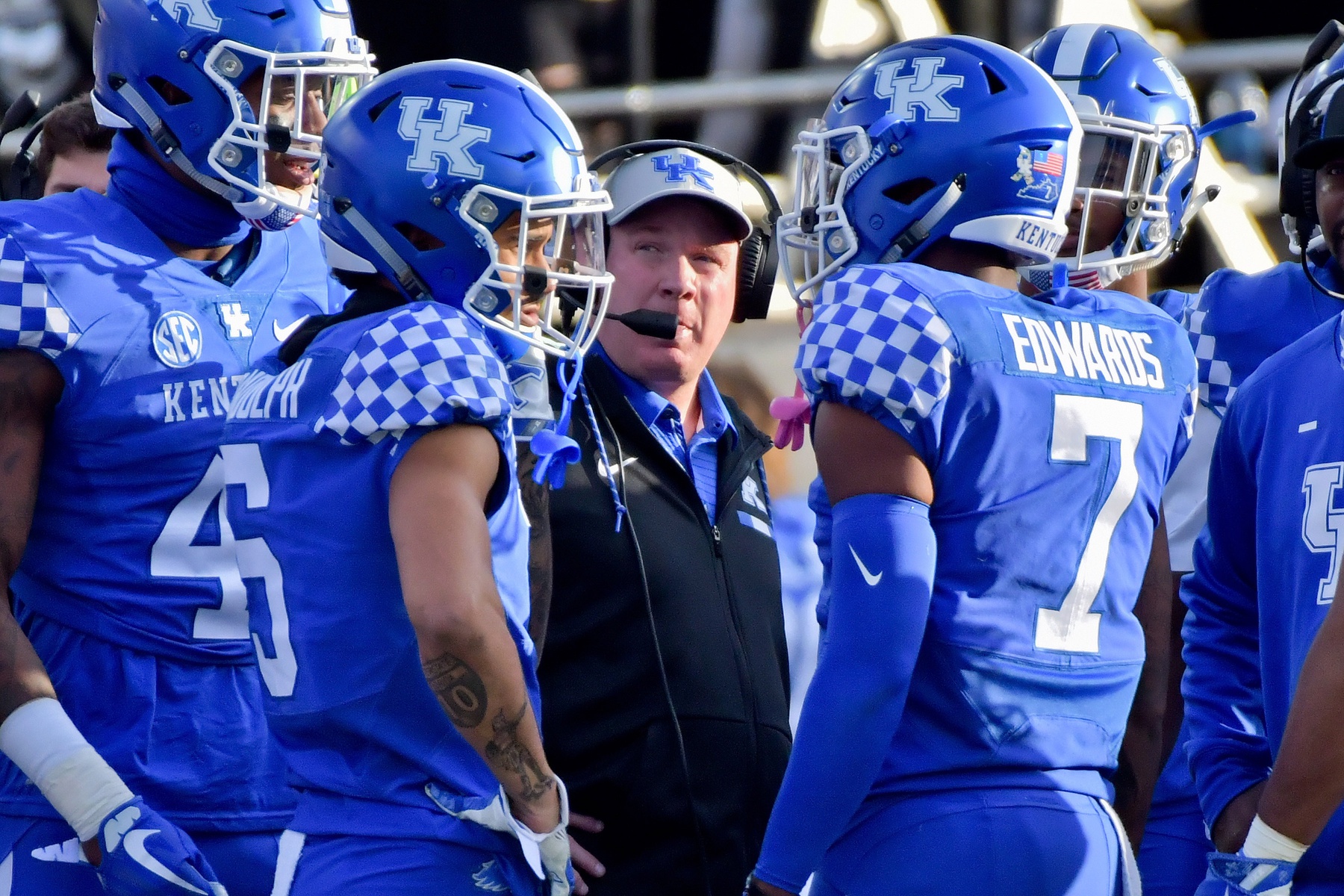 KENTUCKY
SDS Crystal Ball: Predicting every game for Kentucky football in 2018
I truly believe that one game can make all the difference in perception.
One game can change the narrative of a season. It can even change the narrative of an entire offseason. That can be for better or worse.
For Kentucky, it was for worse last year.
Sorry, Wildcats fans. Is it too soon to bring up the Florida debacle? A pair of uncovered receivers prevented Kentucky from ending a 30-year losing streak to Florida. As a result, Kentucky missed out on its first winning season in the SEC since 1977. That alone would have helped change the narrative for the Wildcats.
Few people nationally are talking about the fact that even without that win, Mark Stoops just put together Kentucky's best 2-year stretch in conference play in nearly 2 decades. Never mind the fact that Kentucky won 7 games in consecutive years after going 6 seasons without reaching that mark.
But here we are. Kentucky is not considered "a program on the rise." And even though Stoops enters his sixth year, the belief is that SEC East foes will go back to passing the Wildcats.
Let's break down why I believe that to be the case in 2018.
2017 record: 7-5 (4-4)
Benny Tha Bandit
Benny Tha Bandit, AKA Benny Snell, is Kentucky's most electrifying player in recent memory. Frankly, it's not close. He's coming off a sophomore season in which he rushed for more regular season yards than any SEC player, hence his first-team all-conference honor. In his final 5 regular-season games, Snell had 777 rushing yards and 12 touchdowns. Those are pretty solid numbers for an entire season.
The nice thing about Snell is that he still has that chip on his shoulder. Talk with him for 5 minutes and he'll tell you about how Ohio State didn't want to look at him, or how he feels he doesn't get enough love as "the best back in America." I'm not here to say that Snell isn't, though Jonathan Taylor and Bryce Love would probably get more support in that argument.
But it'll be fun to watch the Wildcats promote Snell as he aims to cap his career off on an impressive note. I realize that he has 2 more years of eligibility, but if he rushes for his third consecutive 1,000-yard season, what does he have left to prove?
Appreciate every bit of Snell that's left, Kentucky fans.
Quarterback situation
It's hard to put a lot of faith in Kentucky's quarterback situation for the following reasons:
Neither Terry Wilson nor Gunnar Hoak have played an FBS snap
96th in passing in 2017
10 touchdown passes in 13 games in 2017
Leading returning receiver (Tavin Richardson) averaged 29 receiving yards/game
If a few of those surrounding circumstances were a bit more established, perhaps we'd be talking about Wilson or Hoak having tremendous potential to thrive alongside Snell. Instead, it feels like a complete mystery as to what the Wildcats will be able to get from the starting quarterback position.
We haven't been led to belief that either Wilson or Hoak has the advantage. If it's Wilson, one would assume that Kentucky is going to play with some tempo. If it's Hoak, one would assume that he's going to be more willing to run to at least keep defenses from keying on Snell.
That's really going to be what this comes down to. We know that Kentucky's strength is going to be running the ball. Which quarterback makes defenses somewhat respect another element to the offense besides Snell handoffs? That'll determine if this offense can do anything more than what's expected.
Mark Stoops' defensive potential
Josh Allen and Mike Edwards are getting preseason All-SEC accolades, and Jordan Jones certainly has the talent to be in that discussion. The issue with Jones is health and his temper.
Consider that my way of saying Kentucky has more potential defensive stars than typical bottom-half SEC teams. The question is if this unit can take another step forward. If the Wildcats are even going to maintain that 7-win pace, last year's 102nd-ranked passing defense won't be good enough, neither will their 78th-ranked run defense. If those numbers don't improve and the win total drops, suddenly the narrative of the defensive-minded Stoops changes.
Last year, Kentucky got off to that incredible defensive start. Nationally, I'm not sure if people gave Stoops a lot of love for his defense allowing 15 points per contest in a 3-0 start. The problem was that for the rest of the season, Kentucky coughed up 32.1 points per contest.
This year, Stoops will face off against Dan Mullen, Joe Moorhead and Jimbo Fisher before he even hits the halfway point of the season. That's a gauntlet of offensive minds to game plan against.
The good news is that Kentucky ranks No. 7 in the country in percentage of defensive production returning. Perhaps a repeat of that fast 2017 start is in store for the experienced unit.
Game-by-game predictions
Week 1: vs. Central Michigan (W)
Central Michigan won 8 games last year, but a MAC team with massive roster turnover probably isn't a good bet to walk into an SEC stadium and win an opener.
Week 2: at Florida (L)
Yes, I think the streak continues. I wouldn't be surprised if this one followed a somewhat similar script to last year's game, though. Kentucky's defense makes the game far closer than Gators fans hope for. And while history doesn't win or lose games, once again something manages to not bounce Kentucky's way in the final minutes to preserve a Florida win.
Week 3: vs. Murray State (W)
Three-win FCS squads aren't anywhere good enough to even be "sleeper matchups."
Week 4: vs. Mississippi State (L)
This proves to be Kentucky's first real ugly loss of the season. Mississippi State's defense follows a similar plan to last year when it stymied Snell and forced the Wildcats to throw the ball. Kentucky can't slow down Nick Fitzgerald, who wins the game with his arm and his legs. Bulldogs roll big in Lexington.
Week 5: vs. South Carolina (L)
Whenever I hear someone say that they think South Carolina will beat Georgia in Week 2, my knee-jerk reaction is to say, "are you sure they can even beat Kentucky?" As Stoops will tell you, it's Kentucky who has the 4-game winning streak against South Carolina. My guess is that this is finally the time that the Gamecocks get back in the win column because of the potential of this revamped, high-tempo offense under Bryan McClendon. I'm not saying they'll put up 40, but a 28-27 game seems possible.
Week 6: at Texas A&M (L)
This is the frustrating thing about Kentucky's season. If the Wildcats aren't relevant in these first 6 weeks before the bye, they'll get put on the back burner in a hurry. Midnight Madness is Oct. 12, which is 6 days after I expect the football team to lose in College Station (that would also clinch an 0-4 start to SEC play, and thus, another non-winning season vs. the conference). Something tells me the timing and importance of that one isn't lost on Stoops.
Week 7: Bye
Week 8: vs. Vanderbilt (W)
In a game of teams without a win in conference play, Kentucky dominates. Coming off a bye week, Snell takes his frustration out against Vanderbilt's porous run defense. The Wildcats wait longer than they envisioned for their first Power 5 win of 2018.
Week 9: at Mizzou (L)
There could be no shortage of points scored in Columbia. But in a game that figures to have a back-and-forth feel, I give the edge to Drew Lock to outduel whoever starts at quarterback for the Wildcats.
Week 10: vs. Georgia (L)
I don't imagine it's very fun to spend 60 minutes on the field with Georgia. Kirby Smart's defense dominates 1-dimensional offenses, and Kentucky is no exception.
Week 11: at Tennessee (L)
I wouldn't be surprised if Kentucky lost 5-6 SEC games by single digits. Even in Knoxville, Tennessee struggles to distance itself from Kentucky. Two defensive-minded head coaches have no problems playing the field-position game and pulling out a 17-16 win. At home, Jeremy Pruitt winds up being on the better end of that.
Week 12: vs. Middle Tennessee (W)
Rick Stockstill's offenses can put up some points, especially with his son, Brent Stockstill, running the show. This is also a team that hasn't had a losing season in conference play or missed a bowl game since 2011. But no, I'm not betting on the Blue Raiders to run wild in Lexington. Stoops' defense does enough to pull out a much-needed win.
Week 13: at Louisville (W)
This isn't just based on the Cardinals living in a post-Lamar Jackson world, though it helps. Louisville ranks dead last among Power 5 teams in percentage of returning production. As much as we trust Bobby Petrino to produce a high-powered offense, there's no guarantee that happens this year. Give me the Cats to squeak out a close, low-scoring game in Louisville to end the season on a high note.
2018 projection: 5-7 (1-7)
Final Standings: 6th in the SEC East
#BBN
Look. I don't think all 5-7 seasons are created equal. Some teams can go 5-7 and get trucked on a weekly basis. I don't think that happens to Kentucky this year. There are really only 2 or 3 games that I could see being lopsided. The rest of them, I wouldn't be surprised if the Wildcats stayed within a possession late but then the defense ran out of gas.
In many ways, this is a prime opportunity for Kentucky to cash in. Half of their SEC games are against coaches entering their first years at their respective programs. Compare that to Stoops, who was spooked to realize that he's tied for the second-longest tenured coach in the conference.
If Stoops does get back 7 wins and proves me wrong in Year 6, I think that gives him the leash to make some history. No coach has ever lasted a full decade at Kentucky. Usually, there's a rise and a fall.
Stoops already rose from the 2-win team he took over. Let's see if he can keep the rise going and at least clinch a third straight postseason game for the third time since Bear Bryant patrolled the sidelines.
PREVIOUSLY IN SDS CRYSTAL BALL SERIES
SEC WEST
Alabama | Arkansas | Auburn | LSU | Mississippi State | Ole Miss | Texas A&M
SEC EAST